The Best and Worst Case Scenarios for Jair Jurrjens as a Baltimore Oriole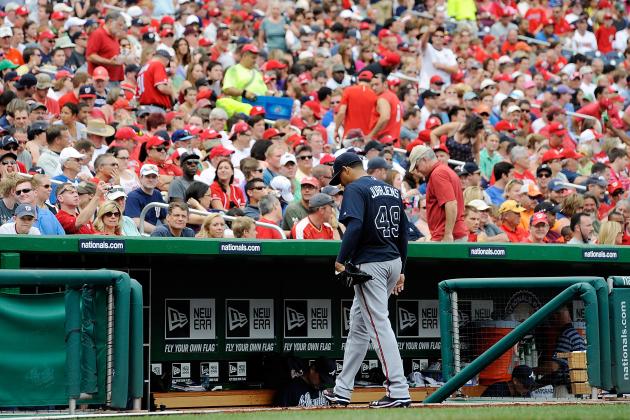 Patrick McDermott/Getty Images

Signing an oft-injured pitcher to a slightly over-priced, incentive-laden deal?
The Orioles have made it a side-business over the past few years, inking such pitchers as Justin Duchscherer, Dana Eveland, Randy Wolf, Josh Rupe and Jeremy Accardo.
Some of the deals have worked in the Orioles favor, such as the veteran Wolf, who tossed some valuable innings down the stretch of last year's wild card run. Most, however, are like Duchscherer, who never even made it to the mound in a regular season game.
So, why is there excitement (albeit tempered) among O's fans tonight as the team dives in with yet another wounded Bird, this time in the form of Jair Jurrjens?
Well, for starters, Jurrjens offers something none of those other names above did.
Youth.
At 26, it's reasonable to think that Jurrjens' best years are still ahead of him, and let's be honest, he's already had some pretty darn good ones. Fourteen wins, a 2.60 ERA and more than 200 innings in 2009. Thirteen victories and a 2.96 ERA in just 23 starts in 2011.
No current O's starter can lay claim to a season as impressive as either of those campaigns.
Still, there has to be a reason the O's were able to get the right-hander for so cheap, right? One and a half million for one year's work, with the potential for $4 million with incentives. That's a contract in line with a talented reliever, not a potential ace.
So, what to make of the Jurrjens' signing?
Let's take a look at what the best and worst case scenarios could be for both the O's and Jurrjens, as a member of a Baltimore franchise looking to make back-to-back trips to the playoffs for the first time in nearly two decades.
Begin Slideshow

»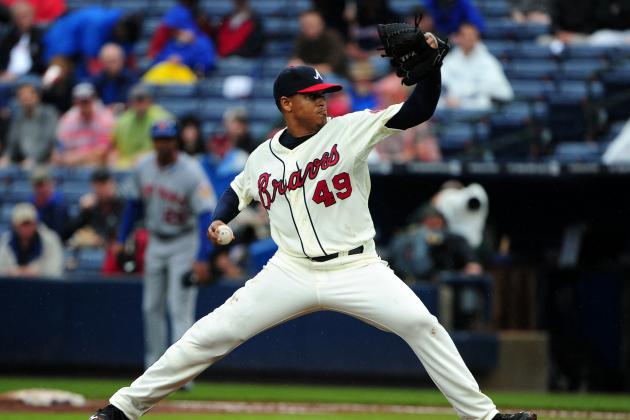 Scott Cunningham/Getty Images

Before the O's can start pondering where to squeeze Jurrjens into their rotation, they need to see proof that he's healthy enough to challenge for a spot.
Knee injuries have plagued him during his six-year career and may or may not be responsible for a massive dip in velocity. As noted in the NBC Sports article announcing the signing, the right-hander's velocity dipped from 91.9 mph in 2008, his first full-season in the Majors, to 88.6 mph this past season.
Between Wei-Yin Chen, Brian Matusz and possibly Joe Saunders, the O's have enough soft-tossers on their staff.
The best case scenario is that Jurrjens has put his knee problems behind him and regained some of that velocity he showed during his freshman campaign with the Braves, one in which he won 13 games, pitched 188 innings and held down a 3.68 ERA.
Then, and only then, should he be considered a viable candidate for the 2013 rotation.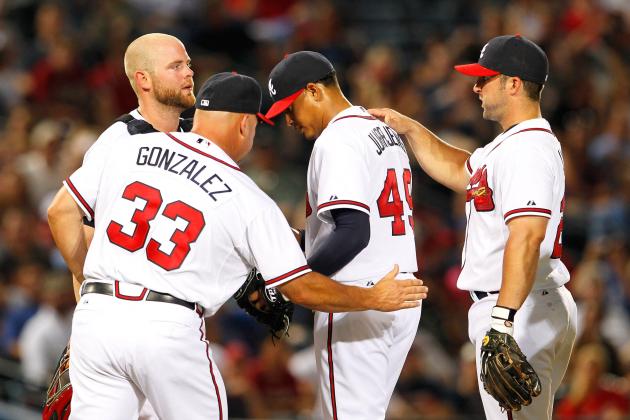 Kevin C. Cox/Getty Images

The worst case scenario is that Jurrjens' isn't able to recreate the stuff that made him so dangerous in '09 and '11, whether it be because of his knees, his arm or any other appendage that could cause such an issue.
Let's face it, even with increased velocity, Jurrjens was never going to win any awards for control and command. Twice he's walked 70 or more batters in a season, and he doesn't generate nearly enough strikeouts to off-set those totals.
Losing a little off his fastball has clearly caused him to overthrow, which has led to even worse command the past season and a half.
Say he comes to camp down from 88.6 mph in 2012 to 87.9 mph this spring. You think he's going to throw in the towel and learn to pitch like Greg Maddux?
Doubtful.
He'll likely try to overthrow even more than he already does, which could lead to another injury, and the O's being out of pocket $1.5 million.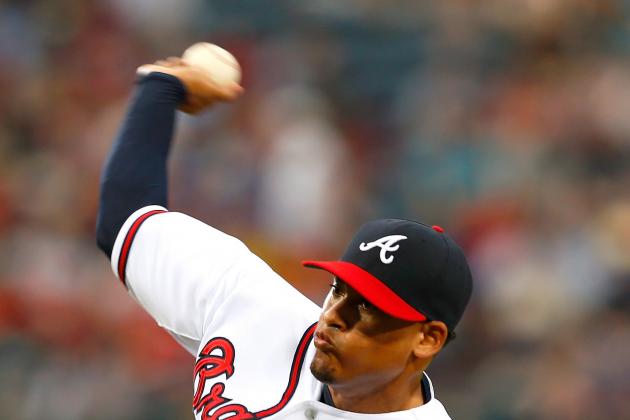 Kevin C. Cox/Getty Images

Okay, so let's say Jurrjens comes to camp with improved velocity, his knees look great... yadda, yadda, yadda.
Buck Showalter will no doubt pencil him into the rotation behind Jason Hammel, Wei-Yin Chen and possibly Chris Tillman. But, before we can worry about Jurrjens making it through September to help the O's challenge for another playoff berth, let's focus on getting him through the first half.
Lucky for the O's, pitching before the break has been Jurrjens' specialty.
Back in 2008, he was 9-4 with a 3.00 ERA heading into the break. He went 4-6 with a 4.66 ERA after.
In 2010, he provided his most glaring split. He went 12-3 with a 1.87 ERA prior to the All-Star game and 1-3, 5.88 after.
Even last year, he was 3-2 with a 4.97 ERA in the first half, before the wheels came off in the second (0-2, 18.90).
I'd say best case scenario, the O's get 15-17 starts out of Jurrjens, 6 innings per start and eight or nine wins.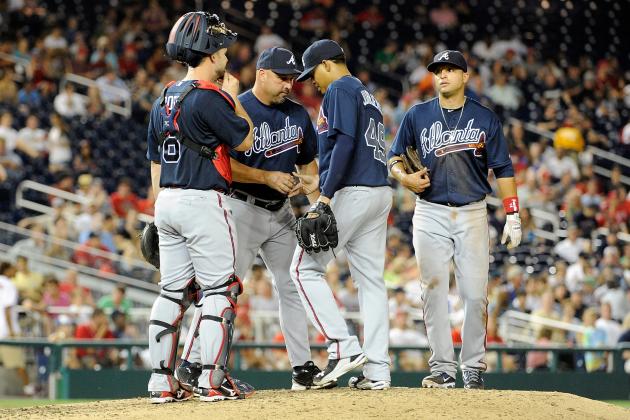 Greg Fiume/Getty Images

As mentioned in a previous slide, Jurrjens has never been noted for his control or command.
If he does manage to make it into the O's starting five, the ultimate worst case scenario is that he can't manage to find the strike zone. It was a problem with Atlanta last year (19:18 K:BB) and has plagued him in years past—even the good ones (139:70 K:BB in '08, 152:75 in '09).
It's not hard to envision Jurrjens struggling out of the gate, walking four or five per game and laboring to get past the fifth inning in most of his starts.
He ends the first half with 15 starts at most, an ERA pushing 5.00, close to 75 walks and the ire of Showalter, who hates nibbling around the strike-zone as much as anyone I've ever seen.
Jurrjens' dismal first half costs him a spot in the rotation for the second half, and he becomes yet another overpriced failed starter turned reliever—something the O's know quite a bit about (see Matusz and Jake Arrieta).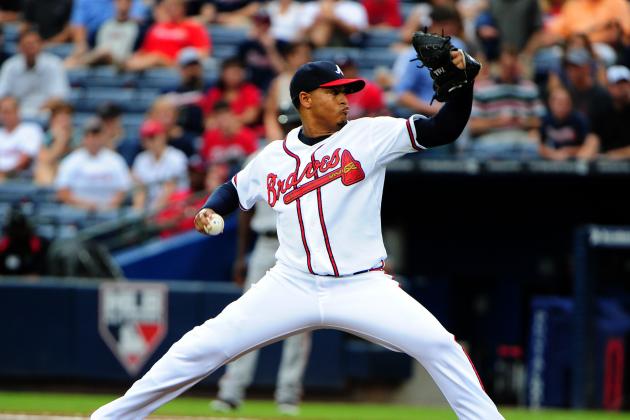 Scott Cunningham/Getty Images

After either recapturing his former glory or pitching with incredible guile, Jurrjens somehow finds a way to keep the O's in contention late into the season.
It won't come as a total shock, considering Jurrjen's best month, after May, has been September. In 17 career starts, he's 9-4 with a 3.57 ERA.
He emerges as Baltimore's most consistent starter, and despite being called upon on short rest several times due to injuries to some of the Orioles' other starters, Jurrjens thrives.
After all, he's 30-19 with a 3.88 ERA pitching on four days rest.
Most important, he assumes the role of big-game pitcher.
Sound surprising? Well, it shouldn't. Jurrjens has thrived in his career pitching against tough competition. He's 6-3 with a 2.58 ERA against the Phillies, and posted sub-3.00 ERAs against the Red Sox, Rangers and Blue Jays, each of whom are likely to factor into the American League pennant race in 2013.
Making his 32nd start on the final day of the season, Jurrjens picks up win number 15, setting a new career high. He also cracks the 200-inning plateau for the second time in his career and the first time since '09.
More important, he helps the O's hold off the Blue Jays for the second wild-card spot in the A.L.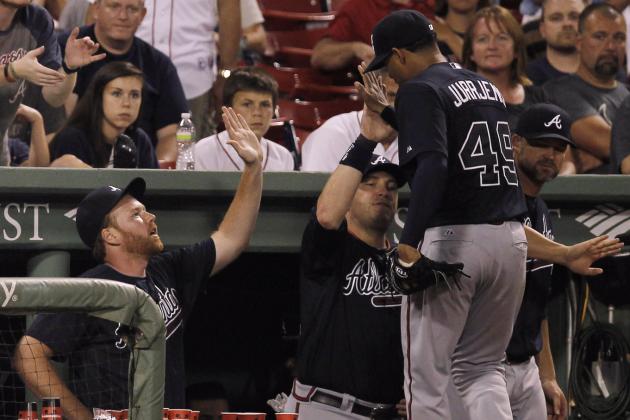 Winslow Townson/Getty Images

Jurrjens' move to the bullpen after a rocky start to the 2013 campaign is a disaster.
Pitching in relief screws with his rhythm, and he ends up on the disabled list.
The O's struggle to cope with losing a starter and juggle several pitchers in his place. None of the options take, and Jason Hammel and Wei-Yin Chen end up pitching with extra stress on them.
They eventually break down, leading to an all-out catastrophe in the second half.
Baltimore succumbs under the pressure of a team trying to repeat a playoff appearance, and ends up falling behind the Yankees, Rays and resurgent Blue Jays.
One year after heading into the final series of the season with a chance to reclaim first place, the O's host the Red Sox trying to avoid losing their grasp on fourth place to Boston.
Starting for Baltimore in the three-game set are Zach Britton, Brian Matusz and the irreplaceable Randy Wolf.
Jurrjens watches it all through peek-a-boo fingers at home in his native Curacao, resting his surgically repaired elbow.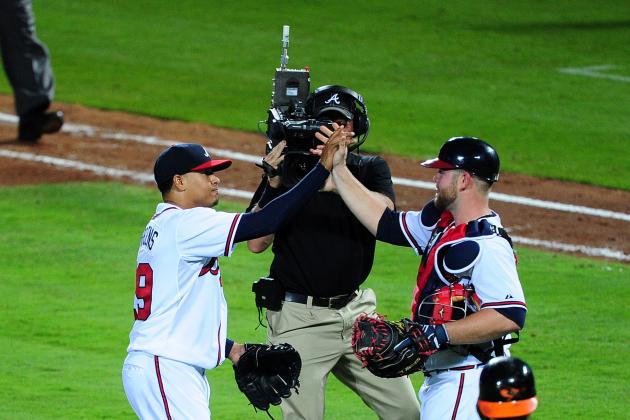 Scott Cunningham/Getty Images
Wait...isn't that Jurrjens celebrating victory over the...?
Jurrjens thrives in his first taste of playoff baseball.
After the O's handle the Blue Jays in the winner-take-all Wild Card matchup, the right-hander records a decisive victory over the Yankees, setting the stage for an improbable series victory over the Bronx Bombers.
Jurrjens gets the ball again in the opener of the ALCS and goes to work against Detroit, winner of the A.L. Central and the team that he came up with.
Fueled by revenge for the Tigers dealing him for Edgar Renteria back in 2007, Jurrjens tosses a complete-game shutout, and Hammel, Chen and Tillman complete the sweep, setting up a date with the Phillies in the World Series.
Continuing his torrid pace against the Phillies, Jurrjens picks up wins number seven and eight against Philadelphia in his two starts, the latter of which clinches the Orioles first World Series crown since 1983.
He wins Series MVP honors and along the way collects the extra $2.5 million guaranteed to him if he reaches all sorts of benchmarks.
Interestingly enough, there is no incentive reward for pitching the O's to the playoffs, leading them to the World Series, taking home MVP honors and winning comeback player of the year honors.
As such, Jurrjens demands a raise, O's owner Peter Angelos refuses to pay it and the best one-year pitcher in the history of the team ends up spending 2014 in New York.
Bleh!