San Francisco 49ers Beat Atlanta Falcons 28-24 to Advance to Super Bowl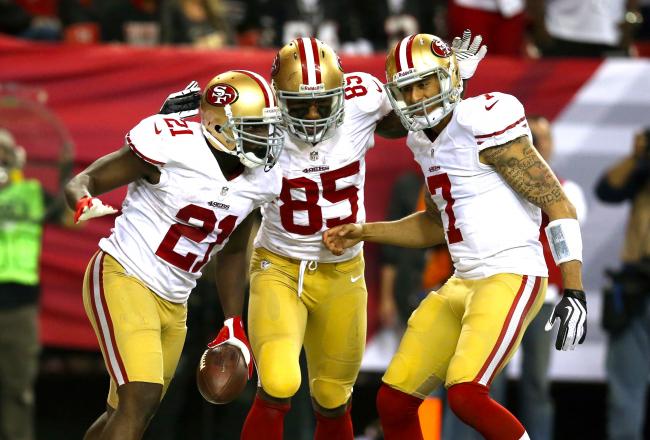 The Atlanta Falcons offense ran roughshod over the San Francisco 49ers defense through most of the first half, but the Niners ultimately came up big against Matt Ryan and Co. when they had to.
They shut them out in the second half to erase a 17-0 lead and a 24-14 halftime deficit to punch their ticket to Super Bowl XLVII with a 28-24 win in Atlanta.
The Falcons got off to a fast start again in this game, much like they did the previous week against the Seattle Seahawks. This time, they couldn't come up with a miracle finish to erase their second-half swoon.
Colin Kaepernick was solid all day.
He didn't have quite as big of a performance statistically as he did against the Green Bay Packers in the NFC Divisional Round, but he impressed with his poise and throwing ability.
Kaep finished with 233 passing yards and a touchdown.
The Niners running game and defense really made this win possible. Despite shutting the Falcons out in the second half, they also had two second-half takeaways, and the ground attack generated 149 yards and three scores.
They will now await the winner of the AFC title game to see who their opponent will be in the Super Bowl.
Twitter Reaction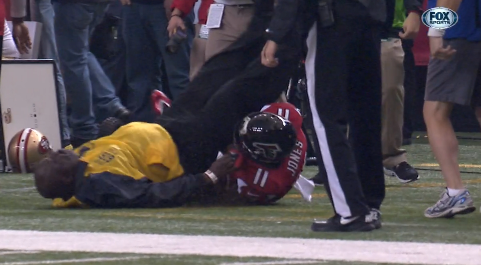 Steve Kim of Max Boxing is a big football fan, but when the Georgia Dome security guard went down in the first quarter, he had to be seeing flashes of the sweet science.
How physical is the NFL? Not even the security guards are safe on the sidelines... #niners #nfl #falcons

— Steve Kim (@stevemaxboxing) January 20, 2013
Julio Jones was absolutely torching the Niners secondary in the first quarter.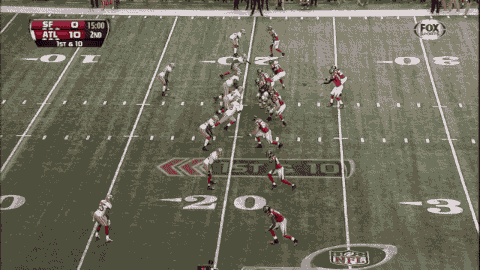 He had ESPN Numbers forecasting video game-like numbers and Fortune 500 speaker Exavier Pope marveling at the throw and Jones' second TD catch.
Julio Jones is on pace for 400 rec. yards, 20 catches, and 4 TD. #Falcons #RiseUpHugh

— Numbers Never Lie (@ESPN_Numbers) January 20, 2013
JULIO JONES w/ an absolute brilliant ball thrown by Marty Ice. Ice Cube would shiver at the sight of Matt Ryan now.17-0 #Falcons #SFvsATL

— Exavier Pope (@exavierpope) January 20, 2013
Even the folks that picked the Falcons to win couldn't have anticipated such a dominating start. The 17-0 early lead had Bleacher Report's David Daniels wondering if this was really happening.
Can't believe #Falcons are imposing their will on the #49ers like this. The same San Francisco team that dropped 45 last week? Is this real?

— David Daniels (@TheRealDDaniels) January 20, 2013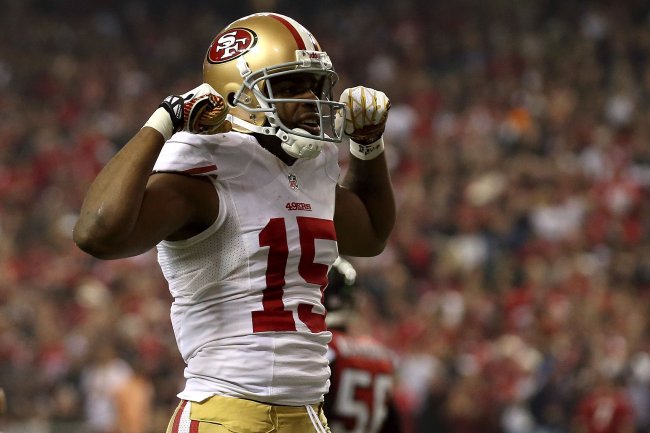 The Niners finally woke up on offense thanks to Kaepernick remembering he has an all-world tight end in Vernon Davis. ESPN gives us the stats on Davis' first half.
Vernon Davis is doing his best Julio Jones impression. Davis has 4 catches, 75 yards, TD. #Niners trail 17-14.

— SportsCenter (@SportsCenter) January 20, 2013
Niners kicker David Akers blew another field-goal attempt that could have tied the game, and the guys at Metro P Music want his helmet hidden.
Don't know who keeps giving David Akers a helmet?? He's not a football player anymore. He retired last year. C'mon #Niners

— Metro P Music (@MetroPmusic) January 20, 2013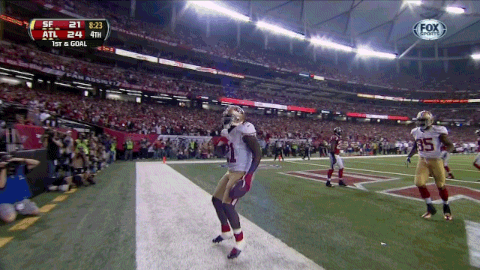 Frank Gore thinks about doing the Dirty Bird after giving the Niners the lead, but says Fuhgetaboutit.
Frank Gore does the Dirty Bird in Atlanta. GIF: ble.ac/Wk0C02

— Bleacher Report (@BleacherReport) January 20, 2013
The Niners prove once again that the road team is dangerous in the NFC title game. Russell Baxter of Bleacher Report gives us the facts.
3rd straight season #NFC Championship Game won by road team ('10 #Packers at CHI, '11 #Giants at SF, '12 #49ers at ATL) 49ers 28, Falcons 24

— Russell S. Baxter (@BaxFootballGuru) January 20, 2013
Game MVP: Colin Kaepernick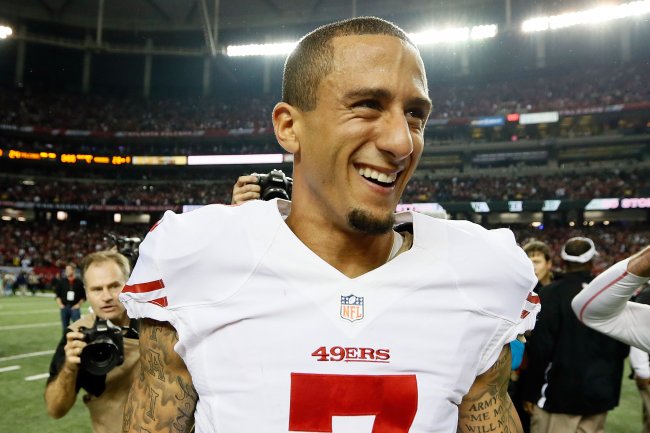 Kevin C. Cox/Getty Images
It was close between the second-year quarterback and Davis, but Kaepernick did a masterful job making decisions on the read-option plays, and he was accurate throwing the ball.
He spread it around well and made Davis a major weapon through the air again.
Goat: Matt Ryan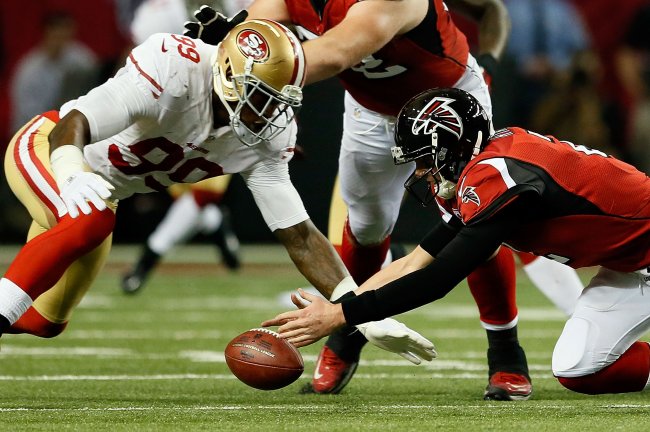 Kevin C. Cox/Getty Images
It's hard to call a guy that threw for 396 yards and three touchdowns the goat, but his crucial fumble in the third quarter killed the team's momentum. In addition to that, someone has to take the blame for the Falcons' scoreless second half.
Unsung Hero: Vernon Davis and Ahmad Brooks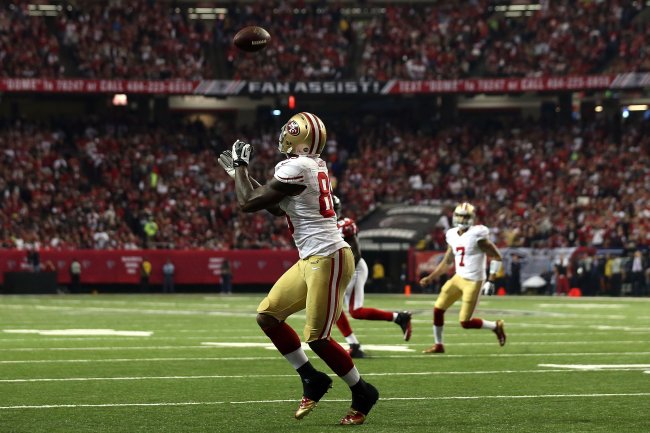 Streeter Lecka/Getty Images
I have to recognize Davis' game in some way. He showed why he is perhaps the biggest matchup problem at tight end in the NFL. He had five receptions for 106 yards and a score, and he keyed the comeback late in the first half.
Brooks made two key deflections for the Niners.
One came after Michael Crabtree fumbled the ball near the Falcons' goal line. Brooks put the Falcons in safe mode by batting down Ryan's first-down pass.
He swatted another throw from Ryan on the all-important next-to-last Atlanta possession in the fourth quarter. That play set up the fourth-down stand that sealed the win for the Niners.
Follow Brian Mazique and Franchiseplay on YouTube and Twitter for reactions, analysis and news from the world of sports and sports video games
This article is
What is the duplicate article?
Why is this article offensive?
Where is this article plagiarized from?
Why is this article poorly edited?