Cincinnati Bengals Mock Draft: Updated 7-Round Projections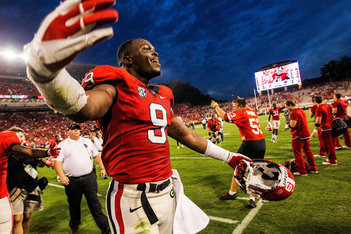 After another decent season in the Queen City, fans were left disappointed as the Cincinnati Bengals fell to the Houston Texans in the postseason, 19-13.
Now, Marvin Lewis and Co. will step back to the drawing board and try to build onto this team. The young squad showed a lot of positive things in 2012, and with a good draft in 2013, there's no doubt that the Bengals could make a major splash in the NFL next season.
Several positions need to be addressed, so which ones will be situated first?
Begin Slideshow

»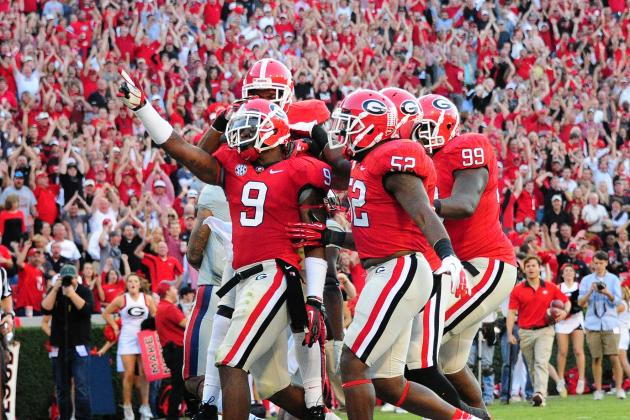 Scott Cunningham/Getty Images

Alec Ogletree has to be the first-round selection for the Bengals if he is still on the board at the 21st selection. After watching Rey Maualuga diminish game after game, culminating in a pitiful performance in the playoffs against Houston, there's not much doubt that he will be shown the door.
That will leave a gaping hole in the Bengals defense that Ogletree can fill. The 240-pound man was originally recruited to Georgia as a safety, but was later transitioned to be an inside linebacker. He proved to be useful on a stellar Bulldog defense this season, recording 99 tackles and a pick.
Something Ogletree will add is the ability to attack the pass. Maualuga never was great at blitzing the quarterback or dropping back into coverage to defend the pass.
With prior experience as a safety, Ogletree can add both dimensions to Mike Zimmer's defense.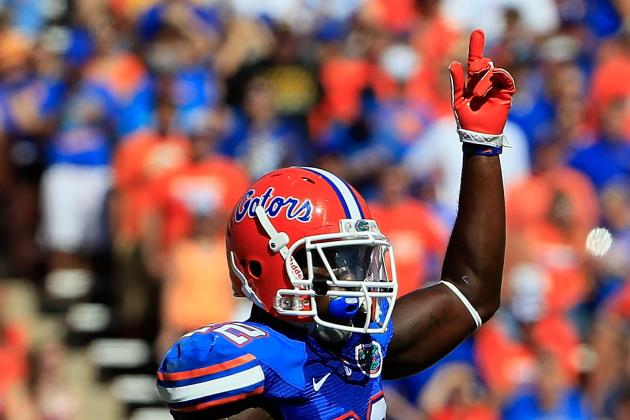 Sam Greenwood/Getty Images

Not long after taking SEC powerhouse Ogletree, Cincinnati should have its sights set on filling the secondary. That's where Matt Elam comes into play.
Where he lacks in the ability to cover receivers, he makes up for with his ability to hit hard and quick feet. I remember watching the Sugar Bowl between the Gators and Louisville and thinking that this guy would be a solid addition in Cincinnati.
Chris Crocker filled in admirably in 13 games as the starting strong safety, but neither he nor Taylor Mays will be sufficient at this point. The Bengals are on the cusp of having a top-five defense, and adding a young rookie to take the reigns is the way to go now.
With his agility and ability to tackle in the open field, receivers should not wind up so wide open across the middle as they did against the Bengals in 2012.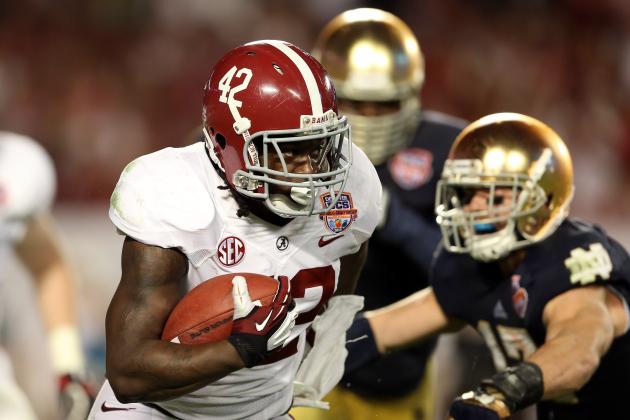 Streeter Lecka/Getty Images

Noticing a trend here? Crimson Tide running back, Eddie Lacy makes this the third consecutive SEC pick for the Bengals. Why argue with success?
Lacy is not the highly touted prospect that Mark Ingram and Trent Richardson were, but his 1,300-yard 2012 season deserves some attention. He wasn't great for the Tide early, but down the stretch, Lacy proved to be the X-factor in Tuscaloosa.
Against Georgia in the SEC title game, he picked up an astounding 181 yards on 20 carries and picked up two scores. Against the mighty Notre Dame defense in the national title game, he ran for 140 yards and a score, garnering some NFL attention for himself.
Lacy is a strong runner with agility to match the strength, so he will prove to be a valuable complement to BenJarvus Green-Ellis. Cincinnati needs a guy who can juke away from defenders, not just bowl through them as the Law Firm is one to do. Lacy will fill the need.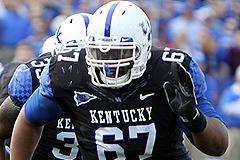 It was a rough season to be a fan of the Kentucky Wildcats football team, but there was one star on the squad, and that was the 343-pound bohemian, Larry Warford.
He's considered to be a top-five guard in the draft and should go in the second or third round. It may be wishful thinking to hope he falls all the way into the third round, but it is certainly a possibility with how defense-heavy this year's draft is.
The Bengals will need to upgrade at the left guard position where Clint Boling played for a lot of the season. At only 311 pounds, Boling was usually under-sized against giant defenders, and had a lot to do with Connor Barwin being in the backfield against the Bengals on January 5.
By taking Warford, Cincinnati would be adding a quick guard who isn't afraid to move around to stop oncoming defenders. Putting him on the line with Pro Bowl selection Andrew Whitworth and right guard Kevin Zeitler would make that line a rather formidable one.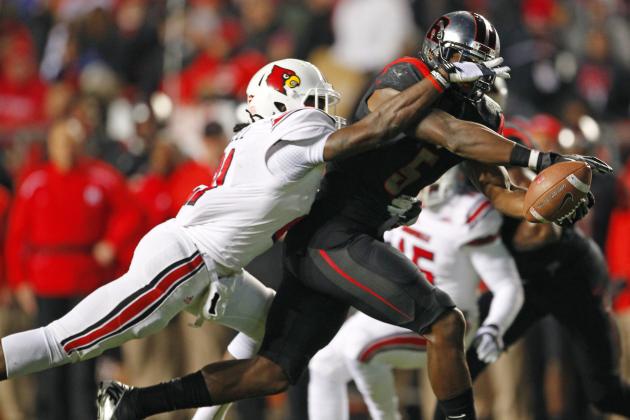 Rich Schultz/Getty Images

Adrian Bushell wasn't one of the elite stars at Louisville in 2012, though he put together a pretty good season. He was a highly touted prospect at Florida, even placed among the likes of Joe Haden and Janoris Jenkins.
However, Bushell transferred to Louisville with Charlie Strong. Now, thanks to a decent 2012 season, Bushell is among those being considered a mid-round selection. Cincinnati drafted Dre Kirkpatrick in the first round of 2012 and still has Leon Hall. Moving into the 2013 season, these should be the starting corners.
Bushell will be good for depth behind the two of them. The futures of Pacman Jones, Terence Newman and Nate Clements are all in doubt, though the latter two are likely to duck out.
Bushell was coached by one of the better defensive minds in college football at Louisville and he is a very tight receiver. His hands aren't the greatest and he won't pull down many picks. However, he is a great runner and will apply stingy pressure to opposing receivers, keeping them at bay when he is in the game.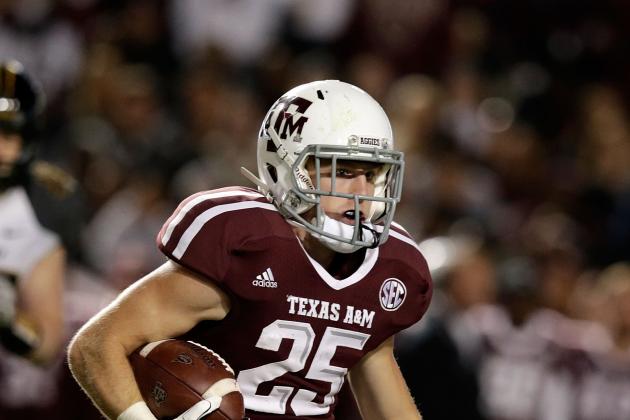 Scott Halleran/Getty Images

Hopefully, by this point in the draft, Cincinnati will have filled its big needs. Now, it's about building a solid corps of receivers to assist Andy Dalton in making plays.
Ryan Swope was one of Johnny Manziel's favorite targets in 2012, as he caught 72 passes for 913 yards and eight scores.
Swope, at 6'2" has a good size for a receiver and has breakaway speed. This would make him a pretty good slot man, so Swope could work interchangeably with the tiny Andrew Hawkins.
By getting another receiver, Cincinnati would probably have to bid Ryan Whalen and Dane Sanzenbacher farewell. It is likely that Mohamed Sanu is going to seize the opportunity to be the No. 2 guy in 2013, so Hawkins and Swope would be a solid tandem to fill the slots.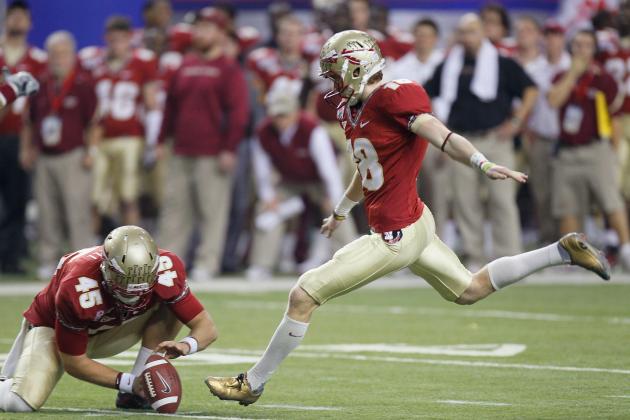 Kevin C. Cox/Getty Images

Minnesota and St. Louis both acquired rookie kickers from the 2012 drafts and they both paid dividends for their teams. Josh Brown filled in well for Mike Nugent, but it's time for both men to find another team. It would be better for Cincinnati to go ahead and start with a fresh guy.
Dustin Hopkins has both a big leg and an accurate one. He hit 25 of 30 tries this season with a long of 56 yards.
Hopefully, Cincinnati could parlay this late-round pick into a reliable asset down the road.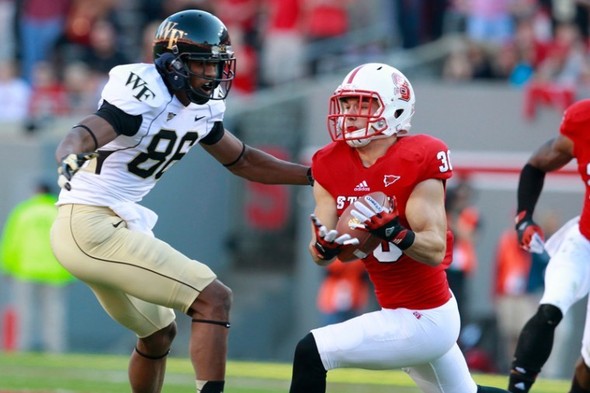 With Reggie Nelson in firm control of his starting position as the Bengals' free safety, this pick would likely be to solidify some insurance at the position.
Experts are of the belief that Brandan Bishop will be a late-round selection, if he's drafted at all. At North Carolina State this season, he collected 96 tackles and three interceptions.
Bishop steps in at 6'2" so we know he can jump in front of some guys and go up for jump balls. He lacks in speed and won't be tremendous in coverage, but under Mike Zimmer, he could be taught to do so.