8 East-West Shrine Game Prospects for the Packers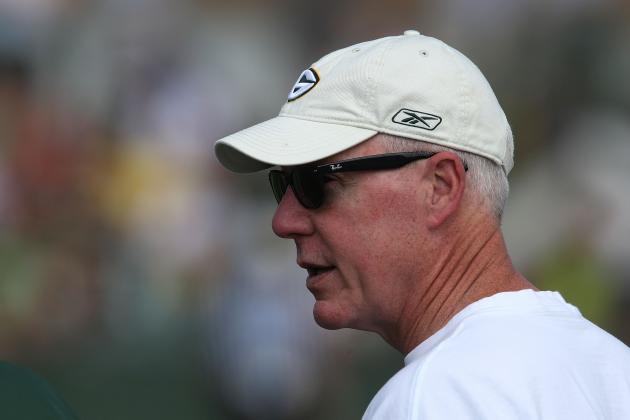 Jonathan Daniel/Getty Images

Ted Thompson of the Green Bay Packers was in St. Petersburg, Florida last week to scout prospects from the East-West Shrine game, which was played on Saturday.
Thompson will be in Mobile, Alabama this week to scout prospects from the Senior Bowl.
Most of the players from the East-West Shrine game are second- and third-day prospects in the 2013 NFL draft. A number of the athletes fit definite needs for the Packers, and their showings at practice and the game solidified why Thompson might be interested in them.
I've listed eight prospects that Thompson might be interested in.
Begin Slideshow

»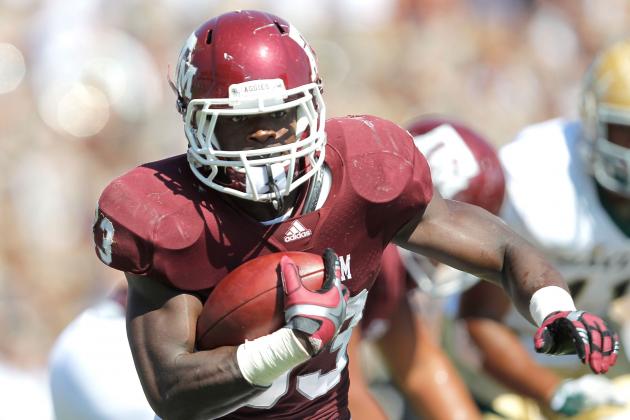 Sarah Glenn/Getty Images

Height: 5'10"
Weight: 220 pounds

Thompson kept a very close eye on Christine Michael during practice, as Michael was definitely one of the better players on the field. Michael rushed for 42 yards and a touchdown in the West's 28-13 victory over the East. Michael also caught a pass for seven yards.
Michael fits a mold for Thompson, as he has flown a bit under the radar due to injuries in college. Very similar to James Starks.
Michael only rushed for 417 yards his senior year at Texas A&M, but did score 12 touchdowns. Injuries kept Michael from playing full seasons in both 2010 (broken tibia) and 2011 (knee). Combined, Michael had 1,530 yards and 12 touchdowns those seasons.
As a freshman, Michael had 844 yards rushing and 10 touchdowns.
Michael's performance this past week may have given him an opportunity to be selected on the second day of the draft (third round).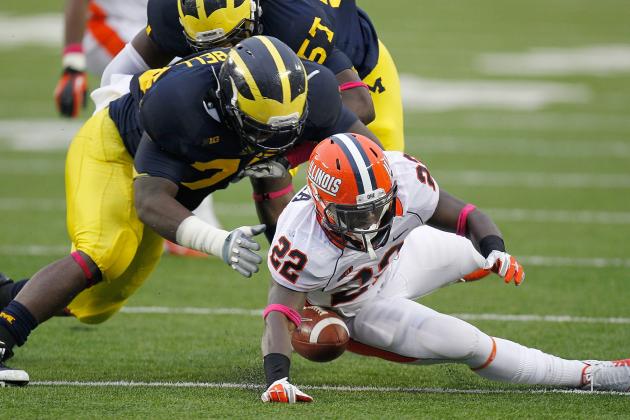 Gregory Shamus/Getty Images

Height: 6'5"
Weight: 320 pounds

William Campbell was a highly sought out recruit for Michigan out of Detroit, but until his senior year, he hadn't done too much. Campbell was named to the 2012 All-Big Ten Honorable Mention squad.
Campbell opened some eyes at practice last week, and he fills the need for a bigger body in the defensive line for the Packers. The Packers need taller and bigger players on the defensive line in their 3-4 scheme.
Still, because he is looked at as an under-achiever, most scouts rate him with or sixth- or a seventh-round grade. The Packers might select someone like Campbell and hope that defensive-line coach Mike Trgovac can light a fire under the former Wolverine and get him to play up to his potential.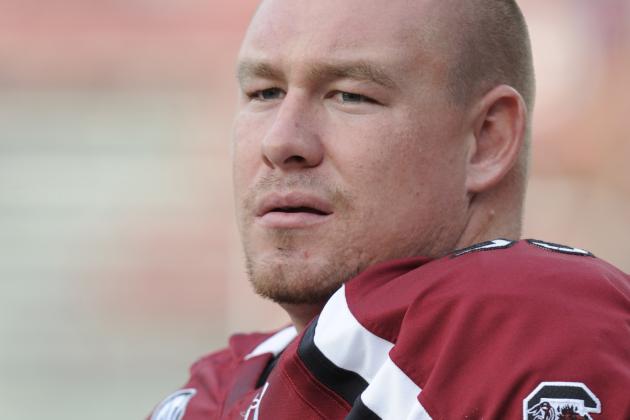 Mary Ann Chastain/Getty Images

Height: 6'5"
Weight: 315 pounds

T.J. Johnson had a good week in practice, and he definitely fills a need for the Packers at center. He also has the size the Packers would like there.
Johnson looked to be the best offensive lineman for the East squad for sure. He showed some real tenacity and aggressiveness.
Johnson was named to the 2012 All-SEC Second Team (coaches). Johnson needs to work on his technique, as he had too many holding penalties this year for South Carolina.
Johnson also needs to get stronger.
Johnson is rated by most scouts to have late-round value.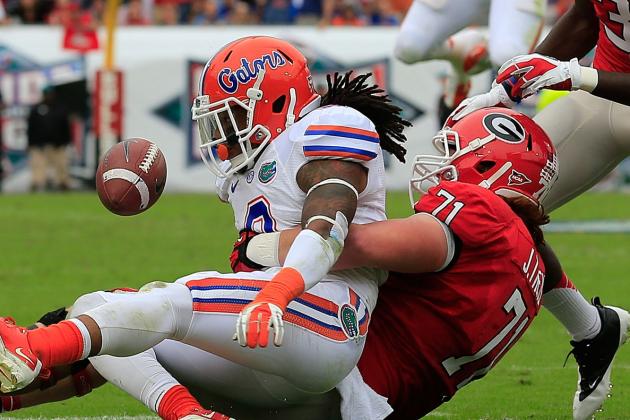 Sam Greenwood/Getty Images

Height: 6'1"
Weight: 205 pounds

Josh Evans had an excellent week of practice. He looked very good with his tackling technique plus showed good coverage skills.
In 2012, Evans had 83 tackles, three interceptions, three passes batted away and 2.5 sacks for the Gators.
The Packers will be looking for safety help, as it is unclear whether Charles Woodson will return, plus both M.D. Jennings and Jerron McMillian are still works in progress.
Evans looks to be selected early on the third day of the draft.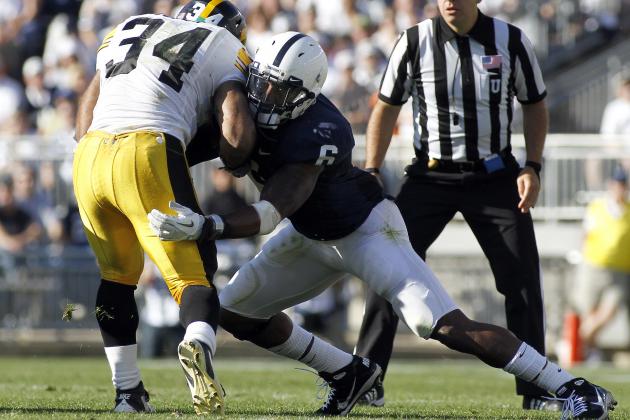 Justin K. Aller/Getty Images

Height: 6'1"
Weight: 240 pounds

Gerald Hodges had a nice week of practice. This was the week that Hodges wanted to shine, since Penn State was ineligible for a Bowl game.
Hodges looked very physical in defending the run and held his ground well.
Hodges was named to the 2012 All-Big Ten Second Team, as he had a very solid senior year. He had 109 tackles, 8.5 tackles for a loss, seven passes broken up, one forced fumble and two interceptions this past season.
The Packers look to be searching for inside linebacker help due to key injuries at that position last year, plus the unknown status of A.J. Hawk and whether he will be brought back because of his contract ($5.45 million).
Right now, Hodges is expected to be selected in the fourth round.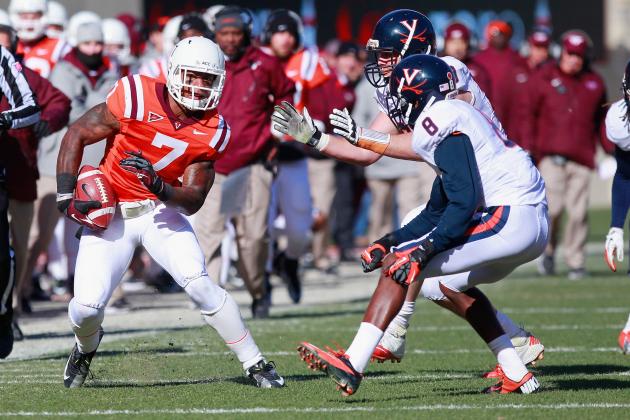 Geoff Burke/Getty Images

Height: 6'3"
Weight: 230 pounds

Marcus Davis had a decent week of practice, but the quarterbacks for the East squad didn't help matters with their lack of accuracy.
In the actual game, Davis caught one pass for 16 yards.
Davis has excellent size and speed. He was named to the 2012 All-ACC Football Honorable Mention squad.
For the 2012 season, Davis had 51 receptions for 953 yards and five touchdowns. Davis would have put up better numbers with better quarterback play at Virginia Tech.
Because it looks like Greg Jennings will be leaving the team via free agency and with the likely retirement of Donald Driver, the Packers will most likely look for wide receiver help in the draft.
Davis looks to be a third-day selection, but he might sneak into the third round because of his measurables.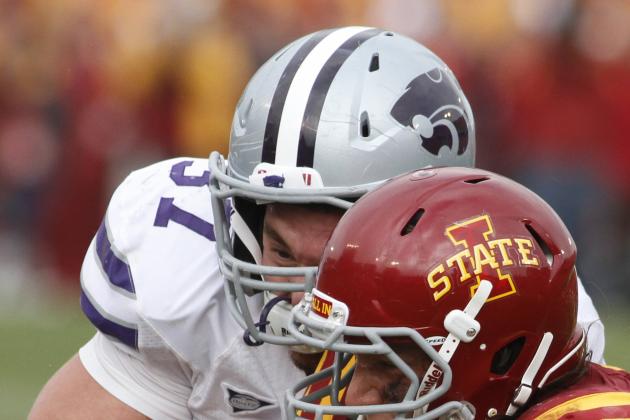 Matthew Holst/Getty Images

Height: 6'1"
Weight: 245 pounds

A.J. Klein had a good week in practice for the West squad, as he showed his tackling prowess.
Klein was named to the All-Big 12 First Team (media), as he had a stellar senior season. Klein had 98 tackles, 2.5 tackles for a loss, one sack, one pass broken up and an interception for a touchdown.
As a junior, Klein had 116 tackles, 7.5 tackles for a loss, six passes broken up, two sacks and an interception.
Klein is an inside linebacker who is very aggressive. He could help fill a void, especially if A.J. Hawk is not brought back in 2013.
Klein is originally from Kimberly, Wisconsin.
He looks to be a third-day selection in the draft.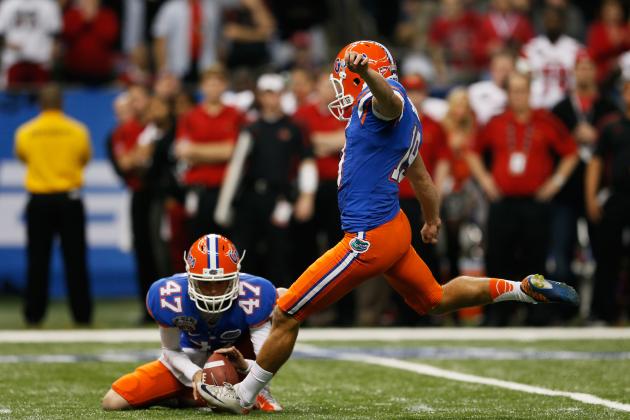 Kevin C. Cox/Getty Images

Height: 5'10"
Weight: 186 pounds

Caleb Sturgis had a very strong week of practice for the East squad because of his booming leg. Sturgis didn't hurt his status in the game either, as he made both field-goal attempts, including one from 48 yards out that would have been good from 60 yards.
Sturgis was named to the 2012 All-American Third Team, as well as the 2012 All-SEC First Team (by coaches and media).
In 2012, Sturgis was 24-of-28 in field goals (including the Sugar Bowl). In 2011, Sturgis made 22-of-26 kicks.
The Packers will need someone to push Mason Crosby in training camp in 2013, based on the roller coaster year Crosby had in 2012.
Sturgis has the leg strength and the accuracy to give Crosby a good battle in camp.
The former Gator looks to be another third-day selection in the draft. Probably no later than the sixth round though.