New York Jets 2013 NFL Draft Wish List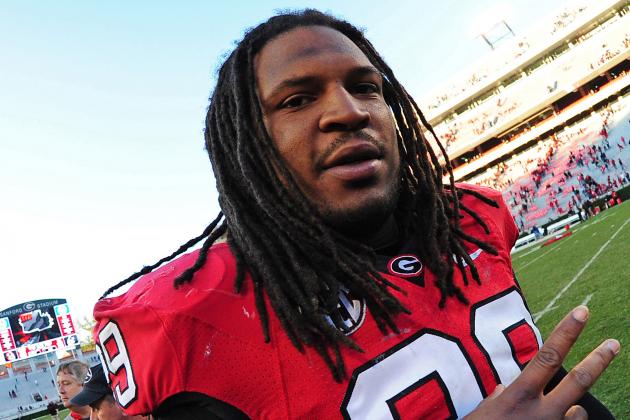 Scott Cunningham/Getty Images
Jarvis Jones (OLB) is among the hottest draft commodities in 2013.
The 2013 NFL Draft is three months from now as the New York Jets prepare for a tumultuous offseason overhaul.
The Jets' future will be highlighted by potential franchise-altering transactions that could promptly restore promise to a team that has plummeted into the depths of mediocrity.
The draft is an opportunity for the Jets to fill multiple voids at several key positions and upgrade certain areas of personnel.
New York is expected to have just ten starters under contract for next season when overpaid veterans Bart Scott, Calvin Pace, Eric Smith and Jason Smith are inevitably cut, which makes the impending draft vital for the Jets' future progress.
New general manager John Idzik has never operated the war room on draft day, but needs to be succinct in demanding control and determining final decisions.
The Jets won't be able to fix their busted roster with seven selections in the impending draft, but they're in dire need of an influx of fresh talent.
The following outlines seven realistic draft picks on a round-to-round basis that the Jets should optimally select, given the opportunity.
Begin Slideshow

»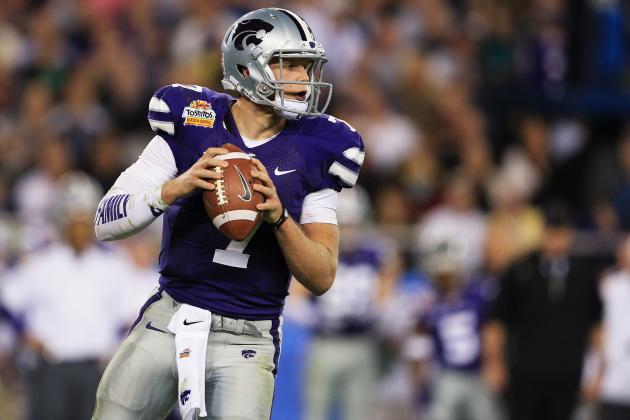 Doug Pensinger/Getty Images

Kansas State quarterback and former Heisman Trophy hopeful Collin Klein is destined to receive the Greg McElroy treatment in the 2013 NFL Draft and will likely be selected in the seventh round, barring an impressive scouting combine.
Klein was immensely successful in his senior season, throwing for 2,641 yards and 16 touchdowns to compliment 23 rushing TDs and 920 yards on the ground, leading the Wildcats to a berth in the 2013 Fiesta Bowl.
The future late-round draft pick has drawn comparison to run-first quarterback Tim Tebow because of his long-winded throwing motion and instinct to run. Both recorded similar numbers in their senior seasons, too.
Klein completed 64.8 percent of his pass attempts in 2012, averaging over 8.5 yards per attempt. In comparison, Tebow had a net average of 9.2 yards per pass attempt in 2009 while completing 67.8 percent of his attempts.
Klein's versatility as a pocket passer and ability to gash defenses for big gains on the ground makes him intriguing from a draft standpoint. He's durable and capable of alluding should-be tacklers in the pocket. Klein doesn't possess outstanding speed, but he's a dynamic quarterback with distinct athletic ability.
This season's quarterback draft class isn't deep with talent in comparison to previous seasons, although Klein could prove to be a solid selection because of his unique skill set.
The Jets' QB carousel currently features three quarterbacks that the team's brain trust don't consider starting material. At the moment, most pro football scouts don't consider Klein worthy of future stating status, either, but his athleticism would be difficult for the Jets to disregard if he's still available in the final round of the 2013 NFL Draft.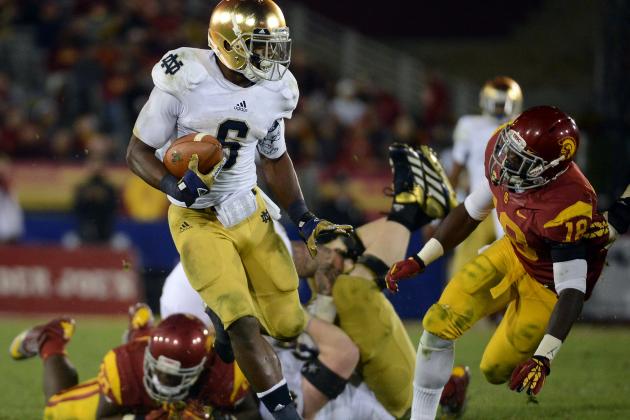 Harry How/Getty Images

Notre Dame running back Theo Riddick is an allusive, cut-back slasher with big-play ability.
Riddick exploded onto the scene as a feature back in his senior season, barreling in between tackles and up the sidelines on 190 carries.
He formed an effective tandem with teammate Cierre Wood as they combined to rush for over 1,600 yards, propelling the Irish offense en route to an undefeated regular season.
Riddick averaged 4.8 yards per rush attempt in 2012, racking up 917 total rushing yards and five touchdowns. He added 370 receiving yards on 36 receptions, including two touchdowns, for good measure to cap an impressive senior campaign.
Riddick has been scrutinized for his small frame; some question his durability while others contend that his toughness overrides his size. Despite his critics, Riddick is an ideal fit for the Jets because of his receiving prowess and ability to allude tacklers.
New offensive coordinator Marty Mornhinweg is well known for utilizing running backs as receivers out of the backfield and in the slot.
Riddick could be utilized in various formations on offense. He's a dual threat playmaker and a change-of-pace weapon.
Riddick should be enticing to the Jets, who are relatively void of big-play threats on offense. His versatility matches Mornhinweg's offensive philosophy, which would make him hard to pass up if he's still on the draft board when the Jets make their sixth-round selection.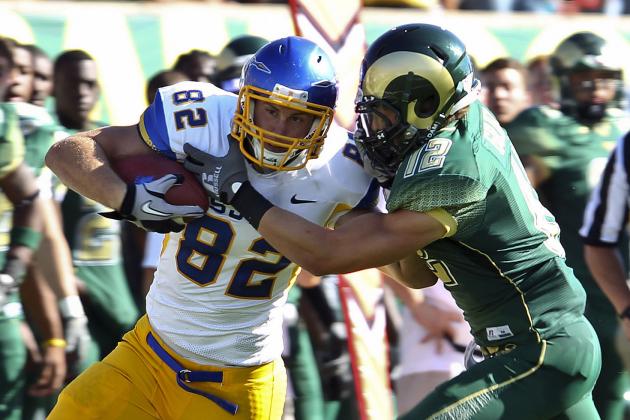 Troy Babbitt-USA TODAY Sports

San Jose State tight end Ryan Otten is a highly underrated and big receiving target with premium athletic ability.
His numbers were relatively impressive in his senior season, but his skill set is what makes him intriguing from a draft standpoint.
Otten reeled in 47 catches for 742 receiving yards and four touchdowns in his final collegiate season and has mostly flown under the radar, although he could boost his draft stock and notoriety with a solid performance in the 2013 Senior Bowl.
Otten's size makes him an asset, checking in at 6'5'' and 235 pounds. He's a physical run-blocking tight end that also has above average route-running capabilities. He proved himself to be a reliable down field target in 2012, pulling down receptions of 20 or more yards at least once in 11 of 13 games.
His versatility as a blocker and down field target is definitive of what pro scouts look for in tight ends.
There is a distinct likelihood that the Jets will be in the market for a new starting tight end this offseason because Dustin Keller is going to command a significant contract outside of what the Jets can ideally afford.
There are several free-agent tight ends on the market that should entice the Jets this offseason too, such as Titans' TE Jared Cook and 49ers' TE Delanie Walker, but Otten is a mid-level prospect that won't command seven figures. He's an affordable option with tremendous upside.
The Jets would be smart to select Otten if he falls into the fifth round. At the moment, he's rated as the sixth best tight end prospect in the nation, according to NFLDraftScout.com.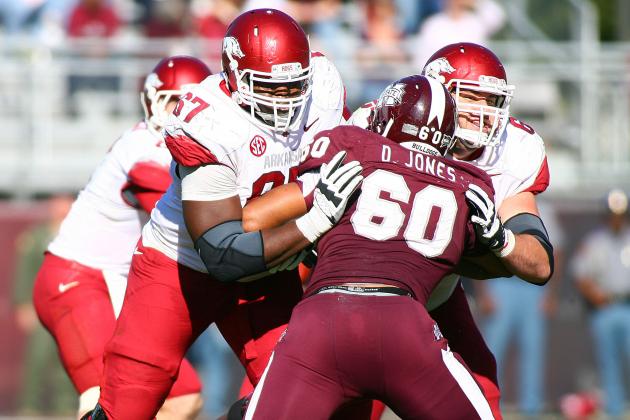 Spruce Derden-USA TODAY Sports

Arkansas offensive guard Alvin Bailey is a big, physical blocker known for superior natural strength.
He opted to forego his senior season to enter the 2013 NFL Draft, where he's expected to be a mid-level selection.
Bailey started 38 consecutive games for Arkansas after being named the best at his position on the team after his redshirt freshman season in 2009.
He has experience playing on both sides of the offensive line, although his inherent position is right guard. Bailey has demonstrated quickness off the snap and sustains agile, lateral movement at the line of scrimmage. He has knock-down block ability, although he's sometimes too aggressive and whiffs at defenders.
Bailey can dictate the movement of his opponent in the trenches because of his strength and quickness, and is thought to be most effective in pass-blocking schemes. He's considered to be a work-in-progress, but has flashed signs of consistent improvement over the course of his collegiate career and is expected to continuously develop into a better player.
Bailey is a force to be reckoned with at 6'5'' and 312 pounds. He's not afraid to use his size and strength as an overwhelming advantage against opponents. Bailey was pitted against a few of the most dominant defensive fronts in college football, like Alabama, Georgia and LSU.
It's likely that the Jets are going to pursue a new starting right guard this offseason because Brandon Moore is not expected to return.
Bailey isn't at the top of his class at his position, but he'd be an optimal fourth-round selection for the Jets.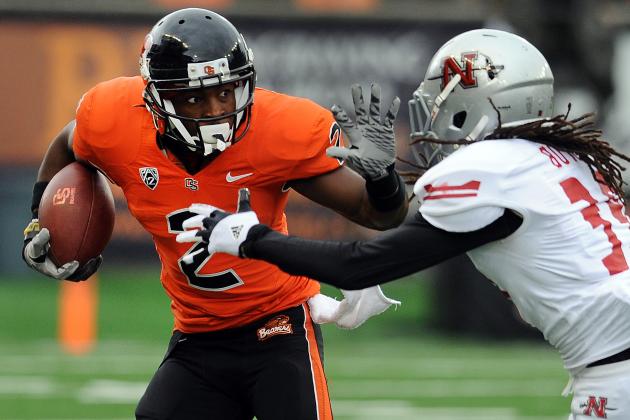 Steve Dykes/Getty Images

Oregon State wide receiver Markus Wheaton was a flashy offensive weapon in his senior season. He's not a big target at 5'11'' and 183 pounds, although he possesses breakaway speed and big-play ability.
Wheaton pulled down 91 receptions for 1,244 yards and 11 touchdowns in a standout season-long performance. His speed was a vital weapon for the Beavers, who sometimes featured Wheaton as a tailback. He rushed for 631 yards on 83 carries in his collegiate career, averaging 7.6 yards per attempt.
The Jets don't have a true vertical passing threat on their roster, which makes Wheaton especially intriguing. He's a versatile offensive playmaker that fits the concept of Mornhinweg's speed-oriented offense. Wheaton is the ninth-highest rated receiver among the college ranks, according to NFLDraftScout.com. He checks in with a 4.34 second low 40-yard dash time.
A combination of Santonio Holmes, Braylon Edwards, Markus Wheaton, Jeremy Kerley, Stephen Hill and Chaz Schilens should prove sufficient for whomever is delegated to start behind center for the Jets in 2013.
Wheaton has steadily gained notoriety and could potentially boost his draft stock with a high level performance in the 2013 Senior Bowl.
At the moment, he's projected to be drafted late in the second round and it wouldn't be surprising to see him jump into the conversation of potential first rounders.
The Jets are wishful that Wheaton stays on the draft board until the third round, where he'd be an absolute steal.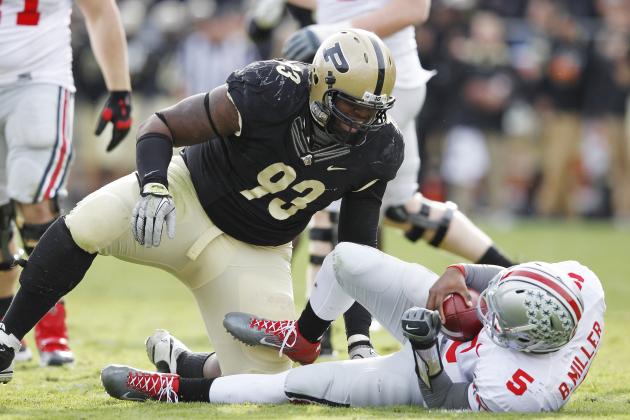 Joe Robbins/Getty Images

Purdue defensive tackle Kawann Short is a dominant force in the trenches, capable of occupying multiple offensive lineman. He boasts enormous strength demonstrated by his ability to bully the opposition.
Short checks in at 6'3'' and 308 pounds, causing some to question if he's big enough to play nose tackle. His strength compensates for his size, though; he can bench over 400 pounds and squat over 600 pounds.
He also has extensive arm and hand length, enabling him to deflect passes at the line of scrimmage and also impact field-goal attempts. Short blocked a ridiculous total of four kicks and also deflected three passes in his final season at Purdue.
He was selected First Team All-Big Ten in an impressive senior season. Short mounted 43 tackles, including 15.5 for loss, and also sacked the quarterback seven times.
He was considered to be the No. 1 senior NFL prospect out of the Big Ten entering his senior season and didn't disappoint expectations.
The Jets could be in the business of acquiring a new nose tackle this offseason to anchor the 3-4 base defense. It's unknown if veteran NT Sione Pouha can resurrect previous success after suffering a back injury that deflated his season in 2012.
Rotoworld.com reports that Pouha won't need offseason back surgery, although the 34-year-old is due $4.9 million in base salary for 2013 and could be outright released next month.
Furthermore, Kenrick Ellis hasn't flashed significant promise like the Jets expected him to after being drafted in the third round of the 2011 draft. Ellis has battled knee problems and has seen the field in just 17 games over his first two seasons.
Short has the potential to be a perennial force in his rookie season. He's a perfect fit for the Jets.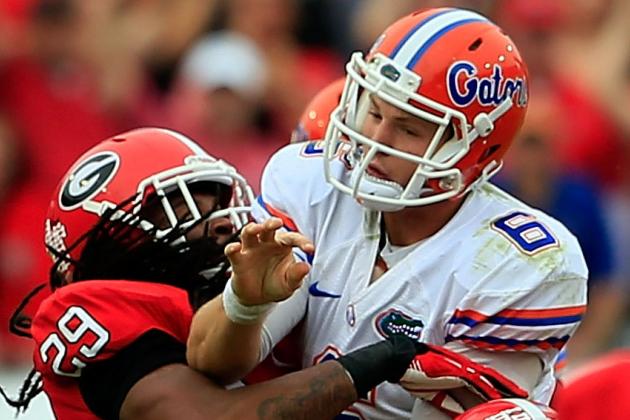 Sam Greenwood/Getty Images

Georgia outside linebacker Jarvis Jones is a top notch pass rusher who will have an immediate impact in his rookie season.
Jones broke Georgia's all-time sack record with 14.5 in 2012 and also racked-up 24.5 tackles for loss to headline one of the best defenses in the FBS. He was selected First- Team All-SEC despite playing just 11 games in 2012 and was also a Butkus Award finalist as one of the best linebackers in the country.
Jones' most impressive performance in 2012 happened in October when he shredded Florida's offense for 12 solo tackles and three sacks. He proved himself to be a dominate force while rampaging through elite, collegiate competition in the SEC on a constant basis.
Jones is ultimately a solid fit for the Jets' 3-4 base defense because of his ability to rush the passer, but he also has the ability to drop back into coverage. He's fierce and explosive, able to pummel ball carriers before they reach the line of scrimmage. He has strong football instinct and can cover the entire field. Jones registered 85 tackles in his final season at Georgia, displaying tremendous hustle.
The Jets need a ferocious linebacker that can sack the quarterback and stuff the run. Jones is a hard hitter that can fill that void. Dane Brugler of CBSSports.com has the Jets selecting Jones with the ninth overall pick in his mock draft.
Jones will inevitably be a top ten selection in the 2013 NFL Draft, although it remains to be seen if he lasts until the ninth overall pick when the Jets are on the clock.