3 Surprising Names Who Could Make a Big Impact on New York Yankees in 2013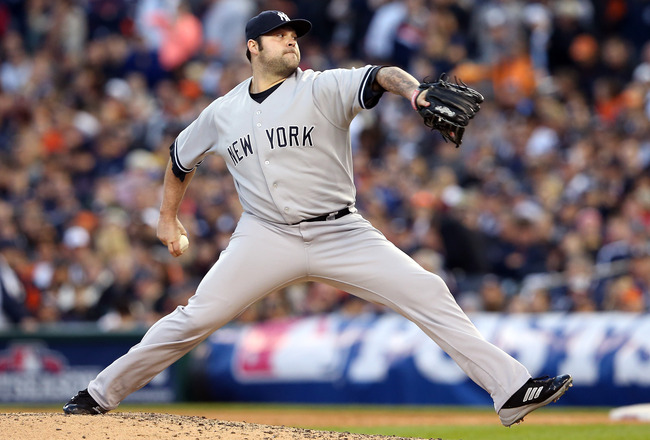 Leon Halip/Getty Images
On a veteran-laden roster such as the New York Yankees, it can be difficult to pull out those unexpected gems, the diamonds in the rough, so to speak.
Teams can be made or broken by the contributions from unexpected sources, however. How many people were projecting Hiroki Kuroda to be the Yankees' most consistent starting pitcher at this time a year ago?
In that vein, there are three players who might just be surprisingly important contributors to the Yankees in 2013.
Kevin Youkilis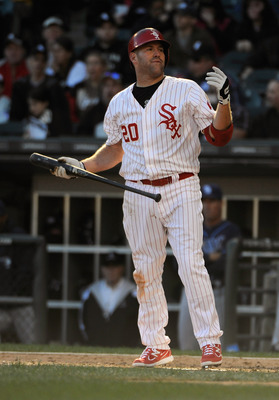 David Banks/Getty Images
Jack Curry of the YES Network tweeted Tuesday that Kevin Youkilis, signed by the New York Yankees as a free agent in mid-December (per USA Today), is adjusting his batting stance while preparing for the 2013 season.
According to Curry, Youkilis will be lowering his hands, moving his feet farther apart and crouching more.
It's a positive sign to see Youkilis making some major adjustments after he put up the worst season of his career in 2012. Youkilis hit just .235/.336/.409 in 509 plate appearances with the Boston Red Sox and Chicago White Sox last season, with 19 home runs and 60 RBI. Those are a far cry from his career numbers of .283/.384/.482.
According to FanGraphs.com, statistical guru Bill James is projecting something of a bounce-back year for Youkilis in 2013; not a return to the plus-.300/.410/.545 lines Youkilis posted in 2009 and 2010, but nonetheless a marked improvement over last season.
James projects Youkilis with a .265/.371/.465 line for this season, with 21 home runs and 80 RBI in a projected 566 plate appearances.
Youkilis will be counted on for the first half of the season to replace at least some of the production lost at third base while Alex Rodriguez recovers from what was termed "successful" hip surgery on Wednesday. According to Newsday, Rodriguez's procedure "went great," but he isn't projected to return until after the All-Star Game, at the earliest.
Joba Chamberlain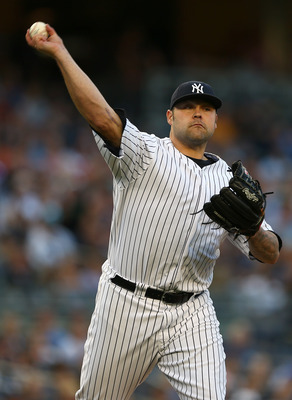 Alex Trautwig/Getty Images
Joba Chamberlain told MLB.com in November that he is looking forward to an uneventful 2013, at least in terms of making news for anything other than his pitching.
"It's an opportunity to build on how I finished," Chamberlain said of the coming season. "To know it's still there and I've still got the ability to do that, I'm just looking forward to just going out there and not having to worry about anything."
Chamberlain rejoined the Yankees in late July last season after rehabilitating from both Tommy John surgery and a dislocated ankle.
He struggled initially upon his return, but finished strong.
In August, Chamberlain was dreadful, posting an 8.59 ERA and 2.73 WHIP in 7.1 innings. But in September, he looked more like the Chamberlain of old, with a 2.03 ERA and 0.90 WHIP in 13.1 innings. He also struck out 17 batters in September.
Overall, he posted a 4.35 ERA and 1.5 WHIP in 22.2 innings, with 22 strikeouts.
He was also solid in the postseason, pitching 2.1 scoreless innings over four appearances in the AL Division Series against the Baltimore Orioles and the American League Championship Series versus the Detroit Tigers.
Bill James' projections, posted at FanGraphs.com, aren't overwhelming, but they do show a guy who will be a solid contributor out of the bullpen, something that has been hit-or-miss since the organization flirted with converting him into a starter in 2008-09.
James projects Chamberlain to make 43 appearances in 2013, with a 1.14 WHIP and 3.51 ERA. The appearances will likely end up being higher, provided Chamberlain can stay healthy.
We may never see the Joba Chamberlain who posted that microscopic 0.38 ERA and 0.75 WHIP with a 12.75 strikeouts per nine innings ratio in 2007, but if he can more closely resemble the guy who had a 1.17 WHIP and 2.31 ERA in 35 relief innings in 2008, the Yankees will be in a much better position to replace Rafael Soriano as a late-innings setup man.
David Aardsma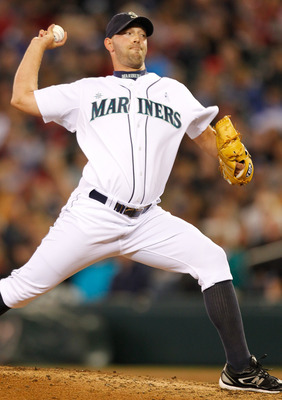 Otto Greule Jr/Getty Images
With Rafael Soriano gone as a free agent (per The New York Times) to the Washington Nationals and Mariano Rivera attempting to come back from reconstructive knee surgery at the age of 43, many Yankee observers are concerned about the team's ability to close games if Rivera isn't able to make it back.
Joba Chamberlain has just four saves in 10 career chances. David Robertson, for all his success as a setup man, is just 5-for-13 in save opportunities in his career.
So if Rivera proves unable to find his old form, who will close?
The Yankees do have another proven closer on the roster; it's just that he hasn't pitched for awhile.
David Aardsma posted 69 saves in 78 opportunities for the Seattle Mariners in 2009-10 before injuring his elbow and missing all of 2011 and almost all of last season.
Quietly, the Yankees picked up the $500,000 option on Aardsma's contract last fall (per the New York Daily News).
If Aardsma can return to his pre-Tommy John surgery form, he provides a low-cost insurance policy for Rivera. If he can't, it's not as if the organization invested a fortune in him.
Given the success rate of pitchers returning from Tommy John surgery, the 31-year-old Aardsma has a chance to be a major surprise in 2013.
Keep Reading

New York Yankees: Like this team?