Seven years ago, I was sitting in the RCA Dome, the then-home of the Indianapolis Colts, preparing to see the Colts start a playoff run against an up-and-down Pittsburgh Steeler team. Those 2005 Colts were statistically Peyton Manning's best team during his time in Indianapolis. Manning had a 1500-yard back in Edgerrin James. He was backed by the league's second-stingiest scoring defense. Everything was set up for Manning to steamroll to his first Super Bowl championship.
Sixty minutes later, the Steelers ended the Colts' Super Bowl hopes early and used their upset victory to spearhead their own title run. The Colts' season came crashing down behind their second-worst offensive performance in games that Manning had started that season. It was a disappointing end to what looked to be a promising season.
Fast forward to the Denver Broncos' 38-35 divisional loss to the Baltimore Ravens and it's easy to see similarities between those 2005 Colts and these 2012 Broncos. You could make a strong case that this was one of the best teams of Manning's illustrious career. The Broncos were a top-five team in both scoring offense and scoring defense. They were winners of 11-straight games, the best winning streak Manning has ever had going into the playoffs.
The Broncos picked a bad time to have an off day.
I'm not taking anything away from what the Baltimore Ravens accomplished. Behind the emotions of their leader, Ray Lewis, and the play of the resurgent Joe Flacco, the Ravens matched the Broncos punch for punch throughout the game.
But as the fourth quarter came to a close, the Ravens looked spent. As the camera panned the Ravens' sideline, the players were bundled up and their faces seem to beg for an end to the contest so they could retreat to some warmer part of the stadium.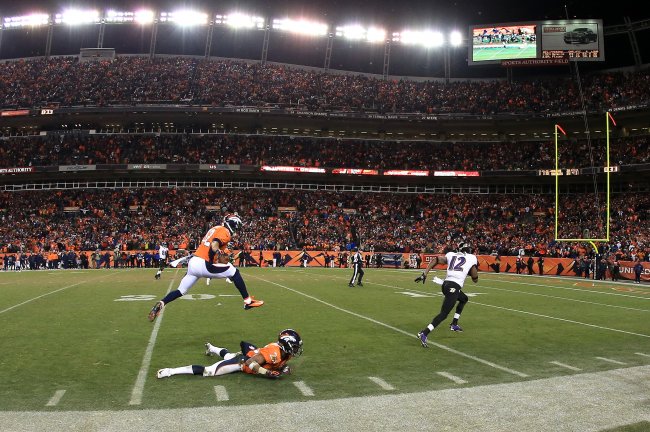 Doug Pensinger/Getty Images
The Broncos had this game in hand. It would be easy to argue that a catastrophic defensive lapse cost the Broncos a trip to the AFC Championship game. Flacco's 70-yard touchdown pass to Jacoby Jones with 40 seconds left in regulation never should have happened. However, the Broncos had no business being in that position.
I've spent many years defending the disappointments Manning has had in the playoffs. After all, he did follow that playoff loss to the Steelers with an amazing run to the Super Bowl the following season, which included the epic comeback against the New England Patriots in the championship game.
It would be easy to defend him again in this loss. The stout Broncos defense was virtually nonexistent. They gave up the more points in regulation than they had in any other game this season. They gave up the most yardage as well. The loss of Knowshon Moreno hindered the running attack Manning needed to keep the Ravens guessing on offense.
I get that.
But it would be impossible to shield Manning entirely from criticism. Manning did not challenge the inconsistent Ravens' secondary. Manning finished a yard and a half below his yards per attempt average for the season. Sure, Manning was wearing gloves to help improve his grip, but his touchdown passes to Brandon Stokley and Moreno looked sharp. Gloves can't be inconsistent. It must be the person wearing him.
While Manning's first interception was due to a tipped pass, it was still a pass that was thrown high. Manning had several completions where his receiver had to make a low catch or reach behind him to haul in the pass. Even without pressure, Manning seemed to lack velocity on his passes, evidenced by his low throw that Stokley managed to adjust to and catch on a key third down in the second half.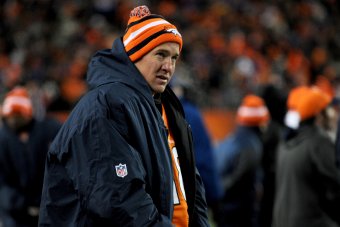 Dustin Bradford/Getty Images
Still, despite Manning's subpar play, the Broncos had life throughout the contest. Even after two Broncos let Jacoby Jones get behind them to tie the game in the waning moments, the Ravens seemed to run out of options. Offensive coordinator Jim Caldwell's playbook suddenly resembled Tecmo Bowl, with the Ravens running a very predictable offense in overtime.
Then Manning made his worst mistake when he tried to hit Stokley on a crossing route while scrambling from the pocket. It wasn't his grip that failed him—the throw was straight and the spiral was tight. However, it was a bad decision as Corey Graham was there to undercut Stokley to set up the Ravens' game-winning drive.
There's no doubt that Manning and many other Broncos will look back at this game and see a multitude of missed opportunities. There's also no doubt that this will usher more heat on Manning's playoff record, which is now two wins short of .500. Fair or not, Manning will be greatly criticized for his suspect play.
Broncos fans can only hope that this disappointment is answered like Manning's 2005 playoff disappointment was, with a Super Bowl victory the following season.