New York Mets Offseason Targets Grady Sizemore and Mike Morse Among Others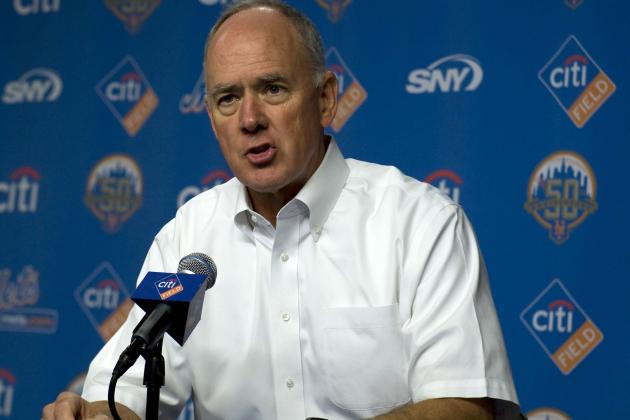 Jason Szenes/Getty Images

If the baseball season started today, the New York Mets outfield would look something like this: Lucas Duda in left field, Kirk Nieuwenhuis in center field and Mike Baxter in right field. That's hardly a formidable outfield. The only reason that would keep Philadelphia Phillies pitcher Roy Halladay up at night is if he's laughing the whole time.
Sure the Mets pulled off a blockbuster deal, trading away the reigning Cy Young award winner, R.A. Dickey, to the Toronto Blue Jays for a bundle package headlined by super catching prospect Travis d'Arnaud. But that's not going to be enough to compete in 2013.
In fact, ESPN's Jayson Stark listed the Mets as one of the top five "least improved teams." They are paper thin in the outfield and still have done nothing to address last year's disaster known as the bullpen. Not to mention, the Mets need to find a starting pitcher to replace Dickey.
General manager Sandy Alderson's plan since day one has been focused on 2014 as his target year to be a force in the National League East. He has loaded the roster with young, controllable and inexpensive talent by trading veterans such as Dickey and adding players with expiring contracts and low risk, high reward players.
Here are the players that the Mets are rumored to be pursing.
Begin Slideshow

»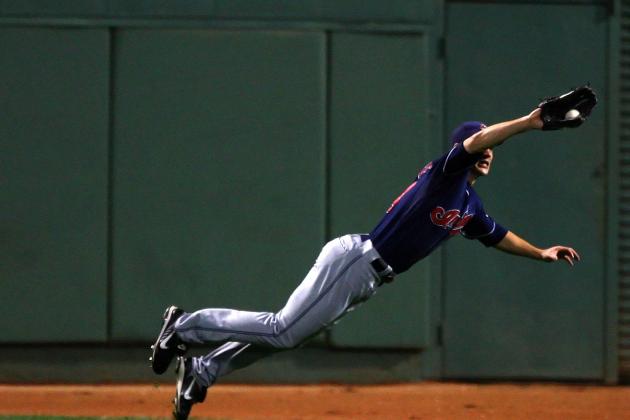 Al Bello/Getty Images

Grady Sizemore has barely seen the field since 2009, when he went down with an elbow injury. Since then, he underwent multiple surgeries to his knees, a surgery for his back and had a spots hernia. It looks like a return after the All-Star break in 2013 would be best case scenario for Sizemore.
With all that being said, he's still only going be 31-years-old when the season starts. He's a three-time All Star, two time Gold Glove winner and a Silver Slugger winner. When he was healthy, Sizemore was one of the best all-around players in the game. Between 2005 and 2008, he hit .280/.381/.496 with 107 home runs, 325 RBIs and 115 stolen bases.
He would be available for a minor league deal, making him a low risk, high reward signing. A perfect deal for the bargain hunting Mets.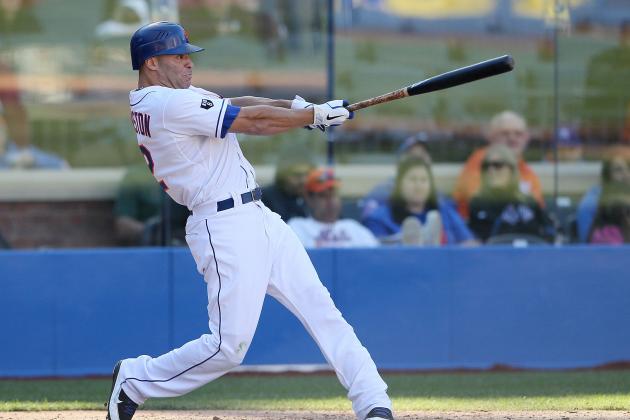 Alex Trautwig/Getty Images

Hairston has been searching for that elusive two-year deal since becoming a free agent. The New York Mets and Yankees---among other teams---have expressed interest, but neither team is willing to give the 32-year-old outfielder two years.
But it makes perfect sense for the Mets to bring back Hairston. With a lineup that is devoid of power and dominated by left-handed bats, especially in the outfield---Duda, Nieuwenhuis and Baxter---the Mets need a right-handed bat that can handle left-handed pitching and knock the ball out of the park. That's exactly what Hairston brings.
Last year for the Mets, he hit .286/.317/.550 with 11 home runs and 30 RBIs in 189 at bats against left-handed pitching. He finished with 20 home runs on the season. He's a solid player that can platoon in the outfield and come off the bench for Manager Terry Collins.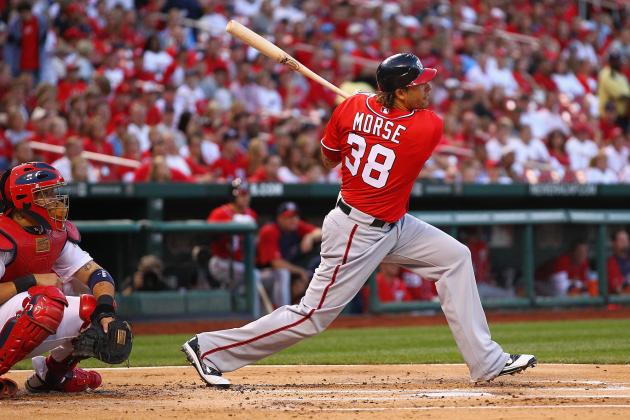 Dilip Vishwanat/Getty Images

Morse battled through injuries last season and only played 102 games for the Washington Nationals, but he still belted 18 home runs and hit .291/.321/.470 with 62 RBIs.
Despite the offensive output, the 30-year-old left fielder could be the odd-man-out in a loaded Nationals outfield that includes Bryce Harper and Jayson Werth, who will start in left and right field respectively. The Nationals also made a deal earlier in the offseason for Minnesota Twin's outfielder Denard Span and will look to find playing time for power hitting Tyler Moore, who hit 31 home runs in AA Harrisburg in 2011. Morse also plays first base, but that spot will be filled by Gold Glove and Silver Slugger winner Adam LaRoche, who the Nationals signed to a two-year deal.
Morse would fit into the Mets as a middle-of-the-order, right-handed bat in the outfield that can put the ball in the seats. He is only signed through 2013 for $7 million, a bargain price for a guy who is just two years removed from hitting 31 home runs and posting a .303 batting average.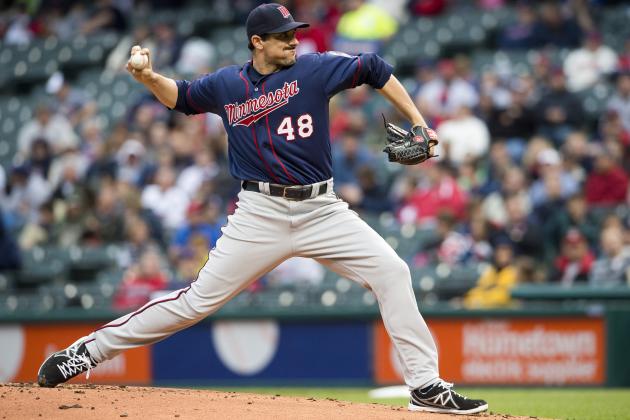 Jason Miller/Getty Images

The often injured Pavano, 37, is on the Mets radar as another low risk, high reward player. Because of the injuries, Pavano would cost the Mets nothing more than a bucket of balls.
In 2012, he only pitched in 11 games for the Minnesota Twins, going 2-5 while posting a 6.00 ERA in 63 innings. He suffered an injury in his throwing shoulder and was shut down early in in June.
But just two years ago, Pavano went 17-11 with the Twins with a 3.75 ERA. He's a control pitcher---with 8 walks in 63 innings last season---and contact pitcher, who could benefit from playing in spacious Citi Field.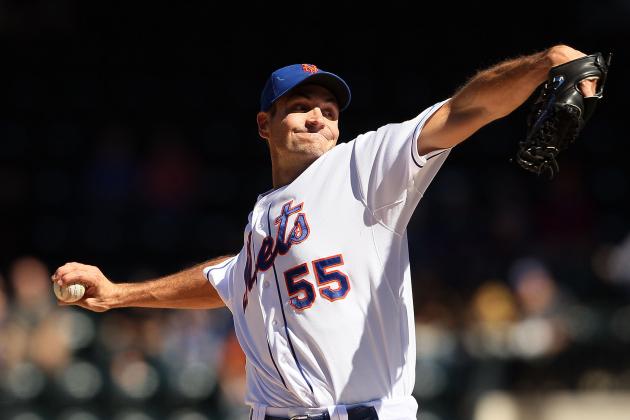 Alex Trautwig/Getty Images

Young, 33, came back in the second half of the season for the Mets last year. The 6'10'' right-hander finished 4-9 with a 4.15 ERA.
In a majority of Young's starts, he looked great through the first two trips through the order. But as Mets fans remember, the third trip through the order was a disaster. Typically in the fifth and sixth innings of games, he came undone.
But that could be attributed to fatigue. He hasn't pitched more than 25 innings the last two seasons and hasn't pitched more than 77 innings in the last three seasons. In fact, last season's 115 innings were his highest total since he went 9-8 with the San Diego Padres in 2007.
With that being said, he could provide depth for the Mets for the 2013 season as a veteran fifth starter and a mentor figure, along with Johan Santana, for the young pitchers like Matt Harvey and Zack Wheeler.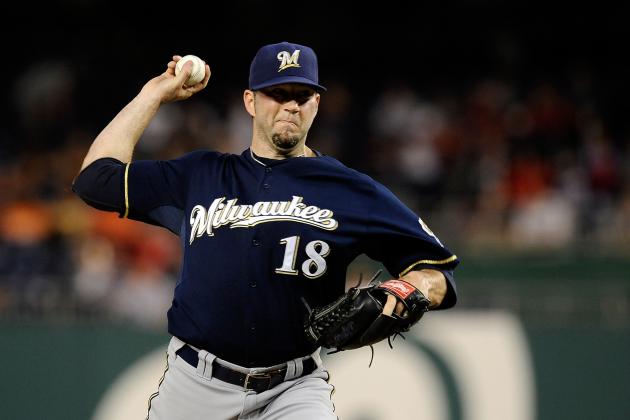 Patrick McDermott/Getty Images

The Mets have been in contact with former Milwaukee Brewer pitcher Shaun Marcum, 31. Last season he pitched to a 7-4 record, posting a 3.70 ERA in 124 innings.
Marcum is a career winning pitcher (57-36) and an innings eater that will throw between 150 and 200 innings per season. His ERA has never been over four since his second season in the league in 2007, where he pitched in a hitting-dominated American League East. When healthy, his strikeout to walk ratio is nearly 3-to-1.
Marcum had an elbow strain last season that caused him to miss more than one-third of the season, which could raise red flags in the organization. His price tag would be higher than a Carl Pavano or Chris Young, but his upside is also higher than both.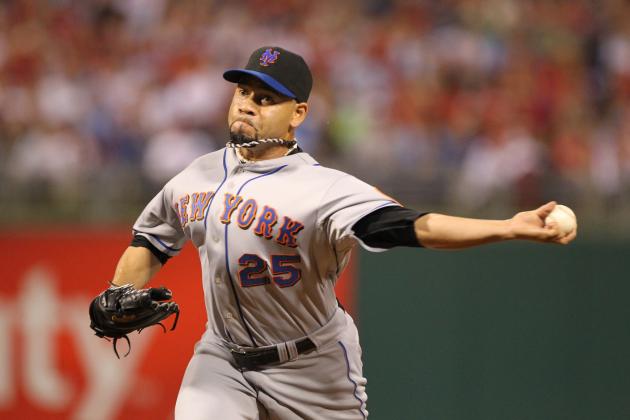 Hunter Martin/Getty Images

The Yankees are cursing the 36-year-old left specialist, who did not throw a pitch during the two year, $8 million deal with the Bombers after rotator cuff surgery in 2010.
But he said he's healthy and ready to pitch again. Before joining the Yankees in 2011, he had a very productive career with the New York Mets, where he earned the nickname "Perpetual Pedro," after pitching in league high 86, 88 and 92 games from 2008-2010. He posted a career 3.31 ERA and a 22-19 record. He was arguably their best reliever during his tenure in the Mets' bullpen.
He is primarily a left handed specialist, a valuable weapon to have in a division with Ryan Howard, Chase Utley, Jayson Heyward, Bryce Harper and Adam LaRoche among other others.
He will look to make a club out of Spring Training, and it would make perfect sense for the Mets to bring back an old friend and reliable reliever.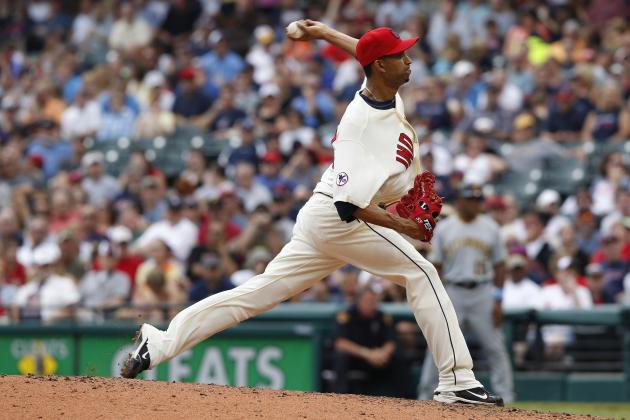 David Maxwell/Getty Images

Perez, 30, has quietly put up strong numbers in Cleveland as a set-up man. He went 6-1 and 5-2 in 2010 and 2011 respectively, posting an ERA of 3.25 and 3.00 during those two seasons. He's a left-handed reliever that has pitched over 60 innings in four of the six seasons in the Major Leagues.
Last season he suffered an injury that ended his season after pitching just 7.2 innings and was designated for assignment by the Cleveland Indians late in November.
But he would provide Manager Terry Collins with a second lefty option in the bullpen to go along with Josh Edgin in a left-hand hitting dominated division.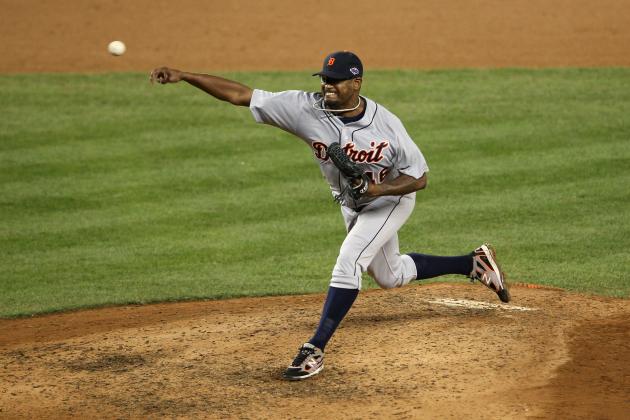 Alex Trautwig/Getty Images

"Papa Grande," as Valverde is referred to as, is hard to figure out. Two seasons ago he finished fifth in AL Cy Young voting, recording a league-high 49 saves and posting a 2.24 ERA in 72.1 innings. Last season his ERA ballooned to 3.78, his highest total since 2006 with the Arizona Diamondbacks.
His struggles late in the season played a part in the Detroit Tigers' decision not to bring him back.
With that being said, Valverde is still a force on the mound, recording 35 saves in a down year. And his 3.78 ERA is still an improvement over the 5.53 ERA Frank Francisco---the Mets closer---posted last season.
Too many times did the Mets bullpen cost them games last season, but having Valverde to nail down the game in the ninth inning could add at least 10 more wins to this team.