Vikings 2013 Mock Draft: The 'Smartest' Pick Minnesota Can Make at Every Spot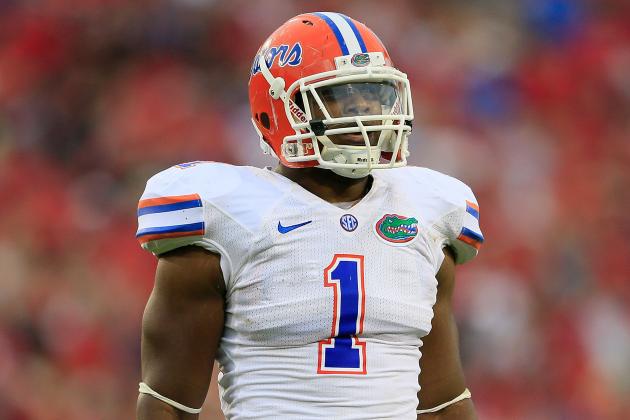 Sam Greenwood/Getty Images

The Minnesota Vikings have solidified their draft spot for 2013, and have important offseason decisions to make if they want to repeat their playoff run.
The Vikings rank in the middle of Pythagorean projections—projections based off of overall margin of victory—and ranked just 23rd in overall efficiency, a sure sign that a team might not be as good as it thinks it is.
With that in mind, it will be much more difficult for Minnesota to stave off a drop in performance and 'regress to the mean' towards an 8-8 record than it will be to repeat. In order to replicate its success, the offseason needs to be nearly flawless, and that means an intelligent draft.
While my optimal strategy is to trade picks to find the best value, the Vikings might not necessarily like trading out of the first round to reload in the second.
With that in mind, the smartest moves at any particular pick will be a combination of safer picks, drafting for value, and managed risk. That means this mock will avoid upside with risks and will try to project the highest value and lowest risk at positions the Vikings need to replenish if they want to continue their return to relevance.
That doesn't mean this is the optimal draft for the Vikings—merely one of the safest.
Begin Slideshow

»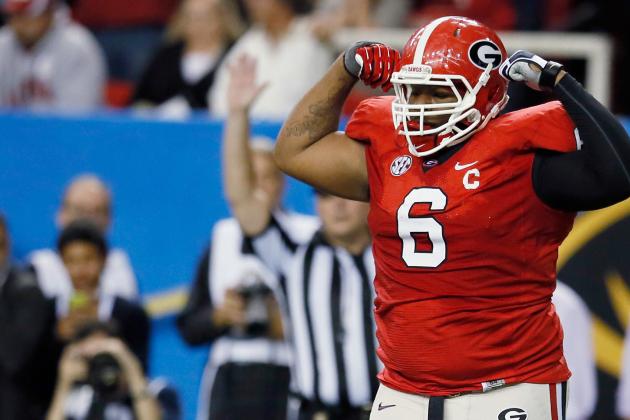 Kevin C. Cox/Getty Images

While not the most obvious need for the Vikings, Minnesota needs to ensure that they can lock down the interior of their line for years to come. With Kevin Williams due $8,000,000 and neither Letroy Guion nor Fred Evans looking like a long term solution at the nose, reloading at the defensive tackle position is a clear necessity.
With that in mind, the safest pick at defensive tackle in the first round will be Jonathan Jenkins. While he mostly played in the 0-technique/3-4 nose tackle role at Georgia (and thus enabling Jarvis Jones and Alec Ogletree), he's lined up in the 1-technique role several times in his career, including quite a few snaps against Michigan State.
He fits better for teams looking for a 3-4 nose tackle than anything else, but could develop into a very good 1-technique player. Aside from a disappointing game against Florida, he had a very good year against a very tough slate—including a dominating performance against Alabama, who have the top offensive line in the country by quite a bit.
He consistently beat Chance Warmack, excellently using his hands on most of these plays to take advantage of his superior quickness. While he would on occasion be moved by Barrett Jones or DJ Fluker, he held up—as he usually does—well on run plays and was relatively penetrating on pass plays.
Jenkins has more strength moving laterally than into the backfield, so the Vikings will draft him knowing he will do well in run support without racking up big sack numbers. He can reprise Pat Williams' old role in the Vikings defense and bring it back to the feared heights it once was at.
With a weak linebacker class and a relatively even receiving corps, Minnesota would do well to find a deep threat in the second round more than in the first or in the third. Players like Da'Rick Rogers and Cordarrelle Patterson are intriguing, but don't represent the safety that this draft is looking for.
The low value of the top of the class might push receivers down further than they would otherwise go, so somebody who the Vikings need will drop here. They can safely ignore the slot receivers like Tavon Austin and Stedman Bailey and might want to pass on the possession receivers, like Robert Woods and Keenan Allen.
That leaves deep threats like Justin Hunter, Da'Rick Rogers, Terrance Williams, DeAndre Hopkins, Cordarrelle Patterson and Quinton Patton to fall to the Vikings at the 51st spot.
Unfortunately, the second round will still see teams snap up the majority of those receivers and the Vikings could be left choosing between Patton and a few also-rans at linebacker. That's OK, because Quinton Patton is a fine choice as the second round finishes up.
Patton doesn't have the high upside of Da'Rick Rogers or Justin Hunter, but neither does he carry the baggage that might make him a wasted pick—Rogers' character concerns and Hunter's injury history could hold them both back.
While Patton doesn't have burner speed, he's fast enough to find himself open downfield fairly often, projecting to a 4.55 40-yard dash. As a route-runner, he's not perfectly polished but he looks to be better than Hopkins, Williams and Patterson, who are all very raw.
He has a number of subtle moves and countermoves that you don't tend to find at his level, which is why Johnthan Banks said Patton was the most difficult receiver he played in 2011. He pushes off receivers well and gets separation across the field.
The most attractive quality for Patton, however, might be his excellent downfield blocking. One of the few receivers in the draft capable and willing to block for runners, the Vikings might look to Patton because he can enable their game in several ways instead of just one.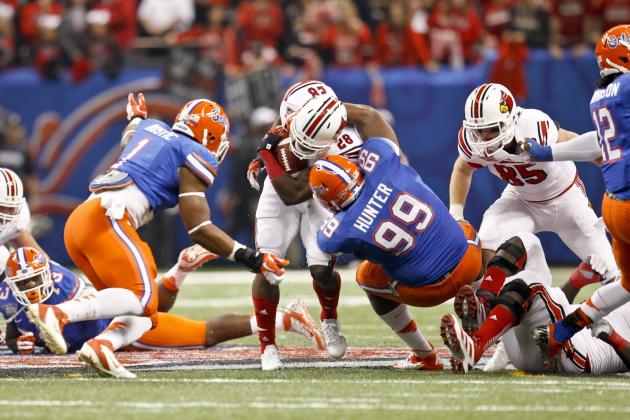 Derick E. Hingle-USA TODAY Sports

It will be difficult for the Vikings to find good inside linebackers that fit their scheme, but they do need to find a cover linebacker that can execute their Tampa-2 scheme; experimenting with a downhill player without backpedal didn't turn out very well at all. In the third round, high-profile prospects like Kevin Minter and Arthur Brown will surely be gone, so the number of 4-3 capable middle linebackers is small. Between Kiko Alonso of Oregon, Shayne Skov of Stanford and Jonathan Bostic of Florida, Bostic may have the fewest red flags.
A serious injury that limited Skov's range and mobility for the first half of the year would make him an upside-pick, while Alonso's multiple alcohol incidents (and a few injuries as well) keep him out of the pool of "safer" draftees. Bostic isn't a "default" option here, as he's certainly a capable starter, but he might not have the highest ceiling of third round prospects.
The most surprising of Bostic's capabilities might be his pattern-reading in zones; something that will allow him to stay with receivers over the middle much better than one would expect, given his athleticism. In general, he seems like a better than average coverage linebacker and reads the play well on the run. He doesn't project to be a star and is limited in his sideline-to-sideline capabilities, but is still an instant improvement over Brinkley.
Unlike the current starter for the Vikings, Bostic's awareness in zone and backpedal capabilities are more than adequate for NFL play, and he'll be an asset on every down. Against the run, he'll take good angles and will let his solid instincts and excellent film study guide him to the ball. He can usually sift through traffic and get to the ballcarrier, but there are some legitimate concerns about his ability to take blockers on. He generally displays proper technique, but doesn't always stay low enough, so good guards can blow him up (Chance Warmack has done extremely well against him in both of their encounters).
There are still some concerns about missing tackles, and these largely come from his subpar change-of-direction skills. This is unlikely to be easily fixed with work, but his good positioning should make him a good starter in the NFL nevertheless.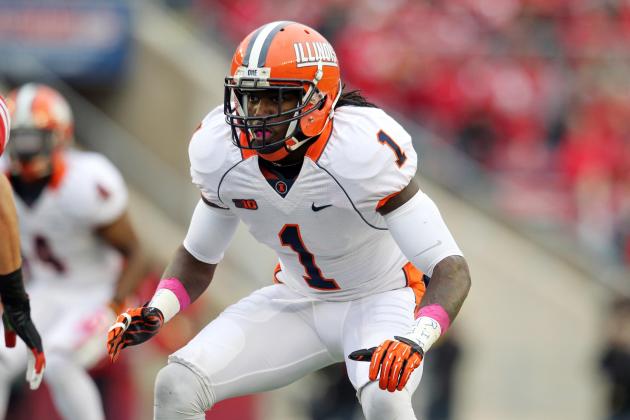 Brace Hemmelgarn-USA TODAY Sports

Avoiding landmines becomes increasingly difficult as teams enter the later rounds of the NFL draft, and passing up prospects like Tyrann Mathieu or Sanders Commings is difficult. Left are Sheldon Price and Terry Hawthorne, both tall rangy corners that the Vikings will need to compete with Josh Robinson and eventually fill in for Antoine Winfield.
Given the scheme of the Vikings defense, they might much rather have Hawthorne than Price—Hawthorne's upside is slightly lower, but his established skill set is much better. While Price might shy away from contact and reacts poorly to a ball thrown in the air, Hawthorne will be a bit more reckless with his body and play a much more physical game.
Both have problems with receivers running out and deep, as the transition is marred by either stiff hips (Hawthorne) or a lean body (Price), but both have elite speed that they can use to recover. It's in run support that Hawthorne shines, displaying both an ability to shed blockers and break down a tackle well, making sure to square shoulders and wrap up. He will lead with his helmet too often, but can be coached out of it.
Hawthorne's experience as a kick returner, punt returner, wide receiver and even punter will be useful and can provide emergency depth across multiple positions should a game get out of hand. An added benefit to this would be getting rid of Marcus Sherels, whose short area quickness has left a lot to be desired in the past.
If the young Illini prospect can be taught to play out of the slot, his physicality might be a good replacement for Winfield, who could be headed out of Minnesota soon enough.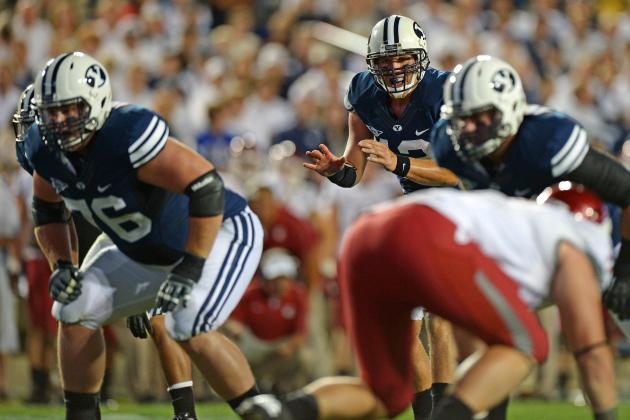 Jake Roth-USA TODAY Sports

Without a top-tier guard in the first several rounds, the Vikings might have to look to next year to really fix a lot of the holes they have on the offense. But there's a good chance that Braden Hansen could start immediately for the Vikings and offer an upgrade to an otherwise excellent offensive line.
Neither Brandon Fusco nor Charlie Johnson have really fulfilled their role as starters for the Vikings, and while Geoff Schwartz is availing himself in relief, the Vikings don't know what they have in him either.
Hansen carries himself like a veteran and his only real flag—like all BYU prospects—is his age (24). Not a big problem, but one talent evaluators will be cognizant of.
The BYU prospect has elite awareness and plays technique well, playing low and to the ground in leverage situations. He does a great job picking up blitzes, line stunts and plays wide. With good strength and excellent hands, he generates a good punch in the run game as well as good contain as a passer.
He's not very quick, however, and he might find himself beaten at the second level by quick linebackers. For the most part, however, he can push out and make plays in the running game. He can pull and get to his assignment as need be as well, although the Vikings would probably want to pull him less than they do other linemen.
While his heavier feet also make it a bit more difficult to recover when he is out of position, he still finds himself in the right place at the right time. Perhaps the biggest problem in terms of his fit with Minnesota might be that this impacts his lateral movement, and he might not be as good a zone blocking prospect as a guard like Omoregie Uzzi from Georgia Tech or Ear Watford from James Madison University.
Still, with this type of awareness, intelligence and understanding of pass blocking and run blocking, it is hard to pass up a prospect like Braden Hansen.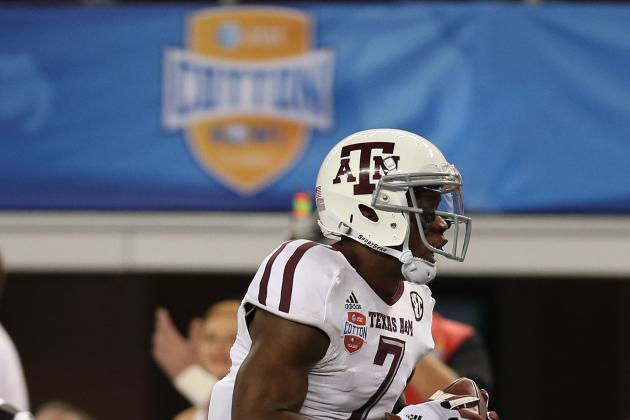 USA TODAY Sports

It will be difficult to predict what will be available so late in the draft, but the Vikings will probably want to take another crack at wide receiver in order to maximize their opportunities to put a good receiver on the roster.
They might be able to choose between Dan Buckner, Conner Vernon, Uzoma Nwachukwu and Emory Blake. A "safe" draft would eliminate Buckner, who has had multiple off-the-field issues, and the Vikings will likely want a versatile player to backup the rest of the roster.
It might ultimately be Nwachukwu's versatility and willingness to block that sets him apart from Vernon and Blake, both of whom might prove better threats on the long ball.
Nwachukwu projects as a slot receiver, but really can play in any of the receiving spots. He is the most willing and able blocker of the three and can hold his block for some time down the field. Beyond that, his possession capability has improved quite a bit his senior year, catching the ball with his hands much more than with his body—a problem in previous years.
He can win outside with his speed and strength, or inside with his short-area quickness and has good stop-start ability. He can react well to the ball in the air—perhaps his greatest trait—and is a pleasure to watch when trying to grab yards after the catch or return a kick.
The Aggie's merely average in terms of NFL height and speed (6'0" and projected to run a 4.55 40 yard dash), and he didn't display this consistency in catches before his senior year—something that will ring alarm bells for scouts.
Nevertheless, his better-than-average route-running and his recently-improved hands warrant a look, even if he's not the most physically dominant receiver out there. He's willing to do anything it takes to win, and that's something the Vikings will value.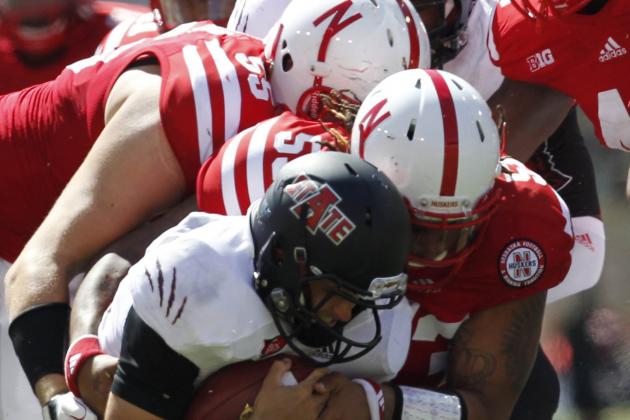 Bruce Thorson-USA TODAY Sports

The Vikings aren't done shoring up their defense, and they may want to start early creating a competition for Kevin Williams' spot as the under tackle in the Vikings 4-3.
If the Steinkuhler name doesn't enchant scouts too much, his availability early in the sixth round might be a blessing for the Vikings, who well know that one can never have too much defensive line depth.
Steinkuhler may be a better fit at 5-technique defensive end, but his ability to attack a single gap and get upfield provides intriguing potential at 3-technique defensive tackle.
He still seems a bit small for an interior player, but he more than makes up for it with his high motor. While he can get locked up on individual blocks, he keeps his feet working while making sure not to turn his shoulders. With generally good initial quickness, he can usually use his reach to penetrate the gap and put pressure on quarterbacks, even though he hasn't found himself in the backfield as often as he likes.
His biggest problem is correctable: consistently high pad level and technique that takes him out of the play. He used his strength to overcome this at Nebraska, something he won't be able to rely on nearly as much in the NFL, despite his better-than-average strength.
At 290 pounds, he could stand to gain some weight, and he also needs explosiveness to be a sure starter in the NFL. Nevertheless, Steinkuhler is definitely not a big risk and could develop into a legitimate starter for the Minnesota Vikings.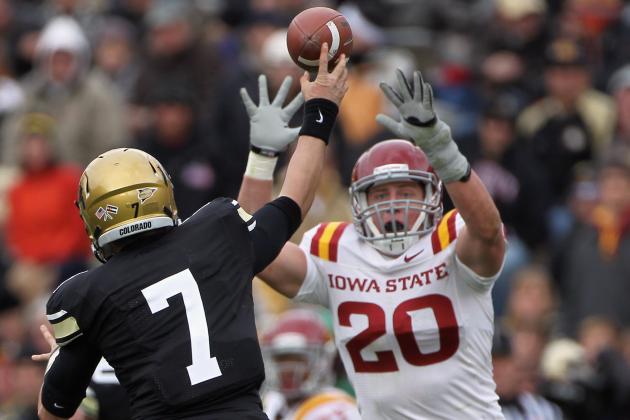 Doug Pensinger/Getty Images

The Vikings may not find themselves resolving all of their tertiary concerns in the draft—concerns like linebacker depth will have to compete with some of the emerging issues the Vikings have had at cornerback and safety. While Minnesota might not be able to grab the second guard they could need or the third safety that would be useful to have in rotation, they can still come away with a successful draft if they go after two linebackers, two receivers and two defensive tackles.
In this case, the second linebacker would be Jake Knott, who has made some big plays for Iowa State in his time there, critical in his team's win over Oklahoma State and against Iowa. Knott would be a good grab in the seventh round, as his sideline-to-sideline speed is unusual for a linebacker found so late in the draft.
Generally good at diagnosing plays, he can react to the ball quickly and flow to the point of attack. More than that, he's willing to throw his body into run plays and take up blocks to free up other defenders. He has good strength and could project to be a Sam linebacker, relatively rare in this draft.
Most important to a linebacker, the Cyclone is a naturally good tackler who is fundamentally sound. He wraps well, even if he doesn't always knock the ballcarrier back because of how he drives through.
His range as a zone defender is also surprisingly good. He's not as fluid as one wants in pass coverage, and he might not line up well against quicker running backs or fluid tight ends, but he can still hold his own and play in large underneath zones.
Like all other picks in this mock, he's not a red flag due to injury (he broke his right arm in a 2011 spring practice, but has yet to miss a game) or character (by all accounts a hard worker, well respected by teammates and coaches, and elected as a captain). The reason he'll fall has to do with some things that can be corrected and a few that won't.
First, he is notoriously poor at the point of attack will get consumed by lead fullbacks or guards when engaged. He has flashed skill in this area on occasion, and can be taught to bring his hands up, but really struggles in hand technique as well as dropping his weight. He needs to learn to consistently make his hands explosive
Second, he has poor change of direction skills and transitions poorly from pass to run or vice versa, so getting caught up in a draw or a play action will expose big holes. While he generally reads the play well and shows good awareness getting into lanes, he doesn't recover when caught out of position.
Finally, his big problems generating power from the lower half of his body both allow him to give up extra yards after contact and getting a final explosive burst either in pursuit or shedding a block. While a controlled game is generally good (and definitely an asset of his), and he can find ways to keep himself alive in plays (sometimes hurdling defenders), he doesn't always show the ability to make up ground in pursuit or lay down the hammer when tackling. It also affects his pass-rushing abilities, which are limited.
Nevertheless, Knott is a good prospect to keep in reserve either at the Sam or Will spot, taking on lead blockers as a strong-side 'backer or flowing to the ball with sound fundamentals as a weak-side defender.