Texans' 2013 Mock Draft: The Smartest Pick Houston Can Make at Every Spot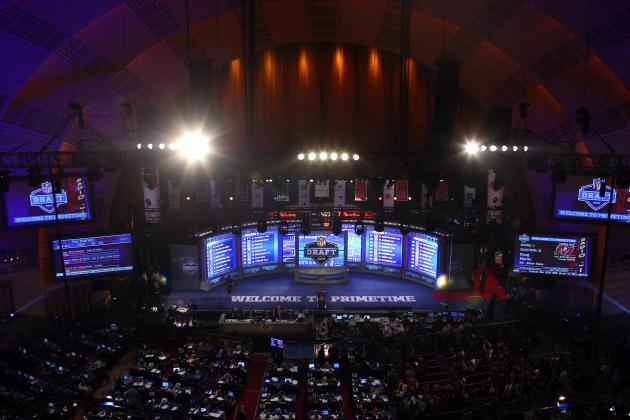 Chris Chambers/Getty Images

The NFL draft is a time of excitement, speculation and debate.
Although the Houston Texans' season is still alive after a wild-card victory over the Cincinnati Bengals for the second straight year, the NFL draft is simply too fun of a subject to resist discussing.
After the Texans' incredible 11-1 start to the season, one would think that the team would not need to improve much in the offseason to be Super Bowl contenders in 2013.
The Texans' late-season skid, however, has revealed several flaws on the team that must be dealt with. They have extremely weak depth at inside linebacker and offensive line, and they could certainly afford to beef up their secondary.
We still have many months to go before the draft, and right now, the draft board is about as sloppy as the right side of the Texans' offensive line.
Regardless, mock drafts, at any time of the year, are pure entertainment.
So, without further ado, here is my full seven-round mock draft for the Texans.
Begin Slideshow

»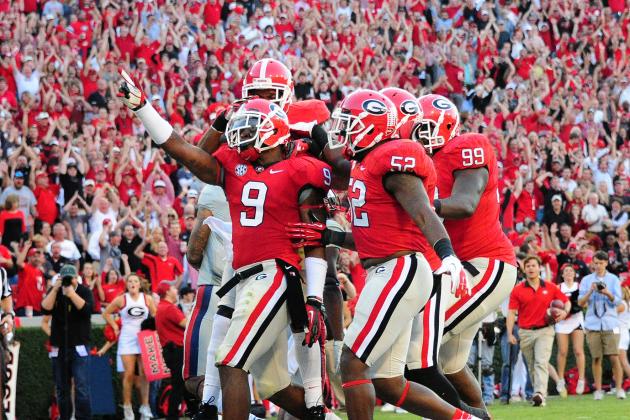 Scott Cunningham/Getty Images

As the situation currently stands, the Texans have two capable starting inside linebackers under contract for next season: Brian Cushing and Darryl Sharpton.
Cushing is returning from an ACL injury, a notoriously difficult injury to make a full recovery from in one year, and Sharpton is about as injury-prone as they come.
Sharpton, also, is not nearly dependable enough to be a starter on a defense that the Texans expect to be one of the best in the NFL.
Alec Ogletee is the solution to the Texans' problems.
Ogletree has the full skill set anyone could desire from a starting 3-4 inside linebacker. His awareness is incredible, and this allows him to quickly diagnose plays and consistently stuff runs.
Furthermore, Ogletree was originally recruited by Georgia as a high school All-American safety, and he made the All-SEC team his freshman year as a defensive back.
After viewing his tremendous build, however, Ogletree's coaches at Georgia made the snap and correct decision to transition him to a full-time middle linebacker.
Although Ogletree no longer plays in the defensive backfield, he has still retained his excellent coverage skills. When a linebacker has the ability to easily cover opposing tight ends, it is extremely beneficial to a defense.
Safeties can be dropped back into a deep zone more often to help cornerbacks out over the top, which can do wonders to take away opposing teams' deep-ball threats.
Ogletee is an extremely talented inside linebacker, and he could be a dominant force lining up next to Cushing.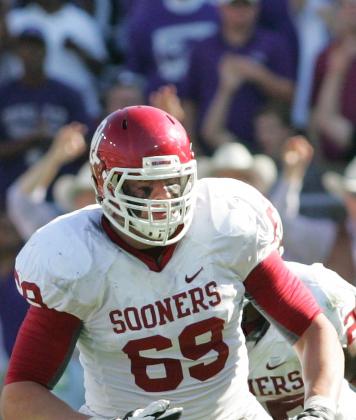 R. Yeatts/Getty Images

During the Texans' late-season collapse, players, coaches and fans from around the league learned just how easy it is to defeat the Texans.
If you can attack the Texans' offensive line and prevent them from being successful, the Texans offense will collapse. Arian Foster will find no running room in the zone-blocking scheme, and Matt Schaub will not be able to set up the lethal play-action pass play.
The majority of the offensive line struggles came from the right side, where two extremely inexperienced linemen in Ben Jones and Derek Newton were granted starting jobs.
Behind the two inconsistent starters, the Texans had even more inconsistent depth. The Texans need to bolster their depth on the offensive line in the offseason and possibly find a new starter in the draft.
Lane Johnson could be that guy.
The only knock against Johnson is that he has not played on the offensive line for the majority of his career, so there is a worry that he might be too inexperienced. If Johnson decides to return to school and forgo the draft, it is extremely likely that he could be a first-round pick next season.
Johnson is best known as an excellent pass-blocker, as he is able to match opposing pass-rushers' speed with his own surprising quickness. He is also very adept at neutralizing pass-rushing moves and techniques.
Johnson, however, would be an excellent run-blocker in a zone-blocking scheme. His athleticism allows him to easily reach the second level, and his capable footwork allows him to find the correct angles on run blocks.
According to NFL.com, Johnson is a similar player to former Texans star, Eric Winston, which means he could possibly find great success in the Texans' blocking scheme that favorably matches his skill set.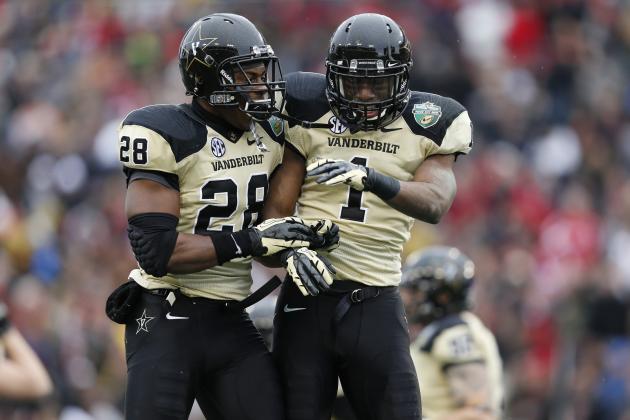 Joe Robbins/Getty Images

This offseason, there is a very likely possibility that the Texans will be unable to re-sign their starting safety, Glover Quin.
Quin does it all for the Texans. He is terrific as a run defender, and on occasion he can act as a fifth linebacker for the Texans defense.
Quin's list of skills does not end there, though. He is solid in coverage, and he occasionally flashes greatness.
If the Texans were to lose Quin, they would have to act quickly to minimize the loss. The backups at the safety position—Quintin Demps and Shiloh Keo—are inept and Demps himself is also a free agent.
Kenny Ladler is an instinctive, hard-nosed football player who can perhaps immediately fill Quin's role as a run-stopper for the defense.
While Ladler needs to work on his coverage skills, he has the natural instincts, quickness and the awareness to improve right away with the help of cornerbacks coach Vance Joseph.
Also to be mentioned is that Ladler's former teammate, Casey Hayward, was an underrated cornerback prospect who was drafted at the end of the second round last year. Hayward went on to have an incredible season for the Green Bay Packers, and he is considered a favorite to win Defensive Rookie of the Year.
Perhaps Ladler could also harness some of the Vanderbilt magic and become a dependable player for the Texans, as well.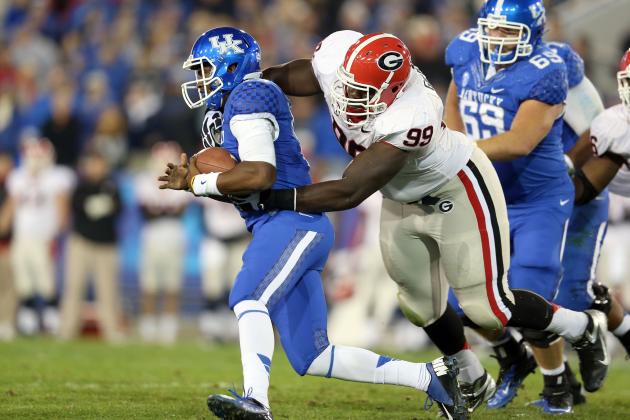 Andy Lyons/Getty Images

Throughout the history of the Texans' franchise, fans have clamored for a mountainous, gap-filling nose tackle that could revolutionize the defense.
Instead, they have been forced to settle for smaller defensive and nose tackles, who in no way, shape or form have the tremendous bodies needed to be effective gap-eaters.
Kwame Geathers is the virtual opposite of Shaun Cody and Earl Mitchell. Geathers is a mass of a man, standing at 6'6" and weighing at an outstanding total of 355 pounds.
If Geathers decides to enter the NFL draft, the Texans should snatch up the opportunity to take such a large nose tackle right away.
Geathers could demand extra bodies on the line of scrimmage due to his sheer size alone, and he would open up pass-rushing lanes for J.J. Watt, Antonio Smith, Connor Barwin, Brooks Reed and Whitney Mercilus in a way Cody and Mitchell never could.
The Texans have a need at nose tackle, and Geather's size could certainly fill it.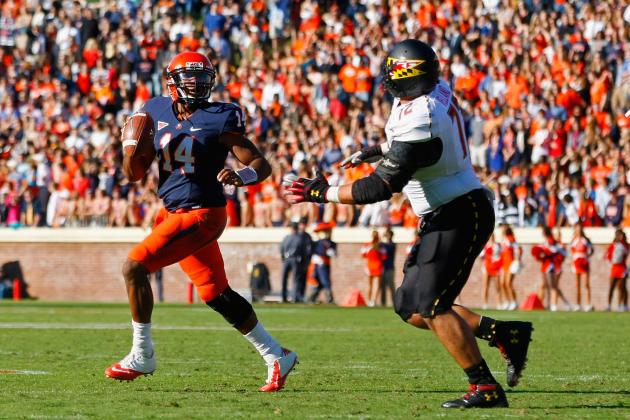 Geoff Burke/Getty Images

While the Texans do not have a need at defensive end currently, they certainly could in the near future.
Antonio Smith, the Texans' play-making defensive end, is getting up there in age, and his contract is set to expire in 2014.
Joe Vellano could bolster the Texans' depth at defensive end, and perhaps start or be a valuable backup to Jared Crick once Smith is done with the team.
Vellano is a solid pass-rusher, as he can move quickly despite his large size. Vellano's true skill set, however, comes as a run defender.
Vellano is a stout run defender, which is extremely important for a 3-4 defensive end. He is terrific at holding his ground, and opposing teams have a lot of trouble running in his direction.
If Vellano can hone his pass-rushing skills, he can become a very dangerous player in the NFL.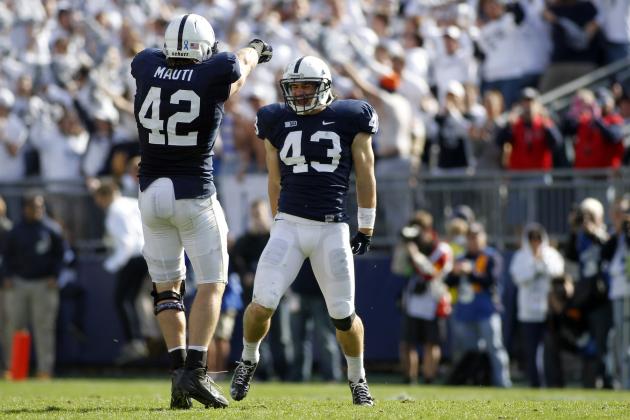 Justin K. Aller/Getty Images

If the state of Texas is known as the ultimate producer of quarterbacks, then Penn St. must be known as the farming ground for NFL linebackers.
Current Penn St. linebackers playing in the NFL include NaVorro Bowman, Sean Lee, Tamba Hali and Paul Posluszny.
Michael Mauti could be the next great Penn St. linebacker to be an effective starter in the NFL.
With his incredible skill set and knack for the game of football, Mauti should be a second-round pick. Mauti, however, has struggled with knee injuries throughout his short playing career, and that alone could cause his stock to dramatically drop on draft day.
If the Texans were to select Mauti and if he were to manage to stay healthy, the Texans could pull of one of the biggest steals in the draft.
In the sixth round, why not take that risk?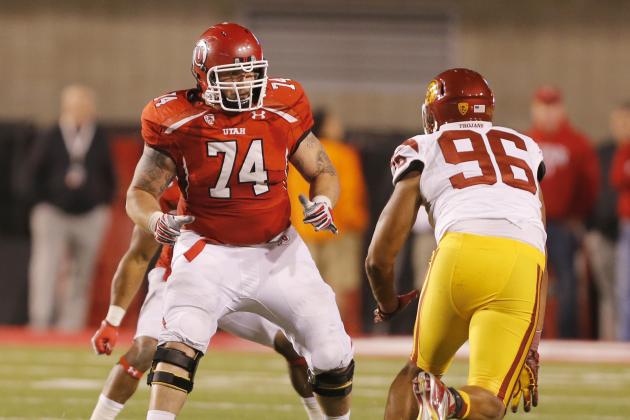 George Frey/Getty Images

Sam Brenner is the very definition of Gary Kubiak's beloved under-the-radar offensive lineman that he absolutely loves to draft in the later rounds.
Brenner is a guard-tackle hybrid who could play either position in the NFL. If the Texans were to draft him, he could bolster their depth on the line by simply being able to play both positions.
Brenner's skill set is perfect for the Texans' zone-blocking scheme. He is able to easily get to the second level and open up holes for whichever back is running behind him.
Brenner plays with a ton of heart and determination, and he would without a doubt work his tail off to ensure that he could one day become a capable NFL offensive lineman.
In the seventh round, the Texans should definitely take the hard-working lineman whose skill set aligns excellently with their offensive scheme.