9 Best Highlights from Packers vs. Vikings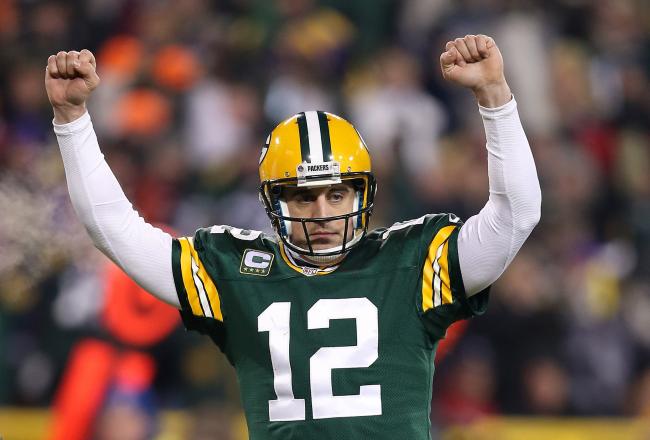 Andy Lyons/Getty Images
The Minnesota Vikings and Green Bay Packers kicked things off for the NFC's Wild Card Weekend on Saturday night.
The Packers easily defeated the Vikings, which played without quarterback Christian Ponder, who couldn't start due to an elbow injury suffered in Week 17, winning by a score of 24-10.
There were plenty of highlights in this game, though most of them will not be happy memories for Vikings fans, and we've assembled all the biggest plays of the game for your viewing pleasure.
Joe Webb Gets the Vikings Going Early
There wasn't much to cheer about for the Vikings, but they got off to a nice start, scoring the game's first points.
Joe Webb's 17-yard run was a huge play in the game's opening drive.
DuJuan Harris Stretches For the Goal Line
The Packers were forced to punt on their first drive, but Aaron Rodgers and his group moved the ball downfield with ease on their second drive of the game.
DuJuan Harris capped the drive off with a sweet nine-yard touchdown run that was first ruled down at the 1-yard line. He fought no less than three Vikings defenders, keeping his feet moving, driving toward the end zone and stretching out for the score.
Tom Crabtree Hurdles Defender, Gets First Down
Midway through the second quarter, Tom Crabtree caught a screen pass on the right sidelines and hurdled A.J. Jefferson, who went low to try to take the tight end down.
Crabtree took a blow for his troubles, getting sandwiched by two Vikings defenders on his way down, but his play earned the Packers a first down and was one of the best plays on Saturday.
Greg Jennings Almost Scores on 4th Down
The Packers were in no-man's land on 4th-and-5 at the Minnesota 34-yard line. Mason Crosby has been far from reliable this year, and so Mike McCarthy kept his offense on the field.
Jennings took a quick pass from Rodgers all the way down to the 2-yard line, but the Packers ended up settling for a field goal on this drive.
Aaron Rodgers Does Superhero Stuff
If you've heard the rumor that Rodgers is kind of good, here's proof.
Near the end of the first half, Rodgers was under heavy pressure and was flushed out to his right. He then threw a bullet to Jordy Nelson, who tightroped it along the right sideline for a 23-yard gain.
There are only a couple of quarterbacks in NFL history who make plays like this on a regular basis, and Rodgers is one of them.
Kuuuuuuhn!!
A couple of plays after Rodgers' bullet to Nelson, John Kuhn powered his way into the end zone to give the Packers a 17-3 lead heading into halftime.
Those aren't boos you're hearing.
Fans in Green Bay have made Kuhn into a folk hero, and he delivered for his first of two scores on the night.
Kuhn Strikes Again
The Packers methodically moved the ball downfield to start the second half. Rodgers engineered a 13-play drive that ended with this incredible play by Kuhn, who helicoptered his way into the end zone for the touchdown.
Kuuuuhn!!
Clay Matthews Tees Off On Joe Webb
Webb never knew what hit him.
This wasn't a play that will trigger a call from Roger Goodell's office, but Clay Matthews' sack/strip late in the third quarter hurt Webb, nonetheless.
He'll have nightmares about his night for months.
Webb Connects with Michael Jenkins For a Late TD
Down 24-3 in the fourth quarter, the Vikings finally got back on the scoreboard after scoring the game's first points.
Webb found Jenkins deep down the right sideline when nobody bothered following the receiver down the field.
Unfortunately, it was too little, too late for the Vikings.
Follow me on Twitter @JesseReed78.

This article is
What is the duplicate article?
Why is this article offensive?
Where is this article plagiarized from?
Why is this article poorly edited?