7 MLB Teams Whose Stocks Are Soaring This Offseason
Tom Szczerbowski/Getty Images
The Blue Jays could be seeing a lot more celebrating after games in 2013.
Fans of MLB teams in seven cities are buzzing with offseason excitement.
They are debating the order of a lineup featuring new faces and discussing the realignment of a fresh-starting rotation and bullpen.
What has turned out to be a very active MLB offseason has shaken (not stirred) the rosters of nearly all 30 teams and, in some cases, raised expectations to astronomical levels.
What will happen in Los Angeles if the Dodgers miss the playoffs?
Will the Josh Hamilton signing be enough to overcome a serious hit to the Angels' pitching staff?
Can the Red Sox and Phillies resurrect themselves?
The stocks of these seven teams may have risen, but will it translate to on-field production? The 2013 season can't come soon enough.
Begin Slideshow

»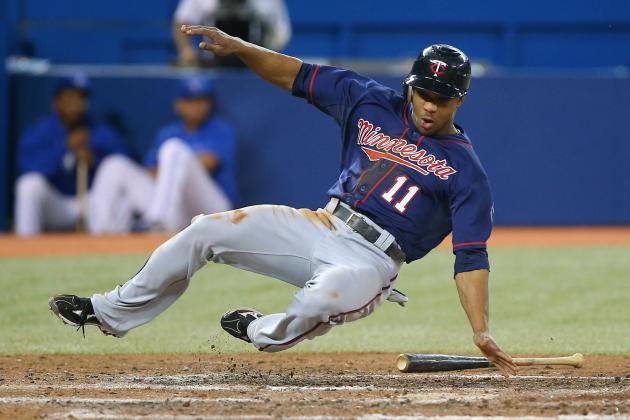 Tom Szczerbowski/Getty Images
Ben Revere's career is shaping up to be similar to former Phillies outfielder Juan Pierre.
The Phillies didn't make any cannonball splashes this offseason, but the few moves they did make were tactical and intelligent. For that reason, they will be able to compete with the Braves and Nationals in the NL East.
Trading for former Twin Ben Revere brings in a young, speedy leadoff man who continues to improve each year.
After two full seasons in the majors, Revere clearly has a weakness in his lack of power (no home runs and only 33 extra-base hits in 989 career at-bats). But he has the ability to hit .300 at the top of the order and can turn on the jets.
The 24-year-old stole 40 bases last year, and don't be surprised if he finds the gap often at Citizens Bank Park and increases his total of doubles and triples.
Obtaining Michael Young from Texas was another solid move for the Phillies, who will be able to start the seven-time All-Star at third base.
Young had a down year offensively, hitting .277 with eight home runs and 67 RBI. However, the career .301 hitter is just two years removed from a 2011 season when he hit .338, knocked in 106 runs and finished eighth in MVP voting.
Young will move from a potent Rangers lineup to a similarly powerful one in Philly, where he'll likely hit behind Ryan Howard and Chase Utley.
Mike Adams also arrived in Philadelphia to bolster a bullpen that was average at best last season.
The Phillies will look to harness the energy of the team that went 44-31 over the second half of the 2012 season.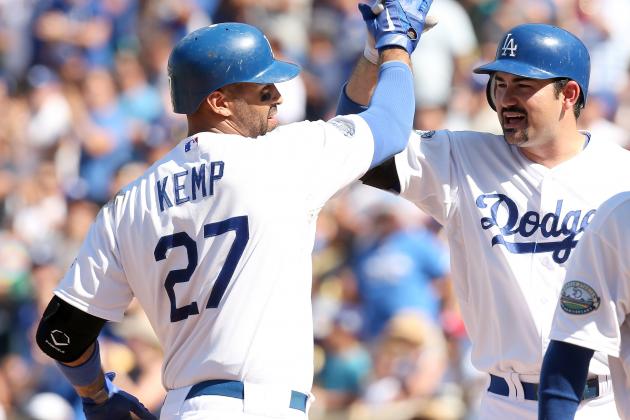 Stephen Dunn/Getty Images
Kemp and Gonzalez will lead one of the fiercest hitting lineups in 2013.
In the eyes of Dodgers fans, the next World Series champion will be from the NL West, but it won't be the Giants.
Expectations (and the payroll) could not be higher in L.A.
According to Baseball Prospectus, the 2013 Dodgers' payroll will exceed $213 million—a $116 million increase from their sub-$100 million payroll in 2012.
As many teams like the Yankees and Red Sox have proven, spending enormous amounts of cash can result in World Series rings.
Since last July, the Dodgers have added such players as Adrian Gonzalez, Carl Crawford, Josh Beckett, Hanley Ramirez, Zack Greinke and Korean superstar Hyun-Jin Ryu. Adding those names to established L.A. elites in Matt Kemp, Andre Ethier and Clayton Kershaw has pushed the Dodgers to the one-percent bracket in the MLB hierarchy.
Kershaw and Greinke should prove to be one of the most formidable pitching duos in the majors, while a lineup boasting Crawford, Ramirez, Kemp and Gonzalez consecutively will make pitchers shake in their boots.
Anything less than a World Series championship will be deemed a failure.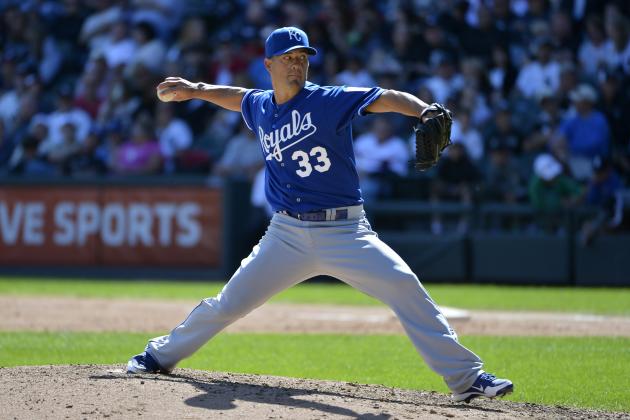 Brian Kersey/Getty Images
Guthrie will seek to replicate his 3.16 ERA in 14 starts for the Royals in 2013.
The Royals finally decided that the future can't wait, hoping the 2013 season can bring the end to a 27-year playoff drought.
Coming off their fourth consecutive 90-loss season, the Royals have massively upgraded their starting pitching.
They re-signed Jeremy Guthrie, who found success in Kansas City after struggling in Colorado, to accompany Bruce Chen. The Royals also added Ervin Santana via a trade with the Angels and sent Minor League Player of the Year Wil Myers, along with pitching prospect Jake Odorizzi, to Tampa Bay for James Shields and Wade Davis.
While only time will tell if the Myers trade will backfire, the Royals have proven to their fanbase that this team is ready to win now.
Their lineup is fairly young as well; not a single position player is older than 29. Designated hitter Billy Butler, outfielders Alex Gordon and Lorenzo Cain and third baseman Mike Moustakas are among some of the young faces making an impact on the game.
An improved rotation and the steady progression of Kansas City's young bats should bode well for the Royals next season.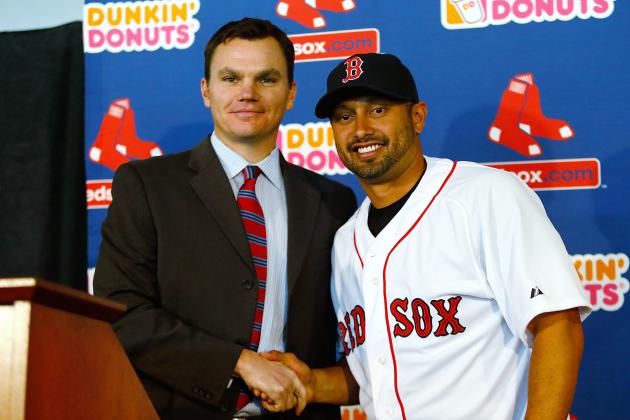 Jared Wickerham/Getty Images
Cherington and Victorino smile for the future of the Red Sox.
The Boston Red Sox have been in complete overhaul mode since August.
Many Red Sox fans were anticipating a rebuilding year (or two, or three) before Fenway Park would see its first playoff game since 2009. Yet, since freeing up nearly $260 million by virtue of the mega-deal with the Dodgers, GM Ben Cherington has been craftily assembling a team that can compete in 2013.
The first obvious move was re-signing David Ortiz to a two-year, $26 million contract. Then swiftly came the signing of backup catcher David Ross, outfielders Jonny Gomes and Shane Victorino, starting pitcher Ryan Dempster and relievers Koji Uehara and Joel Hanrahan.
Mike Napoli had agreed to a three-year deal with the Red Sox to play first base, but a lingering hip ailment is delaying the official signing.
Anyhow, Boston has vastly improved its bullpen, filled necessary gaps in the field and bolstered its starting rotation, which hopes to revamp itself after a poor showing in 2012.
New manager John Farrell, Cherington's initial choice before Bobby Valentine, will have a lot on his plate in 2013 but is ready for the challenge.
In a very difficult AL East, the Red Sox will thank their lucky stars in 2013 for that second wild-card slot.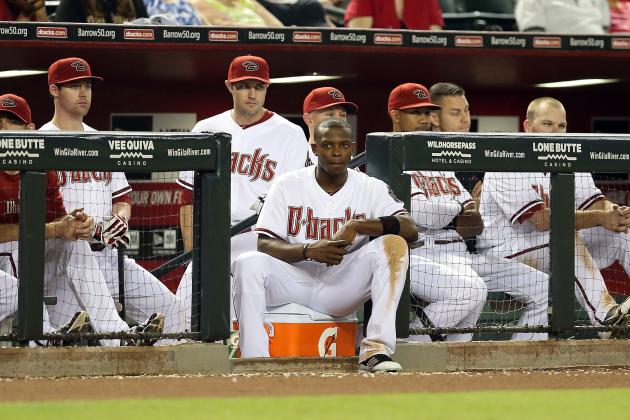 Christian Petersen/Getty Images
Justin Upton hopes he and his D-backs can return to the playoffs in 2013.
The Arizona Diamondbacks are not models of consistency.
Over the past 12 seasons, the D-backs have been to the playoffs four times, winning the World Series in 2001, have had three seasons of 90-plus losses, including 111 losses in 2004, and have gone through five managers.
Placed in the onerous NL West with the Giants and Dodgers, the Diamonbacks and manager Kirk Gibson will look to return to the playoffs in 2013.
Arizona added Brandon McCarthy, who had a 3.24 ERA in 18 starts for the Athletics last season, signed outfielder Cody Ross to a three-year deal and brought in Heath Bell to improve the bullpen.
Ross is a nice addition to an outfield that also includes Jason Kubel and Justin Upton. The three combined to wallop 69 home runs in 2012. If the Diamondbacks decide to keep Justin Upton for the 2013 campaign, it will only increase their chances of success.
Signing veteran Eric Chavez will provide a solid bat off the bench and a legitimate backup at third base. Furthermore, first baseman Paul Goldschmidt has a bright future after an outstanding first full season, batting .286 with 20 home runs and 82 RBI. He even had 18 stolen bases.
The D-backs may have also found their shortstop of the future in Didi Gregorius.
So the question stands: Is the future now?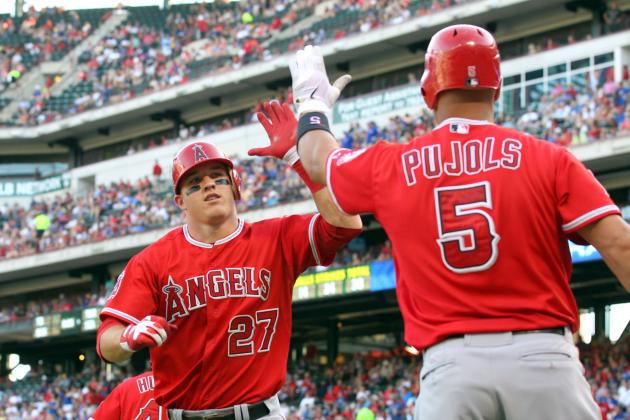 Layne Murdoch/Getty Images
Mike Trout and Albert Pujols are ready to welcome Josh Hamilton to the family.
It's incredible what the Angels have done after losing so many key players from last season.
The departure of right fielder Torii Hunter and three starting pitchers— Zack Greinke, Dan Haren and Ervin Santana— left a serious hole for general manger Jerry Dipoto to fill.
In a span of about three weeks, Dipoto secured the rotation by signing Joe Blanton and designing two wonderful deals for Tommy Hanson and Jason Vargas. He also signed free-agent closer Ryan Madson, the owner of a 2.37 ERA and 32 saves in 2012. Then, to put the cherry on top, the Angels shocked the baseball world by signing Josh Hamilton.
Three of the top four batters in the Angels lineup now own four MVP awards, 10 top-three finishes in the MVP voting, two Rookie of the Year awards and 15 All-Star appearances. Mike Trout, Albert Pujols and Josh Hamilton will comprise the most feared top of the order in baseball.
The starting rotation, including Jered Weaver and C.J. Wilson, contains four above-average pitchers. Blanton is the odd-man out (an ERA above 4.50 in each of the past five seasons just won't cut it, Joe).
This team will be a powerhouse, and with the Rangers taking a serious hit to their roster this offseason, only the Athletics stand in the way of the AL West crown.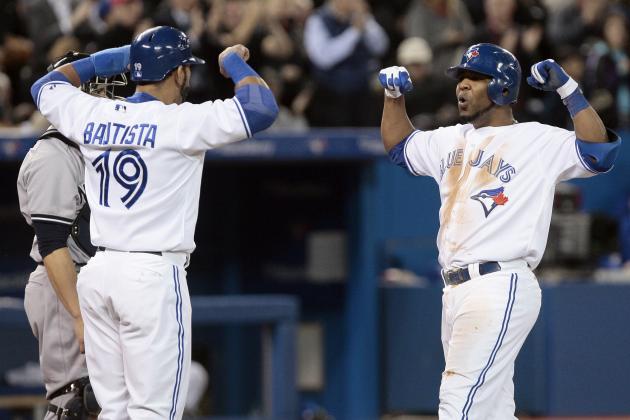 Abelimages/Getty Images
Bautista and Encarnacion are pumped up for their new teammates.
By this point in the offseason, the rest of MLB has already accepted the Blue Jays as a legitimate contender for a World Series title.
Las Vegas oddsmakers have followed suit as well, posting the Jays as 15-to-2 favorites to reign as champions.
Toronto GM Alex Anthopoulos has brought in players such as Jose Reyes, Melky Cabrera, Josh Johnson, Mark Buehrle and Cy Young winner R.A. Dickey. If that doesn't scream "We want to win!" I don't know what does.
Reyes and Cabrera will do a nice job of setting the table for the power-hitting duo of Jose Bautista and Edwin Encarnacion.
Johnson, Buehrle and Dickey will help a starting rotation that lost far more games than it won in 2012.
The Jays haven't made a playoff appearance since their 1993 championship season, a time when John Olerud was 24 years old and hit .363 during the regular season.
It won't be easy, especially with a new-look team, a new manager and an ambitiously cutthroat division.
But when there's a will, there's a way. And in Toronto, there's both.