Early Favorites to Win Every Major Individual MLB Award in 2013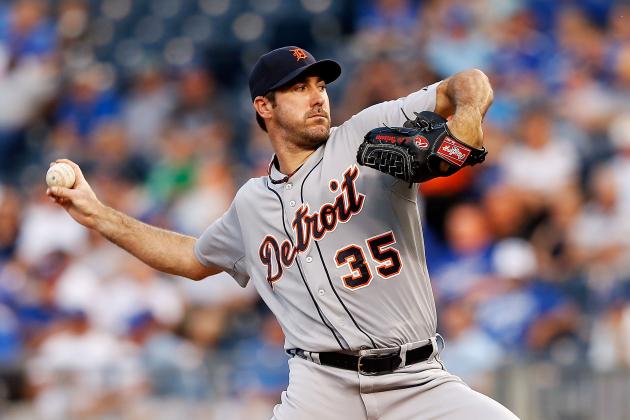 Jamie Squire/Getty Images

Though we are still over a month from the start of spring training, it's never too early to take a look at the field for some of baseball's biggest awards for the 2013 season.
The MVP, Cy Young, Rookie of the Year and Comeback Player of the Year Award field will change throughout the course of the season, sometimes on a weekly basis, but we can at least paint a picture of what the field may look like at this point.
So here are my early favorites to win the four aforementioned awards in 2013, with my top-five candidates for each award listed.
Begin Slideshow

»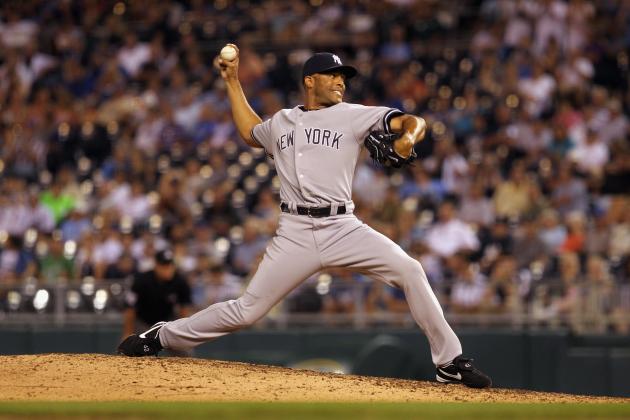 Jamie Squire/Getty Images

Early-Season Award Rankings
1. RP Mariano Rivera, Yankees
2. 1B Eric Hosmer, Royals
3. DH Victor Martinez, Tigers
4. CF Jacoby Ellsbury, Red Sox
5. RP Ryan Madson, Angels
A living legend pitching for the Yankees, Mariano Rivera will have a hard time not winning this award if he proves healthy to open the season and manages to return to form.
Eric Hosmer was expected to take the next steps toward stardom in 2012, but he hit just .232 with 14 homers and 60 RBI over 535 at-bats and will be looking to get back on track in 2013.
Victor Martinez and Ryan Madson both missed all of the 2012 season, but they will be playing a significant role on teams expected to contend for the AL pennant.
Jacoby Ellsbury may be the wild card here, as a return to his 2011 form would be hard to ignore.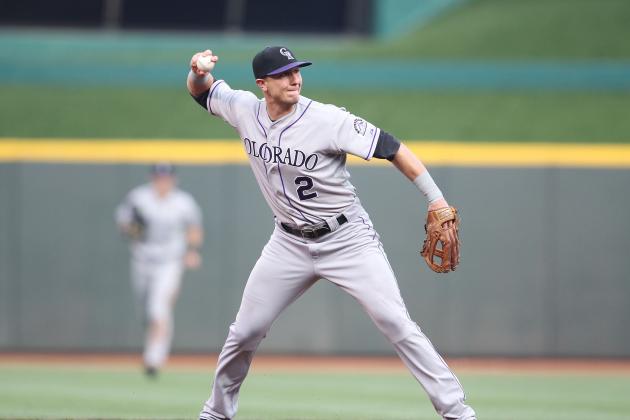 Andy Lyons/Getty Images

Early-Season Award Rankings
1. SS Troy Tulowitzki, Rockies
2. SP Roy Halladay, Phillies
3. LF Carl Crawford, Dodgers
4. SP Chris Carpenter, Cardinals
5. RP Drew Storen, Nationals
After three straight top-10 MVP finishes, Troy Tulowitzki was lost for the season after just 47 games last year with a groin injury. He should be back at 100 percent this coming season, though, and a .300-BA, 30-HR, 100-RBI season would all but seal the award for him.
Roy Halladay missed significant times for the first time since 2005 last season, but even when he was on the field he was not the same pitcher, going 11-8 with a 4.49 ERA in 25 starts. If he can regain his Cy Young form, he has a real shot at the award as well.
Carl Crawford didn't make his season debut last season until July, and he was shut down a month later. He'll make his Dodgers debut this coming season, and a return to form would be a major coup for Los Angeles.
Chris Carpenter and Drew Storen both returned for their teams' respective postseason runs last season, and they will return to key roles for contenders this coming season.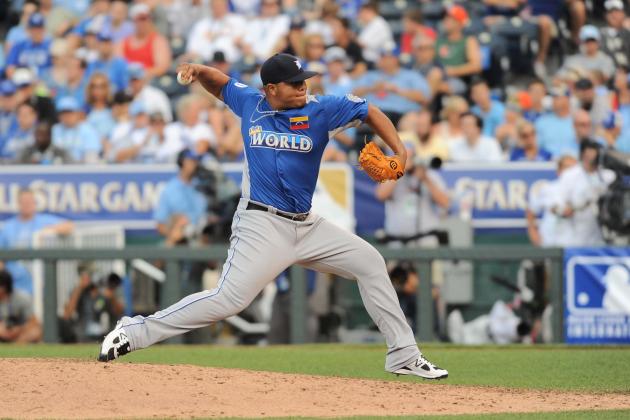 Denny Medley-USA TODAY Sports

Early-Season Award Rankings
1. RP Bruce Rondon, Tigers
2. SP Dan Straily, Athletics
3. DH Mike Olt, Rangers
4. RF Wil Myers, Rays
5. SP Trevor Bauer, Indians

Bruce Rondon is the front-runner to win the award, provided he wins the closer's role out of spring training. Three of the last eight winners of the award have been closers.
Dan Straily made seven starts for the A's last season, going 2-1 with a 3.89 ERA after going 9-7 with a 2.79 ERA and 11.2 K/9 between Double-A and Triple-A. He pitched 39.1 innings last season to maintain his rookie eligibility, and he should open the season in the rotation of a good A's team.
Mike Olt is expected to open the season as the Rangers' starting DH, and while Jurickson Profar is the more highly-regarded prospect, it's Olt who is likely to put up the more impressive numbers in 2013.
Wil Myers may not see the majors until midseason, but he could make a Ryan Braun-type impact over a half-season and still win the award.
Trevor Bauer has a chance to crack the Indians rotation out of camp, and he will be given every chance to succeed.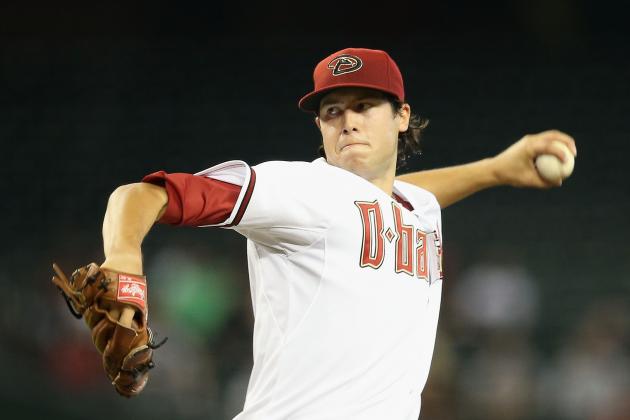 Christian Petersen/Getty Images

Early-Season Award Rankings
1. SP Tyler Skaggs, Diamondbacks
2. 2B Jedd Gyorko, Padres
3. OF Darin Ruf, Phillies
4. SP Zack Wheeler, Mets
5. OF Oscar Taveras, Cardinals
There is no clear front-runner for NL Rookie of the Year honors, but Tyler Skaggs has a real chance of cracking the Diamondbacks rotation out of camp. If he can stick there for a full season, he could have a Wade Miley-type impact.
Jedd Gyorko is a wild card. He has posted back-to-back 100-RBI seasons in the minors and has been shifted from third base to second to clear a path to the majors. If he breaks camp with the team, he could pile up offensive numbers even hitting in Petco Park.
Darin Ruf is old for a prospect at 26, but he crushed 38 home runs at Double-A last season and could easily play his way into everyday at-bats in a wide-open Phillies outfield.
Zack Wheeler and Oscar Taveras are the best prospects of the group here, but they likely won't be up until midseason at the earliest, so they may not have time to put together the numbers needed to win the award.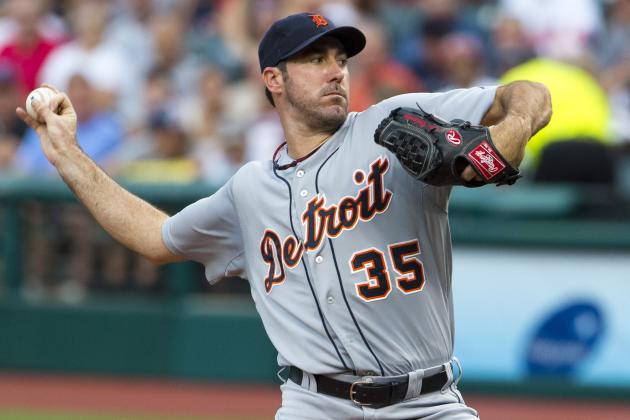 Jason Miller/Getty Images

Early-Season Award Rankings
1. SP Justin Verlander, Tigers
2. SP Felix Hernandez, Mariners
3. SP Chris Sale, White Sox
4. SP David Price, Rays
5. SP Jered Weaver, Angels
Most would agree that Justin Verlander and Felix Hernandez are the top two starting pitchers in the American League. They're in a class of their own at this point, and they have to be viewed as front-runners for the award every year for the foreseeable future.
Chris Sale has as much upside as any pitcher in baseball, and if the soon-to-be 24-year-old can improve on his 17-8 record, 3.05 ERA and 192 strikeouts from 2012, he could join the above-mentioned duo.
David Price and Jered Weaver also fall into the category of bona fide staff ace. They are both in the prime of their careers, so expect them to put up solid numbers again this season.
Jonathan Ernst/Getty Images

Early-Season Award Rankings
1. SP Stephen Strasburg, Nationals
2. SP Clayton Kershaw, Dodgers
3. SP Matt Cain, Giants
4. RP Craig Kimbrel, Braves
5. SP Yovani Gallardo, Brewers
Had he not been shut down last season, Stephen Strasburg would have had a serious shot at the Cy Young. He went 15-6 with a 3.16 ERA and 197 K's in 28 starts, and he was every bit the dominant pitcher he was pre-Tommy John surgery.
Clayton Kershaw has captured back-to-back ERA titles, and at just 24 years old, he could conceivably get better in the years to come.
Matt Cain stepped into the role of Giants staff ace last season, and Craig Kimbrel has emerged as the top closer in baseball and has a 15.9 K/9 mark over his three seasons in the league.
Beyond those four, there are a handful of second-tier starting pitchers who could step forward. With Yovani Gallardo now counted on to lead the Brewers staff, I expect him to have a big season.
Kris Medlen is a dark horse if he can duplicate the success he enjoyed in the second half last season, and Aroldis Chapman is a wild card as well as he makes the move from bullpen to rotation.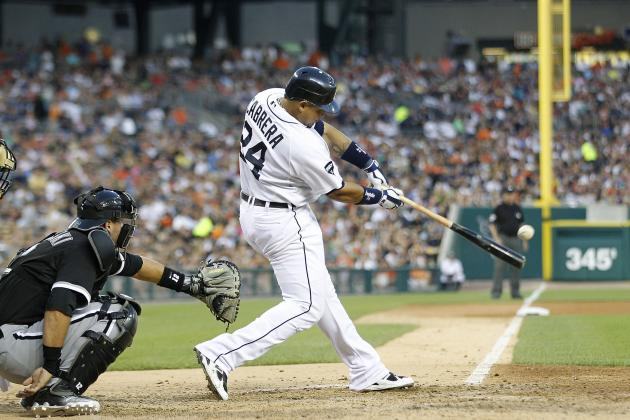 Leon Halip/Getty Images

Early-Season Award Rankings
1. 3B Miguel Cabrera, Tigers
2. 1B Albert Pujols, Angels
3. RF Jose Bautista, Blue Jays
4. 3B Adrian Beltre, Rangers
5. 2B Robinson Cano, Yankees
Who else but Miguel Cabrera after he won the Triple Crown last season? He may not duplicate his historic 2012 season, but he should continue to be the most dynamic hitter in the game.
Albert Pujols stumbled out of the gate last season, but he turned things around by batting .305 with 16 HR and 54 RBI in the second half. He should be more comfortable in his second season with the Angels, and a .300-BA, 30-HR, 100-RBI season seems very likely.
Adrian Beltre and Robinson Cano will once again lead their respective offenses and should put up MVP-caliber numbers once again. It could come down to how their teams perform, as each appears to have taken a step back heading into the year.
Jose Bautista is the wild card here, as he'll lead the Blue Jays' new-look offense. He managed a 27-HR, 65-RBI season in just 332 at-bats last year.
Noticeably absent from this list is Mike Trout. While I fully expect him to be a superstar in the league, I also expect him to come back down to Earth during his sophomore campaign.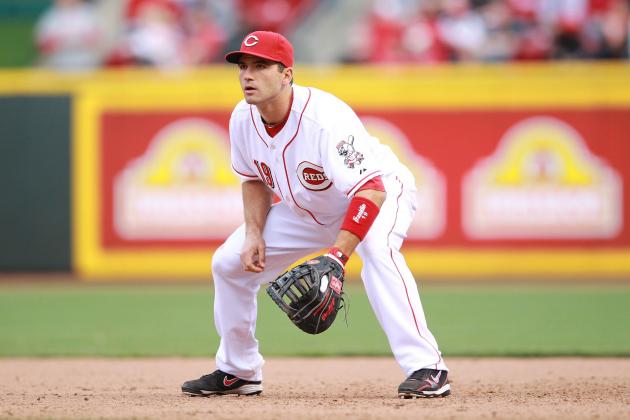 Andy Lyons/Getty Images

Early-Season Award Rankings
1. 1B Joey Votto, Reds
2. LF Ryan Braun, Brewers
3. CF Matt Kemp, Dodgers
4. C Buster Posey, Giants
5. CF Andrew McCutchen, Pirates
With all due respect to the terrific season that Buster Posey had, Joey Votto likely would have won NL MVP had it not been for him missing over a month with a knee injury. He hit .348/.471/.617, 14 HR, 48 RBI in the first half and should be a perennial contender for the award moving forward.
Ryan Braun has been a consistent force for the Brewers, and he should have no problem reaching the 30-30 mark again this season while ranking among the Triple Crown leaders.
Matt Kemp was the front-runner for the award entering last season and a month into it, but injuries sidetracked him. For a Dodgers team expected to be in the thick of things, his performance could be front and center.
The reigning MVP Buster Posey will once again lead the Giants offense, while Andrew McCutchen remains perhaps the most dynamic offensive player in the league and is still improving at 26 years old.