2013 NFL Draft: The Case for Taking Mike Glennon with the First Overall Pick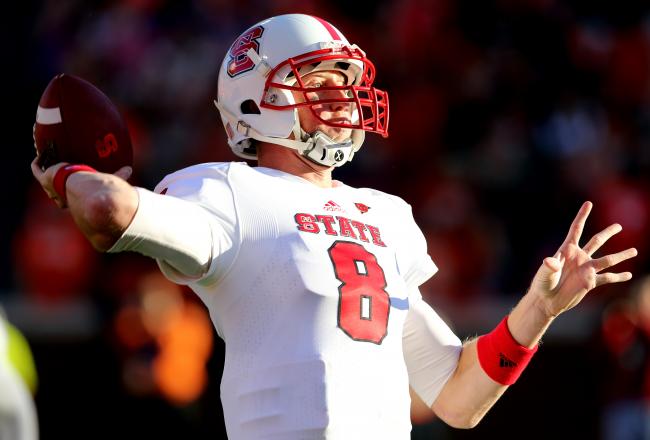 Streeter Lecka/Getty Images
Geno Smith, Matt Barkley, Tyler Wilson, and Mike Glennon are the hot names for the Kansas City Chiefs right now. This is unfortunate, since none of them are worth taking with the No. 1 overall pick. Unfortunately for the Chiefs, they likely cannot get their choice of that quarterback group in the second round since most of them have a mid to late first-round grade. So what should the team do?
In an ideal world, they would trade down, but there is nobody worth trading up for. They could take a top defensive player like Jarvis Jones or Manti Teo, as well, but teams tend to go quarterback at the top of the draft unless they already have one. It appears for better or worse the Chiefs will tab a signal caller with their first pick. The top rated signal caller right now is Geno Smith, but other options do exist. If the Chiefs must take a quarterback with the top pick, they need to get someone with top-tier upside. Enter Mike Glennon.
Glennon's name has been coming up more and more as the draft buzz increases. Why all the hype around him? Glennon is a 6'7" quarterback prospect to start, and size like that always turns heads among scouts. Glennon is more than just a physical specimen though. He passed for 4,031 yards this season and passed for 31 touchdowns on a North Carolina State team that was not very talented. Glennon's offensive line was porous in pass protection and his receivers dropped nearly as many balls as they caught.
Good size and college stats do not always translate to the NFL though. Glennon's arm strength will be his meal ticket at the next level. While he does not have a Jay Cutler or Brett Favre caliber arm, Glennon possesses the top arm (outside of, arguably, Tyler Bray) in the draft class, and profiles into the next tier below elite arm strength with quarterbacks like Joe Flacco. Needless to say, he can make all the throws. While his most recent game against Vanderbilt was not his best, he did throw a 28-yard out route from the opposite hash right on the money. That is the kind of throw that separates the men from the boys at the quarterback position.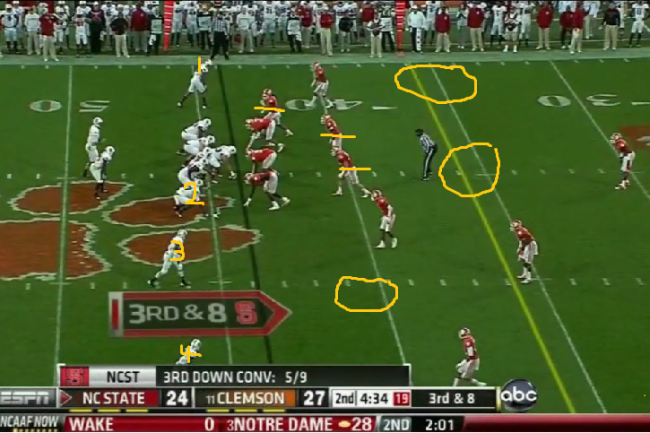 Glennon's top-flight arm strength is not the only thing to like about him. He's ran a pro-style offense in both his years starting at North Carolina State. He also has shown the ability already to progress through his reads in the passing game and hit the hot route or checkdown when necessary. The fact that Glennon is cerebral should come as no surprise, though, as he was an All-ACC Academic choice. Glennon also throws surprisingly well on designed runs for someone his size. Perhaps the second best scouted trait of Glennon is that he has such a quick release. It is not Dan Marino, but it has the same effect in offsetting his lack of mobility.
Glennon's mental makeup also is enticing. He began his career as a starting quarterback in controversy after his coach Tom O'Brien allowed Russell Wilson to leave for Wisconsin. Glennon handled the adversity well and showed poise after being thrown into a situation like that. In terms of confidence in himself and his arm, Glennon is off the charts. He plays quarterback with a fearless gunslinger mentality. This accounts for mistakes at times, but his belief in himself is a great sign for his chances to be elite.
Glennon's accuracy is a bit of a mixed bag. He shows very good accuracy in the short passing game and has no problems driving the ball into tight spots. He also succeeds in the intermediate passing game, as well. His success here is due to his impressive ability to work outside the numbers and drive the ball into tight spaces. On deep passes, Glennon is a bit inconsistent with his throwing. He has great touch at times, and when he's on his ability to throw receivers open extends to this area of the field. Unfortunately his deep touch seems to come and go at this point. The good news is that the arm strength is there for him to improve on his deep passing, much like Matt Ryan has early in his career.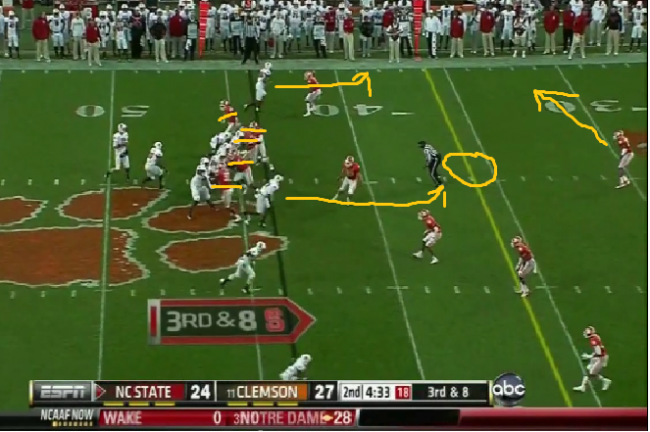 Glennon's strengths as a quarterback were on show during one specific pass against Clemson. As he came to the line in a shotgun setup with three wide receivers and a tight end the defense showed man coverage with a cover two look from the safeties. Aside from the three down lineman, Clemson showed blitz with three other players (as denoted in the picture by the yellow dashes on them). From this look Glennon could denote a few possible areas to make his throw (denoted by the yellow circles).
His primary read at the top of his screen could be open after getting past the cornerback. This was partially due the cornerback playing closer than normal—although not quite in press coverage. There was also a hole behind the linebackers and in front of the safety that looked to be open pre-snap should the linebackers blitz. The area cushion on the receivers at the bottom of the screen allowed for a slant route on and out route, as well. This was less likely since the top of the screen receiver and tight end were Glennon's first two reads.
Post-snap, Glennon sees the defense has attempted to fool him. They have brought only five rushers and his offensive line should be able to handle it. He sees the safety open his hips toward the receiver at the top of the screen who is running a fade. Seeing this Glennon realizes he must move on to his next read since there is help over the top on his receiver. Luckily the middle of the field will open up with the safety breaking towards the top of the screen.
Glennon's next read is his tight end. The linebacker has attempted to trick Glennon, as he goes into man coverage on the tight end after disguising the blitz. Glennon will have to deal with disguised blitzes like this in the NFL all the time. As it stands on this play, Glennon has recognized the defense and now must get the ball to his tight end. The linebacker is in man coverage though, so Glennon will have to throw him his man open.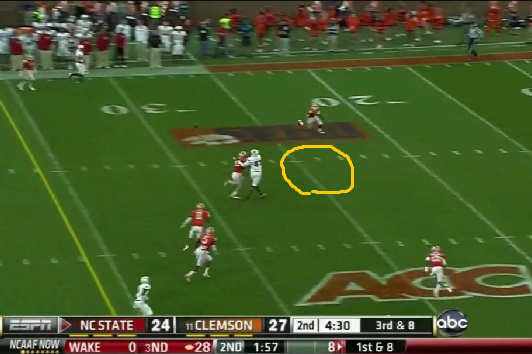 Glennon shows why he is elite here. His tight end has only a half-step on the linebacker. If Glennon can get the ball over the backer, he will have his man though. The safety at the top of the screen is trying to recover, but having been looked off by Glennon earlier in the play will not make it in time. Glennon squeezes the ball into the tight window to hit the tight end for a huge gain over the middle. It is an impressive throw, and a great read by the young quarterback. This play shows off Mike Glennon's potential as an NFL signal caller.
The news on Glennon is not all sunshine and roses though. Glennon tossed 17 interceptions this season, and as mentioned before has erratic accuracy on his deep passes. Much of this has to do with his footwork or more specifically his footwork when blitzed. Perhaps due to his line's poor play or perhaps for some other reason, Mike Glennon has developed at habit of throwing off his back foot. He will do it almost without fail when blitzed. Glennon has a good enough arm that he can still make slant and crossing pattern throws while doing this. His accuracy on anything else is greatly affected. This inconsistency in footwork is the culprit behind Glennon's accuracy troubles.
The other major flaw on Glennon is that he is not the most mobile of quarterbacks. Much of this is offset by his quick release, so he usually does get the ball away. The inability to elude rushers limits his ability to hold the ball for longer periods of time though. It is a flaw that his NFL coach will have to game-plan around. Glennon would fit well with a team like the Chiefs who could use Jamaal Charles to punish defense that attempt to exploit this with overaggressive blitz packages. Still, Glennon's lack of mobility is a bit worrisome.
Glennon's struggles are shown off later in the very same drive of the Clemson game. North Carolina State is again in a Shotgun set with three wide receivers and a tight end. The defense gives a cover two look with the cornerbacks in press coverage at the line. Glennon will need to read his safeties after the snap then check to see if he is facing a Cover 2 Zone or Cover 2 Man Press defense. The defense is showing four down lineman and two blitzers denoted by the yellow dash mark on them.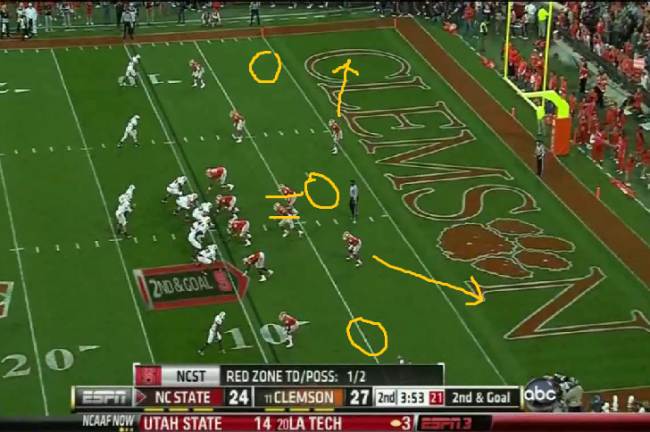 In terms of where Glennon should go with the football, he might have either of his receivers right after they get off the press if it is Cover 2 Zone. He will have to quickly make that throw before the over the top help gets there if he decides to do so. Glennon's tight end looks to have space behind the blitzing linebackers. All the throwing spaces are indicated by the yellow circles.
The defense has again tried to trick Glennon. Since they are so close to the goal line, they roll the safety towards the middle of the field run effectively a Cover 1 Man Press defense. The safety at the top of the screen moves towards the center of the field and takes the space behind the blitzing linebackers away from Glennon. The Clemson defensive line begins to bear down on Glennon. Luckily North Carolina State has the right play called.
The receiver at the bottom of the screen has stayed up in the flats and the cornerback is with him. The tight end is running a post corner route as denoted, and will be open if he can get past the safety that has picked him up in coverage. The other safety is too far out of the play to make an impact since the defense tried to disguise their coverage. It is man coverage, and Glennon has made the right decision again. He just has to throw his receiver open.
Unfortunately Glennon's footwork on the play has doomed it. While the blitz is coming, Glennon has time to step into his throw but does not. It is hard enough throwing a receiver open consistently. It is impossible when you throw off your back foot.
The play was doomed from the moment Glennon threw off his back foot. The back Pylon area of the end zone is empty, and a throw there means a touchdown. Unfortunately Glennon has underthrown the ball since he did not step into it. This is a case of the right call and read, but bad execution. It is something that Mike Glennon will have to work on to succeed in the NFL. Luckily it is fixable.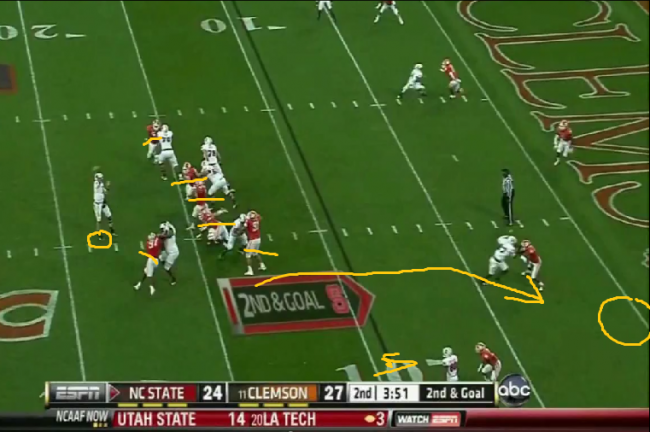 Mike Glennon is the top talent in the draft but he is the best quarterback available. Sure many people point to the upside of Geno Smith, but he has many flaws, as well. Smith without a doubt throws a better deep ball, but struggles on short and intermediate routes that are Glennon's strengths. And while Smith has a good arm, it is not on par with Glennon's. These are not the biggest concerns of Geno Smith though.
Mike Glennon's biggest advantage over Geno Smith is that he has played in a pro-style offense. West Virginia's offense is quite different than what Smith will likely run in the NFL. Smith also gives cause for concern in the mental aspect of the game. His worst games have been when teams take away his primary read. This will be the normal in the NFL, and is a tough hurdle to overcome. When defenses attempt to confuse Smith he tends to hold the ball too long, and his decision-making suffers. Smith also has footwork that is just as bad as Glennon.
None of this is to say that Geno Smith will be a bust. Just that he has a lot of warts, and is not as good as his Playstation-like numbers indicate. Smith has a chance to be a very good quarterback, but he is not there yet. The same can be said for Mike Glennon, but he does not have as far to go and his arm strength gives him more upside.
When April comes around, I hope the Chiefs trade down or wait on a quarterback. Either Glennon or Smith would be a steal in Round 2. If they must reach and take a quarterback though, Mike Glennon is the best choice to take with the first overall pick.
This article is
What is the duplicate article?
Why is this article offensive?
Where is this article plagiarized from?
Why is this article poorly edited?

Kansas City Chiefs: Like this team?