5 2013 NFL Draft Prospects Guaranteed to Interest the Atlanta Falcons
Rob Carr/Getty Images

The Atlanta Falcons will have some interesting choices to make when the 2013 NFL Draft rolls around. A retiring superstar and shifting dynamics on both sides of the ball will create some rather unique draft needs. The Falcons will be picking late in rounds, which only serves to limit their choices.

Atlanta will rely on general manager Thomas Dimitroff to make the most of each pick. Dimitroff, a former scout, is known to go against the grain when valuing draft prospects. This makes predicting his choices a little more difficult than looking at general draft rankings.

Since Dimitroff has been at the helm in Atlanta, he has shown a taste for characteristics that cannot be measured at the combine. Versatility, toughness and intelligence are as important as 40-yard dash times.

Here are five draft picks that fit the Falcons' needs and Dimitroff's standards.
Begin Slideshow

»
Zach Ertz could easily fall into the waiting hands of the Atlanta Falcons. Ertz is an extremely athletic tight end with a wide receiver's skill set. He is also an adequate, but extremely willing blocker.
Ertz's height (6'6") is comparable to the Falcons' current trio of Roddy White, Julio Jones and Tony Gonzalez. His willingness to reach for a catch would fit Matt Ryan's throwing style.
The Falcons might be losing Gonzalez at the end of 2012, and there is no replacement in sight. While Ertz might never fill Gonzalez's shoes, he is already a better option than any tight end currently on the roster.
What Makes Him a Dimitroff Guy: Ertz is versatile and a team-first player. His Stanford education meets the Dimitroff criteria for intelligence.
If DC Mike Nolan is not lured away by a head-coaching position, then Margus Hunt needs to be an Atlanta Falcon.
Hunt's speed and versatility could be maximized in Nolan's rush-or-drop style of defensive end. While still improving, Hunt has the same potential that the Falcons saw in Kroy Biermann, and might be worth the gamble if he is available on the second day of the draft.
What Makes Him a Dimitroff Guy: Hunt is a high-motor player. Dimitroff will be intrigued by the multi-sport athlete. His toughness and versatility should seal the deal.
Ryan Griffin will probably fall to the seventh round. It is not his fault. UConn has one of the poorest offenses in college football.
Griffin has good height (6'5") and athleticism, but still has room to bulk up at the pro level. He has the traits needed to succeed in a Matt Ryan-led offense: strong hands and a willingness to go after the ball.
Though Griffin will require additional coaching to improve his blocking, he has already demonstrated a willingness to learn.
What Makes Him a Dimitroff Guy: Dimitroff looks for good players that are either on the wrong team or in the wrong scheme. He will be able to look past UConn's shortcomings and see Griffin's true value.
Khaseem Greene began his playing days at Rutgers as a strong safety; then he bulked up and moved to linebacker. The type of hybrid player is perfect for a Mike Nolan defense. Greene would be as adept at covering a tight end as he is taking down a runner.
Greene shows a willingness to sacrifice his body to make the hit, but he will wrap up when given the opportunity. Consistently wrapping up the ball carrier is currently one of the Falcons' weaknesses.
What Makes Him A Dimitroff Guy: Greene suffered a broken leg at the end of the 2011 season. Despite missing spring practices, Greene made sure he was back for the 2012 campaign. Greene's dedication and versatility would surely catch Dimitroff's eye.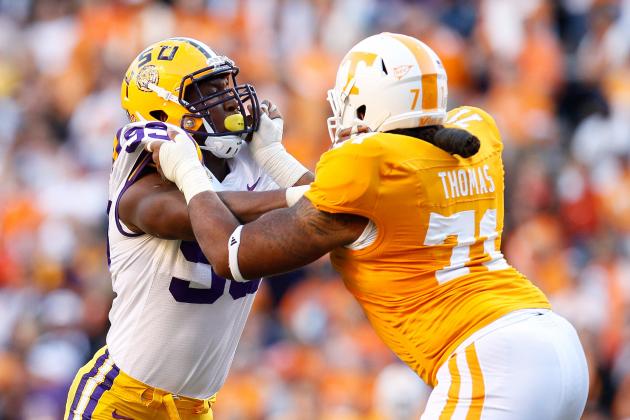 Kevin C. Cox/Getty Images

Dallas Thomas spent two years as a tackle before moving inside to guard. While Thomas is athletic enough to play tackle, his footwork is not fluid enough to handle some of the faster defensive ends.
Thomas might fly under the radar due to Tennessee's struggles this year and could easily be a value pick in the middle rounds of the draft. Remember, the Falcons' current starting right tackle, Tyson Clabo, was originally a practice-squad pickup. Thomas' ability to play both guard and tackle would make him a valuable backup while he improves his skills.
What Makes Him a Dimitroff Guy: Thomas was not only willing to move inside, but excelled at his new position. This shows a team-first mentality that is a must to play for the Falcons.