Big Ten Football: Power Ranking the B1G's Best NFL Draft Prospects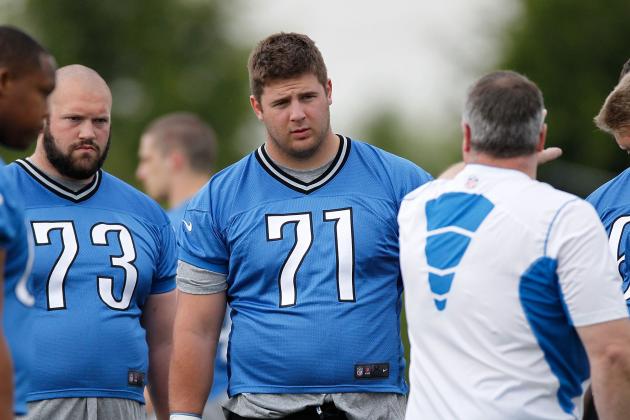 Gregory Shamus/Getty Images
Iowa's Riley Reiff, the top B1G Draft Pick in 2012 (now with Detroit)
As bowl season wraps up and January arrives, Big Ten football fans always begin evaluating next season by first looking at who will not come back for next year. That's because they will leave the biggest shoes to fill.
So now is a good time to rank the top NFL prospects from the Big Ten in 2013.
Most of these players will be drafted in April, although there are a couple underclassmen on this list who have yet to declare (or cannot declare yet, in one circumstance).
In compiling this list, the rankings are primarily based on and evaluations available from the draft experts at CBS Sports, FF Toolbox, Walter Football and limited information from ESPN.
Additionally, the rankings are based on the college statistics of these players and my own impressions from watching them over the past few seasons. Unlike in 2012, the top Big Ten prospects are much better than offensive tackle Riley Reiff of Iowa, the first Big Ten player selected with the 23rd pick in the draft.
There is a hot competition for the top spot, yet another battle between Michigan and Ohio State.
Let's see who comes out on top.
Begin Slideshow

»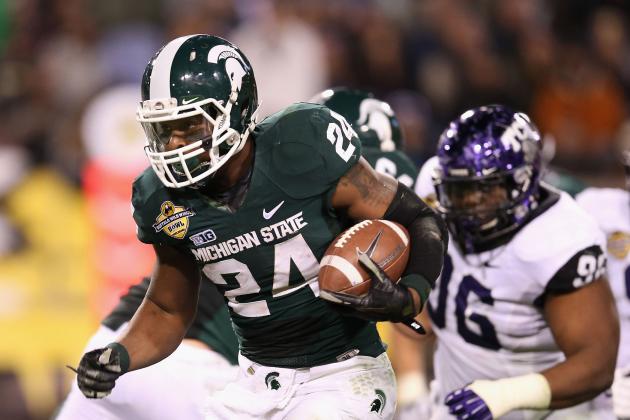 Christian Petersen/Getty Images
Le'Veon Bell = Pretty Much The Entire MSU Offense in 2012
It is always hard to break these lists at a certain arbitrary number of players (10 in this case), so here are a few players who will certainly be drafted but did not quite make the cut:
Le'Veon Bell, Michigan State RB (Rated 130th by CBS Sports)
Bell has not officially declared for the draft yet because his season just ended on Saturday night against TCU. That game, much like the showcase opening game against Boise State, was another huge performance from Bell. He led the conference with 1,648 rushing yards, but the more impressive statistic was leading the nation with 824 yards after initial contact (per CBS).
Zach Boren, Ohio State FB/LB (Rated 87th by FFT)
Boren was likely going to be one of the top fullback prospects coming into the draft before he switched to linebacker in the middle of the season, but now his draft stock is even higher. Boren proved he had the vision and lateral quickness to be a solid defender, and his contributions were critical to holding together the Buckeye defense. It will be interesting to see where he ends up playing as a professional.
C.J. Fiedorowicz, Iowa TE (Rated 84th by FFT)
There are a number of tight ends who may end up getting drafted in the late rounds from the Big Ten, but Fiedorowicz probably has a chance to go first from that group. The Hawkeyes struggled in the passing game, but Fiedorowicz was a safety valve on many occasions for QB James Vandenberg. In addition, his blocking skills could be a valuable asset to NFL teams, if he chooses to enter the draft as a junior.
Gerald Hodges, Penn State LB (Rated 122nd by CBS Sports)
Although his stint as a return man was short-lived, Hodges racked up more than 100 tackles for the second straight season. Hodges was the emotional and physical leader of a defense that held strong despite thin depth and some injuries. He is quite possibly the best talent available at linebacker from the B1G, and his upside potential is huge.
Denard Robinson, Michigan QB/WR (Rated 117th by CBS Sports)
Although "Shoelace" may have missed some time thanks to injury in 2012, the result of that injury was a chance to show off at receiver and running back upon his return to the lineup. Robinson appears to have as much talent and toughness as Kordell Stewart, the original slash player who made a long career out of playing multiple offensive positions.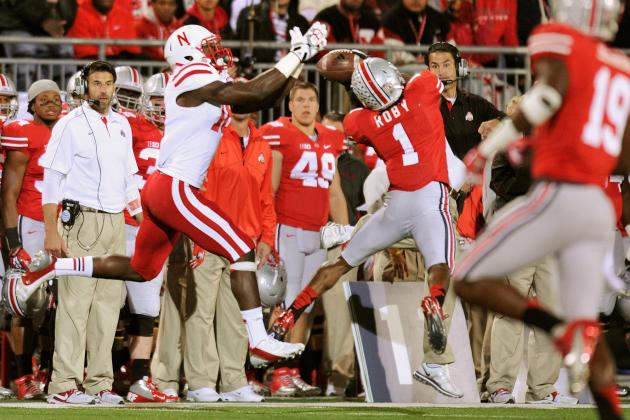 Jamie Sabau/Getty Images
"Broby" making life difficult for Nebraska
Prospect Rankings (for 2014 Draft): 11 (Walter)
This is the only player on the list who will likely not be drafted in 2013. That's because Roby is still just a redshirt sophomore who does not appear to be leaning toward entering the draft (in view of his silence on the topic thus far).
Considering that Roby would likely be a fringe first-round pick at best in 2013, the potential for a huge payday seems to be more likely in the 2014 draft. If he leads the Buckeye defense through a great 2013 season, the potential is there for a top-10 selection as indicated by Walter Football.
The cornerback added 63 tackles and two interceptions to his ledger in 2012, but his presence was felt on so many big plays when the defense needed a stop. It is that "difference-maker" ability that keeps pro scouts keenly interested in Roby.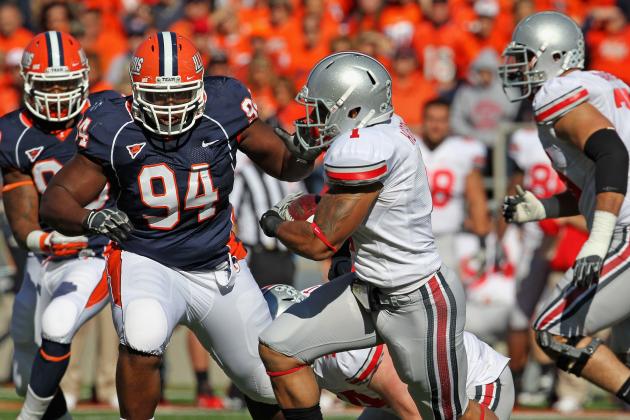 Jonathan Daniel/Getty Images
Spence coming off a block to make a tackle
Prospect Rankings: 78 (FFT), 91 (CBS Sports), NR (ESPN, Walter)

Akeem Spence declared for the draft right before Christmas, and his departure will significantly hurt a rebuilding defense. However, Spence had little to prove after starting every game for the past three seasons in Champaign.
Spence learned from other great Illini players now in the NFL like Corey Liuget, who was drafted in the first round two years ago. While the defensive tackle racked up big numbers by stopping opposing running backs, he did not generate much of a pass rush.
What stood out about Akeem in 2012 was the ability to take good angles to cut off quicker running backs in the backfield or at the line of scrimmage. This will be his greatest asset to professional teams.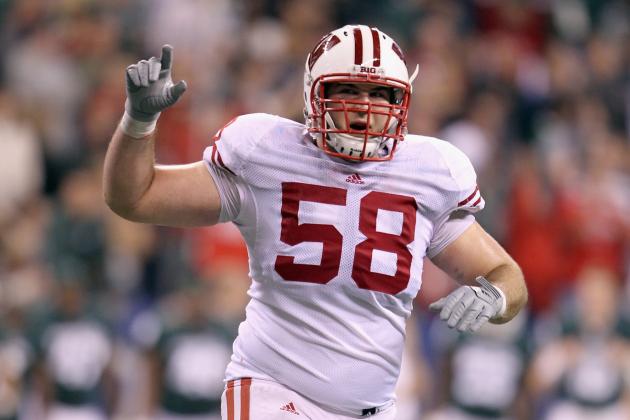 Andy Lyons/Getty Images
Three-time conference champion Ricky Wagner
Prospect Rankings: 79 (Walter), 136 (CBS Sports), NR (ESPN, FFT)
Ricky Wagner continues the tradition of strong offensive linemen coming out of Madison, as he was the lone senior starter on that line in 2012. Wagner may not have the explosiveness of the first-rounder he replaced at the position (Gabe Carimi), but he was the most consistent performer on a line that did not live up to Wisconsin standards until the end of the season.
Wagner has done exceedingly well for a walk-on player who was more of a basketball recruit coming out of high school. By adding about 80-100 pounds over the course of his college career, he has become the man that all of the talented Wisconsin running backs wanted to follow into the second level of the defense.
The one knock against Wagner is his stiff form and footwork. If those aspects of his game do not improve, he may get dominated by talented and larger pro defensive linemen.
However, never count out a lineman prospect from Madison.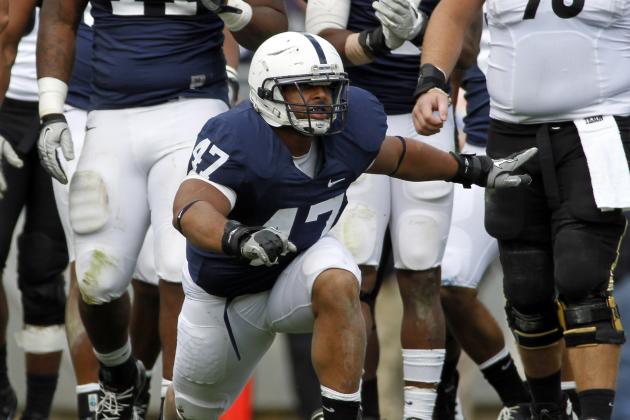 Justin K. Aller/Getty Images
Hill is either doing a dance move or a killer lunge...
Prospect Rankings: 81 (Walter), 116 (CBS Sports), NR (ESPN, FFT)
Hill stepped into the limelight this year as the leader of the Nittany Lion defensive line, and he did not disappoint. Hill had 64 tackles, which ended up ranking third among Big Ten linemen. In addition, Hill was named Big Ten defensive player of the week twice in 2012.
Hill was able to knock some opposing offensive linemen off the ball during Big Ten play, but his average size has scouts questioning whether he will be able to do the same in the NFL. He does explode at the snap of the ball and may be able to slip past blockers at the next level.
Look for Hill to be a solid role player in the middle of a NFL line starting next season. Whether he takes the next step to be a dominant interior force has yet to be seen, and that will keep his draft stock from skyrocketing to the top of this list.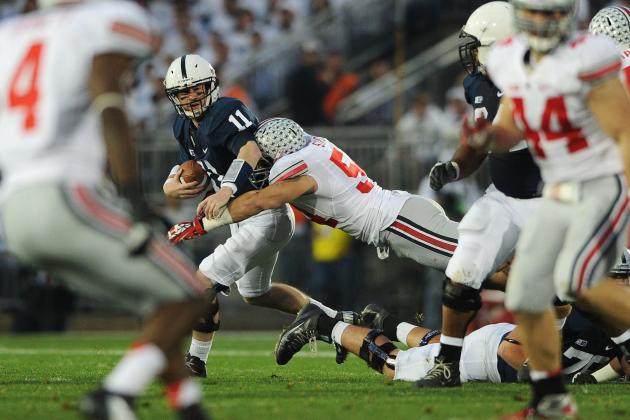 Patrick Smith/Getty Images
McGloin, like many quarterbacks, became closely acquainted with Mr. Simon
Prospect Rankings: 49 (CBS Sports), 68 (Walter), 91 (FFT), NR (ESPN)
The accolades for John Simon were plentiful at the end of his senior season. He was named a second-team All-American, the defensive lineman of the year in the Big Ten, and the overall defensive player of the year in the Big Ten.
Anybody who watched the Buckeyes knows just how dominant Simon could be, rushing quarterbacks from the end and making running backs alter routes. Simon's performance against Wisconsin was particularly impressive and reminded many of the similar heroic effort given by Badger J.J. Watt a few seasons ago in that rivalry.
Simon was a leader of his unit for the past two seasons, and he played some at linebacker to show versatility. The injury that held him out of the Michigan game has dampened excitement a bit, but Simon could still jump up into the high second round and possibly the first round depending on the combine.
His relentless attitude and drive could end up making him just as good as the three defensive linemen who edged him out on this list. The only difference is that the other defensive linemen seem to have another gear to explode to when necessary, while Simon plays at a steady solid pace at all times.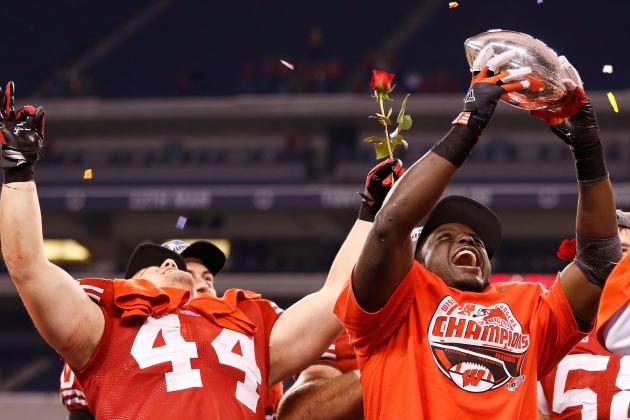 Gregory Shamus/Getty Images
Ball brought a lot of trophies back to Madison
Prospect Rankings: 73 (CBS Sports), 75 (FFT), 94 (Walter), NR (ESPN)
The Big Ten has been more of a pipeline for linemen and hard-nosed players to the NFL than skill-position talent in the last decade. That is also reflected in this list, where Ball is the only player in the top nine of these rankings to come from outside the lines.
After playing as a backup for his first two seasons, Ball dominated in his final two years in Madison. After becoming a Heisman finalist with a record 39 touchdowns and 1,923 yards in 2011, Ball continued to play well behind a struggling defensive line in 2012 to break the NCAA career record for total touchdowns.
Ball is small and fast enough to change direction and find holes easily, but Ball also has deceiving power to run over defenders when necessary. Smaller running backs have done well in the NFL, and Ball is a proven talent who may see immediate playing time on Sundays.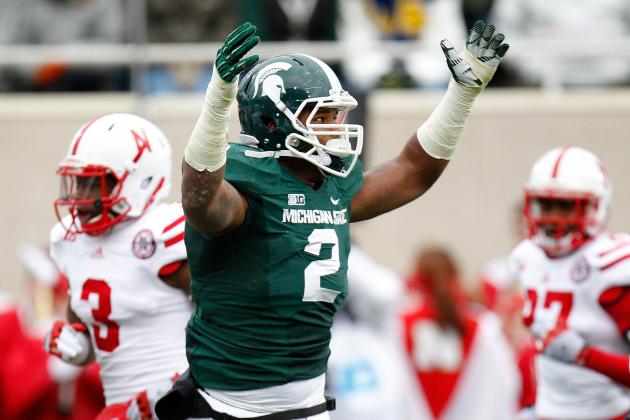 Gregory Shamus/Getty Images
Gholston is following in the footsteps of his cousin to the NFL
Prospect Rankings: 62 (FFT), 76 (Walter), 119 (CBS Sports), NR (ESPN)
Like his teammate Le'Veon Bell, Gholston has yet to declare because his season ended this weekend. Considering that Gholston is likely not a sure-fire first-rounder, he very well may play another season in East Lansing to see if he can improve on his draft stock.
Gholston was the leader of a defense that kept Michigan State in every game this season, even when the Spartans were far outclassed on the offensive side of the ball. His numbers took a slight step back to 50 tackles and 3.5 sacks in 2012, but that should not detract from how good Gholston can be.
In view of his 6' 7" frame and solid build, Gholston will enter the NFL with the type of body already suited to success at the next level. He needs to prove that his work ethic can match his natural talent. If that occurs, watch out. Gholston could anchor a professional line for a decade or longer.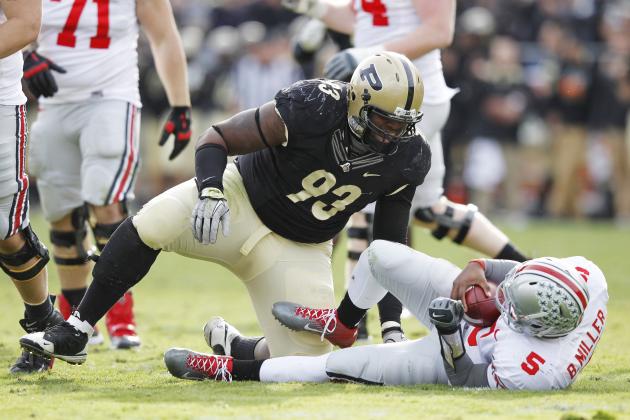 Joe Robbins/Getty Images
Purdue could make a lot of posters out of sacking OSU quarterbacks
Prospect Rankings: 27 (ESPN), 35 (Walter), 39 (CBS Sports), 48 (FFT)
While players like John Simon and William Gholston have first-round potential, the top three players on this list are considered by most pundits to be probable top draft choices for NFL teams. Short has a likely landing spot in New England near the end of the first round, assuming one of the other Big Ten linemen does not jump over him at the combine.
Anybody doubting the explosiveness of Short only needs to look at his 2012 statistics, which include 15 tackles for loss, six sacks, and (most impressively) four blocked kicks. Kawann also has a massive wingspan with long arms for his 6' 3" height, which has helped him become a threat to knock down any pass or kick.
The only major question facing Short is whether he will be able to avoid the streaky play that he showed in college. Professional teams will want a more consistent effort throughout the game. But Short is a rare talent who can develop further, which very well could vault him to the bottom of the first round.
Purdue will certainly miss his presence along the front. New coach Darrell Hazell will have to bring in more talented players to fill these gaps.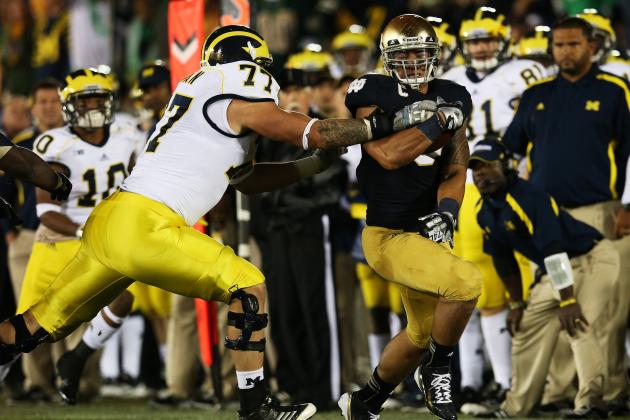 Jonathan Daniel/Getty Images
Lewan got to play "defense" frequently against Notre Dame
Prospect Rankings: 9 (Walter), 11 (CBS Sports), 13 (ESPN), 18 (FFT)
Unlike 2012, when the Big Ten did not have a player drafted until the mid-20s, the top two prospects this year have potential for being selected in the top 10. In a battle decided by only a razor-thin margin, Michigan comes out slightly behind Ohio State as Taylor Lewan ranks second on this list.
In large part due to his leadership, the Wolverine offensive line only surrendered 15 sacks this season. That mark is best in the conference, although an assist has to be given to dynamic running quarterback Denard Robinson as well. Lewan has only played offensive line since his senior year of high school (four years total), but his strong work ethic has made him one of the best players available.
The biggest leap for Lewan in 2012 was an improvement in footwork and form. Under the tutelage of minds like Brady Hoke, Lewan has developed into the natural talent he brought to Ann Arbor three seasons ago. He may not be picked first overall like Jake Long in 2008, but he will continue the tradition of Wolverines doing well in the NFL.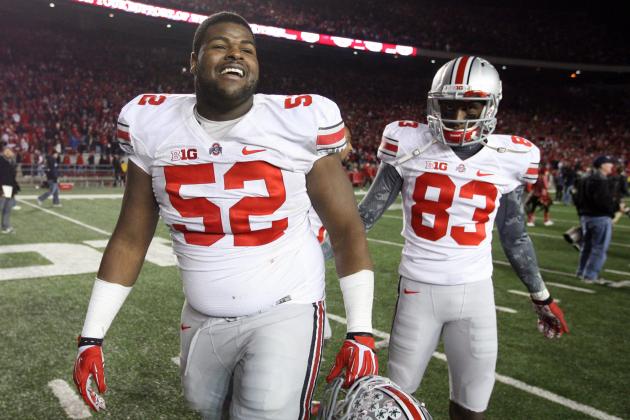 Mary Langenfeld-USA TODAY Sports
All smiles at the top of the list for Big Hank
Prospect Rankings: 9 (CBS Sports), 9 (ESPN), 13 (Walter), 15 (FFT)
"Big Hank" steals the top spot by a narrow margin over Lewan, and this may come as a surprise to those who simply watched John Simon dominate on the Buckeye line in 2012. However, Hankins brings more natural talent and better footwork overall, which could make him the best lineman of the draft class.
Hankins has a wide body that carries 320 pounds very well, but his biggest asset is how quickly he comes off the line and slices through offensive linemen. As long as he keeps his weight in check and in control, "Big Hank" will be a special talent who will dominate in the NFL as well as he did in college.
One possible weakness is the tendency to play tired and take plays off late in games, but that results from Hankins not being willing to leave the field. Assuming that professional coaches can teach him how to take a breather, this weakness will not be a huge issue at the next level.
Although linebacker is a position with far less depth, Urban Meyer will have a little trouble training up replacements for Simon and Hankins in 2013. Still, having top NFL-caliber talent is a good problem to have.
Thanks for reading! Keep the conversation going below on how you would rank them differently, and please feel free to discuss further with me on Twitter. Happy New Year!