Tampa Bay Buccaneers vs. Atlanta Falcons: Live Score, Highlights and Analysis
FINAL: Tampa Bay Buccaneers 22, Atlanta Falcons 17
The Atlanta Falcons will try to wrap up an undefeated home record for the season as they host the 6-9 Tampa Bay Buccaneers Sunday in the Georgia Dome.
Atlanta (13-2) clinched home-field advantage throughout the playoffs last week in Detroit. Sunday's game has zero playoff implications for either team. With that said, it will be interesting to see how long Atlanta's starters stay on the field throughout the day.
According to a post by D. Orlando Ledbetter of the Atlanta Journal Constitution, the Falcons plan on playing the game "to win."
If the Falcons do win, they will tie the franchise record for a regular-season record at 14-2 (1998). While that mark may be nice, Smith will undoubtedly consider the potential for injury through the course of the game. If Atlanta gets up big, starters might start to file out. To this point in the year, not a single player on the Falcons roster has thrown a pass but Matt Ryan.
That could change Sunday.
A win by the Buccaneers would snap a five-game losing streak that sent them tumbling out of the NFC playoff picture. There's no doubt this will be a frustrated bunch of Bucs.
Tampa Bay has no notable injuries, with Dallas Clark expected to play. Atlanta will surely sit Roddy White and William Moore to avoid further injury. Both White and Moore should be completely healthy for the Falcons' first playoff game in a few weeks.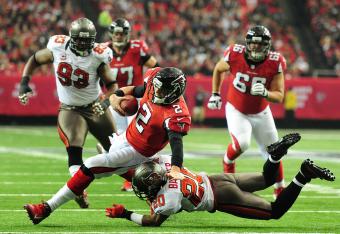 The score is final in Atlanta.
The Tampa Bay Buccaneers contributed in taking the good feelings out of the Georgia Dome by snapping a 5-game losing streak with a 22-17 win.
Tampa Bay held off two second-half comeback attempts by the Falcons to win the game.
The story of the game is the fact that Mike Smith played his starters the entire contest. Whether that was the original plan is to be seen, but Atlanta fell behind early and played sloppy, creating a sense of urgency for the team to play better.
That decision might have caught up with Smith, as John Abraham and Dunta Robinson went down with injuries.
Robinson appeared to have suffered anything from a minor neck tweak to a concussion. If he does have a concussion, he could be anywhere from 100% for the Divisional Playoffs or or out for the entirety of them.
The bigger concern is the ankle of Abraham, which he hurt in the fourth quarter. Abraham had his ankle rolled on when he fell under teammate Peria Jerry.
He could have anything from a sprain to a broken bone in his foot. Losing Abraham would fuel a few weeks of concern for Falcons fans, who will question the decision to start players.
It didn't help that Atlanta struggled. Matt Ryan took until the fourth quarter to connect for a touchdown against the 32nd ranked pass defense in the league.
He was also pressured all day by a defense that is third-last in sacks.
Some could argue that the Falcons brought a vanilla gameplan into the contest, and played with less urgency against a very urgent team.
But, at the end of the day, Abraham's injury and the Falcons' clearly poor performance in a trying effort will raise some flags that will continue to fuel the fire that has discounted the Falcons all season.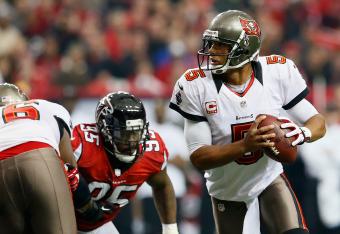 Matt Ryan's 4th and 10 pass to Tony Gonzalez broken up at the point of catch by Mark Barron.
With 2:02 to play in the game, the Buccaneers look to be on their way to snapping a 5-game losing streak.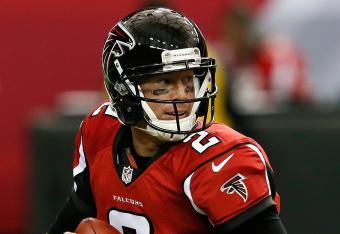 Atlanta gets another stop at the Buccaneers 35-yard line.
The Falcons have the ball with 3:44 left in the game and just over 75 yards to go.
It's Matty Ice time again in the Georgia Dome.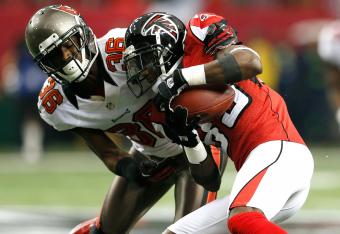 Atlanta is back in the game again with 7:02 to play in the contest.
On 4th and goal from the 8-yard line, Matt Ryan found Harry Douglas for a catch and step for a score. It was Douglas' first touchdown of the season.
Bryant's point after has made it 22-17 in the Georgia Dome. The Falcons have all three timeouts remaining.
However, Falcons fans should still be more worried about the injury to John Abraham. Abraham was carted into the locker room, and it doesn't look good so far.
UPDATE: Ryan's first touchdown pass of the game gave him the franchise single-season touchdown pass record at 32.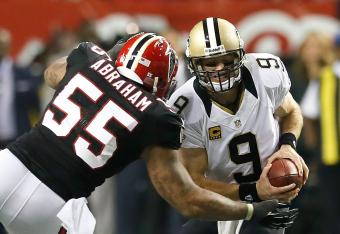 The Falcons have gotten another injury scare in what has so far been a losing effort.
John Abraham just went down with what definitely looks like a sprained ankle. Whether he will be down for the rest of this game or into the playoffs is obviously out of sorts right now, but Abe's ankle was heavily rolled on.
Abraham has been the Falcons primary pass rusher so far this year, totaling over 10 sacks this season. The Falcons also released Ray Edwards earlier in the season.
Atlanta's pass rush will definitely be depleted if Abraham has a severe injury.
Atlanta will get the ball back on a punt, trailing 22-10, with 11:36 left in the contest.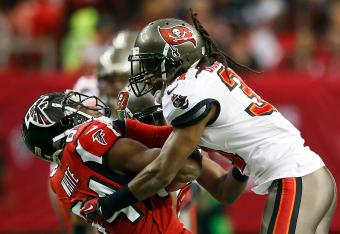 Atlanta's offense is doing nothing right now.
The Falcons have punted again for a touchback.
The most interesting story so far in this game is the fact Atlanta has played its starters the entire time.
Tampa Bay entered the game with the last-ranked pass defense in the NFL. Atlanta entered with a top-5 passing game.
So far, Matt Ryan is 20 of 30 for 170 yards and zero touchdowns or picks.
Atlanta only has 217 yards of total offense on the Georgia Dome track.
Unless the excuse is a lack of gameplan from the coordinators, the Falcons aren't finishing the year they wanted to. The idea was to have players start in a competitive game and then bring them out, but Tampa Bay put such a foot down that the Falcons have begun to try to fight back and have failed to this point.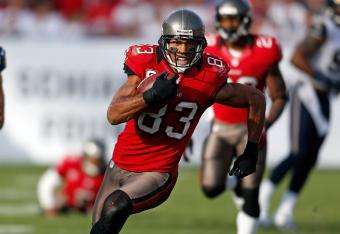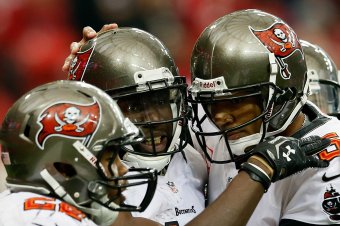 Kevin C. Cox/Getty Images
Vincent Jackson takes the noise back out of the Dome and the Buccaneers to the 40 of the Falcons.
UPDATE: Doug Martin quiets the crowd with an incredible 40-yard scamper to the endzone.
Both Chris Hope and Thomas DeCoud had shots at him, but Martin spun off both of them and raced to the score.
Martin has seen a crease and running room off left tackle all day.
He also is now over 100-yards with 108 on 20 carries and a score.
The Buccaneers scored in four plays to answer Atlanta's momentous score.
Tampa Bay now leads 22-10 after a failed two point conversion.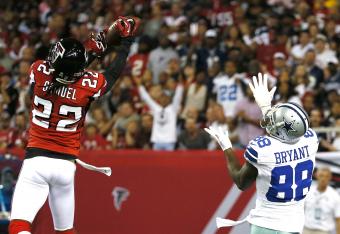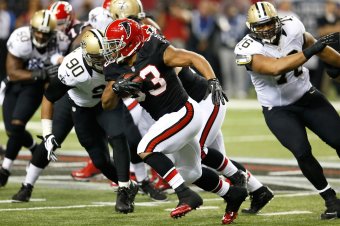 Kevin C. Cox/Getty Images
Asante Samuel gives Atlanta some life.
Samuel jumped in front of a Josh Freeman pass on 3rd and seven and returned it to the 21-yard line of Tampa Bay.
It was Samuel's fifth interception of the season, despite nursing a bum shoulder for the past quarter of the year.
UPDATE: Michael Turner follows two plays later with some life back in his season. Turner scores from 17-yards out with 3:45 left in the third quarter.
Tampa Bay's lead is cut to six, 16-10.
Sean Weatherspoon's hit on Vincent Jackson from earlier. Courtesy of BleacherReport (via Fox Sports)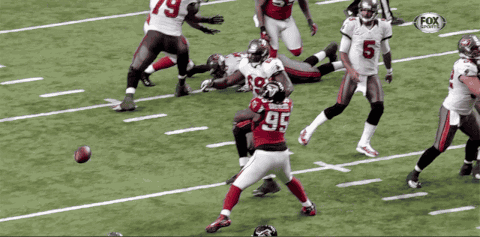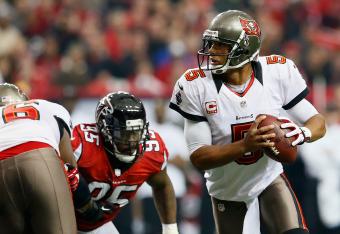 Atlanta's defense gets another stop, but giving up a lot of big plays between the 25-yard lines.
Connor Barth just connected on a 42-yard field goal to make the score 16-3 with 10:47 left in the 3rd quarter.
Had the Buccaneers opened the quarter with a touchdown, the game probably would have been mailed in by the Falcons.
If Atlanta scores on its next possession this game will become interesting again.
So far, it's been hard to figure out the minds of the Falcons players and coaches. It's not clear that the starters even knew how long they would be playing this game.
But, right now it feels like a division game that means something and the Buccaneers are owning it.
Tweet from Atlanta Falcons beat writer for the Atlanta Journal Constitution, D. Orlando Ledbetter.
Players clearly weren't "all in" on Smitty's plan to "play to win." He'll get a shot to get them on them same page. #Falcons #atltb12
— D. Orlando Ledbetter (@AJCFalcons) December 30, 2012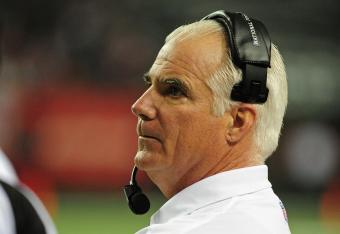 Halftime score: Buccaneers 13, Falcons 3
Extremely questionable decision, or lack of decision from Falcons coach Mike Smith at the end of the period.
Matt Ryan completed a pass to Jason Snelling on 3rd and 19 for 16 yards to set up a 4th and three near mid-field.
22 seconds remained on the clock, but Smith didn't call a timeout until five seconds remained on the clock.
Atlanta ran a play and Ryan was sacked for the second time in the drive.
Heading into the half, Tampa Bay owns the momentum and the lead, and will get the ball to start the third quarter.
So far the total yards are pretty close at 175 for Tampa Bay and 165 for Atlanta.
Matt Ryan had a safe but not effective half, completing 15 of 22 passes for 146 yards and zero interceptions. He's been sacked twice.
Josh Freeman had a nice half with 12 completions on 18 attempts for 138 yards and a score.
The "Muscle Hamster" has been held in check with just 36 yards on 11 carries.
So far it's been clear that Atlanta has been in cruise control while Tampa Bay has had its foot on the pedal.
It's interesting that FOX's Michael Strahan just said during the Visa Halftime report that Atlanta should take the pads off the starters.
Some might want to see the Falcons try to win this game. Having the starters stumble out of the regular season might not be the best idea.
It's also clear that both Mike Nolan and Atlanta's offensive coordinator, Dirk Koetter, have gone with a limited gameplan for the game.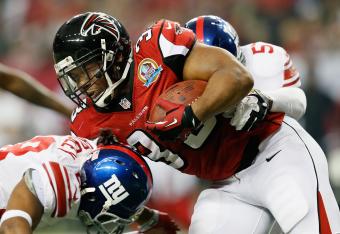 Once again, Mike Smith and Dirk Koetter showcase the lack of faith they have in Atlanta's running game.
3rd and one and the Falcons throw, and the funniest part was the Buccaneers played as if they knew it was coming.
Falcons punt to Buccaneers.
1:35 left in the half.
The Falcons defense does what it has done all year: giving up yards, but keeping the offense out of the endzone.
Connor Barth's 22-yard field goal gives the Buccaneers a 13-3 lead.
Tampa Bay Buccaneers 13, Atlanta Falcons 3
3:03 left in 2nd quarter
Dekoda Watson just pushed Michael Palmer into a Matt Bosher punt.
Buccaneers have the ball at Atlanta's 26-yard line with a 10-3 lead with just under six minutes left in the half.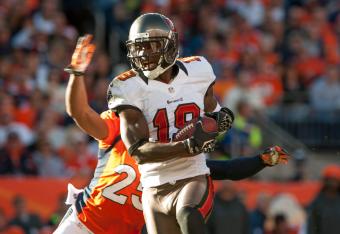 Mike Williams with an impressive toe-tap in the back of the endzone for an 8-yard touchdown reception.
Buccaneers' passing offense was surgical on that drive, as Atlanta's more vanilla defense is getting beat like a passing skeleton defense would.
Josh Freeman is 10 of 13 passing for 121 yards and a touchdown so far (130.6 rating).
Tampa Bay Buccaneers 10, Atlanta Falcons 3
8:51 left in 2nd quarter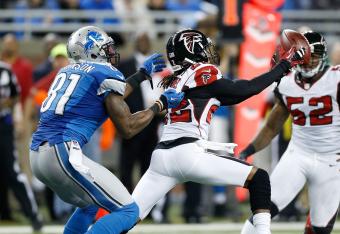 Good news for Falcons fans.
Asante Samuel is back in the game after dealing with a minor contusion to his shoulder/arm.
Dunta Robinson is being checked out for head and neck injuries, but no word of concussion so far.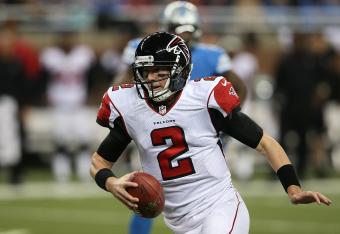 Matt Ryan is continuing to scare Falcons fans by running. 3rd and 10 scramble fell short of first down.
The other Matt, Matt Bryant, ties game with 28-yard field goal.
Tampa Bay Buccaneers 3, Atlanta Falcons 3
2:24 1st quarter
Interesting take from a former co-worker:
@michaelsfoster Dunta has had concussions and always lead with his head, Assante has the bad shoulder and leads with that.

— Micah Poole (@MonstamikeATL) December 30, 2012
John Abraham knocks down 3rd and two pass from Josh Freeman.
Buccaneers settle for 48-yard field goal by Connor Barth.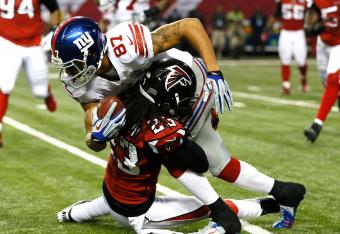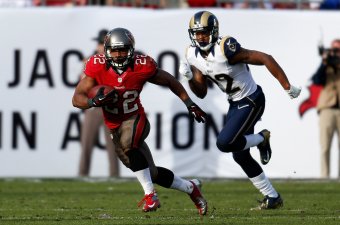 J. Meric/Getty Images
Dunta Robinson being Dunta Robinson for the Falcons: Hit a guy so hard he hurt himself. We've seen that plenty of times before. First injury for Atlanta. Hopefully nothing severe.
Also, so far the "Muscle Hamster" is looking good. Doug Martin has a receiving and rushing first-down for the Buccaneers. Tampa Bay is off to a strong start with three first-downs to get to the Atlanta 35-yard line.
The Falcons' 21st ranked rush defense needs to strengthen today, not later, in terms of the playoffs.
UPDATE: Robinson is heading to the locker room and Asante Samuel seems to be having more trouble with his shoulder. Mike Williams knee hit him in the shoulder.
Both starting cornerbacks are hurt for Atlanta right now.
Second play of game: Matt Ryan runs for 5-yards on a naked bootleg and takes hit from back. Probably could have thrown the ball to Mike Cox on that play.
77,000 fans in the Georgia Dome just cringed.
Every tackle and hit on Ryan today is going to give Falcons fans heart attacks.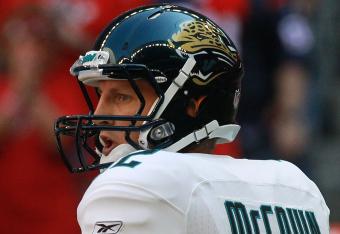 Atlanta and Tampa Bay will be walking their starters onto the field in today's game. The Buccaneers will play at full force as they try to avoid a six-game losing streak to end the season.
It's unclear, as of now, whether Atlanta's starters will see a series, a half, or even an entire game.
If Matt Ryan leaves at any point, it will mean the first snap by another Falcons quarterback this year.
That would mean a snap for former Jaguar and Buccaneer starter Luke McCown, who was brought over this offseason in a surprise move by general manager Thomas Dimitroff.
Dimitroff obviously did some negotiating with Atlanta's new offensive coordinator Dirk Koetter, who coached McCown in Jacksonville. McCown essentially has replaced a formidable backup in Chris Redman, who performed well in clean-up and starting time with Atlanta since 2008. Redman was released by Atlanta in the wake of McCown's signing.
McCown was drafted by the Browns in 2004, but saw little time. He has been a journeyman since, with experience in Tampa Bay and Jacksonville from 2007-2011.
Rookie Dominique Davis (East Carolina), who might have been the fan-favorite to play today, is listed as inactive for the Falcons.
Here's some quick facts on the McCown:
Age: 31
Exp: 9-years
Height: 6'3"
Weight: 212 lbs.
College: Louisiana Tech
Career Stats: 184 of 316, 2,035 yards, nine touchdowns, 14 interceptions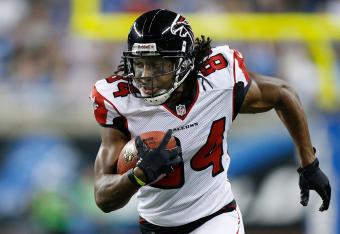 False alarm, folks.
Looks like Roddy White will be active and starting for the Falcons today, according to the official report from atlantafalcons.com. Atlanta is slated to have all of its starters on the field to begin the game.
Tight end Dallas Clark is also a go for the Buccaneers. Clark had been dealing with an unspecified illness. It is flu season.
Here's a list of a few key inactives:
Buccaneers: CB Eric Wright
Falcons: CB Chris Owens, S William Moore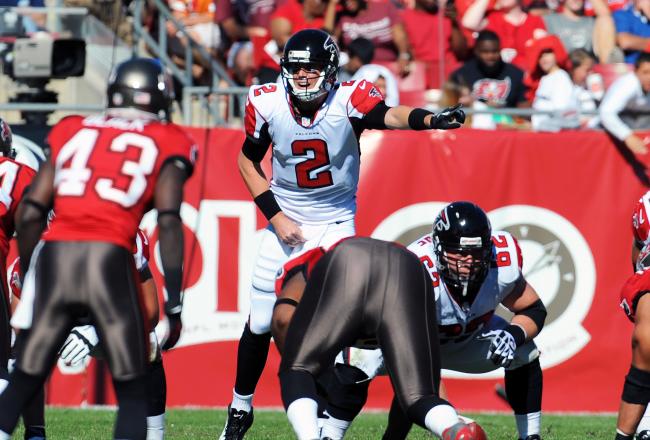 We are now just under an hour away from kickoff in Atlanta. The weather is pretty nice today in Georgia, but the weather inside the Georgia Dome will be even nicer.
The Falcons will try to finish with an undefeated home record with a win over Tampa Bay. While that might be nice, some think the Falcons should treat this contest like a preseason game and rest key starters.
With key players like Roddy White and William Moore already out to protect their playoff-ready bodies, there's no reason to think it will be necessary for Atlanta to putt its franchise quarterback, Matt Ryan, into harms' way.
Also, keep an eye out for how crafty, or lack-thereof, the Falcons defense is again today. Defensive coordinator Mike Nolan went with a very vanilla defense last week against Detroit. That was probably to keep the playoff defense in the books.
More updates to come.
This article is
What is the duplicate article?
Why is this article offensive?
Where is this article plagiarized from?
Why is this article poorly edited?