SEC Football: Power Ranking the SEC's Best NFL Draft Prospects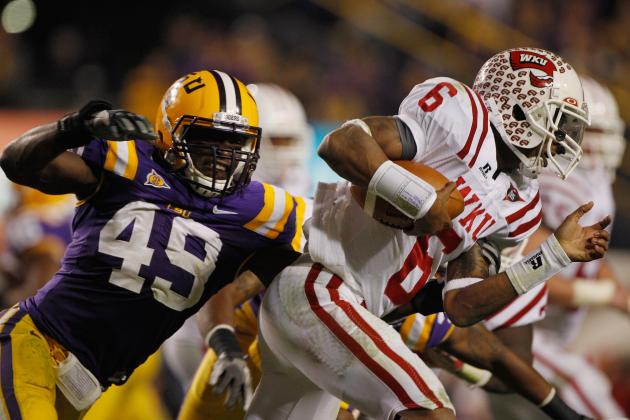 Chris Graythen/Getty Images

The defensive players in the SEC are sure to get the most attention in the 2013 NFL draft.
This should come as no surprise. Come on, defense is what this league is known for, and when the draft rolls around, stars from the defensive side of the ball will be most talked about.
What else would you expect from a league that's biggest stars are linebackers and defensive ends?
But is the No. 1 prospect hailing from the SEC a defensive player? Let's take a look, shall we?
Begin Slideshow

»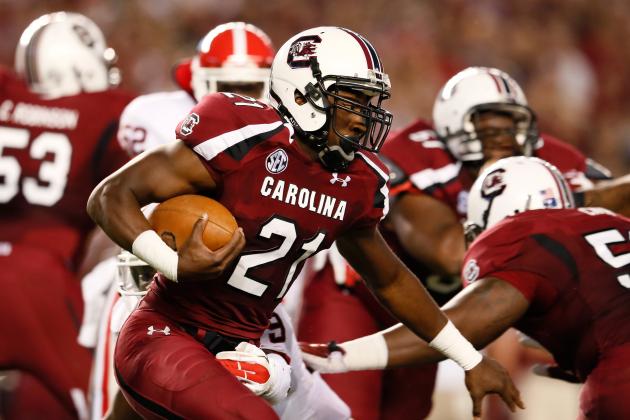 Kevin C. Cox/Getty Images

Can he stay injury free? Is he worth the gamble?
Well, if anyone is worth the gamble, it's Marcus Lattimore. Here's a player who will work harder than everyone else on the field, and you never, ever have to worry about him getting into trouble.
This is a high character young man we're talking about here. But what makes him special is the way he runs the football. He runs with authority and his low pad level allows him to break multiple tackles. However, he has suffered two season-ending injuries in the past two years.
That's worrisome, but Lattimore has the work ethic to come back stronger than ever. Hey, Adrian Peterson dealt with injuries coming out of college too, right?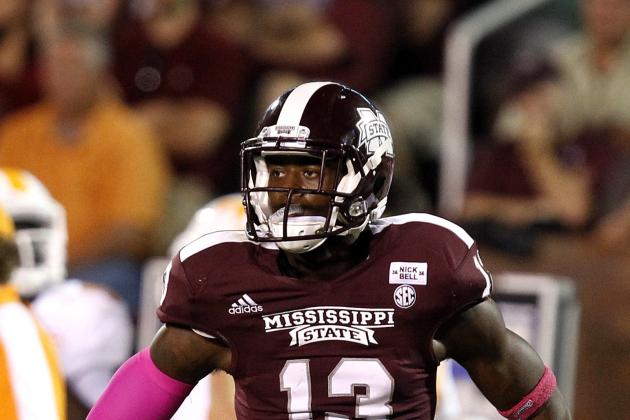 Butch Dill/Getty Images

Johnthan Banks draft stock is falling, and it's hard to see why.
He's your prototypical NFL corner, and he could develop into another shutdown guy at the next level.
Banks has a recorded 4.4 in the 40-yard dash, and with his 6'1", 185-pound frame, he has what it takes to become a top cornerback in the league.
He did give up a few big plays to AJ McCarron and Alabama, but the throws McCarron made on him were perfect. A perfect throw beats great coverage every time. Banks should get his draft stock back up as scouts get an up-close look at him.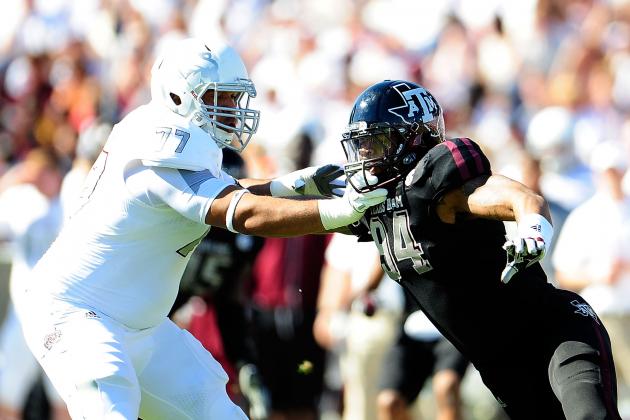 Stacy Revere/Getty Images

Damontre Moore is a special defensive end.
Defensive ends are normally known for pass rushing the quarterback and accumulating a lot of sacks. Moore does that, but he does more than that too.
Moore led the team in sacks with 12.5 in 2012, but he also led the Aggies in tackles with 80. You don't see that very often.
Moore's combination of run stuffing and pass rushing makes him a hot commodity.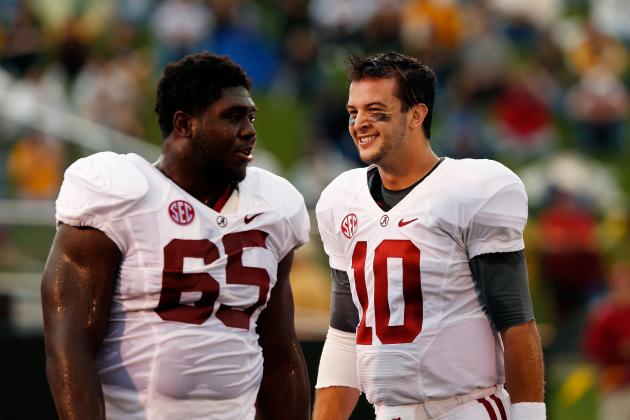 Jamie Squire/Getty Images

Chance Warmack is undoubtedly one of the best guards in college football.
In fact, many presume him to be the best guard declaring for the draft. With pure strength and raw natural ability, Warmack cleared paths all season long for Eddie Lacy and T.J. Yeldon.
Warmack was a big reason why the Crimson Tide were 19th in the nation in rushing yards per game with 224.6.
At 6'2, 322 pounds, Warmack will make NFL scouts drool at his frame and athleticism.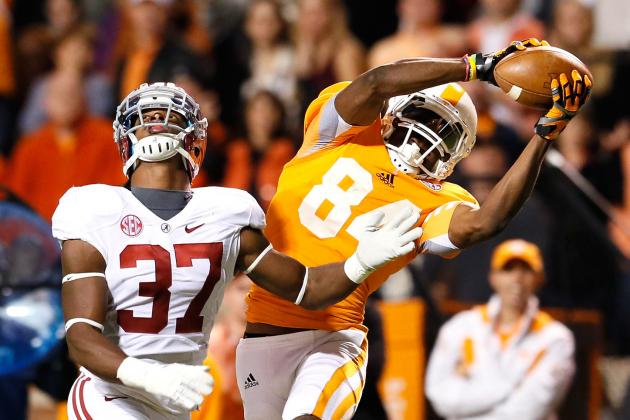 Kevin C. Cox/Getty Images

Here's the shocker on this list.
Cordarrelle Patterson is a future star in the NFL, easily. The Tennessee receiver can do it all.
He has great hands, explosive speed and his 6'3 height will give him an advantage over shorter defensive backs. Simply put—this man is destined to become a great NFL receiver.
Having him No. 6 might come as a surprise to most, but Patterson has the God-gifted abilities to be worthy of this ranking.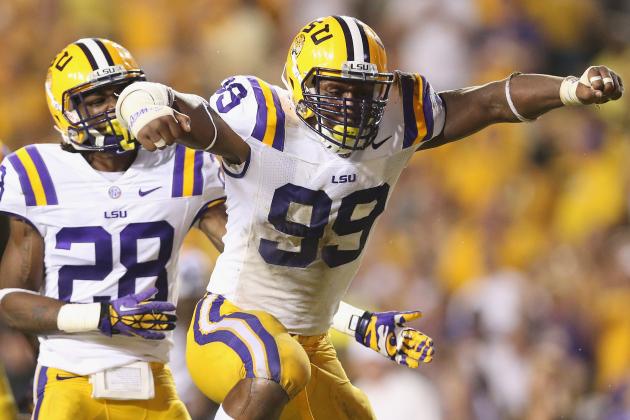 Ronald Martinez/Getty Images

Sam Montgomery took the league by surprise in 2011.
He surprised most with his nine sacks and 13.5 tackles for loss, so it was impossible for him to take the league by surprise in 2012.
With double-teams and constant chips from running backs, Montgomery still accounted for seven sacks and 12 tackles for loss. Pretty impressive, ay?
Montgomery is passionate on the field with his motions toward the crowd, and his play is truly remarkable. Whoever grabs this guy will be cheesing from cheek to cheek.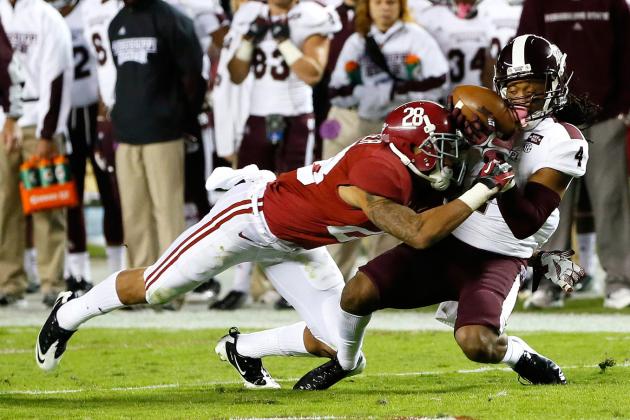 Kevin C. Cox/Getty Images

Just look at the form in that picture.
That photo defines Dee Milliner perfectly. Great technique, great form and great athleticism is what it takes to succeed in the NFL and Milliner has it all.
As you see in the picture, Milliner can come up and make the tackle when needed, but what he's most known for is constantly batting balls down.
Heck, he's broken up 18 passes this season. Because of his solid technique, Milliner is worthy of all of the hype.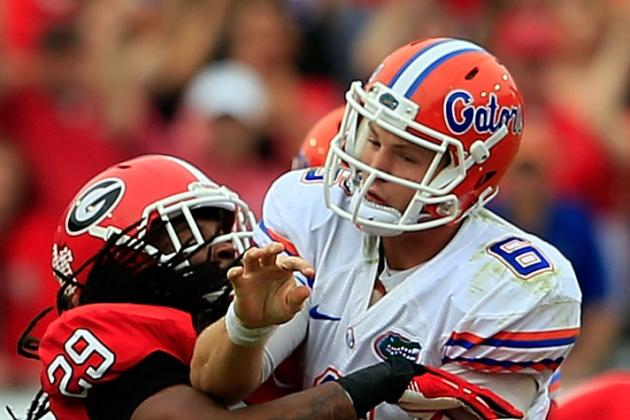 Sam Greenwood/Getty Images

Grown men play on Sundays, right?
Wel, if you're looking for grown men, look no further than Jarvis Jones.
Jones looks the part with his dreads and facial hair. But his ability to shake off blockers and wrap his huge arms around quarterbacks is what makes him most manly.
Jones has 22.5 tackles for loss, 19 quarterback hurries, seven forced fumbles and 12.5 sacks this season. His numbers speak for themselves.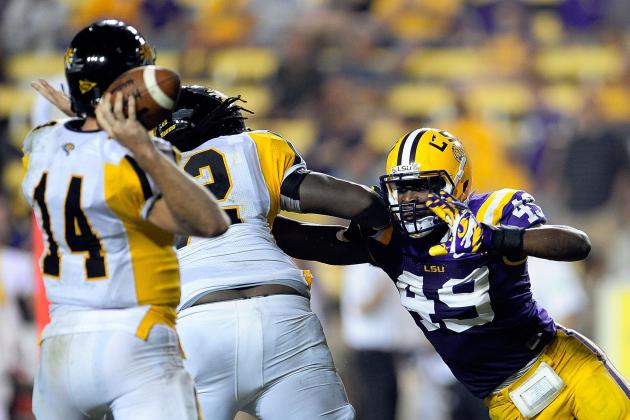 Stacy Revere/Getty Images

Barkevious Mingo is a freak of nature.
Mingo is a defensive end who will most likely play linebacker at the next level because of his speed and athletic ability.
Mingo ran a 4.4 in the 40-yard dash, and it's not everyday you find a defensive end entering the draft that has that type of speed.
That makes him a coveted prospect and should see him taken within the top-5 picks.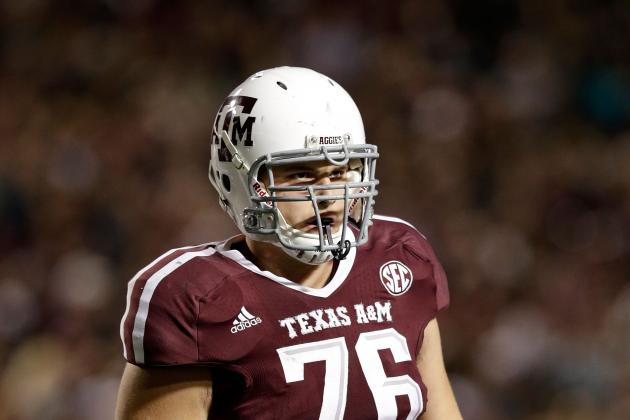 Scott Halleran/Getty Images

It's not the pretty pick, but it's the right pick.
Even though Texas A&M moved to the land of defensive linemen (the SEC), Luke Joeckel was just as dominant as he was before.
Going against the likes of Montgomery and Mingo, Joeckel proved that he's one of the best offensive tackles in the nation, if not the best.
Scouts are so impressed with the way he played in 2012 that FOX Sports' Peter Schrager has him going No. 1 overall.