Predicting the Biggest Mistakes MLB Teams Will Make the Rest of the Offseason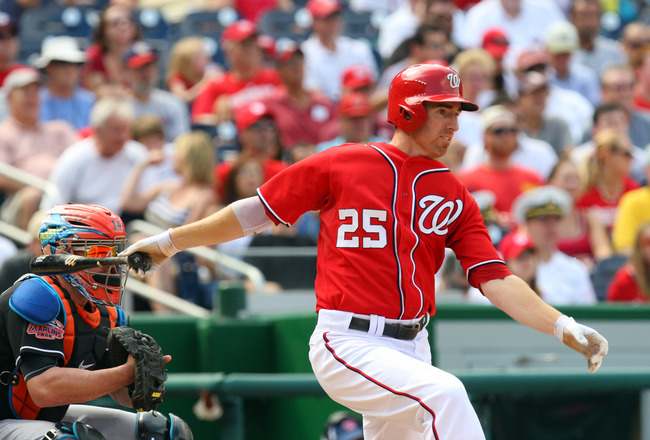 Ned Dishman/Getty Images
As the offseason drags on, MLB teams are busy continuing to tweak their rosters, attempting to put the best product possible on the field for the 2013 season.
Some teams are likely done dealing, happy with the progress made thus far. Other teams continue to consider signings or possible trades they believe will work to their advantage.
Each deal, no matter its scope, is judged and analyzed ad nauseum by a bevy of pundits, writers and experts who will either pan or laud each transaction.
Here is a prediction of deals either made or not made by MLB teams that could turn out to be huge mistakes.
Arizona Diamondbacks: Not Trading Justin Upton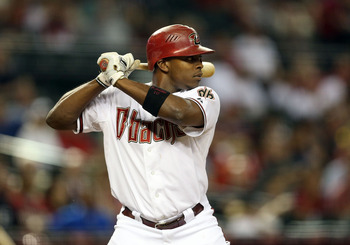 Christian Petersen/Getty Images
When the Arizona Diamondbacks announced the signing of Cody Ross to a three-year, $26 million contract, head-scratching was in order.
The D-Backs already had five outfielders (Justin Upton, Jason Kubel, Gerardo Parra, Adam Eaton, A.J. Pollock) before the Ross signing. Six is obviously overkill.
Speculation immediately following the announcement was that Kubel would be the one most likely to be dealt. Buster Olney of ESPN tweeted that Kubel would draw interest from the Texas Rangers and New York Yankees.
However, Kubel represents the biggest left-handed power threat in the lineup. Miguel Montero hit only half as many homers (15) as Kubel, in fact.
The better option is Upton. While general manager Kevin Towers has stated that Upton likely isn't going anywhere, the Ross signing makes that statement seem disingenuous.
Upton has much more value than Kubel on the trade market. Ross' production will make up for the loss of Upton from the right side of the plate. Keeping Kubel gives the Diamondbacks offense more balance.
Boston Red Sox: Signing Mike Napoli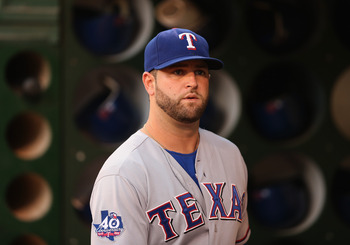 Ezra Shaw/Getty Images
He who hesitates is lost.
That old saying certainly applies in the case of the contract stalemate between the Boston Red Sox and free-agent slugger Mike Napoli.
The Sox were happy to announce that they had agreed to a three-year, $39 million contract with Napoli back in early December. Now, almost four weeks later, there is still no deal in place.
At issue is a pre-existing hip injury. The Sox want language written into the contract that protects them from a debilitating injury in the future.
The Sox hesitated for a reason. If Napoli's hip condition is causing them this much concern at this point, the best thing to do is simply walk away.
Think about it for a second—the Texas Rangers make no qualifying offer for Napoli and made almost no attempt to bring him back. That in itself was curious.
The Seattle Mariners were thought to be in hot pursuit as well, but backed off because of hip concerns.
At this point, signing Napoli should not be a priority—it should be forgotten.
Chicago White Sox: Not Trading Gavin Floyd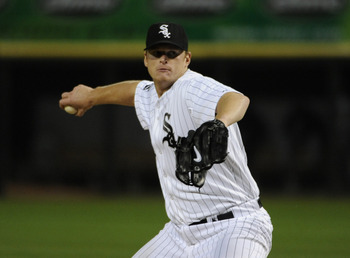 David Banks/Getty Images
The Chicago White Sox are already hamstrung in terms of adding to the payroll. It's no secret that they would love to add another left-handed hitter to their lineup to complement designated hitter Adam Dunn.
To that end, not trading starting pitcher Gavin Floyd would be a mistake.
General manager Rick Hahn likes his team's depth in the rotation. He was proactive in re-signing Jake Peavy and in picking up Floyd's $9.5 million for next season.
Considering the current state of the payroll for the White Sox, Floyd represents their best option in taking care of other needs.
Cincinnati Reds: Transitioning Aroldis Chapman to Starting Rotation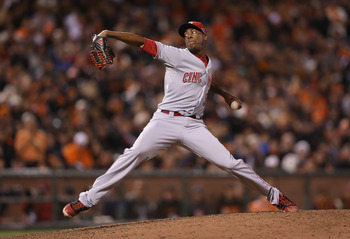 Jeff Gross/Getty Images
Last season, Aroldis Chapman emerged as a dominant closer. He racked up 38 saves in 43 chances while posting a 1.51 ERA, 0.81 WHIP and a 15.32 K/9 rate.
And he did it with just two pitches—a four-seam fastball and a slider.
Now, Chapman is transitioning to the starting rotation for the 2013 season. In some ways it makes sense. The Reds don't currently have a left-hander in the rotation and Chapman's 100 mph-plus fastball can now be put into use in potentially three times as many innings.
However, can Chapman really sustain that kind of velocity as a starter? And how many starting pitchers survive in baseball with just two pitches?
The Reds signed Jonathan Broxton as their closer and have Sean Marshall as a capable eighth-inning setup man. But in the end, they simply won't be benefited with Chapman's move to the rotation.
You can count on less than one hand the number of pitchers that dominate in the late innings like Chapman. Why mess with success?
Cleveland Indians: Not Making Another Trade for Starting Pitching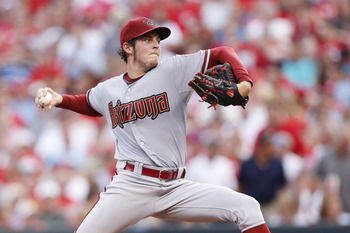 Joe Robbins/Getty Images
The Cleveland Indians have picked up Trevor Bauer in an effort to bolster their starting rotation.
Considering their starters posted the second-worst ERA in the American League last season, adding just Bauer isn't nearly enough.
The Indians are another team that is financially challenged. Considering they only drew 1.6 million fans to Progressive Field last year, it wouldn't be prudent to go out and spend money they might not get back at the turnstiles.
However, the Tribe does have trade chips in Chris Perez and Asbrubal Cabrera. Not using them to upgrade their rotation will likely doom Cleveland to another dismal finish in 2013.
Detroit Tigers: Not Signing Rafael Soriano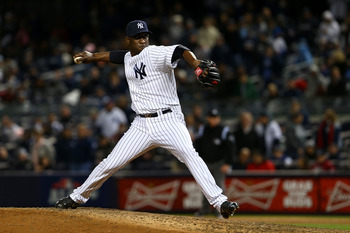 Elsa/Getty Images
The Detroit Tigers have once again shown that they are looking to win now at all costs.
The signings of Torii Hunter and Anibal Sanchez were clear indications that owner Mike Ilitch is intent on winning now.
If that's the case, then why are they so hesitant to sign a proven closer?
The Tigers aren't the only team in "win now" mode. The Los Angeles Dodgers and Toronto Blue Jays have certainly shown they're also looking for instant gratification as well.
Not every team wins now. Only one gets that prize.
If that's the case for the Tigers, then why not go after closer Rafael Soriano?
With three $20 million-plus superstars (Prince Fielder, Miguel Cabrera, Justin Verlander), the Tigers could give the ninth inning to prospect Bruce Rondon, a young man who has yet to log a major-league inning.
That doesn't seem to fit into the win-now philosophy.
Houston Astros: Not Signing Lance Berkman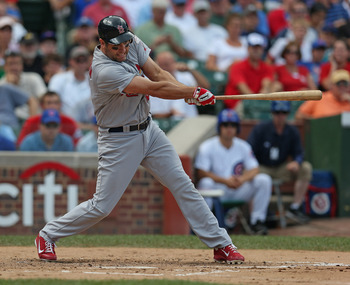 Jonathan Daniel/Getty Images
Two weeks ago, the Houston Astros signed Carlos Pena to a one-year, $2.9 million contract to serve as the team's first full-time designated hitter as they begin play in the American League West Division.
Uh, what?
This is the same man who hit .191 playing primarily in the American League last season with the Tampa Bay Rays.
In his last three years combined, Pena has hit .206 while managing only one season with at least 100 hits.
Yes, this is the new primary designated hitter for the Astros.
The Astros have had conversations with former Astro Lance Berkman, but have been unable to convince Berkman to put off retirement. The two sides agreed to table discussions until mid-January, so there is still a slight chance that Berkman could be in the plans for Houston next season.
It would be a mistake for the Astros do not do all they can to lure Berkman back. It's a win-win on the marketing and public relations side of things, and Berkman's bat is still potent.
In fact, a whole lot more potent than Pena's bat at this point.
Los Angeles Angels: Not Trading Vernon Wells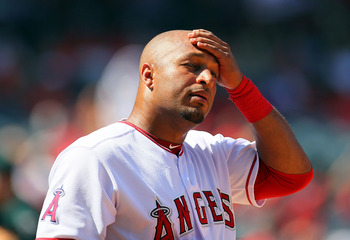 Victor Decolongon/Getty Images
The Los Angeles Angels made waves once again this offseason, signing free-agent outfielder Josh Hamilton to a five-year, $125 million contract.
The signing gives the Angels five outfielders, and even with the trade of Kendrys Morales to the Seattle Mariners, something seemingly has to give.
The giving should be in the form of a Vernon Wells trade.
The Angels have Hamilton, Mike Trout, Mark Trumbo, Peter Bourjos and Vernon Wells in their outfield. Trumbo will likely serve much time as the designated hitter, with Hamilton in right, Trout in left and Bourjos in center.
That makes Wells a $21 million reserve outfielder.
At this point, owner Arte Moreno should give general manager Jerry Dipoto the okay to deal Wells and include at least 90 percent of his salary. Other needs can be filled and the Angels would be rid of a situation that could become troubling next season.
It makes a lot more sense to use Kole Calhoun as the fifth outfielder and get something back for Wells at this point.
Miami Marlins: Not Entertaining Offers for Giancarlo Stanton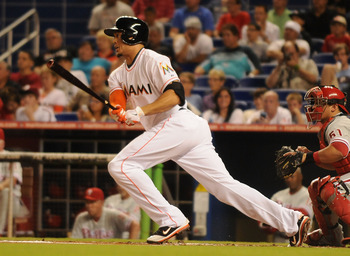 Jason Arnold/Getty Images
Considering what the Miami Marlins have done in the past several months, it should be pretty clear that the franchise is in complete rebuild mode and isn't planning on winning anytime soon.
To that end, why would it not make sense to explore trade options for right fielder Giancarlo Stanton?
Back in November, Jeff Passan of Yahoo! Sports compared a possible trade of Stanton to the Herschel Walker trade in 1989.
Yeah, you know—the trade that netted the Dallas Cowboys three Super Bowl victories?
Yup, that trade.
Obviously the return package for Stanton can't include draft picks like the Walker deal, but Passan's point was that Stanton is that special kind of player that teams can build around.
And the Marlins could in turn receive a return package that could win them three World Series titles in the future.
Well, in theory.
New York Mets: Not Re-Signing Scott Hairston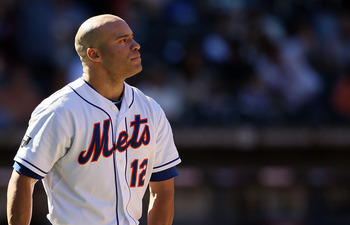 Alex Trautwig/Getty Images
So far this offseason, the New York Mets are acting like a team that's still in financial disarray.
They at least signed their face of the franchise—David Wright—to an eight-year, $138 million contract extension.
However, they traded Cy Young Award-winning pitcher R.A. Dickey to the Toronto Blue Jays rather than sign him to an extension. And they've made virtually no other moves of note.
For a team short on outfielders and power, their inability to re-sign Scott Hairston is a mistake at this point.
Hairston hit 20 home runs in just 377 at-bats last season for the Mets at the bargain price of $1.1 million.
The sticking point for the Mets is Hairston's request for a multi-year contract, something he's never had in his career. The Mets have thus far balked at giving more than one year.
It's not like Hairston is looking for a Wright-like contract—he simply wants two years. Even if the Mets triple his annual value, it's worth it in the long run, considering the lack of options left on the open market.
New York Yankees: Not Extending Robinson Cano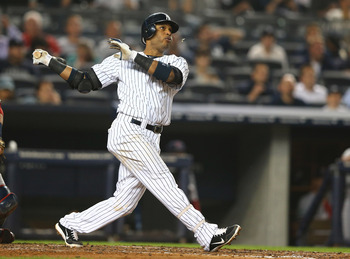 Al Bello/Getty Images
The New York Yankees have always employed a policy of not offering extensions for players until their current contracts expire. The new New York guidelines also suggest a more prudent mindset as they attempt to get underneath the luxury tax threshold by the 2014 season.
All of that means that it is highly likely that second baseman Robinson Cano will just be too expensive for the Yankees to re-sign.
Cano's agent is Scott Boras. He always advises his clients to hit free agency and collect top dollar.
Not extending Cano before now will leave the Yankees without their most consistent offensive producer and will leave a giant hole in their infield.
Philadelphia Phillies: Going Over Luxury Tax Threshold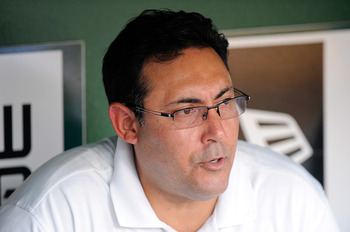 Greg Fiume/Getty Images
Up until now, the Philadelphia Phillies have never had to pay a "Competitive Balance Tax," the term used for the luxury tax that has been in place in Major League Baseball since 1997.
They fell just $4 million short of the threshold in 2012.
This coming year, the Phillies will come dangerously close to the $178 million threshold once again. But that may not stop general manager Ruben Amaro Jr. from climbing above it if the right opportunity were to arise.
"I haven't been given any ultimatums as far as [the luxury tax] is concerned, but there is a limit to where we want to be right now," Amaro said. "I also think it's important to give ourselves a little flexibility for the trade deadline in case we want to do some things there, too. Not just dollar-wise, but personnel-wise, too. We're looking at all possibilities to improve the club, and if we can do it and we think it's the right thing to do, we'll move on it."
However, does it makes sense to do so unless it guarantees a postseason berth?
The Phillies and their $174 million payroll last season fell far short. Their abundance of $20 million-plus players are another year older.
With the Washington Nationals and Atlanta Braves continuing to improve and staying well below the tax threshold, the Phillies should do what they can to avoid crossing that line.
Picking up young players under team control like center fielder Ben Revere is a smarter play at this point.
Pittsburgh Pirates: Not Signing a Setup Man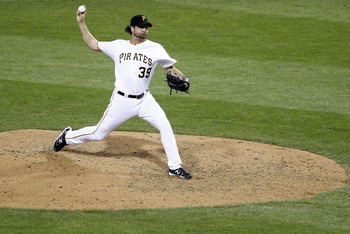 Justin K. Aller/Getty Images
Now that the Pittsburgh Pirates have traded closer Joel Hanrahan, the recently re-signed Jason Grilli will assume the closer's role.
That now means that one of the players the Pirates received in exchange for Hanrahan—Mark Melancon—will be given the opportunity to be Grilli's setup man.
Considering Melancon's dismal 2012 campaign, I'd be very worried if I were a Pirates fan.
Melancon posted a miserable 6.20 ERA in 41 games at the major league level for the Sox last season.
The Pirates are encouraged by the fact that Melancon has a career 2.85 ERA in the National League during his time with the Houston Astros.
I'm not nearly as convinced.
Moving Grill up makes sense—he posted an outstanding 13.8 K/9 rate last year. However, given Melancon's obvious struggles last year, the Pirates may be better served by finding another option as Grilli's setup man.
San Diego Padres: Not Taking Advantage of New Ownership and New Money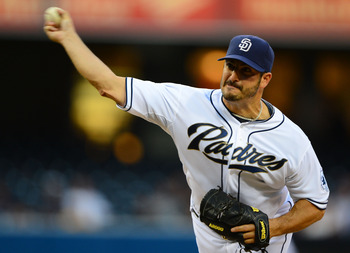 Christopher Hanewinckel-US PRESS
The new ownership group for the San Diego Padres took over in late August with these words—to "underpromise and overdeliver."
Thus far the delivery has been minimal.
The Padres have easily been one of the least active teams this offseason. They brought back starting pitcher Jason Marquis with a one-year, $3 million deal, but little else.
It's understandable that general manager Josh Byrnes has balked at overpaying for free agents, preferring to bolster his roster via the trade route.
He apparently hasn't seen any trades that tickled his fancy yet.
In any event, the last thing that Padres fans want to see is a level of inactivity similar to that of former owner John Moores.
Seattle Mariners: Not Doing More to Improve Upon an Impotent Offense
The Star-Ledger-USA TODAY Sports
The Seattle Mariners have finished last in runs scored in the American League for the past four seasons. It doesn't take a rocket scientist to figure out what their obvious need was headed into the offseason.
Thus far, they have addressed that need by signing the under-performing Jason Bay, the 40-year-old former Mariner Raul Ibanez and trading for first baseman Kendrys Morales.
Morales should be of help—he hit .273 with 22 home runs and 73 RBI after being out of baseball for 18 months with a broken ankle.
Ibanez should add some punch as well, but at this point in his career, it's hard to imagine an everyday role. Bay is a complete enigma considering his last three seasons with the New York Mets.
If this is the best the Mariners can do, it may be enough to get them out of the run-scoring cellar, but nothing even close enough to competing in the improving American League West Division.
Tampa Bay Rays: Not Going After Adam LaRoche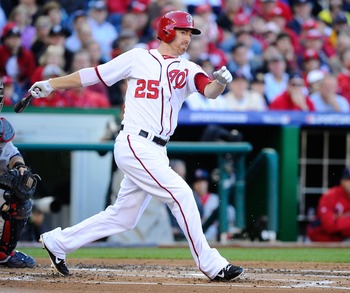 Brad Mills-USA TODAY Sports
The Tampa Bay Rays pulled off a major deal this offseason, dealing away pitchers James Shields and Wade Davis to the Kansas City Royals for top hitting prospect Wil Myers.
The Rays also signed free-agent first baseman James Loney to a one-year, $2 million contract.
The Rays have been on the hunt to add more offense. However, there's no guarantee that Myers will have any impact next season. In addition, Loney's offense has been almost non-existent at a position that demands production.
The Washington Nationals and free-agent first baseman Adam LaRoche have yet to seal the deal on a multi-year contract. If the Rays are keen on improving offensive production next season, they should be advancing talks with LaRoche and be willing to offer up a third year.
The risk in signing LaRoche is the fact that the signing team loses a draft pick next year. Considering the depth of the Rays' farm system, it's not that serious of a hit for them.
Loney and his .249 average, .630 OPS and six home runs is not the answer at first base.
Washington Nationals: Trading Michael Morse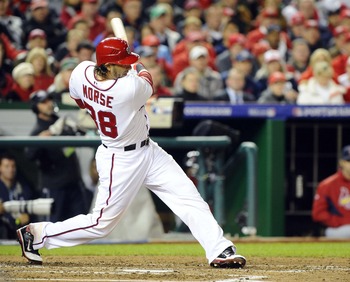 Brad Mills-USA TODAY Sports
Washington Nationals left fielder Michael Morse is clearly in a holding pattern right now.
With talks stalled between the Nationals and free-agent first baseman Adam LaRoche, Morse's future with the Nationals is still in doubt. If LaRoche signs, many believe that Morse will be offered up in trade to bring back depth and prospects.
However, is it really the right move?
Morse has been productive in his time with the Nationals. He broke out in 2011 with 31 home runs and a .303 batting average and backed it up with 18 homers and a .291 average in just 102 games last season.
His current contract ($6.75 million in 2013) is certainly manageable and he can provide protection in both corner outfield spots as well as at first base. He can also be used as the designated hitter as the interleague schedule expands next season as well.
I'm much more inclined to see the Nationals hang on to Morse—he's a proven commodity who can produce no matter where he is on the field.
Doug Mead is a featured columnist with Bleacher Report. His work has been featured on the Seattle Post-Intelligencer, SF Gate, CBS Sports, the Los Angeles Times and the Houston Chronicle.
Keep Reading