Buccaneers vs. Falcons: 10 Keys to the Game for Atlanta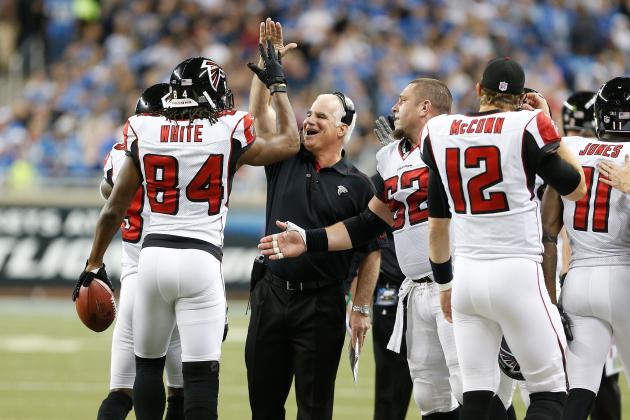 Gregory Shamus/Getty Images
Falcons Roddy White and head coach Mike Smith start the celebration in Detroit.
The Atlanta Falcons have wrapped up the NFC South title and will have home-field advantage and a first-round bye in the playoffs.
The Falcons Week 17 tilt against the 6-9 Buccaneers seems meaningless. For starters, Sunday provides an opportunity for rest—an opportunity to look ahead to a joyous and prosperous new year. But the Falcons are not resting on what they have accomplished. They are looking to end 2012 the way they want to begin 2013—with perfection.
A perfect game on Sunday will give them a perfect home record. More importantly, it will give them a bushel of confidence heading into the playoffs, which is why they are approaching this game as they have the previous 15.
In his weekly press conference, Falcons head coach Mike Smith told reporters the team was focusing on defeating a divisional opponent, which makes it just as important as any other game:
"We're going to play the game to win," Smith said. "That's how we're going to approach it. It's an important game because it's a division game. All games, I think, are important. In terms of the importance of it, does it have no bearing? It really does, because we want to win every time we go out and play."
After railing off a five-game win streak prior to its first meeting, Tampa Bay is in the midst of a five-game losing streak. Atlanta initiated Tampa Bay's downfall with a 24-23 win in Week 12.
Both teams are playing for pride: Atlanta for the pride of a perfect home record and a perfect game, and Tampa Bay for self pride and franchise future.
With a week off before playing its first playoff game, Atlanta should hold nothing back, wrap this one up early, and give the starters a much-deserved curtain call and the backups much-needed reps.
Here are 10 ways Atlanta can wrap-up a perfect home record and gift Tampa Bay with its 10th loss of the season.
Begin Slideshow

»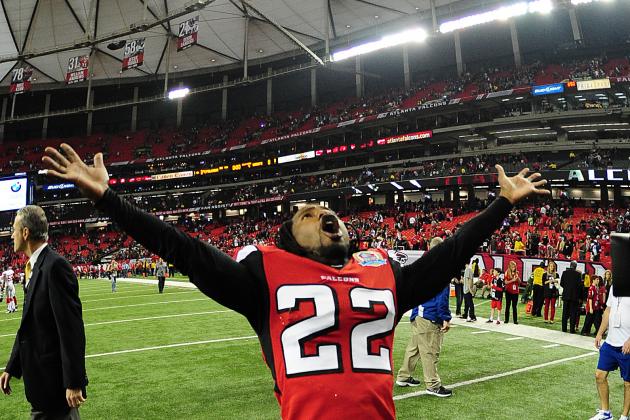 Scott Cunningham/Getty Images
The key for more celebrating Falcons is found is starting fast.
People may question whether the Atlanta Falcons are the best team in the NFL, but they can't question the fact that they are the league's best at starting fast.
The Falcons are 41-10 in games since 2008 when scoring first. Their 224 points on first possessions leads the NFL in that time frame, well ahead of New England's second best of 201 points.
In its most recent loss to Carolina three weeks ago, Atlanta experienced the outcome of not starting fast. The game got out of hand quickly with the Falcons unable to score until the third quarter.
A repeat of a slow start against the Panthers will likely provide the same results. Atlanta's offense is built on timing and repetition. Coming out of the gates in full stride is key.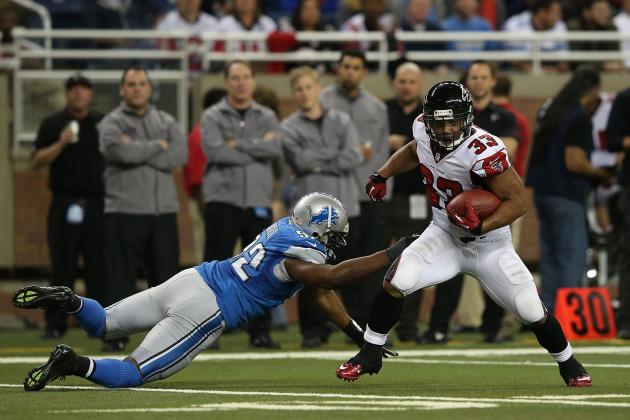 Leon Halip/Getty Images
After missing in action, Michael Turner and the Falcons run attack is back in the game.
Michael Turner and Jacquizz Rodgers combined for only 11 carries in the 30-20 loss to Carolina. A total that led many, including Turner himself, to question the running games reduced roll in the Falcons' offense.
Since then, things have changed. In Atlanta's last two games, Turner, Rodgers and Jason Snelling have combined for 51 carries. When Atlanta has a balanced attack of run and pass it appears near perfect.
However, when it lacks a balanced run attack, it's nothing but mediocre. Players and coaches have said all week they are still in pursuit of the perfect game. If perfection is obtained on Sunday, it will be established on the back of a solid ground game.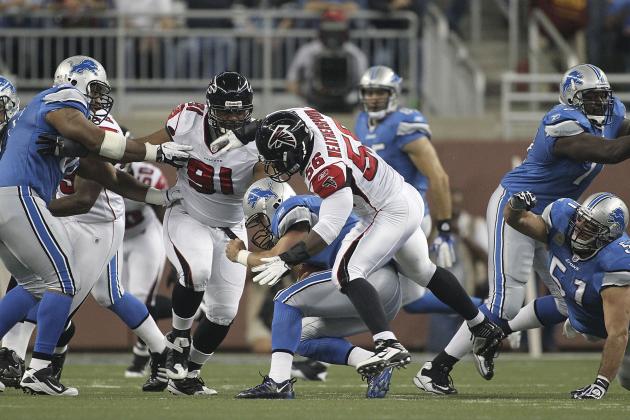 Leon Halip/Getty Images
Atlanta needs to make Sunday's game one of physicality.
One thing Greg Schiano has returned to Tampa Bay is physical play. Its defense has shown up in a bad mood throughout the 2012 season. The defense does more than tackle, it tries to punish.
In a physical match you can either sit back and take it or deliver it yourself. Logic would have a playoff-bound team taking it easy and opting for safety over physicality, but we all know what happens when you play football softly. You either get hurt, get beat or both.
Atlanta has a week off before facing its first opponent in the playoffs—an opponent who needs to see that the Falcons are as much physicality as finesse.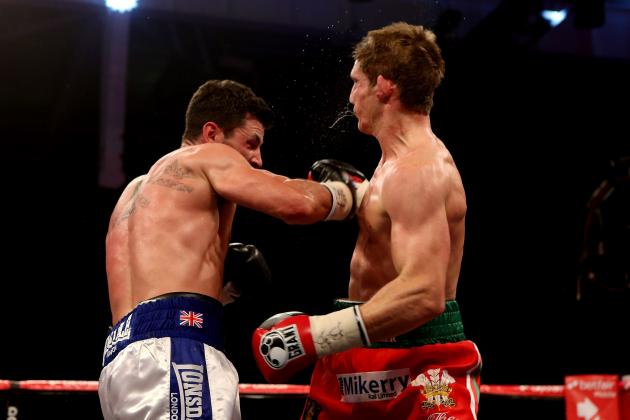 Scott Heavey/Getty Images
Atlanta needs to develop a solid knockout punch
Are they business-like, lethargic or level-headed? Pick your moniker, as any of the previous three will work.
One thing is certain: No one will ever call the 2012 Atlanta Falcons over-hyped or showboats. Whether they are blanking the New York Giants or being stymied by the Carolina Panthers, they play even keel.
At 13-2, they've proven they have a key to success. Yet, in 12 of the Falcons' 13 wins, you never got the feeling they desired to deliver a knockout punch.
Of all the questions this team has answered, only one remains: Was the knockout they delivered to the Giants an anomaly or indication?
It's a question that will soon be answered, and there's no better time than Sunday for the Falcons to prove they have what it takes to deliver an early knockout punch, whether they be business-like, lethargic or level-headed.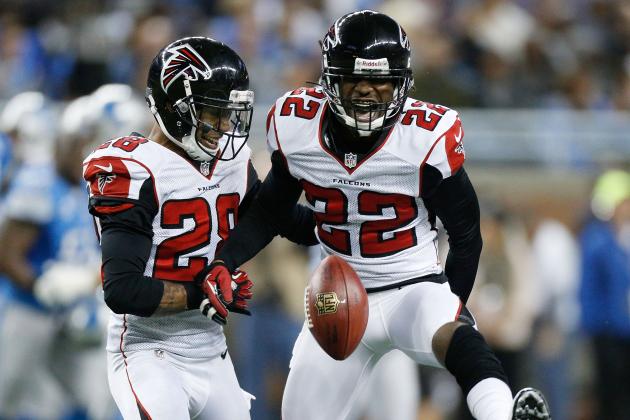 Gregory Shamus/Getty Images
Josh Freeman threw four interceptions last week. Does he have leftovers for the Falcons?
It's the week after Christmas, and the perfect time to create new dishes from the bevvy of leftovers from the family dinner—maybe some hot ham and cheese or a cold turkey sandwich at midnight. Don't tell the ladies, but sometimes the leftovers taste better than the original.
Last Sunday against St. Louis, Tampa Bay quarterback Josh Freeman cooked up a heap of turnovers. He tossed four interceptions and added over 400 yards, mixing in only one touchdown.
It wasn't the dish Buccaneers first-year head Greg Schiano had in mind, but it's one the Falcons' defense should eat for leftovers.
Atlanta has shown an appetite with 29 takeaways on the season, converting them into 96 points. In two of its most-convincing wins over the past two weeks, Atlanta's defense has forced six turnovers.
Freeman could be the cook to deliver a feast. It's up to the Falcons to light the stove.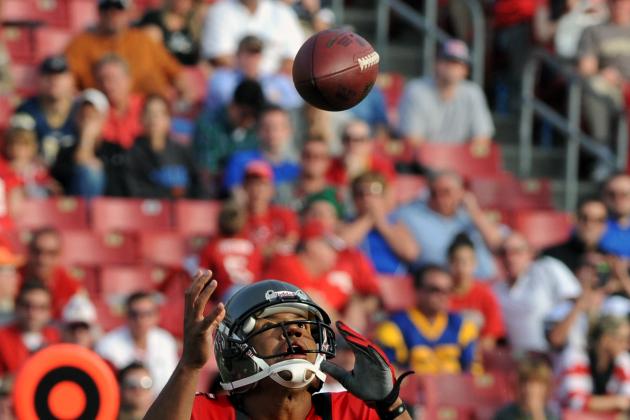 Al Messerschmidt/Getty Images
Patience with Josh Freeman can be Atlanta's best defense.
Tampa Bay quarterback Josh Freeman often appears to be his own worst enemy, from poor fundamentals to poor decisions.
He can throw a ball into a moving window on one play and show an inability to throw a pea in the ocean on the next.
His lack of consistency is the only thing consistent—a consistent occurrence that should stay in the minds of the Atlanta defense. Some have given the Falcons' defense a "bend but don't break" description, which is fitting for a unit who gets better when its opponent enters the red zone.
Flexibility is key to the Falcons' bending, and patience is key to them not breaking. The Falcons' defense can be as flexible and patient as they want against Freeman—what they cannot do is provide a bailout.
Constant pressure and mixed coverages will keep Freeman under lock, but anything less will bailout a quarterback who consistently bends and breaks.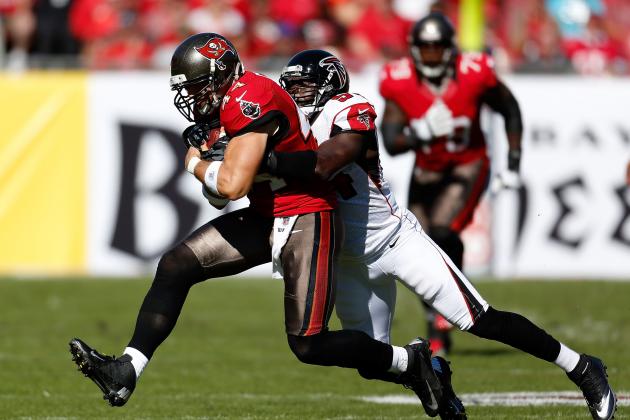 J. Meric/Getty Images
Atlanta's defense had problems defending area between hashes in first meeting at Tampa Bay.
In their first meeting, Tampa Bay exposed a hole in the Atlanta defense, and Josh Freeman had a field day hitting receivers streaking down the hashes.
It almost cost the Falcons, as they barely squeaked out a 24-23 win. The hashes were also part of the problem, as Panthers quarterback Cam Newton exploited this weakness in a 30-20 win over the Falcons.
Atlanta's defense has improved over the past two games between the hashes. Unlike their first meeting, the Falcons secondary should be healthy, and their linebackers seem more able to cover the creases of a zone defense.
They will need both to protect the area between the hashes and keep Buccaneers' wide receiver Vincent Jackson from hitting stride.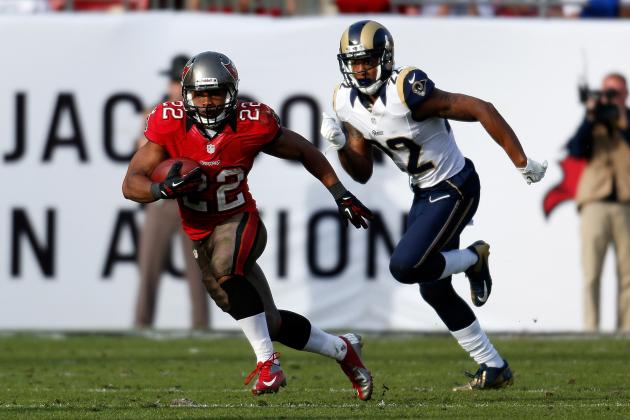 J. Meric/Getty Images
Atlanta kept Doug Martin under 100 yards rushing in their first meeting.
Statistics show that the team who rushes for the most yards almost always records a win. It's also just as important to defend the ground game.
In its past two games, Atlanta has kept opposing rushers under 100 yards, and it will be challenged to do so again this week against a proven rookie in Doug Martin.
Back in Week 12, the Falcons kept Martin to only 50-yards rushing, and despite over 400 yards in the passing game last week, Tampa failed to score only one touchdown—a fact that will have Schiano and staff attempting to establish the ground game early on. Shutting it down will be key to putting the Buccaneers away early.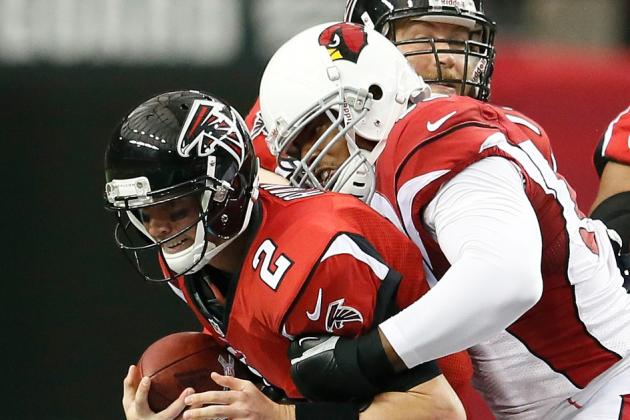 Kevin C. Cox/Getty Images
Now is not the time for Atlanta to dive into the playbook and put Matt Ryan at risk.
Coaches and players are human, and on good days, I am too. When we have those human days, we often dote about ourselves. Instead of replicating the good, we often get cute, change our approach and wonder just how good we are. Changing our appearance, approach and wondering how good we can be is fuel for a meltdown.
Such is the case for the Falcons. No doubt they are good: An NFC South crown and home-field advantages prove their case.
And, at this point in the season, the Falcons have a feeling of just how good they are. Now is not the time to get cute. There is no need to run those plays buried in the back of the playbook and no need for weird formations or personnel groupings. These birds' wheel isn't broken and certainly doesn't need fixing.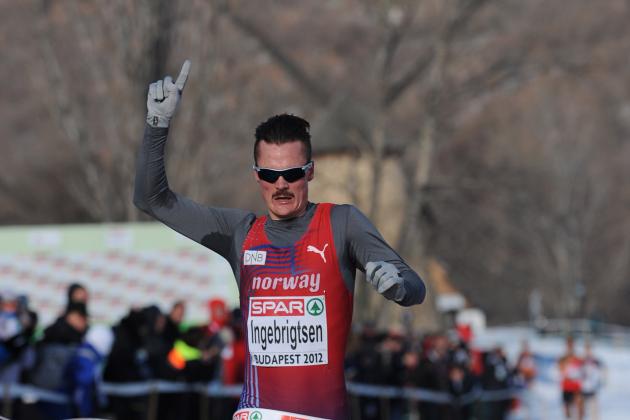 Steve Bardens/Getty Images
To finish first, Atlanta needs to finish strong.
It's hard to put opponents on the canvas in the NFL. Just when you think you are in control of the game something crazy happens.
Rarely do you see a team quit, but some have questioned whether or not the Buccaneers are a team who has recently quit.
Their performance against St. Louis didn't help. I'm sure they've heard the questions and will attempt to answer with a full 60 minutes of effort.
It's something the Falcons have attempted themselves in 2012.
Atlanta doesn't need to peak at the scoreboard, but needs to keep its foot on the gas pedal—if not to send a message, then to send itself into a first-round bye with iron-clad confidence.