10 Low-Risk, High-Reward MLB Free Agents Still on the Open Market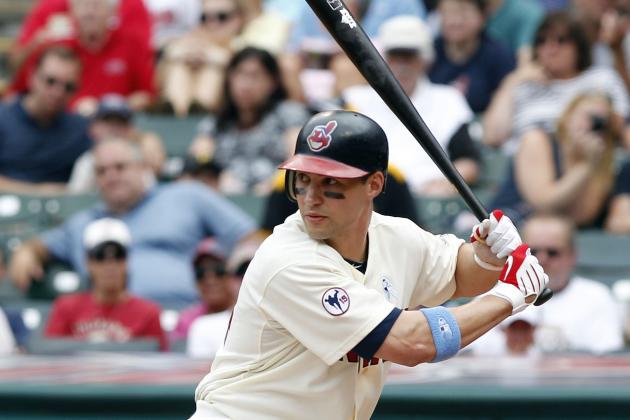 David Maxwell/Getty Images
Who wants to take a chance on Grady Sizemore?
With most of the top free agents having already signed contracts this winter, teams across Major League Baseball will be busy scraping the bottom of the barrel from now until pitchers and catchers report in February.
Not very exciting, perhaps, but don't be too quick to shrug your shoulders and move along. There's some good stuff lying around at the bottom of the barrel.
Teams looking for low-risk, high-reward players to pick up for the 2013 season still have plenty of options. Here's a look at 10 players in particular who stand out as being worth a roll of the dice.
Note: Stats courtesy of Baseball-Reference.com unless otherwise noted.
Begin Slideshow

»
Otto Greule Jr/Getty Images

Like I said, we're talking about the bottom of the barrel here.
At any rate, the Chone Figgins experience in Seattle is over, as the Mariners finally gave up and jettisoned him three years into the four-year contract he signed following the 2009 season.
And my, what an experience it was. In 308 games as a Mariner, Figgins posted a .227/.302/.283 slash line. He was limited to just 66 games played in 2012 due in part to hip problems.
Figgins is 34 now and will be 35 in January. Given his age and his brutal run in Seattle, he's going to be lucky if anybody decides to give him a major league contract.
A minor league contract with an invite to spring training, though? That's not too much to ask, and one club out there might be willing to go that route with Figgins just for the heck of it.
There'd be absolutely no risk in an arrangement such as that, and there could be some reward just because Figgins would be getting a change of scenery. That could get him going again.
There's virtually no chance of Figgins becoming an impact everyday player again, mind you. If he makes a comeback as a quality major leaguer, it will be as a part-time player who specializes in doing the little things.
There's always going to be a place for such players in the National League. That's where Figgins should look to catch on again if he's still motivated to play.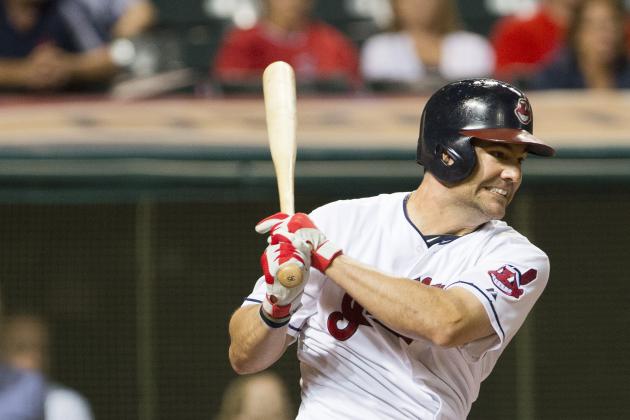 Jason Miller/Getty Images

Beyond Adam LaRoche, there's not much left on the first-base market. Any team still on the lookout for a quality first baseman is going to have to roll the dice on somebody.
If anybody is worth the risk, it's Casey Kotchman.
Kotchman is coming off a rough season with the Cleveland Indians that saw him post a .229/.280/.333 slash line in 142 games. He may still only be 29 years old, but he's not in the market for anything more than a one-year deal worth a couple million bucks.
Any team willing to give him one of those could be rewarded if Kotchman turns the clock back to 2011. That year, he hit .306 with an even .800 OPS, and he gave the Rays solid defense at first base.
It wouldn't be fair to expect Kotchman to hit .300 again, but his batting average could get a spike due to his hitting habits. He doesn't walk much, but he also doesn't strike out that much. Because of that, he's prone to BABIP fluctuations.
If his BABIP goes up again from where it was in 2012 (.233), Kotchman could be a .270-.290 hitter with decent pop and a good glove at first base. For an investment of a couple million bucks for one year, such a performance would be a steal.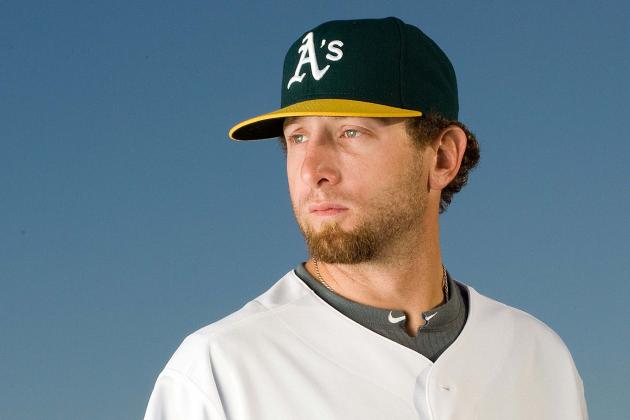 Jake Roth-USA TODAY Sports

Dallas Braden hasn't thrown a pitch from a major league mound since April 16, 2011.
Between then and now, Braden has undergone two shoulder surgeries, the most recent of which was for a partial rotator cuff tear. Whether he has anything left is anybody's guess.
But he just might. Braden is still only 29 years old, and it's not like he had overpowering stuff to begin with. A team looking for a very low-risk, crafty left-hander should have him on its radar and should consider bringing him aboard on a minor league contract.
It's going to take some time for Braden to shake the rust off, but he told the San Francisco Chronicle in October that he expects to be ready by the middle of the 2013 season. A team could view him as essentially being an option for a midseason pickup.
It would be interesting to see what savvy pitching coaches like Don Cooper of the White Sox, Jim Hickey of the Rays and Bryan Price of the Reds could do with Braden, and he would be in good hands at any level of the Orioles organization so long as Rick Peterson is calling the shots.
We've seen left-for-dead pitchers come back to silence their doubters before. Braden could be next in line.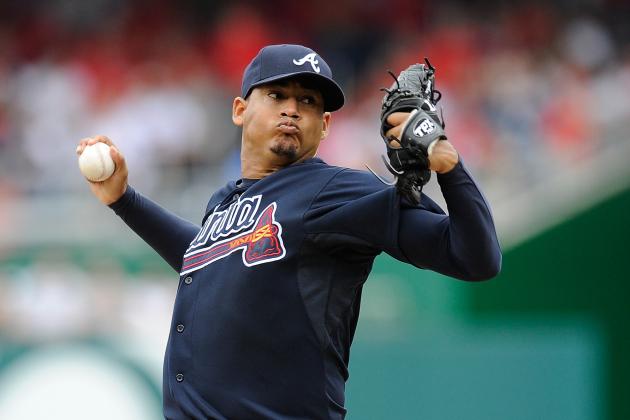 Patrick McDermott/Getty Images

Between 2008 and 2011, Jair Jurrjens posted a 3.34 ERA and a 121 ERA+. He made his first All-Star appearance in 2011.
That's precisely when things started to go south for him. Jurrjens had a 5.88 ERA in seven starts in the second half of 2011, and he posted a 6.89 ERA in 11 starts this past season.
The culprit is a clear drop-off in the quality of Jurrjens' stuff, which could have something to do with the knee troubles he's experienced in the past two seasons. Per FanGraphs, his velocity is on the decline and his secondary pitches just aren't fooling hitters like they used to.
However, it's way too early to label Jurrjens as a lost cause. He's only going to be 27 years old in January, and declining stuff doesn't necessarily mean that he can't still be an effective pitcher.
It could be that he just needs to re-imagine himself as a pitcher, which is yet another job for a savvy pitching coach. Any team that has one of those could give Jurrjens a one-year contract for a low base, have him come to spring training and then go from there.
Jurrjens could make it as a back-end starter, which would be fine for a small one-year deal. If he effectively re-imagines himself on the mound, he could go back to being a front-line starter.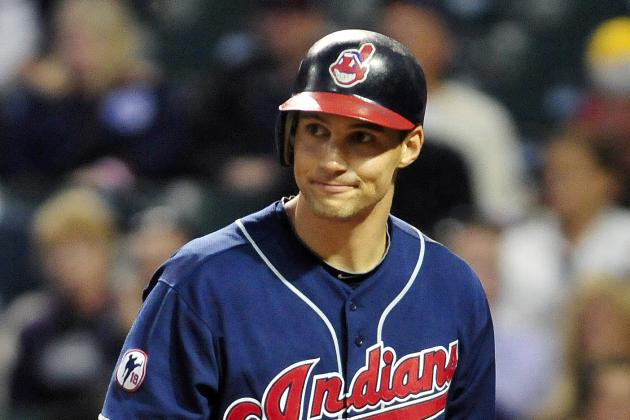 Jason Miller/Getty Images

Remember when Grady Sizemore was one of the best young players in the game?
Those days are ancient history by now. Sizemore hasn't played in more than 100 games in a season since 2009. He didn't play at all in 2012, and the microfracture surgery he had on his knee in September is going to keep him out of action until midway through the 2013 season.
That's when we could finally see Sizemore out on the field again. It just depends if anyone wants to give him a chance.
As long as his contract is only for one year and worth a small amount of pennies, Sizemore is worth a chance. He hasn't played since 2011, but it's worth noting that he wasn't that bad when he did play that year. In 71 games, he managed a .706 OPS and 10 homers.
Sizemore should probably never set foot in center field ever again, but he could make his return as a corner outfielder and/or a designated hitter. Like Dallas Braden, he could end up being a decent midseason pickup.
A comeback may seem like a long shot, but Sizemore is still only 30 years old. He may still have some life left in him.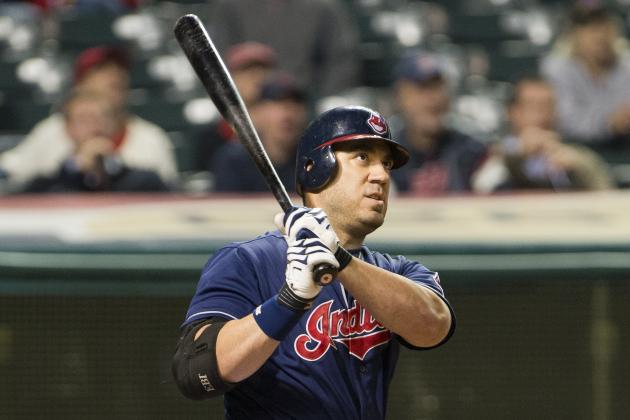 Jason Miller/Getty Images

It's not going to be easy for Travis Hafner to find another job. He's a only a DH, and his numbers suggest that he's a DH who can't hit anymore.
But not so fast.
Hafner's production has indeed fallen off in a big way from where it was between 2004 and 2007, and he's had all sorts of trouble staying on the field due to injuries. This past year, he was limited to only 66 games.
However, Hafner did show signs of life in those 66 games. He hit nearly as many home runs as he did in 94 games in 2011, and his walk rate was the highest it had been since 2007.
He was also significantly more successful on the road than he was at home, which could be taken as a sign that he could benefit from a move to a ballpark more friendly to hitters than Progressive Field.
There are American League clubs out there that can offer Hafner a chance to revive what's left of his career. The Texas Rangers, for example, could give him a look as an everyday DH option, and so could the Baltimore Orioles. Both clubs have home parks that Hafner could be successful in.
If he were to take a one-year deal and then go on to hit 20 or even 25 homers, nobody would be in a position to complain.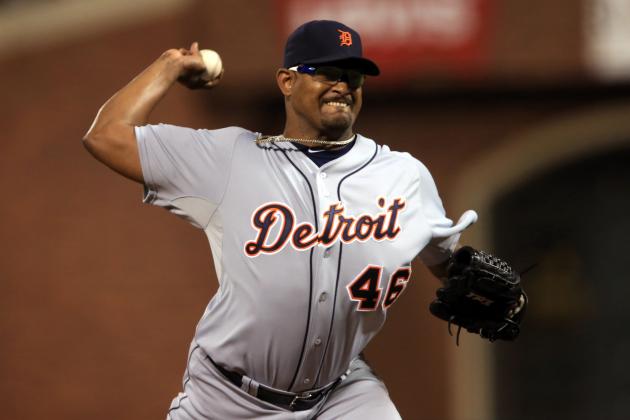 Doug Pensinger/Getty Images

Tigers fans cringed every time Jim Leyland summoned Jose Valverde to the mound in 2012. Alas, they tended to be doing a lot more than cringing by the time Valverde was finished.
It was that kind of season for Valverde. He did save 35 games, but he also blew five saves a year after not blowing any. The games he did save were typically of the overly dramatic variety.
Now Valverde is looking for work after having his option declined by the Tigers, and there's been nary a peep of interest. It would seem that teams think he's broken beyond repair.
Maybe not. According to FanGraphs, Valverde's fastball velocity didn't tumble from where it was in 2011, which can be taken as a sign that there was nothing physically wrong with him. His problems had more to do with poor command and his inconsistent splitter.
If Valverde reestablishes his fastball command, his splitter will be a more effective weapon pretty much by default. And if he has his old fastball-splitter combo working again, he could return to being an above-average option for the later innings.
Considering the potential payoff, I'd say Valverde would be worth signing as long as he's willing to take a one-year deal loaded with incentives.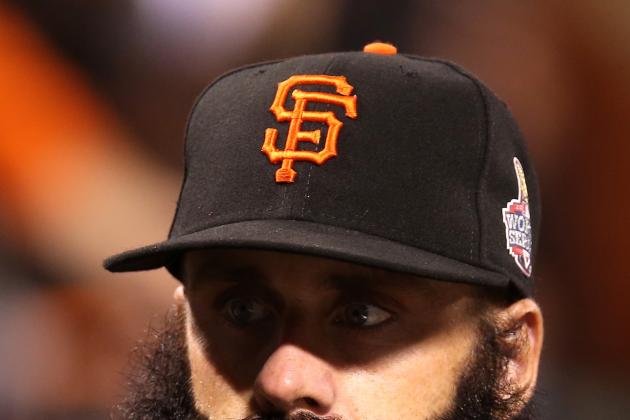 Christian Petersen/Getty Images

Ryan Madson and Joakim Soria, two closers on the comeback trail from Tommy John surgery, have already been signed.
Brian Wilson, however, is still looking for work, and there doesn't seem to be a ton of interest in him.
This may be because no team is willing to give him a chance to close. It could also be because he wants too much money after being non-tendered by the Giants. There's probably a team or two out there that would rather not have to deal with his personality.
Whatever the case may be, teams passing on Wilson are passing on a chance to pick up a shutdown reliever for a relatively small amount of money. Teams may be forgetting how good he was when he was healthy.
The last time Wilson may have been fully healthy was back in 2010 when he led the National League in saves and posted a 1.81 ERA and an 11.2 K/9. He then went on to pitch 11.2 scoreless innings in the postseason.
Wilson will have some rust to shake off when he comes back, but it's possible that he'll be throwing like his old self again by the middle of the season. That may not make him an option for a team looking for a closer right away, but Wilson would be a great pickup for a team looking for an insurance option for the ninth inning.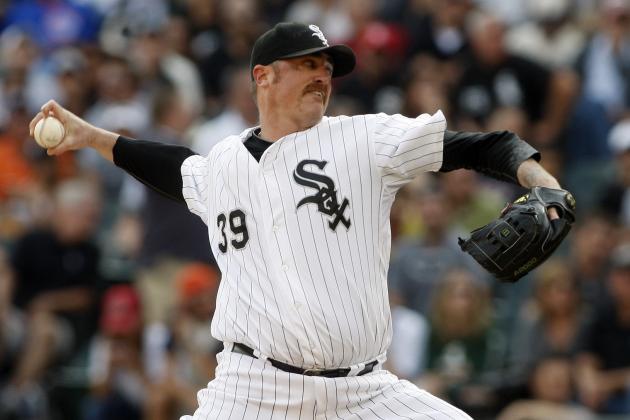 USA TODAY Sports

Brett Myers doesn't seem to have that many suitors. Given what he brings to the table, though, teams should be lining up for a chance to sign him.
Myers' best selling point is his versatility, which has been on display the last three seasons. In 2012, he served as a closer for the Houston Astros and as a setup man for the Chicago White Sox. In 2010 and 2011, he was an innings-eater for the Astros.
Ken Rosenthal of FoxSports.com says that Myers wants to start again:
Brett Myers as a starter in 2010-11: 439 2/3 innings, 3.79 ERA. Wants to start again, remains an interesting free-agent option.

— Ken Rosenthal (@Ken_Rosenthal) December 19, 2012
Myers was really nothing special as a starter in 2010 or 2011, but he still managed to log a total of about 440 innings. If he were to do so again, he could be a solid back-end starter.
A team could also look to bring Myers aboard as both a starter and a multi-purpose reliever. He could be a setup man one day, a closer the next, a starter the next and a long man the next.
All for what is likely to be a very reasonable salary on a one- or two-year deal.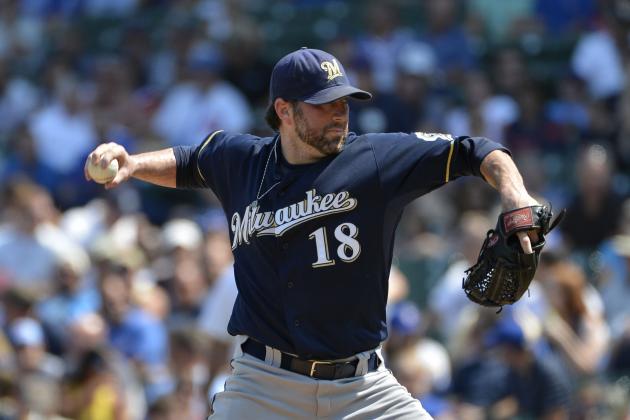 Brian Kersey/Getty Images

There's no question that Kyle Lohse is the best free-agent pitcher left on the open market. After him, however, it's a toss-up.
Shaun Marcum gets my vote as the best available starter after Lohse. Despite not having great stuff in his repertoire, he's been uncannily consistent over the past three years.
Over a total of 85 starts and 520 innings, Marcum has compiled a 3.62 ERA, a 1.18 WHIP and a 3.06 K/BB ratio. His ERA over the past three seasons has stayed stuck between 3.50 and 3.70.
These numbers would put Marcum in line for a big contract if there were no red flags on his resume, but there are. He missed the 2009 season recovering from Tommy John surgery, and he experienced problems with his right elbow once again in 2012.
The bright side is that these health woes put a limit on how much Marcum can ask for in a contract. He could probably be had on a two- or three-year deal worth a modest base (say, $7 million per year, give or take).
If so, such a contract would be a steal for a guy who has the goods to be a No. 3-level starter.
If you want to talk baseball, hit me up on Twitter.