Power Ranking the NFL's Top 50 Rookies of 2012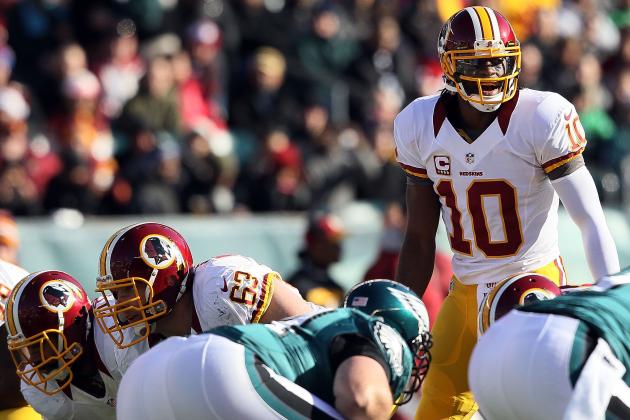 Alex Trautwig/Getty Images

As the NFL season draws to a close, it is time to look back and reflect upon a great many things.
We are all well aware of the Rookie of the Year races—Andrew Luck, Robert Griffin III, Russell Wilson, Casey Hayward and Bobby Wagner are all vying for that honor—but what of the vast majority of rookies who will not be among the contenders?
This is a great opportunity to check in on which greenhorns are doing well for their teams.
Begin Slideshow

»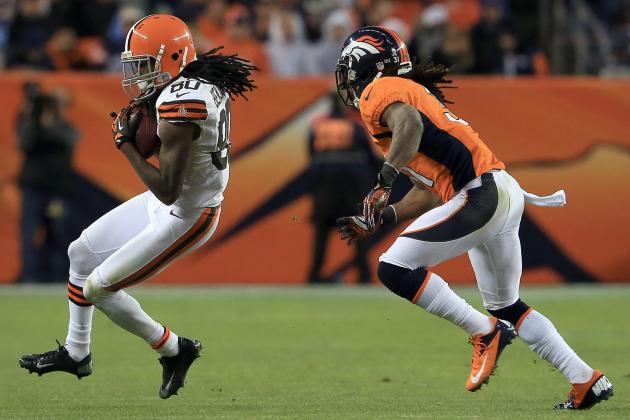 Doug Pensinger/Getty Images

He has spent some time out with injuries, but Travis Benjamin has been electric at times for the Cleveland Browns.
His speed and versatility have been on display as Cleveland has used him in a variety of roles.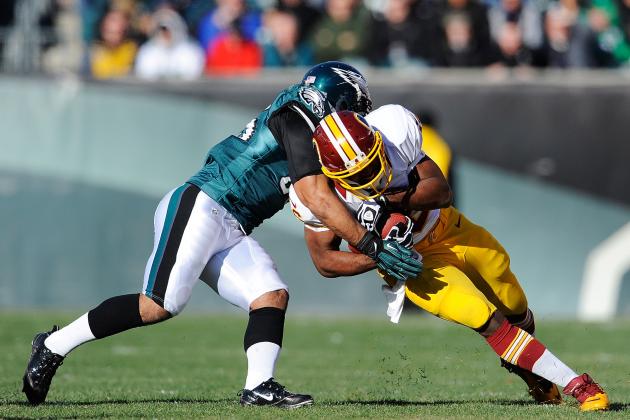 Patrick McDermott/Getty Images

The Philadelphia Eagles needed to shore up their defensive front after getting manhandled by many a running back last season.
Mychal Kendricks was brought in as part of the solution.
While he is in the middle of the pack at his position with 75 total tackles, Kendricks has not been great against the run thus far. Still, he has been a solid starter for the Eagles, something that cannot be said of some of their linebackers of yesteryear.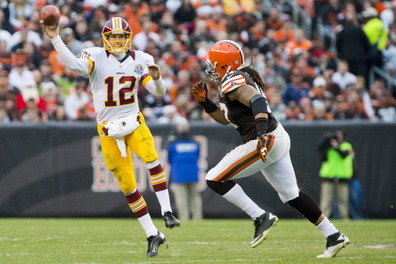 Jason Miller/Getty Images

What is a backup quarterback doing on this list?
Well, for starters, Kirk Cousins might be better than the starting quarterback for several teams. You think the Arizona Cardinals wouldn't mind having him right about now?
Needing to score and convert a two-point conversion to tie the game, things looked bleak for the Washington Redskins when Robert Griffin III was knocked out of their matchup against the Baltimore Ravens. Cousins took the field and led his team to victory with aplomb, doing the same against the Browns on the road.
Not bad for a rookie backup.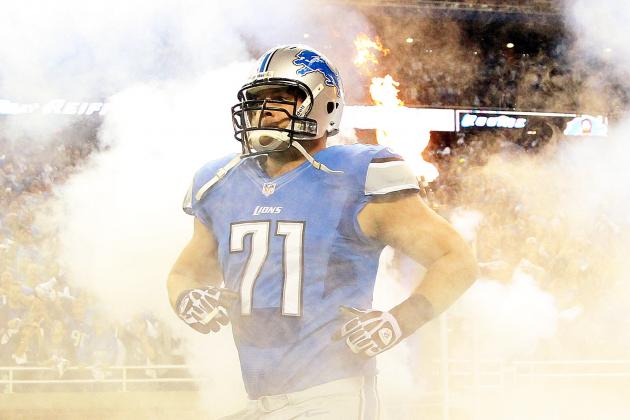 Mike Carter-USA TODAY Sports

Riley Reiff has not played much all season, but he has done well rotating into the lineup.
The rookie tackle even filled in admirably for Jeff Backus when he was forced to miss the first game of his career.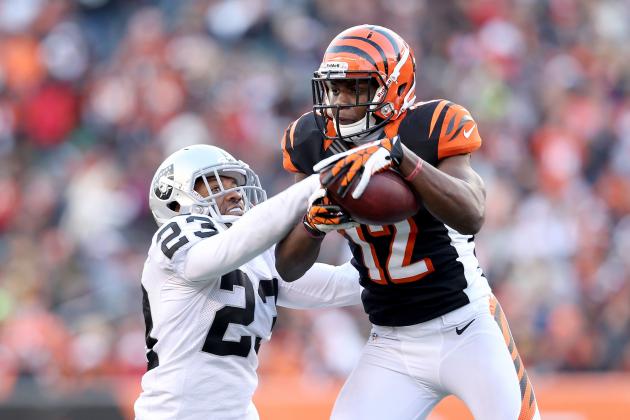 Andy Lyons/Getty Images

The Cincinnati Bengals needed to find someone to pair with A.J. Green this season, which is why they drafted two receivers and signed another two.
When Brandon Tate and Armon Binns proved they were not the answer, they turned to rookie Mohamed Sanu. He was pretty good for a four-game stretch in the middle of the season before he was put on injured reserve.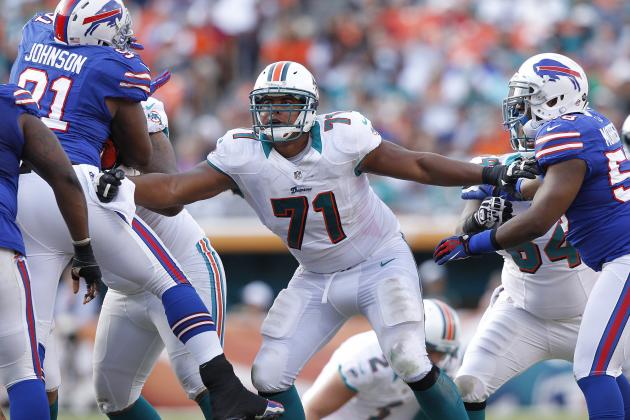 Joel Auerbach/Getty Images

It has been baptism by fire for Jonathan Martin, who was moved to right tackle for the first time since his high school days.
He had a rough start to his season, but Martin has slowly come into his own with the Miami Dolphins.
The move back to left tackle predicated by Jake Long's injury may have been a boon for the rookie and the Dolphins; Miami has gotten a good look at him as it assesses whether it should pony up to keep Long.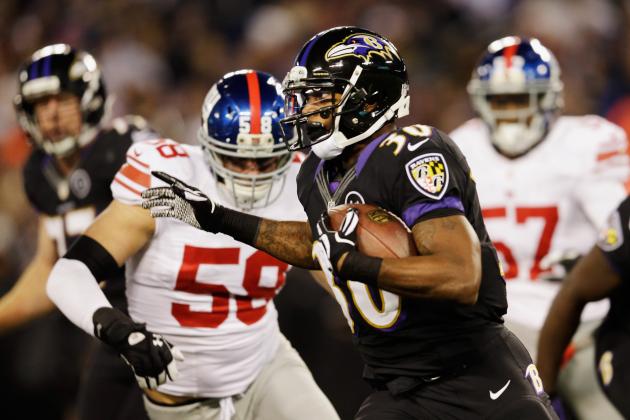 Rob Carr/Getty Images

Bernard Pierce knew what his role would be when he was drafted by the Ravens. Ray Rice is in his prime, and Baltimore merely needed a decent player to back him up.
Pierce has been more than decent when spelling Rice, though.
The rookie is averaging 5.2 YPC on 86 carries this season to Rice's 4.5. Not too shabby.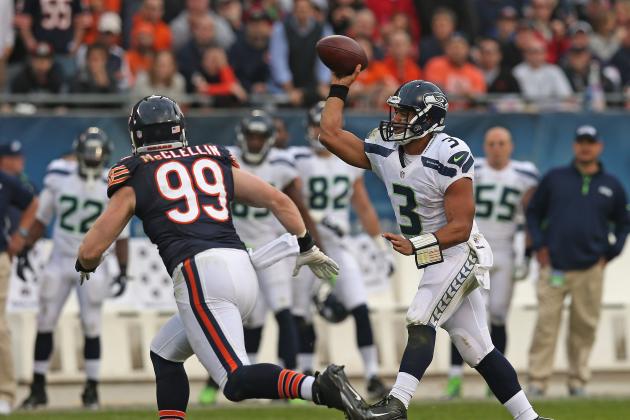 Jonathan Daniel/Getty Images

Shea McClellin has not seen a ton of time on the field yet, logging just 341 defensive snaps.
The rookie has still managed three sacks and 27 total quarterback pressures for the Chicago Bears, who will rely on him to perform well in a bigger role going forward.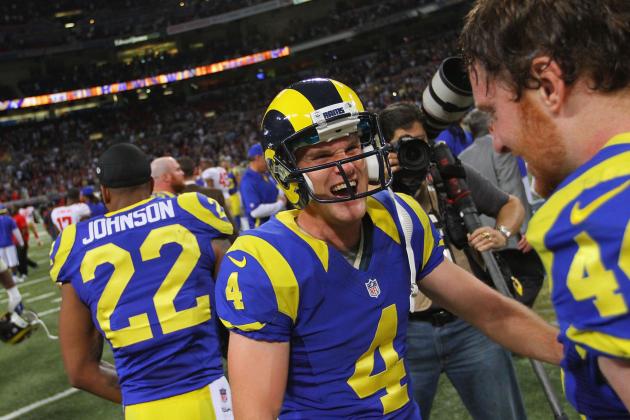 Dilip Vishwanat/Getty Images

You know you've done something right if you have garnered multiple nicknames as a rookie kicker.
Greg "The Leg" Zuerlein stormed into the league, earning the nickname "Legatron" as he booted 50-yard field goals with ease.
He was perfect 13-of-13 through the first five games—including nine makes of 40-plus yards—before getting hexed in Miami, where he missed three field goals that wound up being the difference in the game.
Young G-Z did single-leggedly beat the San Francisco 49ers at home earlier this season, but accuracy issues have plagued him over the past 10 games, allowing another rookie kicker to surpass him.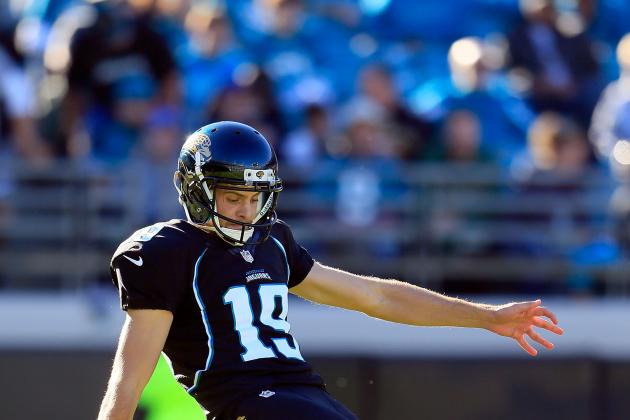 Sam Greenwood/Getty Images

This is not the rookie kicker we were talking about, but Bryan Anger has been every bit as good as his third-round status would indicate.
Unfortunately, the Jacksonville Jaguars have one of the league's best punters instead of one of the league's best rookie quarterbacks.
Which is more important?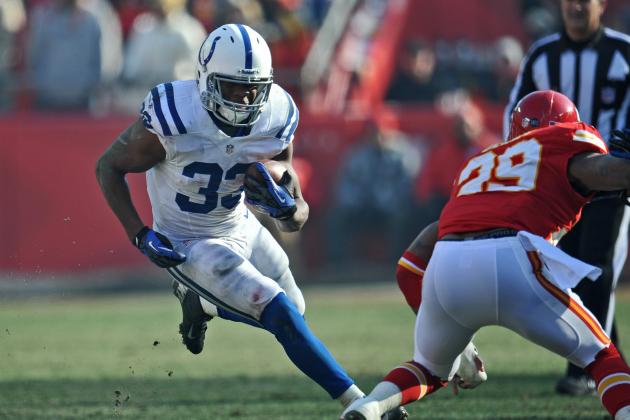 Peter Aiken/Getty Images

Of all the good rookies the Indianapolis Colts have on that offense, Vick Ballard is the most underrated.
The rookie back has been pressed into a starting role due to injuries and poor play from those in front of him on the depth chart, and he has come on strong late in the season as a result.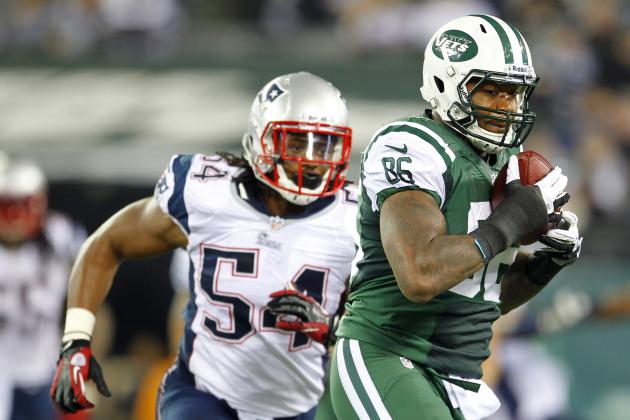 Rich Schultz/Getty Images

He might not be one of this year's bigger names among rookie defenders, but Dont'a Hightower is quietly having a solid season.
The Alabama product rates sixth among all 4-3 outside linebackers, according to Pro Football Focus, just behind fellow rookie Lavonte David. Hightower might not have a gaudy stat line, but he has been in on just 490 snaps this year.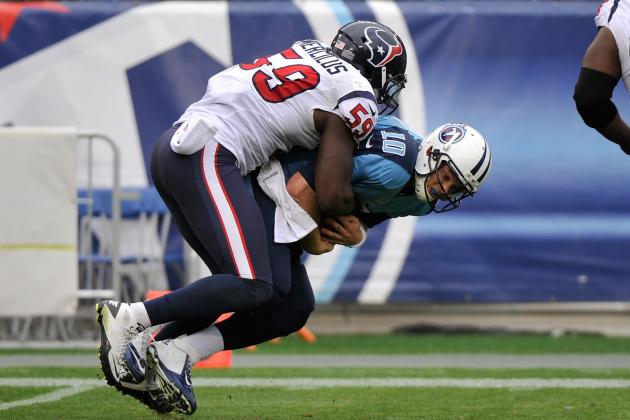 Frederick Breedon/Getty Images

The Houston Texans let Mario Williams walk after he demanded the world plus a ham sandwich in free agency, and they tabbed Whitney Mercilus in the draft to replace him.
While it has been slow-going for the raw pass-rusher, Mercilus has recorded six sacks in about half the playing time Williams—who has 11 sacks—has had with the Bills.
Of course, the Texans have gotten a historic performance from J.J. Watt, so Mercilus' contribution has gone all but unnoticed.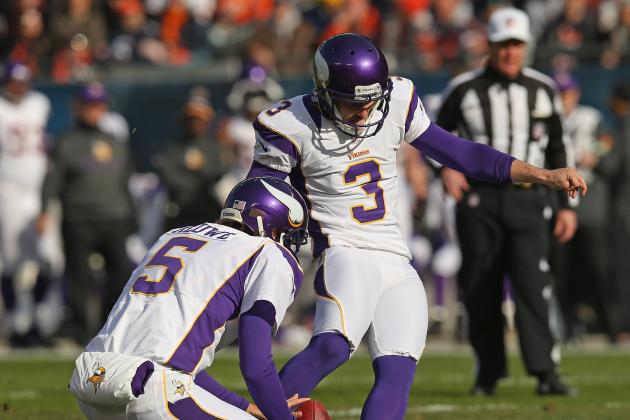 Jonathan Daniel/Getty Images

Whereas Greg Zuerlein has many nicknames, Blair Walsh is just good.
So good, in fact, that the rookie kicker made the Pro Bowl as the NFC's representative. Walsh has been darn near automatic, missing just three field goals while making 16 of 40 or more yards. Nine of them have come from 50 or beyond.
He needs a nickname. How about "No Flair"?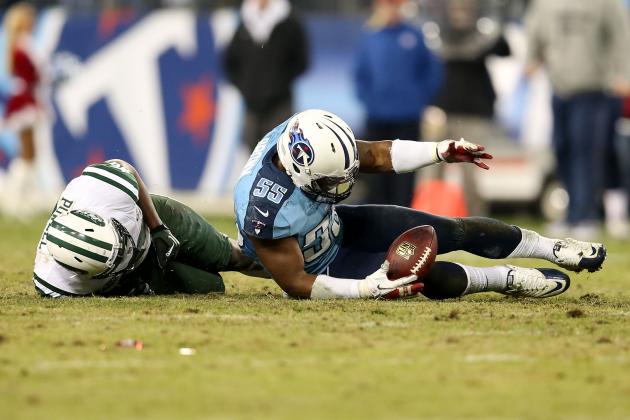 Andy Lyons/Getty Images

North Carolina product Zach Brown is having a nice year amid a terrible season, registering 89 tackles.
The Titans might not be going anywhere, but they have a nice piece on that defense.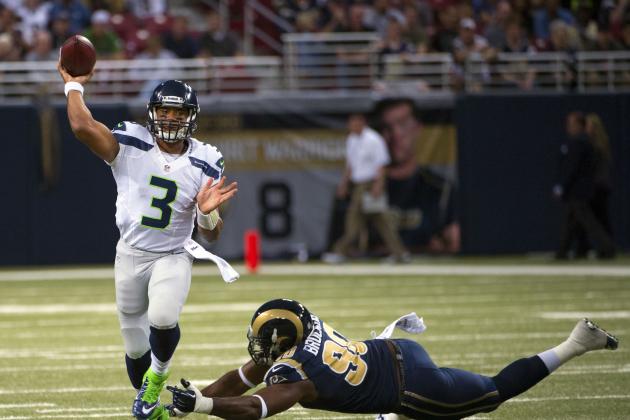 Scott Rovak-USA TODAY Sports

Do the St. Louis Rams wish they had stuck with the No. 2 pick and taken Robert Griffin III? Probably. But they got a nice haul to show for it, and they traded down once more before taking Michael Brockers.
Defensive tackle was an area of need for the Rams during the offseason, and Brockers was part of the plan to fix it. So far, so good on that front with Brockers. Most notably, the rookie out of LSU is tied for sixth in the league with five sacks at his position.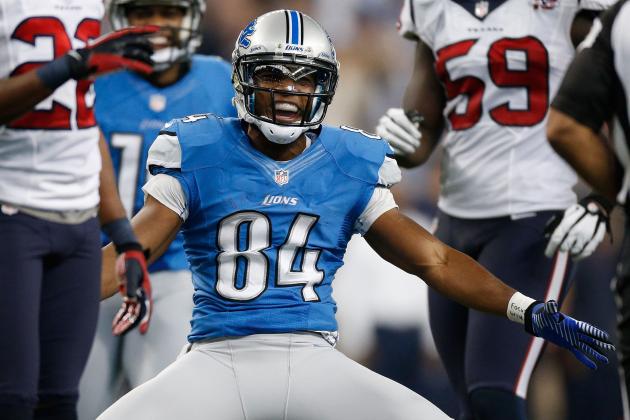 Gregory Shamus/Getty Images

In just a few games of real action, Ryan Broyles and his surgically repaired knee looked much better than many of his counterparts who were drafted before him.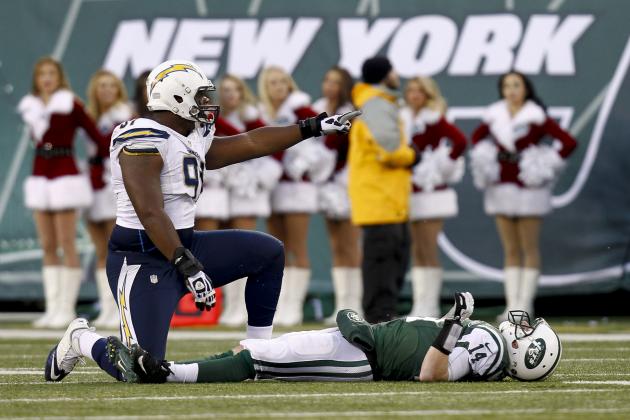 Jeff Zelevansky/Getty Images

Melvin Ingram was drafted in the first round to help that defensive front, but Kendall Reyes has been the best rookie for the San Diego Chargers this season.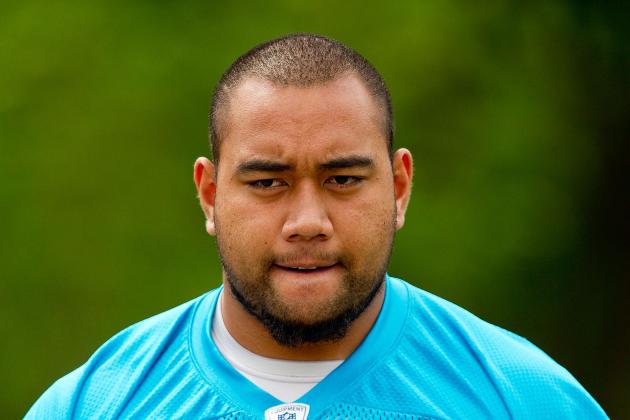 Brian A. Westerholt/Getty Images

The Carolina Panthers needed to upgrade their offensive line during the offseason, and Amini Silatolu was their answer in the draft.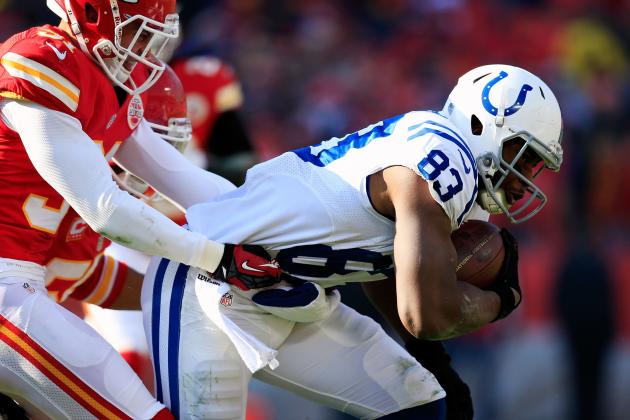 Jamie Squire/Getty Images

Coby Fleener got most of the publicity as Andrew Luck's favorite target coming out of Stanford, but it has been Dwayne Allen—the second tight end drafted by the Colts—who has been the reliable option for Luck.
Allen has not only been a good target, his run blocking has given a big boost to the Indianapolis run game.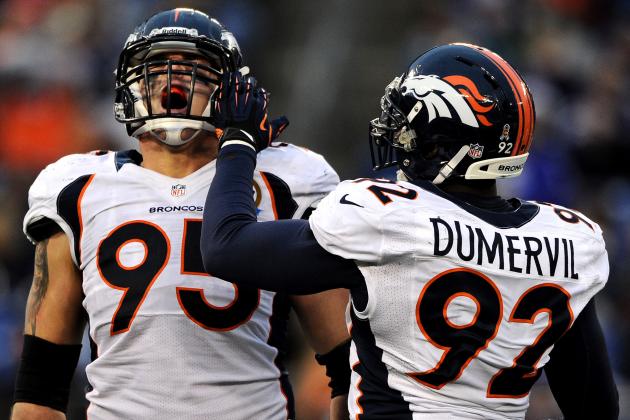 Patrick Smith/Getty Images

The Denver Broncos have one of the league's best defenses, and Derek Wolfe has quietly been a big contributor on that side of the ball.
He has not been a big pass-rusher—Von Miler and Elvis Dumervil take care of most of that for the Broncos—but Wolfe has been stout against the run.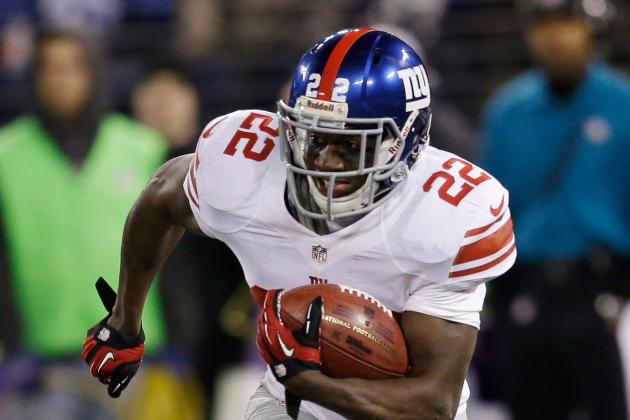 Rob Carr/Getty Images

It took him a while, but David Wilson clawed his way out of Tom Coughlin's doghouse after fumbling his chances away early in the season. Of course, it helps that all the other running backs have been injured to varying degrees.
Wilson has made some big plays on offense and in the return game, which he has celebrated by doing backflips against his team's wishes. His stubbornness might land him in the doghouse again, but there is no denying Wilson's speed and talent.
Rob Carr/Getty Images

The ravaged Ravens defense needed Courtney Upshaw to step up as a rookie this year, and he has done just that. Injuries forced Upshaw into a bigger role, and he has thrived.
Much like Wolfe, Upshaw has been much better against the run than as a pass-rusher.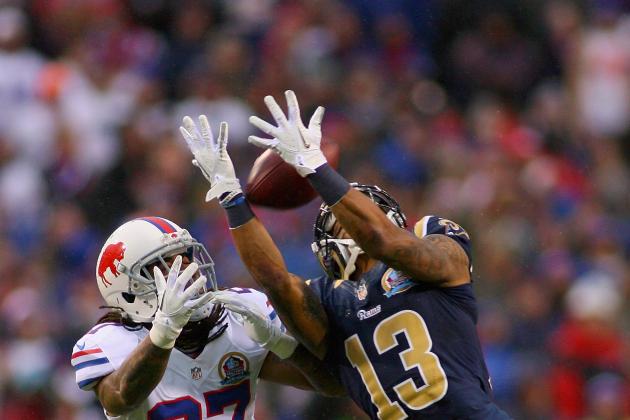 Rick Stewart/Getty Images

On the one hand, Stephon Gilmore has made 59 tackles, tied for 11th in the league at cornerback. On the other, he has been flagged for 12 penalties, which leads the league.
Christian Petersen/Getty Images

The Rams took Brian Quick at the top of the second round, but their fourth-round receiver has been far better thus far.
Whereas Quick was taken as a big receiver with potential, Chris Givens was the speedster. He has delivered some big plays this season.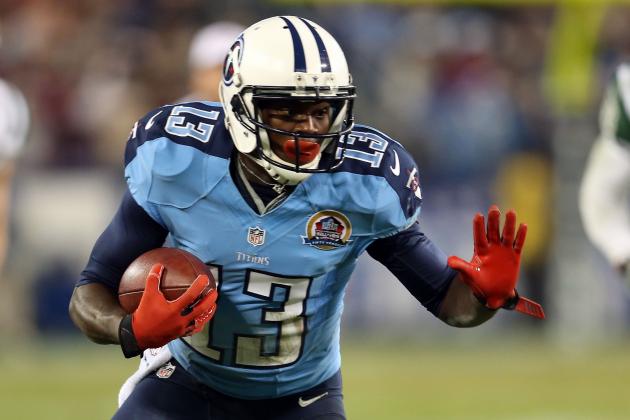 Andy Lyons/Getty Images

Kendall Wright has been stuck behind Kenny Britt and Nate Washington on the depth chart all season, but he has performed admirably for the Tennessee Titans.
He has caught 62 of his 101 targets for 586 yards—not great, but not bad considering his quarterback situation—and he looks to become a major factor for that Titans offense next season.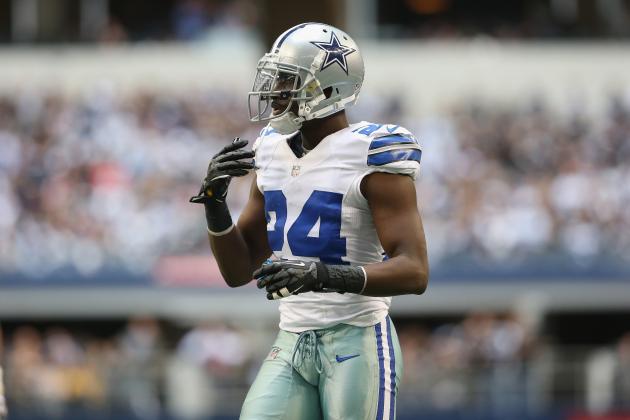 Ronald Martinez/Getty Images

The Dallas Cowboys moved up to take Morris Claiborne in the draft to help their terrible secondary. He has helped improve that defense, but not to the degree you might expect from a Top 10 pick.
Claiborne had a strong start to his rookie campaign when he shut down Hakeem Nicks in Dallas' big win at the New York Giants, but he has been inconsistent in coverage this year.
He is allowing opposing quarterbacks a 112.3 passer rating on passes thrown his direction, including allowing four touchdowns while intercepting just one pass.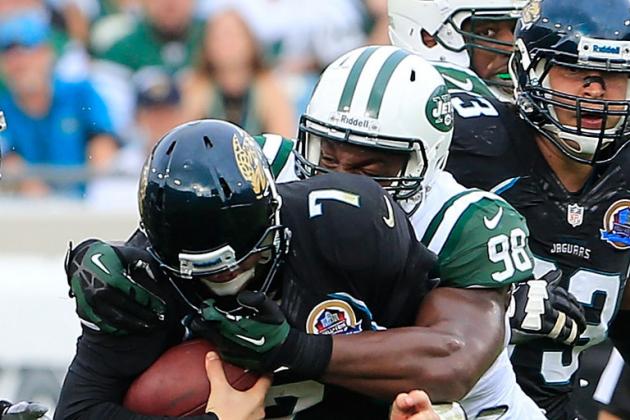 Sam Greenwood/Getty Images

Quinton Coples got off to a slow start for the New York Jets, but he has come on in recent weeks, playing well opposite Muhammad Wilkerson, who has turned into a force at defensive end.
The rookie defensive end is tied for fourth among 3-4 defensive ends with six sacks on the season in far less playing time than his contemporaries. He might not stand out amid the din that is the New York Jets circus, but Coples is quietly having a good year.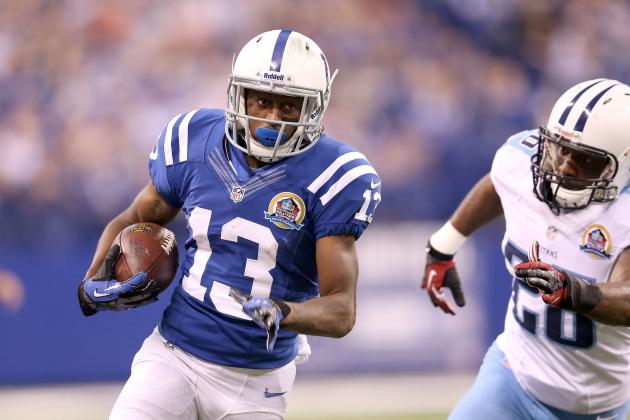 Andy Lyons/Getty Images

This rookie class for the Colts has been pretty special.
T.Y. Hilton has not been able to pass Donnie Avery for the No. 2 spot on the depth chart yet, but he has done quite well as the team's third receiver and return man.
The FIU product has been dynamic for the Colts when on the field, part of the big turnaround for Indianapolis.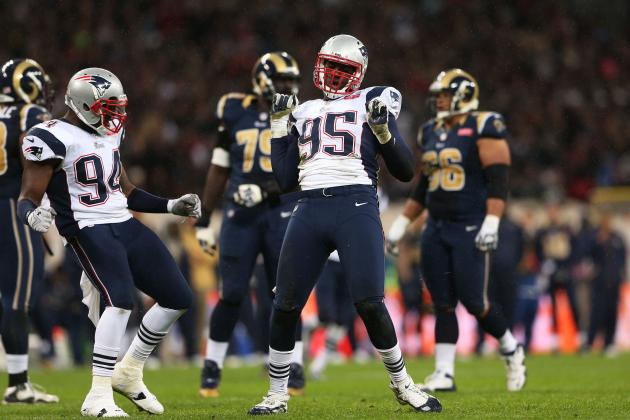 Scott Heavey/Getty Images

Mike Mayock said Chandler Jones would be the best defender to come out of the 2012 draft. Thus far, Jones has not proved him wrong.
He has not, however, proved him right. Not yet, anyway.
Jones has been good for the New England Patriots, but his play has leveled off after a hot start. Injuries have played a part, but he has not been as effective rushing the passer during the second half of the season.
It does look like he was worth moving up to draft.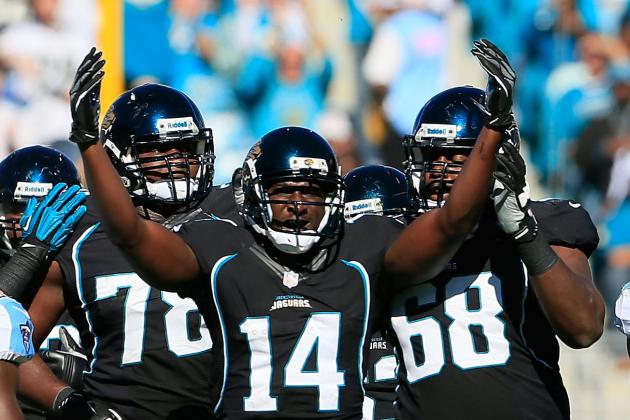 Sam Greenwood/Getty Images

It took half the season, but Justin Blackmon finally got his act together for the Jaguars after they traded up to get him.
Maybe it was the "upgrade" they got at quarterback, but Blackmon's explosion came against the unlikeliest of opponents on the road at Houston in Week 10. Until that point, Blackmon had 250 receiving yards. He now sits at 786.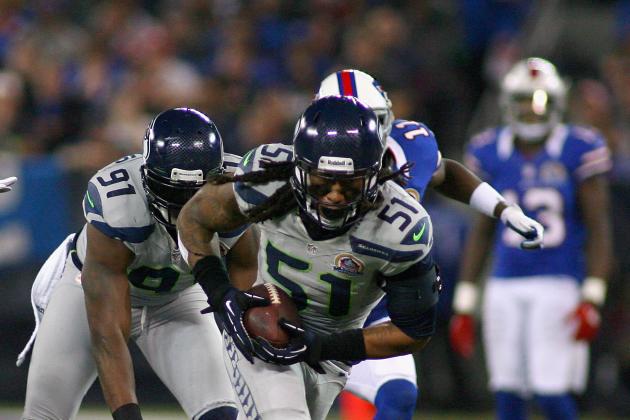 Rick Stewart/Getty Images

Many—yours truly included—panned Seattle's first-round draft pick when it selected Bruce Irvin. The pass-rushing specialist relied on the speed rush with little else in his repertoire, and it seemed like a big reach.
Nearly a full season later, Irvin has broken the rookie sack record for the Seahawks and been a great complement to Chris Clemons on that defensive line.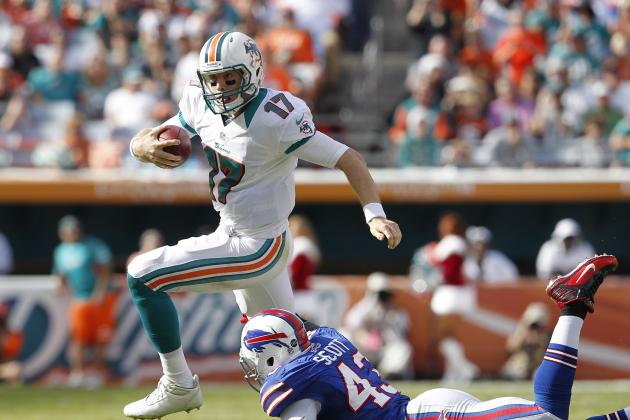 Joel Auerbach/Getty Images

The Dolphins needed a quarterback in a bad way, and they finally took one in the first round 29 years after selecting Dan Marino in 1983.
Tannehill has not been anywhere near as good as Marino was in his rookie season, but he has held his own. The quarterback-turned-receiver-turned quarterback has been inconsistent at times, but he has already helped his team get better from a year ago, though it could potentially be just one game better.
Of course, it hasn't helped that Tannehill's cupboard has been bare at receiver and tight end.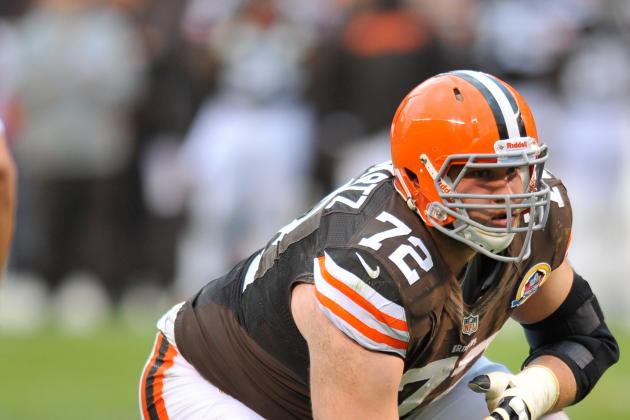 USA TODAY Sports

Mitchell Schwartz has been one of the better offensive tackles in the league, allowing just three sacks until running into Von Miller and Co. last week.
It's a wonder Mel Kiper Jr. panned the pick back in April; Schwartz looks to be a bookend tackle for a long time.
Matt Sullivan/Getty Images

The Browns took a big risk by spending a likely high second-round draft pick to procure Josh Gordon in the supplemental draft, and it looked like that might backfire when he played poorly to start the season.
The reality was that Gordon simply hadn't had enough time to get acclimated after a year off and learn the offense.
Gordon has made some fantastic plays, stretching the defense for Brandon Weeden and the Browns. He quickly passed Greg Little as the team's top receiver and will be a great weapon for Cleveland in the coming years.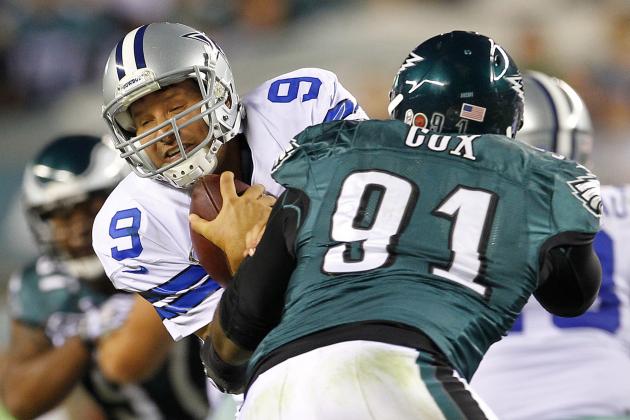 Rich Schultz/Getty Images

Fletcher Cox was brought in as a top defensive tackle in the draft to help shore up the middle of that Eagles defense.
So far, so good for Cox and the Eagles.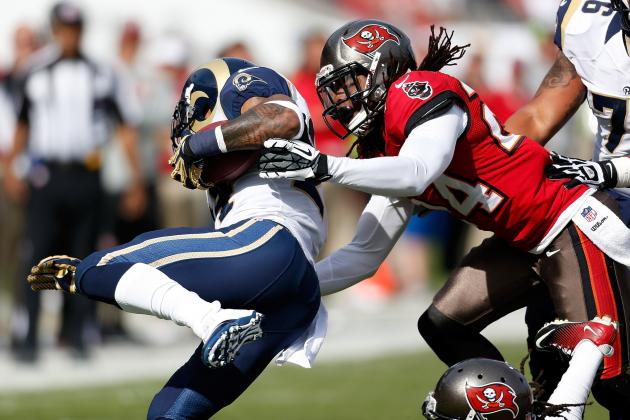 J. Meric/Getty Images

Mark Barron was the top safety in the draft, and he has shown why with the Tampa Bay Buccaneers.
The rookie has been a solid tackler, but his pass-coverage skills have left something to be desired.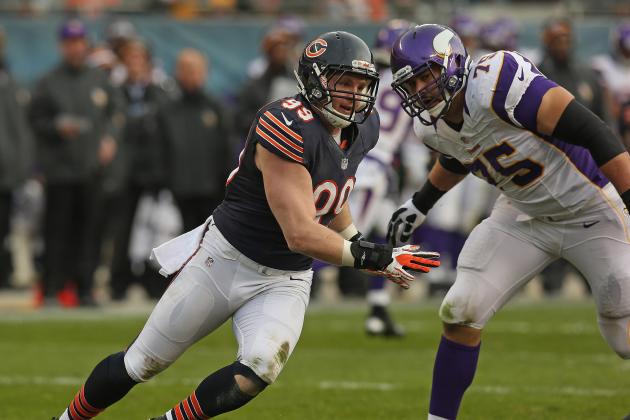 Jonathan Daniel/Getty Images

It helps that the Minnesota Vikings lean on the run and Christian Ponder is a mobile quarterback, but Matt Kalil has been every bit as good as advertised.
The rookie has allowed just one sack and two quarterback hits this season, by far the fewest in the league among rookies with 500-plus offensive snaps under their belt.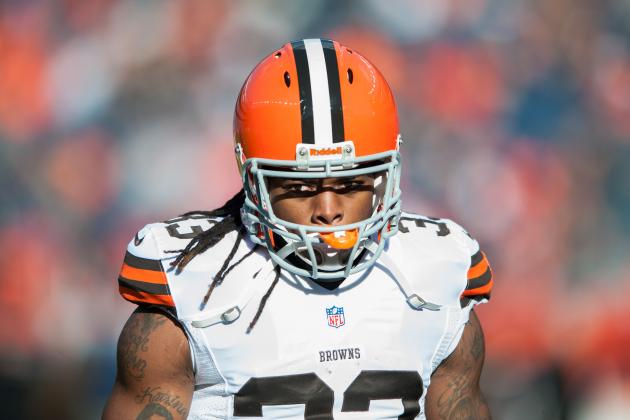 Dustin Bradford/Getty Images

Trent Richardson has been a workhorse for the Browns, but they may have worked him into the ground.
The rookie has battled injuries this season, and he will miss Week 17. That leaves him 50 yards shy of being the third rookie running back to crack 1,000 yards this season.
His 3.6 YPC average is not terribly exciting either, but he has gotten a lot of short-yardage work.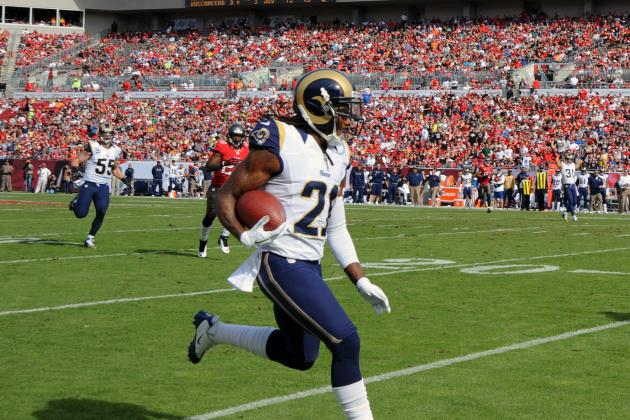 Al Messerschmidt/Getty Images

If there was any player who bucked negative expectations coming out of the 2012 draft, it was Janoris Jenkins.
The rookie put up a few red flags during his college career and the draft process, allowing him to fall into Jeff Fisher's lap in the second round. He has rewarded the Rams with some great play.
Jenkins would be higher on this list were it not for relatively poor coverage skills. That is, of course, aside from the three interceptions returned for touchdowns.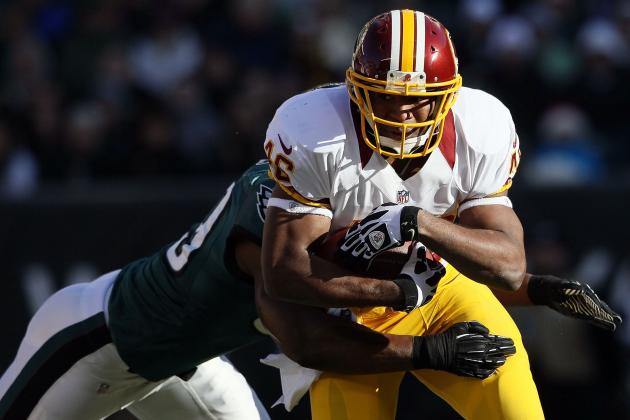 Alex Trautwig/Getty Images

Much was expected of Robert Griffin III, but who could have seen this coming from a sixth-round running back with two good backs already in the fold?
Alfred Morris, an unheralded rookie out of FAU, has been one of the league's best rookies.
There is a bit of a chicken-and-the-egg question here with Morris, who certainly benefits from the presence of RGIII and the offensive scheme.
It is difficult to imagine him rushing for even 500 yards with the Cardinals, but he has far outpaced expectations already.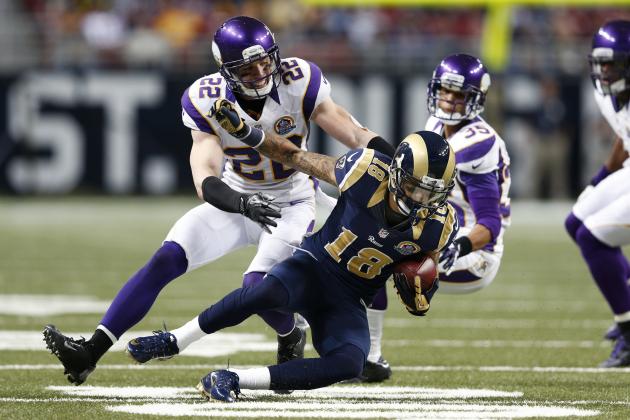 Joe Robbins/Getty Images

Mark Barron was the consensus top safety of the 2012 draft class, but Harrison Smith has outshined him this season.
The rookie has played well for the Vikings, returning two interceptions for game-altering touchdowns.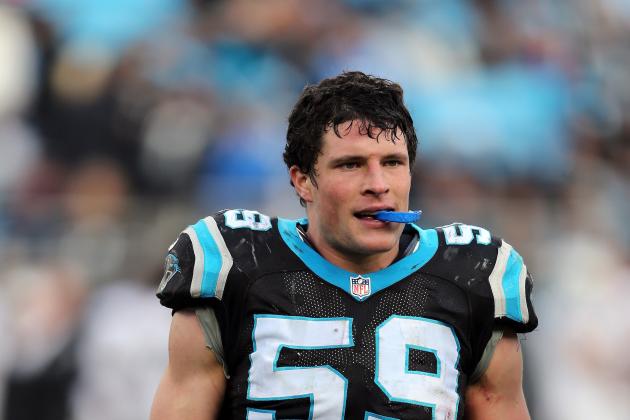 Streeter Lecka/Getty Images

Luke Kuechly was a tackling machine in college, and that is what made him the top linebacker taken in the 2012 draft.
He has continued that as a NFLer, leading the Panthers in tackling this season after Jon Beason was knocked out with injury.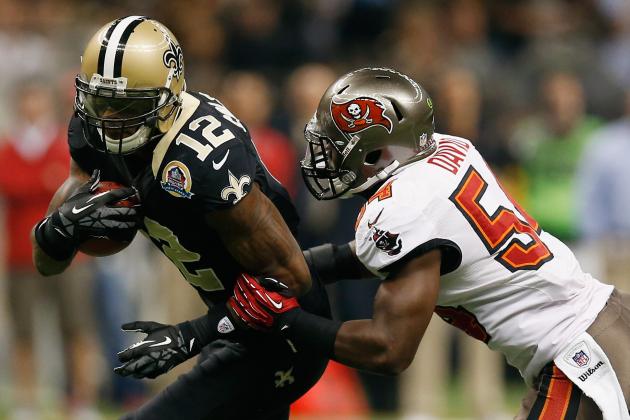 Chris Graythen/Getty Images

He might not be a first-round pick, but Lavonte David has certainly played like one for the Bucs.
The linebacker out of Nebraska leads all rookies and is second in the league with 133 total tackles heading into Week 17. He is not terribly good in coverage yet, but that's something for him to work on as his career progresses.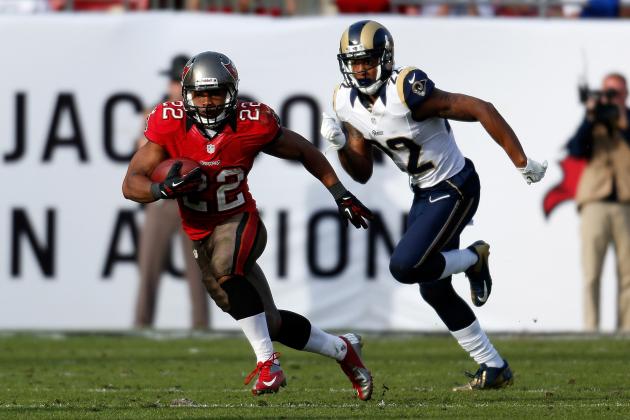 J. Meric/Getty Images
Doug Martin
Doug Martin had a couple of huge games this season that have propped him up, but the rookie seemed to hit a late-season wall.
Still, the rookie has 1,312 rushing yards on the season, and he looks like he will be a big part of that Buccaneers offense for years to come.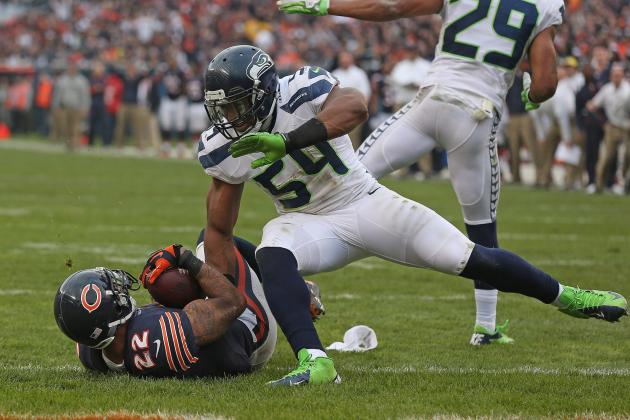 Jonathan Daniel/Getty Images

Bobby Wagner has snuck up on the field this season.
The rookie is the second-best middle linebacker in the entire league, according to Pro Football Focus. He is among the league leaders in tackles and interceptions at the position, vaulting himself into the thick of the Defensive Rookie of the Year race in the process.
The Seahawks drafted well.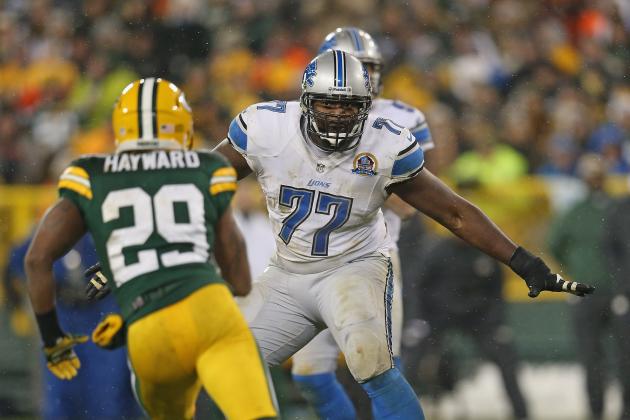 Jonathan Daniel/Getty Images

Morris Claiborne and Stephon Gilmore got plenty of press as first-round draft picks, but few talked about Casey Hayward when the Packers took him at the end of the second round.
He has bested every defensive rookie this season, holding the line in that Packers secondary while key contributors have gotten healthy.
Hayward leads the league at his position in giving up an NFL quarterback rating of just 27.7 on passes thrown in his direction. Richard Sherman, widely considered the best cornerback in the league right now, has given up a rating of 45.3.
Granted, Hayward isn't tasked with covering the likes of Calvin Johnson and Larry Fitzgerald, but he has been one of the league's best defensive backs. He has intercepted six passes to boot.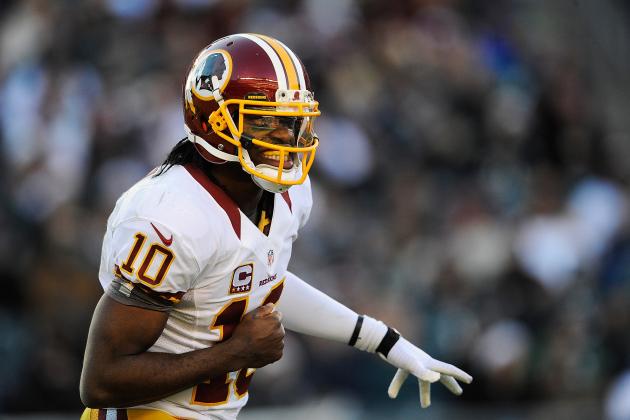 Patrick McDermott/Getty Images

Robert Griffin III is good. So good, in fact, that Mike Shanahan is spouting overly effusive praise for his star quarterback.
RGIII has a fantastic skill set that has molded the Washington offense into one of the league's best. Griffin is at the top of the league in completion percentage, but a big reason for that is he has not been asked to throw downfield nearly as much as Andrew Luck or Russell Wilson.
Kirk Cousins' dramatic game-tying drive against Baltimore followed by a road victory against a tough Browns defense has dulled Griffin's star ever so slightly this season, which puts him just behind two 2012 NFL draft compatriots.
That is no knock on Griffin, who very well could be the best of this year's bunch, but part of his draft evaluation included worry about durability. Was his knee injury a harbinger of things to come?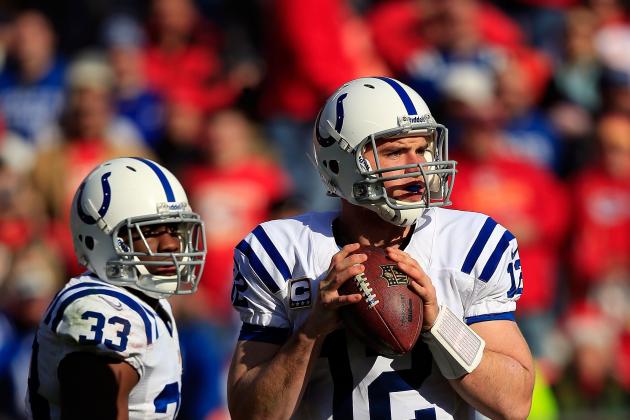 Jamie Squire/Getty Images

The No. 1 overall draft pick has lived up to expectations for the Colts, whose fans experienced exactly one bad season between franchise quarterbacks.
Luck has been integral in taking a 2-14 team from a year ago to the playoffs, impressing along the way. He has broken the rookie record for passing yards with one game to go, and it's hard to argue he hasn't been the best rookie this season.
Unfortunately, he is also tied for the league lead in interceptions, and a completion percentage below 55 percent is not pretty compared to his main competition.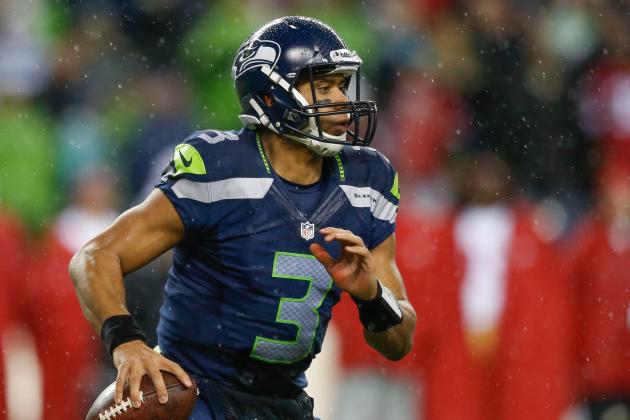 Otto Greule Jr/Getty Images

That honor goes to Russell Wilson at this point, however.
The knocks against Wilson primarily involve his supporting cast, which is more impressive all around when compared to Luck or Griffin.
Wilson is buoyed by Marshawn Lynch in that great running game, a fantastic defense that seems to be peaking at the right time and a home crowd that might just be the best in American professional sports.
But can you really deny Wilson a realistic shot at the Rookie of the Year Award because he has good teammates? The rookie out of Wisconsin has been on a tear during the second half of the season, propelling his team to a playoff spot in the process.
He has done it against some great defenses as well, demolishing the Bears and 49ers in particularly impressive performances.