Toronto Blue Jays: 4 Reasons They'll Have No Problem Living Up to the Hype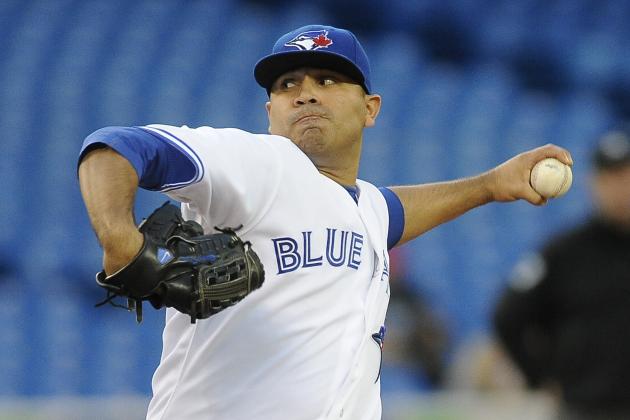 Brad White/Getty Images
Ricky Romero will look to have a bounce back season in 2013.
Until the Toronto Blue Jays take the field in 2013, no one will know if bumping the payroll and all the risk-taking will pay off. That being said, Alex Anthopoulos has done something to the mood in Toronto.
He has restored hope.
Even though the NHL lockout is still hovering over the city, it seems to be put on the back burner, because all of a sudden, Toronto has become a baseball city again, and Canada has become a baseball country.
It's been a busy offseason for Toronto—one more so than for most teams in recent memory.
There's been scrutiny over trading away so many prospects, yet praise for reeling in established superstars.
But regardless, the Blue Jays have been catapulted into superstars overnight and World Series favorites a few days later.
Although this seems surreal in Toronto, keep in mind that Toronto is a favorite on paper, and only on paper. There is in fact a likelihood that the Jays will succumb to the fate of the L.A. Angels and Miami Marlins circa 2012.
Yet through all the trades and acquisitions and increased payroll, there are differences between Toronto in 2013 and other teams who seemed to have revamped their rosters in the past, and it all comes down to what they have left.
This is a list of why the Blue Jays will live up to the hype in 2013.
Begin Slideshow

»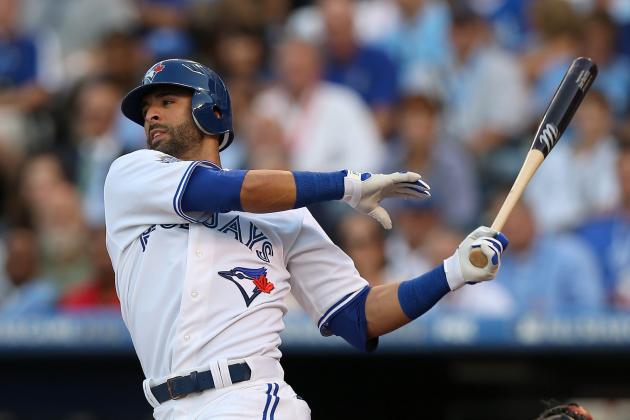 Jonathan Daniel/Getty Images
Jose Bautista will captain a crew filled with veterans in the 2013 campaign.
For seasons past, Blue Jays fans have had a couple things to be proud of: Jose Bautista's emergence, and bragging rights on the best young talent in baseball.
At one point, the 2012 Birds (who were decimated by injuries) had a lineup stacked with young stars, such as Brett Lawrie, J.P. Arencibia, Adeiny Hechavarria, Henderson Alvarez, Moises Sierra, Chad Jenkins, David Cooper, Anthony Gose and Yan Gomes.
Toronto felt proud to hoist its banner of young studs high in the air, but conclusive with the offseason moves, it's evident that rookies don't win championships—veterans do.
There will be no first-year players in the starting nine for the Blue Jays in 2013, as Melky Cabrera, Colby Rasmus and Jose Bautista will man the outfield grass.
Johnson, Buehrle, Dickey, Morrow and Romero will nab the starting rotation.
Finally, Jose Reyes, Brett Lawrie, Emilio Bonifacio/Maicer Izturis, J.P. Arencibia and Edwin Encarnacion/Adam Lind will hold down the infield.
It's a new look for Toronto, but a top-notch farm system will now stay in the farm system. Veterans will be shaping the diamond, and their experience (and ideally chemistry) will form an immaculate powerhouse primed for playoff success.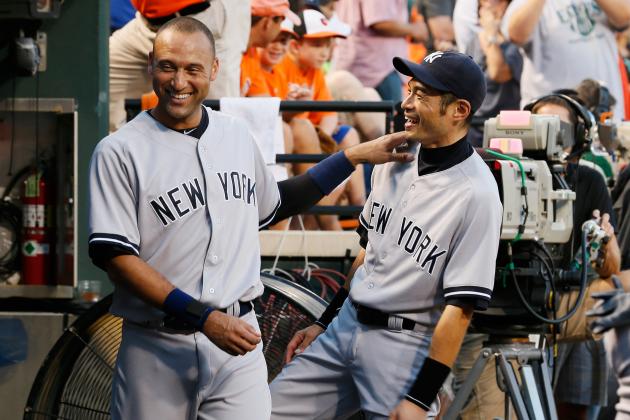 Rob Carr/Getty Images
Derek Jeter (left) and Ichiro will commandeer a Yankee team looking to bounce back from an embarrassing 2012 playoffs.
A question I've heard a lot in recent weeks is, "Why now?"
The Blue Jays decided to pack on payroll, take risks by giving up top prospects Adeiny Hechavarria, Justin Nicolino, Noah Syndergaard, Travis d'Arnaud, Jake Marisnick and Anthony Desclafani.
At first glance this seems absurd, but take a look around and it makes sense.
After the Blue Jays topped other teams with their acquisitions, they've since caused a ripple effect—and everyone is trying to catch up.
The Boston Red Sox are unstable. Their starting rotation is far from formidable, and after losing their top bat in Adrian Gonzalez, they're hoping for primed seasons from an aging David Ortiz and spunky Dustin Pedroia. On the bump, the load will be carried by Jon Lester who, should he fail to perform, will end up with a similar fate to Ricky Romero circa 2012.
The New York Yankees are old and creaky. Although they managed to reel in Hiroki Kuroda, Mariano Rivera, Kevin Youkilis, Andy Pettitte, Ichiro and Brett Gardner, they haven't made their team any better. The look of Youk, Ichiro, Jeter, A-Rod and company was a force by video game standards, but nowadays, they're a sign that New York is banking on the past to bring them present success.
The Baltimore Orioles only have so much magic left. After a breakout 2012 campaign that ultimately led to their elimination in the American League Division Series, the Orioles have the same team coming back. Although they might compete in their manner of one-run ball games, don't expect that to happen again. Baltimore is a hit-or-miss team at this point, and only time will tell where they go from here.
The Tampa Bay Rays are going to be very good. I'd be lying to you if I said the Rays were going to the dumps in 2013, because they won't. Their starting rotation will stack up against the best, and their lineup—young, energetic and confident—will be a force to reckon with. That being said, if Evan Longoria doesn't pull out an All-Star-type season, the Rays will struggle. Besides Longoria, there's no one else in the Tampa Bay order who strikes fear into the opposition.
Kevin C. Cox/Getty Images
Jose Reyes will take over shortstop duties as well as the leadoff spot for Toronto in 2013.
If someone is going to do it on the Blue Jays' roster, it's going to be Jose Reyes.
If you've ever been to the Rogers Centre in Toronto on a hot summer day, you'll notice that the ball seems to skip off the new turf quicker than at most major league ballparks.
Reyes, with his speed, has the ability to turn knee-high liners in the gap into stand-up triples. Not only that, but he will add some much-needed stability at the top of the batting order—something Toronto has yet to come by since Shannon Stewart manned that position years ago.
As a career .291/.342/.440 hitter, the Blue Jays need one thing from Jose Reyes, and that's for him to play up to his average.
Anything more is a bonus, but it's his baserunning and expertise at the shortstop position that will garner him a lot of attention in Toronto and the American League next spring.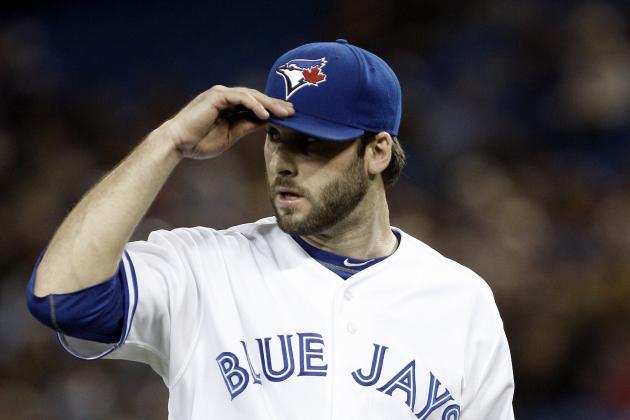 Abelimages/Getty Images
Brandon Morrow will be one of the veterans in the clubhouse as well as for the starting rotation next spring.
If there's one aspect of the Toronto Blue Jays that needed addressing, it was their pitching rotation.
Because injuries are always a possibility, Toronto has stacked the starting rotation this offseason. Suddenly, last year's opening-day starter, Ricky Romero, appears to have been bumped into the fifth spot. It doesn't take away from his ability—it's just a testament to the arms around him.
It's difficult to say who will headline the pack, because every pitcher has his own x-factor that makes him who he is.
Josh Johnson is a young, electric pitcher who, when he pitches up to his capabilities, will be tough to hit against in the division. Although he has a history of injuries, he's also the guy who will make some serious money at the end of next season. Depending how the 2013 campaign goes, Toronto may or may not choose to pursue the soon-to-be high-priced arm of JJ.
R.A. Dickey is a Cy Young-award winner, plain and simple. All the nonsense of his age and whether his knuckleball will work in the dome and beyond doesn't particularly matter to the 20-game winner. Toronto acquired the man who held opponents to a .226/.278/.362 hitting line in 2012, and a veteran who knows how to win.
Mark Buehrle will be the workhorse on the mound for Toronto. In the past 12 seasons, Buehrle has pitched at least 200 innings respectively, compiling a modest 3.82 ERA and a 1.13 WHIP in the process. Not to mention that he's been a gold glover for the past four seasons. Who's to say he won't accomplish that feat again in 2013?
Brandon Morrow might be the pitcher with the best stuff in Toronto since Roy Halladay. Although that might seem like a bold statement, think of a time when the Blue Jays didn't have a chance to win when he took the mound in 2012. In an injury-shortened season, Morrow was still able to cram together a 2.96 ERA with a 1.11 WHIP. In my eyes, he should be the opening day starter, mainly based on the fact that he's been the neck of the rotation for some time now, and he's reaching the peak of his career.
After logging a stellar 2011 campaign—one that featured an All-Star game appearance (and he even placed 10th in A.L. CY voting)—Ricky Romero was the epitome of a disastrous 2012 season for the Blue Jays. But that has been long since forgotten, and Toronto is giving him a second chance, considering the man with only four years under his belt no longer has to carry the load. Now he has the opportunity to go back and pitch the way he used to without the pressure of carrying the team.