Player Each NFL Postseason Contender Is Most Concerned About on Their Own Roster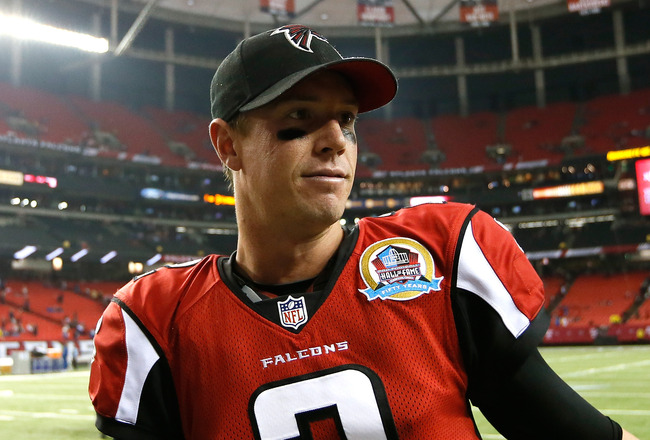 Kevin C. Cox/Getty Images
As teams head towards the NFL's postseason, they must take a look in the mirror and assess their own weaknesses.
Who has struggled all season and who could be a concern as the playoffs draw near?
Knowing everything about prospective opponents is a must, but so is realizing where your own flaws and potential weaknesses may lie.
So, who is the player on each playoff contender's roster that they are most concerned about?

Let's start in the nation's capital...
Washington Redskins: Robert Griffin III
Patrick McDermott/Getty Images
Robert Griffin III may win the Rookie of the Year award. He has been spectacular throughout this season, throwing just four interceptions and scoring 24 total touchdowns.
However, Washington is now in the middle of a playoff push, and RG3 is battling back from an injury.
Will he be the same once he gets back on the field? How will he handle the pressure of the postseason should the Redskins get there?

These are valid questions that Washington has to be concerned about.
New York Giants: Justin Tuck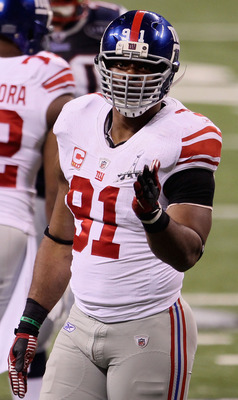 Jeff Gross/Getty Images
Where has Justin Tuck been all season?

I only ask because he has just three sacks and 43 tackles this year. New York has been on a roller-coaster ride and could benefit greatly from increased production out of Tuck.
The postseason will demand a solid pass rush, and Tuck has the ability to alter the course of any given game. He must do that to help the Giants go on another Super Bowl run.
Dallas Cowboys: Tony Romo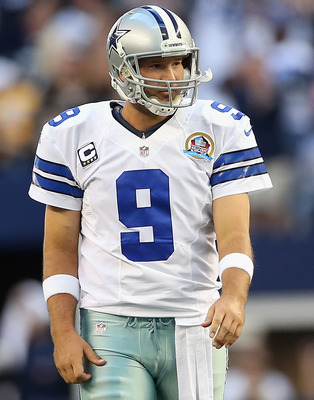 Ronald Martinez/Getty Images
Oh, Tony Romo.
Romo has had great seasons, and his numbers suggest that the consistent questions about his ability are unwarranted.
Still, few people have forgotten his playoff struggles, namely fumbling a hold all the way back in 2007.
What's the best way to force people to move on? Give them new, positive playoff memories to talk about. Winning games will do just that.
Atlanta Falcons: Matt Ryan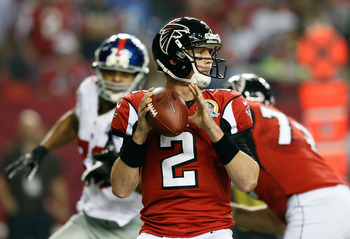 Kevin C. Cox/Getty Images
Like it or not, there is a giant monkey on Matt Ryan's back.
His regular season successes mean little at this point because he has failed to get it done under the lights of the postseason.
Ryan has been a steadying force for the Falcons all season, even being an MVP contender most of the way, but his 0-3 playoff record is always there.
San Francisco 49ers: Colin Kaepernick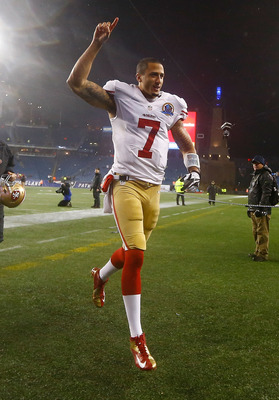 Jared Wickerham/Getty Images
San Francisco is playing with fire right now and winning. Head coach Jim Harbaugh has decided on Colin Kaepernick as his starting QB despite Alex Smith being fully healthy.
Kaepernick has added unique dimensions to the offense, but there are risks to starting the young and inexperienced signal-caller.
Smith has been in the playoffs, he has won games and he rarely turns the ball over.
Have the 49ers made the right choice going with Kaepernick?
Only the playoffs will decide.
Seattle Seahawks: Russell Wilson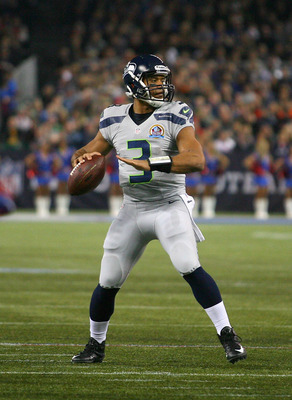 Rick Stewart/Getty Images
Take most of what was said about Robert Griffin III and apply it here to Russell Wilson.
Wilson is up for Rookie of the Year and has only looked better as the season has worn on, but things change in the playoffs.
Opponents will look to take away Marshawn Lynch and the ground game, putting increased pressure on Wilson and a passing game that has been inconsistent throughout the year.
Seattle has to be concerned with which passing attack will show up in the postseason.
Green Bay Packers: Injured Wideouts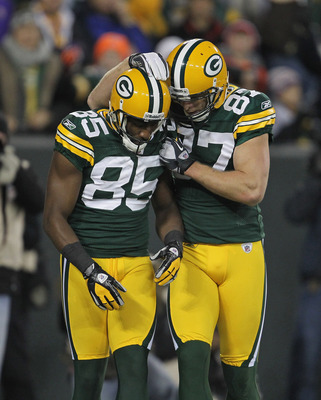 Jonathan Daniel/Getty Images
Every team hopes for a sense of stability and consistency heading into the postseason.
The Green Bay Packers will be in just the opposite scenario.
Tight end Jermichael Finley is on his way out, and both Jordy Nelson and Greg Jennings are coming back from injuries.
QB Aaron Rodgers is one of the best in football and could complete passes to anybody, but the Packers still have to be concerned with their hampered wideouts.
Minnesota Vikings: Christian Ponder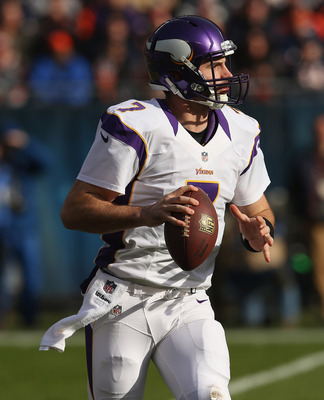 Jonathan Daniel/Getty Images
The Minnesota Vikings have the 32nd ranked passing attack in the NFL.
When the playoffs roll around and the league's best defenses are keying in on Adrian Peterson, will Christian Ponder be able to take over a game?

The Vikings have to be concerned with the answer to that question because Ponder is unproven and untested.
Now, Minnesota still has to make the playoffs in order for any of this to matter, but the fact remains that someone other than AP will need to step up in the postseason.
Chicago Bears: Matt Forte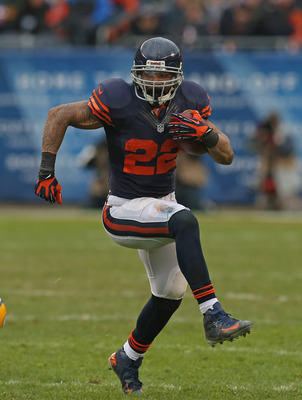 Jonathan Daniel/Getty Images
Matt Forte has been average all season.
Average is not going to propel the Chicago Bears into the postseason or help them win games if they get there.
Forte has just three touchdowns this year and has failed to live up to the promise of seasons past. Chicago needs both Forte and Michael Bush to dominate on the ground moving forward but has to be concerned that it won't happen.
New England Patriots: Rob Gronkowski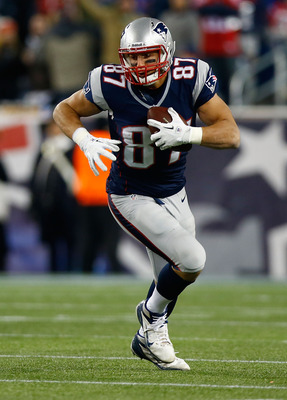 Jared Wickerham/Getty Images
New England has survived without Rob Gronkowski, but can it thrive in the postseason if effects from his injury linger?
Gronkowski is one of QB Tom Brady's favorite targets and creates consistent mismatches over the middle of the field. He is a tremendous blocker and yet has reliable hands even in the toughest pass-catching situations.
The Patriots are at their scariest when Gronkowski and Aaron Hernandez are both healthy and able. That scenario should coincide with the postseason.
Denver Broncos: Knowshon Moreno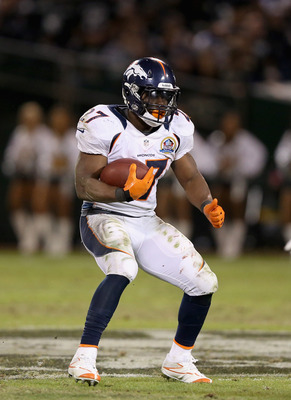 Ezra Shaw/Getty Images
Knowshon Moreno has had a mini resurgence of sorts since returning to the Denver Broncos starting lineup, but can his good fortune continue?

Moreno has shown flashes of brilliance in the past before fading into obscurity, and the Broncos have to be concerned of that possibility again taking shape in the playoffs.
Still, Moreno has rushed for over 100 yards in each of the last two weeks and is generating solid momentum at the moment.
Baltimore Ravens: Ray Lewis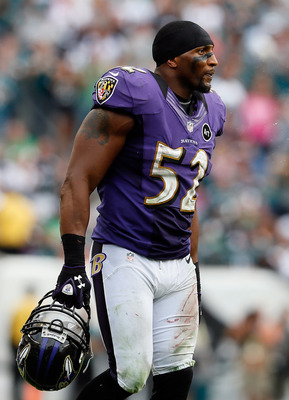 Rob Carr/Getty Images
Ray Lewis is the heart and soul of the Baltimore Ravens team.
His presence has clearly been missed in recent weeks, and Baltimore has floundered in mediocrity as a result.
It was announced on Saturday that Lewis will not return this weekend (via USA TODAY Sports), so the organization has to be considered with how effective he will be when he returns.
Can he be as effective as usual or will he be a shell of his former self?
Pittsburgh Steelers: Troy Polamalu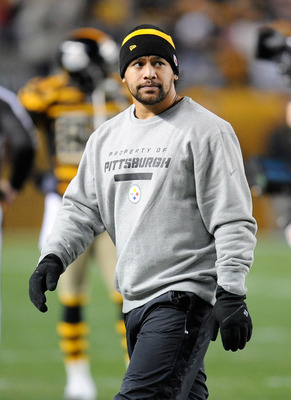 Joe Sargent/Getty Images
Troy Polamalu looked great in his return to the Pittsburgh Steelers lineup against the Dallas Cowboys in Week 15.
He had seven total tackles, moved laterally around the field and showed no fear against opposing wide receivers. Still, Polamalu's lingering calf injury is a concern, and his next bad break always seems to be right around the corner.
Whether it is admitted or not, the Steelers have to be concerned with Polamalu's ability to stay on the field.
Cincinnati Bengals: Andy Dalton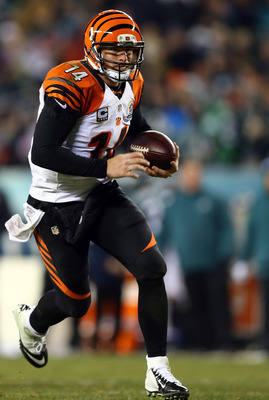 Elsa/Getty Images
Andy Dalton's only postseason experience did not go so well.
Against the Houston Texans last season, Dalton threw three interceptions compared to zero touchdowns.
He looked uncomfortable in the pocket, was confused by the Texans blitz packages and developed no rhythm as the game wore on.
Cincinnati has to be concerned with the potential of a repeat performance.
Indianapolis Colts: Dwight Freeney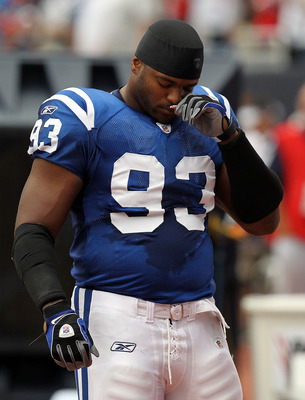 Ronald Martinez/Getty Images
Hidden behind the exceptional performance of rookie Andrew Luck and the remarkable story of Chuck Pagano's resilience against cancer is the 2012 season of Dwight Freeney.
He has battled an ankle injury for part of the year, but that is simply no excuse for his struggles.
Freeney has nine total tackles and three sacks. That is no misprint folks. He has been that much of a non factor.
The Colts need his speed off the edge to compete in the playoffs. They have to be concerned he will continue his current level of play.
Houston Texans: Matt Schaub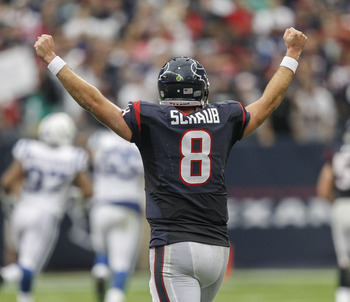 Bob Levey/Getty Images
Matt Schaub has never been to the postseason. When his Houston Texans went last season he was sidelined with an injury.
So, while he is a veteran that knows how to handle pressure, the fact remains that he has never been under this much pressure.
Houston has a giant bullseye on its back as the best the AFC has to offer. Schaub can not afford to play as poorly as he did against the New England Patriots on Monday Night Football in Week 14.
In that contest he threw for just 232 yards and an interception.
Keep Reading