The NFC playoff picture is anything but clear, and the NFC East is the reason why. With three teams sitting at 8-6, the NFC East still has yet to determine a division champion. Another NFC East team could get into the playoffs as a wild card, as well.
The New York Giants, the Washington Redskins and the Dallas Cowboys are all going to be involved in big games. Here's what to expect from them, and what it means for the NFC playoff picture.
New Orleans Saints vs. Dallas Cowboys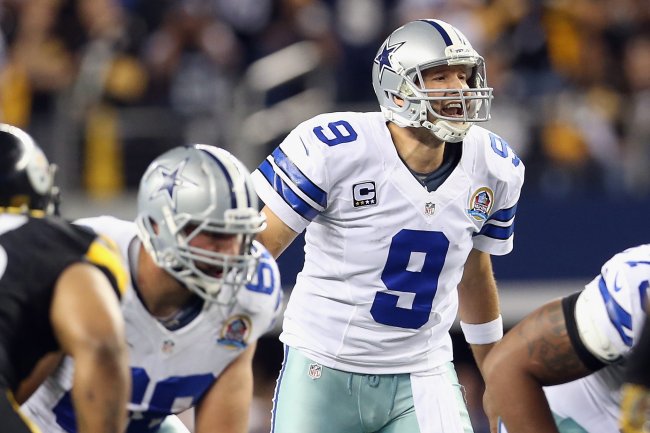 Ronald Martinez/Getty Images
Since the return of DeMarco Murray from injury, the Cowboys are 3-0. Over that span, Murray has racked up 217 yards and three touchdowns. Though his per carry average has been average, Murray has forced opponents to respect the Cowboys' running game.
Tony Romo has been the beneficiary of Murray's contributions, as he has taken off in the past three games. His efficiency has jumped significantly, as he's averaged 8.14 yards per pass in the past three games with a six-to-one touchdown-to-interception ratio.
On the other side of the ball, the Cowboys' defense has not been as solid over their three-game winning streak, giving up over 25 points per game over that span. The Saints should surpass that average easily.
Ultimately, though, the Saints just won't be able to stop the Cowboys' hot offense. Tony Romo and DeMarco Murray should shred the Saints' NFL-worst defense.
Prediction: Cowboys 38, Saints 31
Washington Redskins vs. Philadelphia Eagles
Matt Sullivan/Getty Images

In the final anticipated step, Redskins doctors cleared QB Robert Griffin III to start Sunday's game vs. Eagles, via league sources.
— Adam

Schefter

(@AdamSchefter) December 22, 2012
With that tweet, Adam Schefter ensured that the Redskins would be set for Week 16.
Robert Griffin III has already played, defeated and dominated the Philadelphia Eagles this season. He completed 14-of-15 passes for 200 yards and four touchdowns in that game, and fans should expect something similar in this game.
The Eagles are still awful. They are 1-9 in their past ten games, a record caused in large part by their awful tendency to turn the ball over. The Eagles have a turnover differential of -22 this season, and they are dangerously close to setting the team record for futility in that regard.
The Redskins, meanwhile, are +13, meaning that turnovers will once again be pivotal in this game. Expect that to be the difference in a Redskins win.
Prediction: Redskins 24, Eagles 13
New York Giants vs. Baltimore Ravens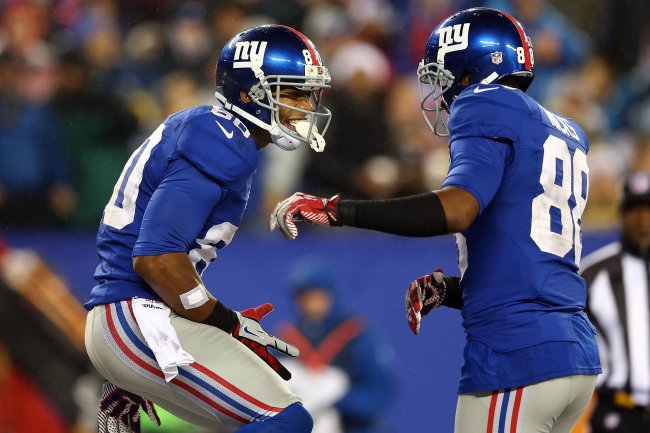 Elsa/Getty Images
Both the Giants and the Ravens have struggled of late, but one of these teams will have to rebound in this game.
What will hold the Giants back in this game is their struggles on the road, especially recently. The Giants have lost their last three road games, as Eli Manning is simply a different quarterback away from home. His passer rating is 77 on the road, compared to a solid 90 at home.
The Ravens, meanwhile, are hungry to break out of their three-game losing streak. Joe Flacco rarely posts several bad games in a row, so expect him to rebound in this game.
Ray Rice should also find success against the league's 22nd-ranked run defense. Getting the ball to Rice will be a priority for the Ravens, and they should be successful in doing so.
For the Giants, losing Ahmad Bradshaw in this game is big. The easiest way to beat the Ravens is to run the ball against them, as they haven't been able to stop anybody. David Wilson should be more than up to the task of shredding this defense, however.
Ultimately, Wilson won't be enough though. The Ravens' offense should rebound, and Eli will likely make a key mistake or two to turn this game around in the Ravens' favor.
Prediction: Ravens 30, Giants 24
Playoff Picture After Week 16
If these predictions hold, the Cowboys and Redskins would be 9-6, while the Giants would fall to 8-7 and be eliminated from postseason contention. The Cowboys will need a Vikings loss to gain a playoff spot, while the Redskins will remain atop the NFC East.