Merry Christmas: Holiday Gifts for the Nice (and Naughty)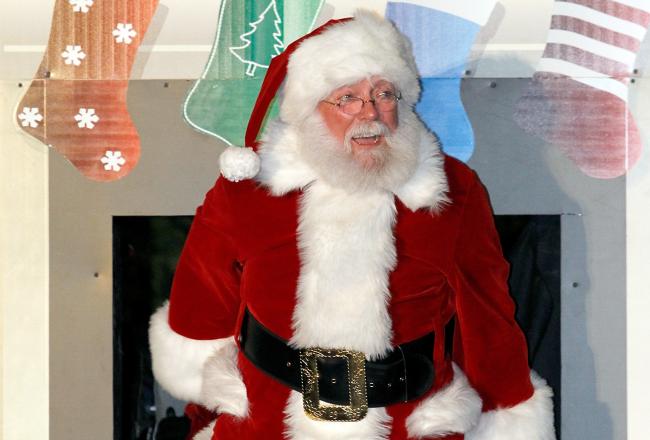 Tom Pennington/Getty Images
Wax up the sleigh. Check it for flight. Shine St. Nick's boots. Make sure Rudy's nose is bright and squeaky clean.

Test the GPS. Gather the weather reports. Check the sack for rips. Tell Mrs. C not to wait up.
It's gonna be another long night, but then it always is on December 24.

The jolly, old, fat man is set to make his annual trek. Chimneys the world over wait. Fireplaces are about to be pounced on.

Santa has something for everyone, or so they say. Keeping the faith, I'm going to accept that statement as fact. So, with that in mind, let's see if he can find room in his big, red pack, upon his back—as Andy Williams sang—for these goodies.

For Calvin Johnson, a new NFL record, but more importantly, a football team worthy of his gargantuan talent.

For Matthew Stafford, highlight reels of Slinging Sammy Baugh and Fran Tarkenton, so the kid knows that you don't have to have perfect "mechanics" to be a winner in this league.

For Jim Schwartz, a general manager who will draft him some defense.

For Rick Porcello, a team who wants him.

For Jhonny Peralta, a new nickname: The Kitchenette, because they say he has no range.

For Torii Hunter, nothing—because he already had his Christmas when he signed with the Tigers.

For traffic lights throughout Metro Detroit, Anibal Sanchez's timing.

For Alex Avila, health and happiness—and for him, they're one and the same.

For Miguel Cabrera, the abolition of sabermetrics.

For Tigers fans, also nothing—because they already have their new third base coach.

For Tommy Brookens, the new third base coach, the best of luck.
For the NHL, coal in its hockey boot.

For Mark Dantonio, a quarterback.

For Brady Hoke, a headset.

For Joe Dumars, a slashing, scoring small forward in the draft, because it sure isn't on his current roster.

For Lawrence Frank, a book on the Pistons of the 1960s—oh, wait, he's already writing the remake.

For Andre Drummond, the career of Shaquille O'Neal, because Ray Scott told me that Andre reminds him of a young Shaq.

For Greg Monroe, the career of Bob Lanier, because (see above).

For Pistons fans, a new RV, because you can all fit in one.

For George Blaha, some recognition (finally) as a damn good football play-by-play guy.

For Charlie Villanueva, no regrets.

For Tayshaun Prince, a nice twilight so his career will be properly book-ended.

For all of us working stiffs, the longevity of Jim Brandstatter.

For all of us husbands, Brandy's marriage, too.

For Cecil Fielder, Prince Fielder's smile at the next Thanksgiving table.

For Notre Dame football fans, you don't get anything—your prayers were already answered.

For NHL fans, never Fehr.

For Alex Karras' legacy, a diabolical plan to gain induction into the Pro Football Hall of Fame.

For Miguel Cabrera, whatever he wants.

For Dominic Raiola, a seven-second delay.

For Ndamukong Suh, peace.

For Louis Delmas, two good knees.

For the two Vs, Vinnie Goodwill and Vince Ellis (Pistons beat writers), a thesaurus to help them describe what they are forced to watch nightly.

For Jerry Green, many more Super Bowls.

For Rob Parker, see Dominic Raiola.

For Mark Sanchez, the hell out of New York.

For Toronto Blue Jays fans, somebody to pinch them.

For Chicago Cubs and Lions fans, a support group.

For Billy Crystal, the only known celebrity Los Angeles Clippers fan, a winner.

For Billy Crystal's movie career, the same, for it's as overdue as are the Clippers.

For Magic Johnson, all the success with the Dodgers as he had on the basketball court.

For the San Francisco Giants, the antithesis for Magic.

For Linda McCoy-Murray, happiness with her new man. But he'll never write like Jim.

For Jim Leyland, we folks off his back already.

For our daughter, anything she wants, because she tamed Oakland University as a freshman like she had ice water in her veins.

For my wife, see Charlie Villanueva.

For all of you who read me every week, a year's supply of Zantac.

Ho-ho-ho!!!
This article is
What is the duplicate article?
Why is this article offensive?
Where is this article plagiarized from?
Why is this article poorly edited?

Detroit Tigers: Like this team?