It's Week 16 of the NFL season, and that means one thing.
Playoffs.
Well, almost. These last two weeks of the regular season are all about teams vying for playoff positioning and, more importantly, spots in the postseason.
There are playoff races insinuating in both the AFC and NFC, though the NFC picture is considerably murkier.
On Sunday, in a span of less than 12 hours, that picture will likely look a bit clearer—mostly because teams like the Cowboys, Redskins, Vikings and Steelers will either rise or fall out of the race.
So, let's take a look at which contenders are sure to fall out of the playoff picture this weekend.
Vikings at Texans
Time: 1 p.m. ET
TV: FOX
Dilip Vishwanat/Getty Images
The Vikings are about one man and one man only: Adrian Peterson.
The NFL's leading rusher has been nothing short of spectacular this season, coming off offseason ACL surgery.
Peterson has rushed for 1,812 yards and 12 touchdowns thus far, and is now only 294 yards short of Eric Dickerson's single season rushing record.
However, he will have to face the Houston Texans defense this weekend, the fifth stoutest in the league against the run. This is a group that's allowed just two rushers to eclipse the 100-yard barrier this season.
Peterson is a high enough caliber runner to do so, but you can bet Houston's sole defensive focus will be to contain him and force second-year quarterback Christian Ponder to beat them.
Ponder chucking the ball around is not a recipe for success for the Vikings, especially without Percy Harvin. The Texans should roll in this game, crushing Minnesota's fleeting playoff hopes.
Bengals at Steelers
Time: 1 p.m. ET
TV: CBS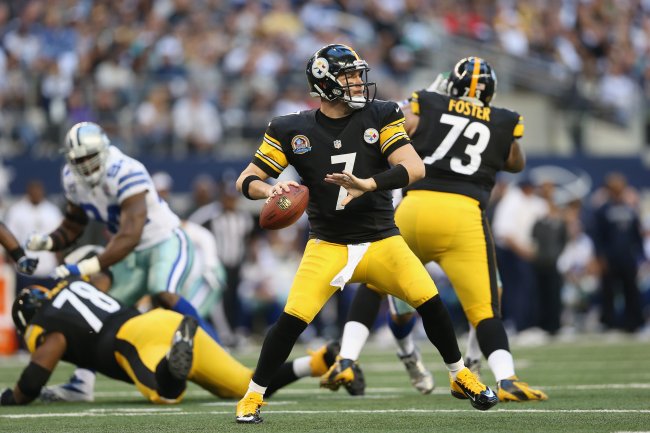 Ronald Martinez/Getty Images
The AFC north is far from decided, but the Bengals and Steelers look to be competing for one final wild-card spot.
And at Heinz Field in December, it's hard to imagine the Steelers losing.
The Bengals, while young and extremely talented, don't have the same level of experience as Pittsburgh in big games.
Andy Dalton had been good, but he's not Ben Roethlisberger quite yet. And the Bengals defense, the sixth ranked unit in the league, is still not quite as disruptive as Pittsburgh's group, the top ranked defense in the NFL.
The Steelers are champions. They've been in this situation before.
Don't expect them to let their playoff opportunity slip away.
Giants at Ravens
Time: 4:25 p.m. ET
TV: FOX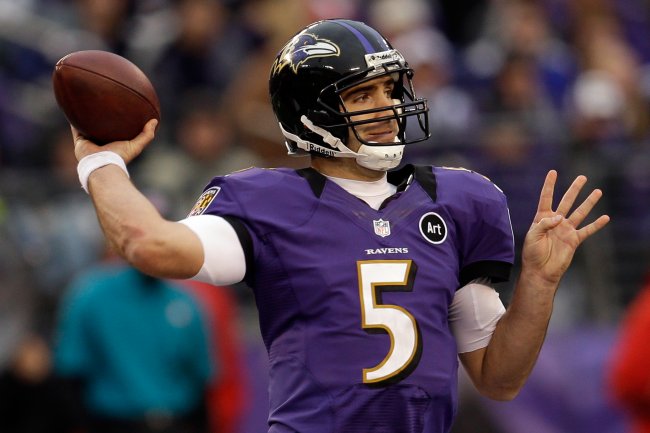 Rob Carr/Getty Images
The Giants and Ravens looked like Super Bowl contenders only a few weeks ago, but both have slipped considerably over the past month.
Baltimore has lost three straight, and is now in danger of losing their grip on the NFC North.
New York's fall has been even more perilous. The Giants have lost four of their last six games, and now sit at the bottom of a three-way tie in the NFC East with the Redskins and Cowboys.
Both teams are in desperate need of a victory. The Ravens are just better equipped to find one.
New York is coming off a 34-0 smashing at the hand of the Atlanta Falcons, and their 28th ranked defense is beginning to show holes. The Giants once feared pass rush doesn't have quite the same bite it once did.
The Ravens haven't been great, either. Joe Flacco looks anything but elite, and the defense isn't quite the same without Ray Lewis, who will miss yet another game on Sunday (via USA Today).
Still, at home with a division title on the line, the Ravens will be difficult to topple.
Expect the defending Super Bowl champions to tumble out of the NFL playoff picture following this game.