Cincinnati Bengals vs. Pittsburgh Steelers: Live Score, Highlights and Analysis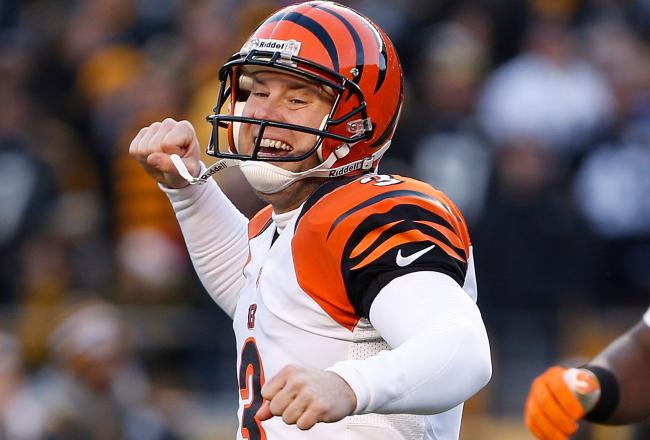 Gregory Shamus/Getty Images
We have just witnessed a huge defensive struggle from these two AFC North rivals, the Cincinnati Bengals and Pittsburgh Steelers. The Bengals came out on top after a late Reggie Nelson interception of Ben Roethlisberger after which the Bengals marched into field goal position to ice the game with four seconds left on the clock.
Both teams played valiantly and the defenses proved worthy of their high rankings as only one offensive touchdown was scored today.
The win for Cincinnati clinches a playoff berth in consecutive years for the first time since the 1981-82 seasons.
The loss for Pittsburgh takes them out of playoff contention and leaves them thinking about what may have been.
Credit is due to both of these teams as they played solid, fundamental football throughout this contest.
The AFC North now shifts to the Baltimore Ravens today as they take on the New York Giants. A loss by the Ravens causes another huge game next week when they would battle the Bengals for the division championship.
Every year the AFC North provides the best hard-nosed football in the NFL and this was no exception. These teams proved once again why this is such a highly contested division each and every season.
Final
Bengals - 13
Steelers - 10
#Bengals clinch playoff berth with 13-10 victory. Depending on outcome of NYG-BAL game, we could be playing for division title next week.

— Cincinnati Bengals (@Bengals) December 23, 2012
That's the game! An attempt of a pitch gets intercepted by Terence Newman and he goes down to end it all. The Bengals clinch a playoff spot and sit at 9-6 with the Ravens up next week. The Steelers fall to 7-8 and their season is over.
What a great game from both teams in a hard-fought battle.
Three seconds left, this is the game!
Field goal is good from Josh Brown with four seconds left on the clock! Cincinnati takes the lead 13-10! Wow!
A.J. Green with a huge grab! Bengals are now in field goal range!
Reggie Nelson with a huge pick on Ben! Bengals ball at midfield! Cincinnati has a chance to get into field goal range for a win in regulation!
The Steelers defense holds strong and force a Cincinnati punt. This could possibly mean overtime at Heinz Field.
Pittsburgh lines up for a 53-yard field goal attempt. It is NO GOOD! Falls just short! Cincinnati will now have a chance to gain the upper hand.
It's the two-minute warning here in Pittsburgh with a crucial third down coming for the Steelers offense. They are out of field goal range and against the wind. If they can not gain positive yards here, they will be forced to punt.
This is turning out to be every bit as nail-biting as we all had hoped.
Miller is being helped to the sidelines by teammates. It looks like he can not put weight on his leg.
Heath Miller is shaken up on a Pittsburgh second down play. This is not a good omen as Miller is a crucial target on key third downs for quarterback Ben Roethlisberger.
The Bengals are faced with a long third down attempt just outside field goal position. Who will come out on top? No surprise here, it's the Steelers defense that holds strong once again.
Cincinnati will attempt a 56-yard field goal from Josh Brown but it falls short in the swirling winds and gives Pittsburgh great field position.
You have to wonder why the Bengals decided not to punt there?
Dalton connects with Gresham on a crucial 3rd-and-9 from their own 11-yard line for a first down. The Bengals need to get out of this end of the field in order to maintain their footing in the battle for field position.
So far today, we have seen one offensive outburst from the Steelers in the first half. When will we see another? The offense that can come up with a big play just may be the difference-maker in today's contest.
With yet more impressive defense on display, the Bengals hold strong and force a Steelers punt which sails into the end zone for a touchback.
The Bengals will begin the next drive on their own 10-yard line after a holding penalty is called on the punt.
Roethlisberger is sacked yet again, but it is called back on a defensive holding penalty by Leon Hall which extends Pittsburgh's drive.
Dalton is sacked on 2nd-and-10 as he was gang-rushed by the Pittsburgh defensive line. This brings a third and very long for Cincinnati.
Dalton throws deep and in a crazy play, the Steelers tip the ball back inbounds and Cortez Allen comes up with an interception!
Wow! What else can these defenses possibly show us today?
The Bengals come out passing on the ensuing drive. A catch by Andrew Hawkins gets them to midfield.
Roethlisberger is sacked by, who else? Geno Akins! This defensive tackle is having a tremendous game!
Ben is down and struggles to his feet. He walked off the field on his own but with a noticeable limp.
Both of these defenses have really come to play today and have been impressive throughout.
The Bengals gain great field position after pass interference call on Pittsburgh.
On the ensuing play, Green catches a pass from Dalton over the middle and fumbles. Recovered by the Steelers!
These are the turnovers that both teams need to avoid to be victorious today. Let's see if Pittsburgh's offense can capitalize.
The third quarter ends with a brilliant throw by Dalton to Hawkins on a third-and-10. This game is completely deadlocked going into the fourth quarter and is destined for excitement for the next 15 minutes of regulation.
Incredible timing by Polamalu getting to Dalton just as the ball was snapped! This is why Polamalu is view as a game-changer.
Now it's the Bengals turn to come up huge on defense as they regain possession by forcing a Pittsburgh punt.
This article is
What is the duplicate article?
Why is this article offensive?
Where is this article plagiarized from?
Why is this article poorly edited?