12 MLB Superstars' Kryptonite They Still Need to Learn to Overcome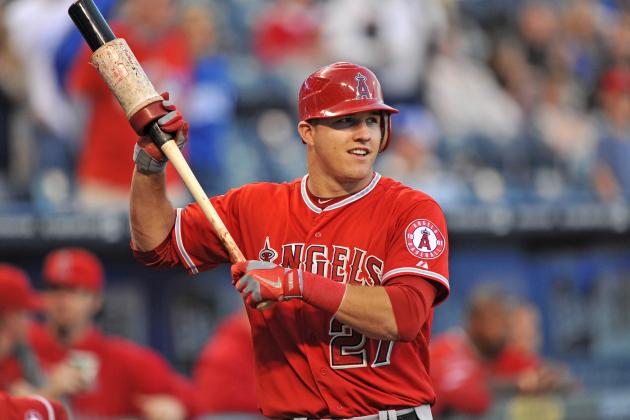 Peter G. Aiken-USA TODAY Sports

The top 12 MLB players got to where they are for one simple reason—great skill.
They took that skill and excelled on the diamond to the point that most of them are perennial All-Stars. Some could even end up in baseball's Hall of Fame.
But even the best of the best have weaknesses. Opponents work to find those weaknesses and exploit them as often as they can.
Here is one skill that each of the top 12 MLB players need to work on in order to become even better. The top players are defined using a list I came up with on December 21, 2012.
Note: All stats courtesy of Baseball Reference or ESPN unless otherwise noted.
Begin Slideshow

»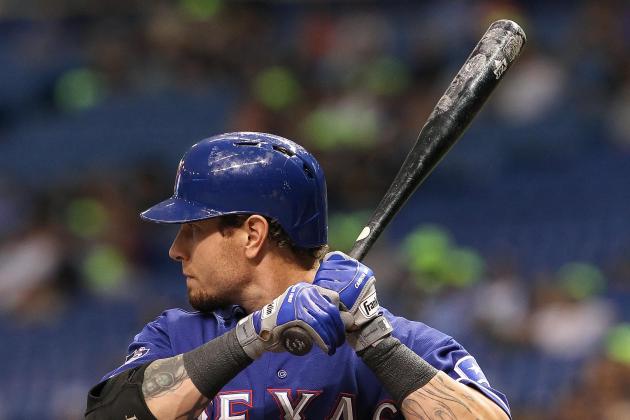 Kim Klement-USA TODAY Sports

Skill to Improve: Become a better two-strike hitter.
Josh Hamilton is without question a dangerous hitter, especially early in his at-bats.
Hamilton hits .412 when swinging at the first pitch, .412 with a one-ball count and .392 with a one-strike count.
However, when faced with any two-strike count, Hamilton becomes much more pedestrian. Hamilton hit just .163 when faced with two strikes and posted a 50.7 strikeout percentage as well.
Hamilton became a free swinger last year, as evidenced by his career-high 25.5 percent overall strikeout percentage. Becoming more selective and bearing down in a two-strike count will greatly help.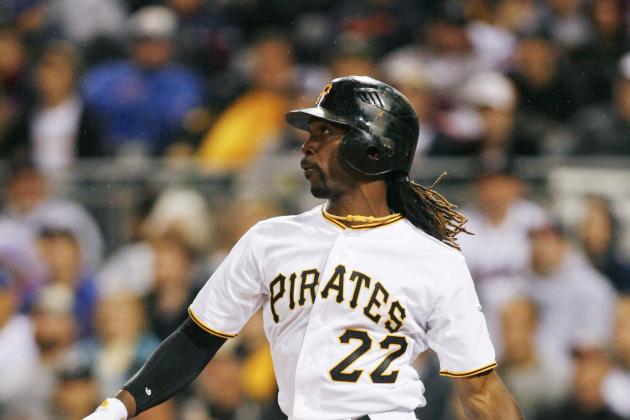 Charles LeClaire-USA TODAY Sports

Skill to Improve: Avoid a second-half slide.
Last season, Pittsburgh Pirates center fielder Andrew McCutchen continued his development, hitting .327 with 31 HR and 96 RBI.
However, the second half of the season was still a bit of a disappointment.
In 2011, McCutchen slumped badly after the All-Star break, hitting just .216 with a .722 OPS. He improved on that in 2012, hitting .289 with an .860 OPS. However, McCutchen hit .362 with a 1.039 OPS before the break.
Staying consistent throughout the entire season is a tough task for any hitter, as the grind of a 162 game season can be daunting.
For McCutchen to truly become an elite player, he needs to improve his second-half numbers. Especially if he wants to help his Pirates get back to the postseason for the first time in 21 years.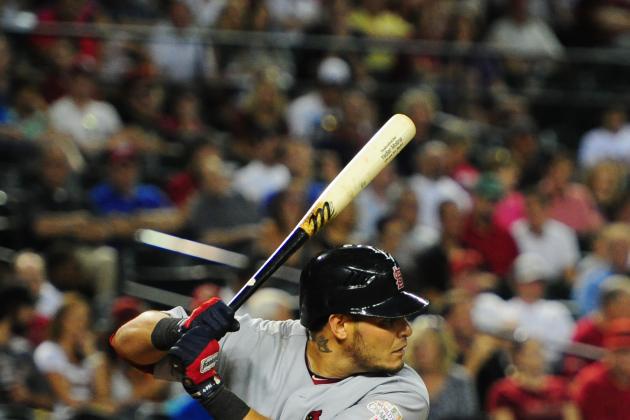 Mark J. Rebilas-USA TODAY Sports

Skill to Improve: Recognize curveballs faster.
St. Louis Cardinals catcher Yadier Molina put together a career year last season, setting personal highs in batting average (.315), home runs (22) and RBI (76).
However, Molina continues to struggle with curveballs.
Molina hit just .184 when thrown a curve from a right-handed pitcher and .188 from left-handers. If he can learn to recognize the pitch quicker out of the pitcher's hand, Molina would be a much more dangerous hitter.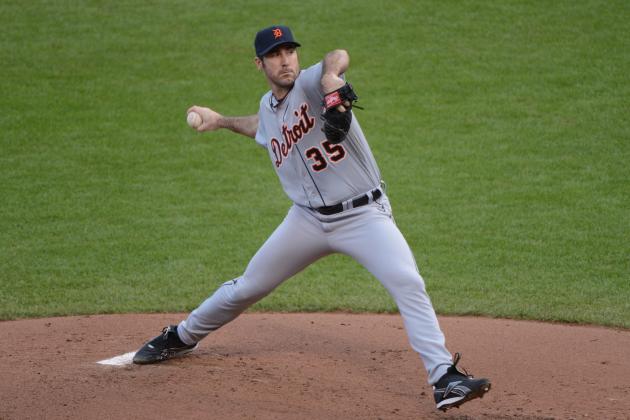 Kyle Terada-USA TODAY Sports

Skill to Improve: Bear down harder in the first inning.
One of the biggest strengths of Justin Verlander's game is his ability to throw in the high 90s in the later innings. His intense approach is evident in the stats.
Verlander's overall ERA in the first three innings in 2012 was 2.91, which dropped to 2.49 in innings four through six and to an even lower 2.38 in innings seven through nine.
However, Verlander's ERA in the first inning was 4.09. He also allowed a .290 batting average to the first hitter of each game.
Verlander's dominance is well documented, but he would be even more masterful if he could better master the first inning.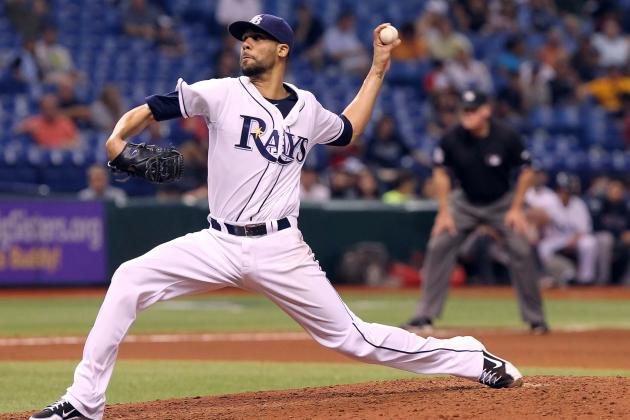 Kim Klement-USA TODAY Sports

Skill to Improve: Be more effective when working behind in the count.
Tampa Bay Rays starting pitcher David Price is likely enjoying his offseason—and rightfully so.
Price won his first-ever Cy Young Award last season and is now the unquestioned ace of the staff for the Rays following the trade of James Shields.
If Price can somehow manage to befuddle hitters more often when he's behind in the count, he'll be even more dangerous in 2013.
When working with a 1-0 count, batters hit a robust .358 against Price, and .294 when Price was down 2-0 in the count.
Bearing down a little harder when behind in the count will be of great benefit to Price in the 2013 season and beyond.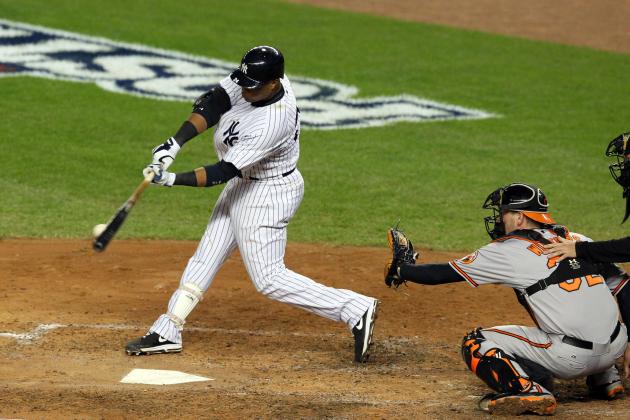 Brad Penner-USA TODAY Sports

Skill to Improve: Raise average against left-handed pitching.
New York Yankees second baseman Robinson Cano has earned his status as one of the elite hitters in the majors. However, he regressed in one area of his game last season.
Cano has a career .290 average against left-handed pitching, but in 2012 that average dipped to just .239.
For Cano to be more of a complete player, he needs to get back to his career split—.317 against right-handed pitching and .290 against southpaws.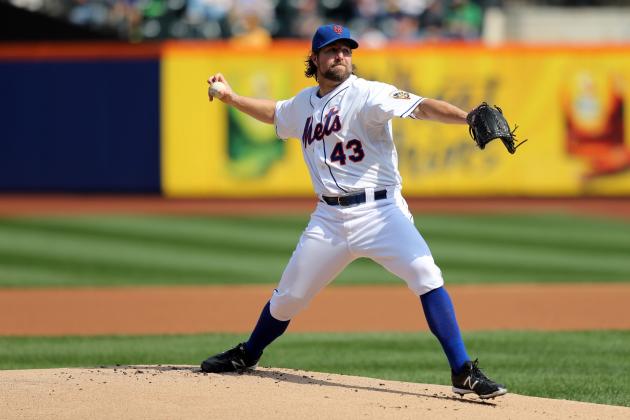 Anthony Gruppuso-USA TODAY Sports

Skill to Improve: Avoid over-use of fastball.
R.A. Dickey will be taking his talents next season north of the border, anchoring the starting rotation for the Toronto Blue Jays.
In his 2012 Cy Young Award-winning season for the New York Mets, Dickey used his fastball only 22 percent of the time, with his knuckleball being used as his primary pitch.
However, when Dickey got behind in the count, he used his fastball 40 percent of the time. Opposing batters hit .305 against Dickey when he threw the heater.
It's tough to trust a knuckleball completely, especially when needing a strike. But if Dickey can somehow decrease the use of his fastball, he could be even more effective than he was last season.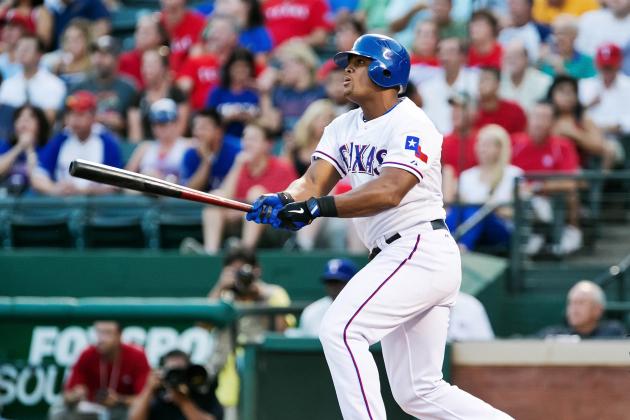 Kevin Jairaj-USA TODAY Sports

Skill to Improve: Improve average against left-handed curveballs.
Texas Rangers third baseman Adrian Beltre is clearly one of the best two-way players in the game today. He captured his fourth overall Gold Glove Award and finished third in the American League MVP Award balloting.
There isn't much to criticize about Beltre as he seems to be getting better with age.
However, left-handed curveballs are clearly Beltre's weakness. Last season, he hit just .174 when facing a curve from a southpaw pitcher.
A curve can be a tough pitch for any right-handed hitter to stay away from, as it looks like a beach ball coming towards them before breaking sharply down to their feet.
If Beltre can recognize the pitch earlier, he would likely draw more walks and/or extend at-bats.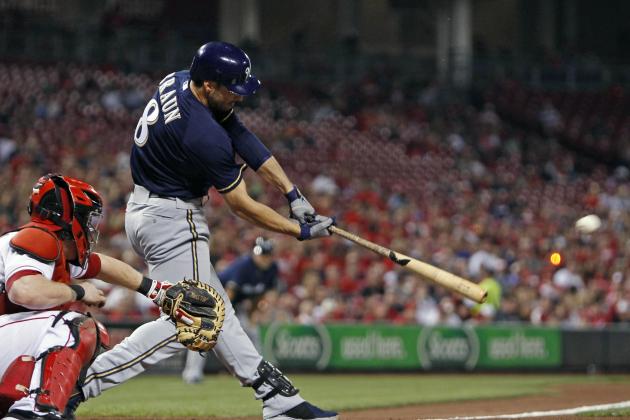 Frank Victores-USA TODAY Sports

Skill to Improve: Lay off left-handed breaking stuff.
Milwaukee Brewers left fielder Ryan Braun nearly won back-to-back MVP awards and has five consecutive Silver Slugger awards to his credit. It's difficult to find any facet of his game that would be considered anything close to weak.
But when faced with left-handed pitching, Braun struggles with both curveballs and sliders. Braun hit just .226 off lefty curveballs and only .161 against southpaw sliders.
For many hitters, it's a matter of picking up the pitch early out of the pitcher's hand. If Braun can do a better job of recognizing the pitch earlier, he can find even more success.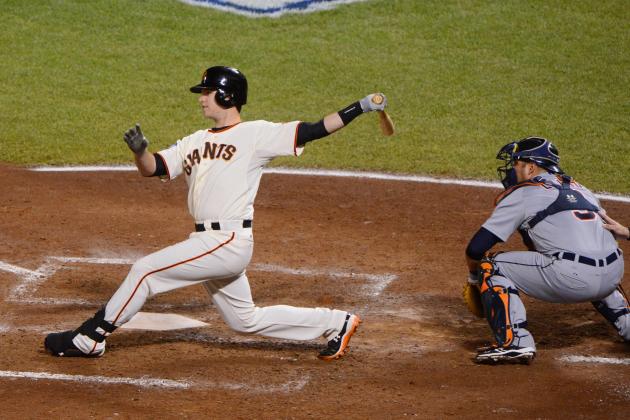 Kyle Terada-USA TODAY Sports

Skill to Improve: Improve batting average with runner on third and two outs.
San Francisco Giants catcher Buster Posey won the National League Most Valuable Player Award partially for one reason—his remarkable consistency.
Posey delivered for the Giants in just about every situation all season long. However, there was one anomaly that popped out.
When Posey was batting with a runner on third and less than two outs, he hit a stratospheric .568 with a 1.406 OPS. However, when batting with a runner on third with two outs, Posey hit just .190 with a .606 OPS.
I know this is a pretty minor thing to pick on. But with Posey, his game is so well-rounded that there simply isn't much for me to criticize.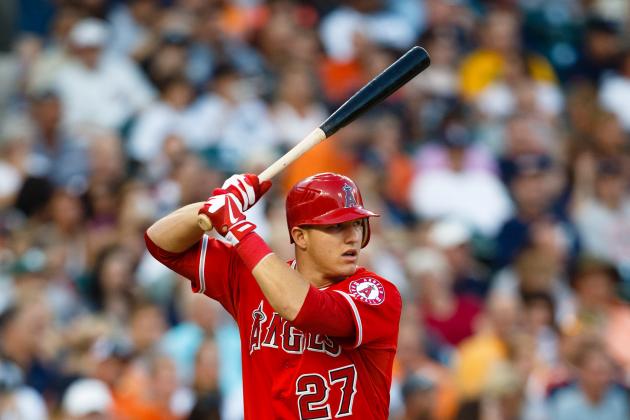 Rick Osentoski-USA TODAY Sports

Skill to Improve: Avoid a sophomore slump.
Again, this is not so much a skill here. But it's certainly something to consider.
After the tremendous rookie season turned in by Los Angeles Angels center fielder Mike Trout in 2012, expectations for next season will no doubt be high.
Fans will be waiting with anticipation to see if Trout can top what he did last year.
Trout will have a job locked up in spring training, unlike last season when he was competing to land a roster spot. He'll also have a full major league season to work with as well.
With the high expectations and with fans wondering whether or not he can top last season, Trout absolutely needs to get off to a solid start in 2013 and work to avoid hitting that second season wall.
Atlanta Braves right fielder Jason Heyward certainly experienced that feeling, so maybe Trout can give him a call to find out what to avoid.
In any event, considering what we saw of Trout last season, there's not a whole lot else there to criticize.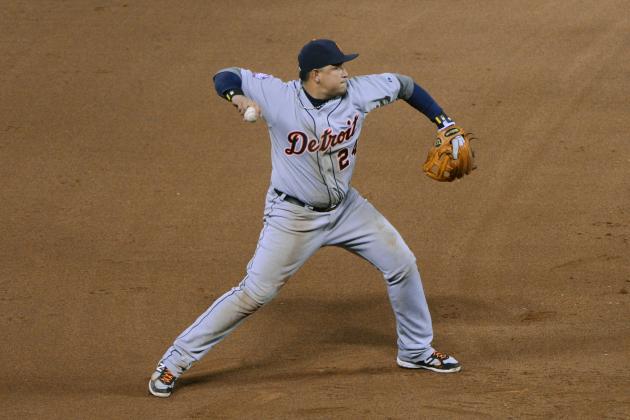 Kyle Terada-USA TODAY Sports

Skill To Improve: Better defense.

It's hard to criticize the guy who just won the first Triple Crown in 45 years.
Detroit Tigers third baseman Miguel Cabrera does have a weakness, however—his defense.
Cabrera ranked last in 2012 among all third basemen in UZR with a -10.0 rating. If he could somehow manage to improve his skills enough defensively that he could rank somewhere in the middle, it would certainly help the left side of the infield for the Tigers.
Even with his lack of range and dexterity at the position, the Tigers made it to the World Series. They're likely not complaining too loudly about his defense at this point.
Doug Mead is a featured columnist with Bleacher Report. His work has been featured on the Seattle Post-Intelligencer, SF Gate, CBS Sports, the Los Angeles Times and the Houston Chronicle.