Denver Broncos 2012-13: What Is the Broncos' Ideal Playoff Scenario?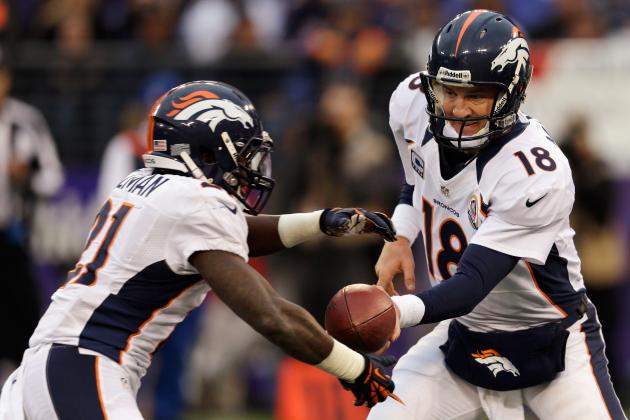 Rob Carr/Getty Images

The Denver Broncos are playoff bound for the second year in a row. However, unlike last year with "Tebow Mania," there is a buzz around the league that the Broncos are poised to make a deep run in the playoffs this season, thanks in part to Peyton Manning.
Today, we take a look at the NFL playoff crystal ball and see what playoff scenario would best fit the boys from the Mile High City. All scenarios are based off of one question—should the Broncos finish as the No. 2 seed, who would be their opponent in the second round?
Although there is still a lot of football to be played in the NFL over the next few weeks, it's never too early to shake up the crystal ball and see what it shows.
Begin Slideshow

»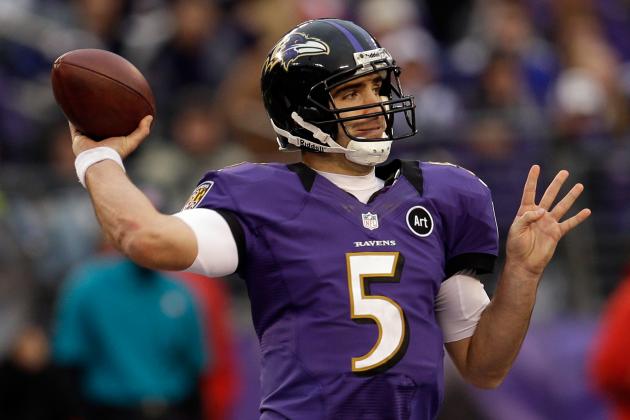 Rob Carr/Getty Images

How it has to play out
No. 4 Baltimore defeats No. 5 Indianapolis
No. 6 Pittsburgh/Cincinnati defeats No. 3 New England
If the above were to happen, then Houston would host the lower seed, meaning Pittsburgh or Cincinnati would play the Texans, while Joe Flacco and the Ravens would travel to Denver. Denver demoralized Baltimore in Week 15 at Baltimore, 34-17. Denver would probably have the psychological advantage of doing it again but at home this time.
Outcome
The Ravens would have a confidence factor going into this game at Mile High, and the Broncos would know it. Flacco was beat up, chewed on and spit out against the Broncos in Week 15, so no reason to think the second round of the playoffs would be any different.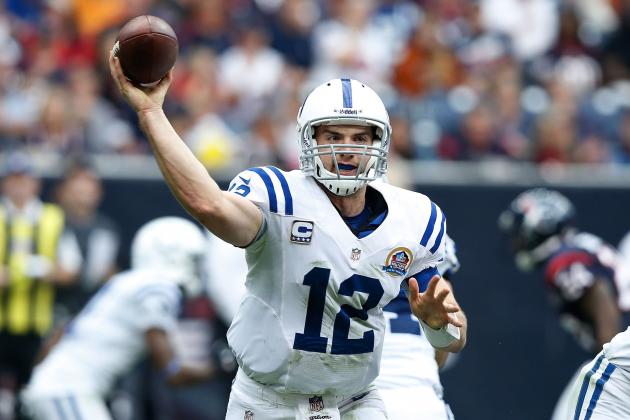 Scott Halleran/Getty Images

How it has to play out
No. 5 Indianapolis defeats No. 4 Cincinnati
No. 6 Baltimore defeats No. 3 New England
Oh, what a dream this would be: old lion versus new lion; old team versus new team; Manning versus Luck! With the drama between the Colts and Manning during the offseason, there is no question that this game would be THE GAME of the week.
Manning, who is still proving himself each week, would love nothing better than to send his old team a second-round exit from the playoffs. Although Manning would probably never say it out loud, you know behind closed doors this would be a major topic.
Outcome
Andrew Luck is good, but Manning is better...for now. The Broncos have played above expectations all year, and they would not let their captain down in this game.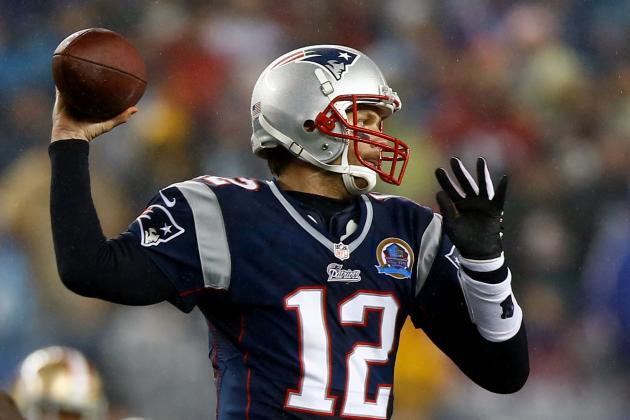 Jared Wickerham/Getty Images

How it has to play out
No. 3 New England defeats No. 6 Pittsburgh/Baltimore/Cincinnati
The worst yet most probable scenario out there. Nobody wants to play New England in the playoffs, but with the Pats coming in no worse than a No. 3 seed, it's hard to fathom any other matchup than New England at Denver in the second round.
Outcome
Until Tom Brady decides to retire, the Pats are going to be tough to beat anytime in late December or early January. Brady is 3-6 lifetime against the Broncos but is 9-4 against Manning, including a 31-21 win in Foxboro back in Week 5.
Although the Broncos will be tough, the edge goes to Brady and the Pats.