2013 Stats Predictions for This Year's Top 15 MLB Free Agent Signings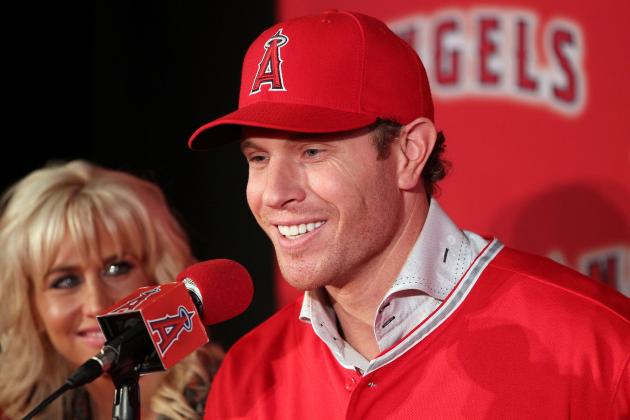 Victor Decolongon/Getty Images

Playing the free agent market is just as risky as playing the stock market. Teams make multimillion-dollar investments and hope for a positive return.
However, just like the stock market, sometimes the value goes up, and sometimes the value goes down.
Players have horrible years just as often as players have great years. If the first case is true, then the implications could be felt for years. Bad contracts tie up resources that should be being used to improve the team.
So what happened this year? How will this year's acquisitions pan out?
Obviously, this is an imperfect science, but it is definitely worth considering some statistical predictions for the top 15 free agents signed this winter.
Also, I am only dealing with free agents who have been signed as of December 19. It is hard to predict statistics if you don't know where the player is going to be playing.
Begin Slideshow

»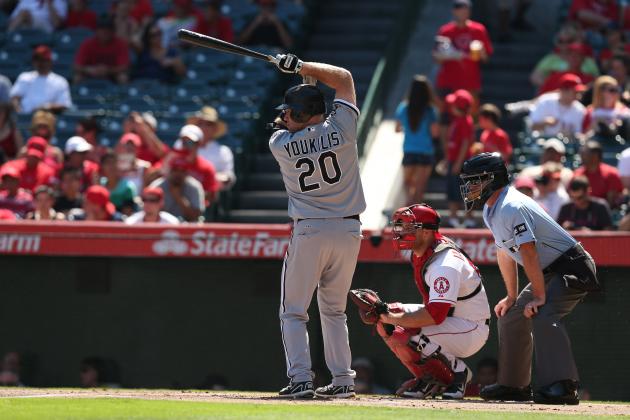 Stephen Dunn/Getty Images

2012 Statistics: .235, 19 HR, 60 RBI, 0 SB
How the Numbers Look:
It might seem like last season was an absolute disaster for Kevin Youkilis. After all, he had played his entire career with the Boston Red Sox before everything fell apart. That's tough.
However, when he actually made it to the Chicago White Sox, there was a major sign of promise.
He was only able to hit .236 with Chicago, but he hit 15 home runs in 80 games. If you extrapolate that to an entire season, we are still talking about 30 home run potential.
Now, he will be playing in Yankee Stadium which will only help this extrapolation gain more credibility. Hopefully his average will get nearer to his career mark at .283, but at the very least, he has plenty of power left in that bat.
2013 Predictions: .250, 28 HR, 70 RBI, 0 SB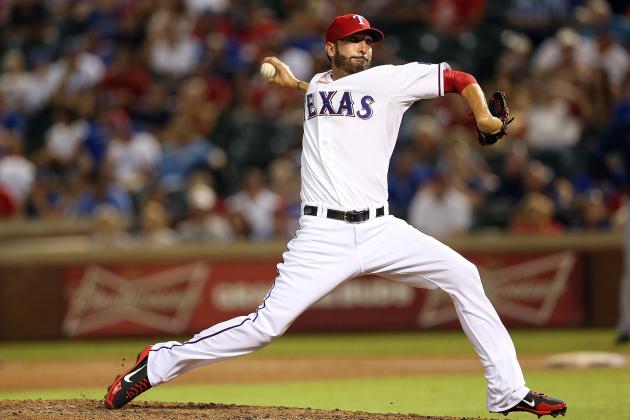 Ronald Martinez/Getty Images

2012 Statistics: 5-3, 3.27 ERA, 52.1 IP, 1.395 WHIP, 45 K
How the Numbers Look:
If Mike Adams was a normal relief pitcher, last year would not have been that bad.
However, when you consider what he has done for the rest of his career, you know that there is a lot of room for improvement.
For example, over the four years that he pitched for the San Diego Padres (2008-mid 2011), his cumulative ERA was 1.66. He was simply the best middle relief pitcher in baseball.
Last season, he allowed far too many runners on base as evidenced by the elevated WHIP, and he was not able to dominate like he did before.
All that being said, there's no reason he won't be able to rebound this year. Maybe he won't be as good as he was in Petco Park, but he should be better.
2013 Predictions: 1-0, 2.50 ERA, 65.0 IP, 1.100 WHIP, 60 K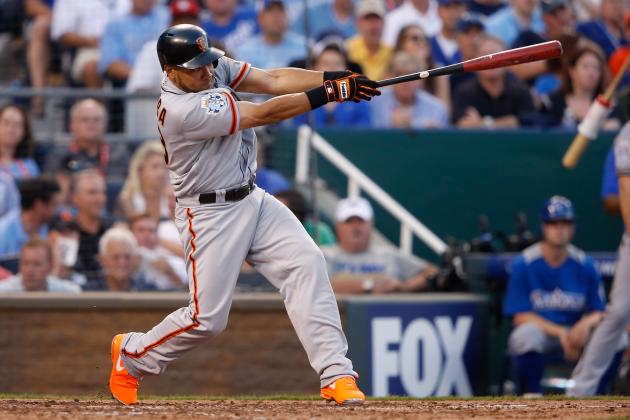 Jamie Squire/Getty Images

2012 Statistics: .346, 11 HR, 60 RBI, 13 SB
How the Numbers Look:
I had a really hard time putting Melky Cabrera on this list because I do not have very much tolerance for performance-enhancing drug use.
However, assuming that he is clean this year, he should put together a very respectable campaign north of the border.
In 2011, his entire career started to come together, and he seems to have a relatively well-rounded game.
While those batting average and RBI totals were probably inflated and hard to sustain over a whole year, the rest of his numbers don't seem particularly improbable for a repeat performance. Look for him to get his career back on track at this point.
2013 Predictions: .285, 15 HR, 55 RBI, 15 SB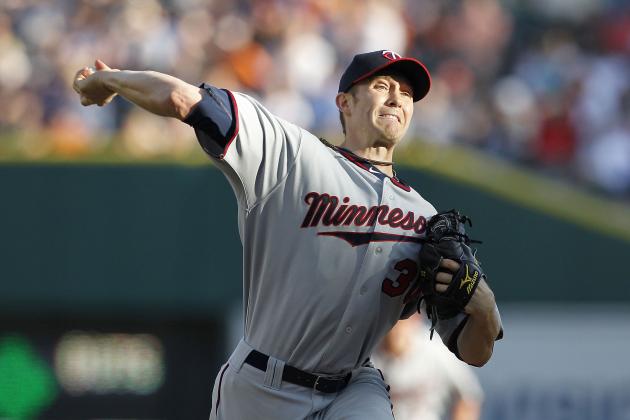 Leon Halip/Getty Images

2012 Statistics: Injured the Entire Year
How the Numbers Look:
Obviously, the numbers do not look like much, and it is hard to tell how Scott Baker will rebound from his Tommy John surgery.
That being said, Baker posted a very nice 3.14 ERA in 2011 through 21 starts. Also, he averaged approximately seven strikeouts per nine innings while keeping opponents off the bases with pretty decent regularity.
It is hard to predict what will happen to Baker next season while he is pitching for a team that has serious problems scoring around, but he was a quality pitcher before his injury and should be after it.
2013 Predictions: 9-9, 4.50 ERA, 160.0 IP, 1.350 WHIP, 130 K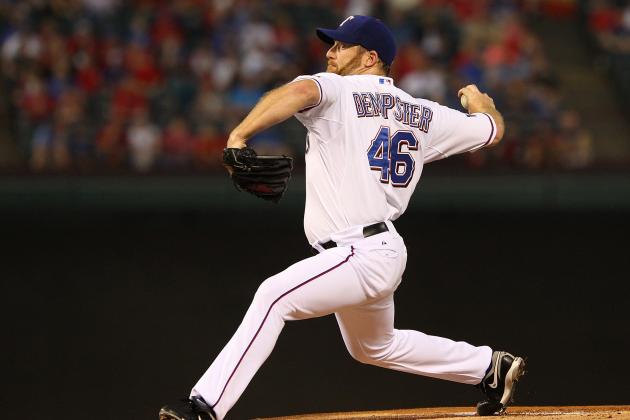 Rick Yeatts/Getty Images

2012 Statistics: 12-8, 3.38 ERA, 173.0 IP, 1.197 WHIP, 153 K
How the Numbers Look:
The Boston Red Sox might end up regretting this contract with Ryan Dempster.
Last season's statistics were largely driven by an amazing first half with the Chicago Cubs. He pitched 104 innings with a 2.25 ERA.
However, once he got to the Texas Rangers, all of his numbers got much worse.
The American League East is going to be an incredibly competitive division this year. If last year's performance was any type of precursor, this might be problematic.
Also, Fenway Park is not exactly a pitcher's paradise. When you add that to the fact that he has tended to be a flyball pitcher, the combination doesn't really add up.
Dempster is a strong pitcher, but this does not seem like the right situation whatsoever.
2013 Predictions: 10-15, 4.75 ERA, 170.0 IP, 1.300 WHIP, 145 K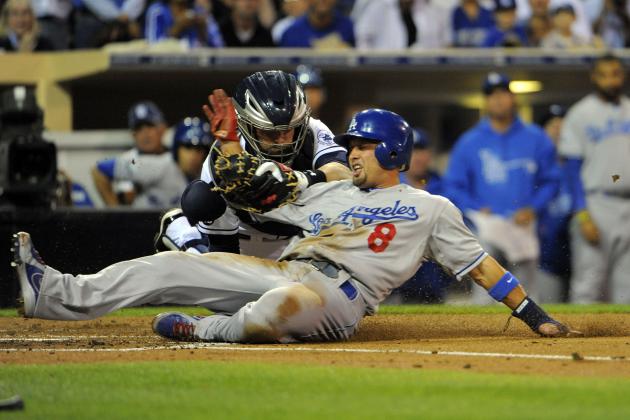 Denis Poroy/Getty Images

2012 Statistics: .255, 11 HR, 55 RBI, 39 SB
How the Numbers Look:
Shane Victorino is much better than he played last year, and he is one player that will absolutely benefit from the deep alleys at Fenway Park.
On offense, he has quite a bit of power to the gaps, and the doubles and triples should come rolling in.
On defense, he has the speed to cover that big outfield, and it should add to his value even though it doesn't appear on the stat sheet.
Over his career, he does have a .275 batting average, and assuming he is able to get a little bit nearer to that number, he might not only hit more home runs but also be on base more and in a better position to steal more bases.
2013 Predictions: .260, 11 HR, 50 RBI, 45 SB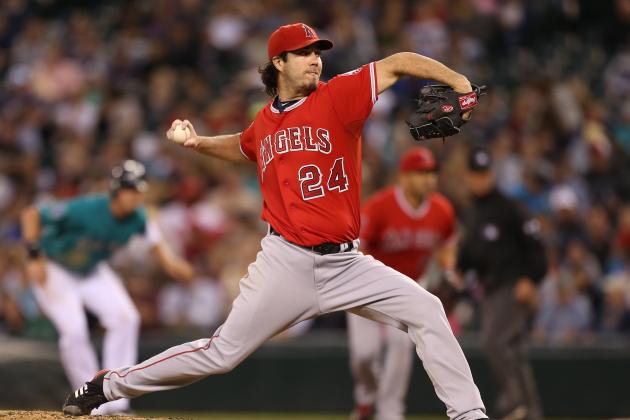 Otto Greule Jr/Getty Images

2012 Statistics: 12-13, 4.33 ERA, 176.2 IP, 1.291 WHIP, 142 K
How the Numbers Look:
Dan Haren had arguably his worst professional season in 2012, but if you look at his career from a body of work perspective, the Washington Nationals have acquired an excellent pitcher.
In fact, in 2011 he went 16-10 with a 3.17 ERA that was good enough to earn him seventh place in the American League Cy Young Award voting.
He has a career 3.66 ERA and had tremendous success the last time he was in the National League with the Arizona Diamondbacks. In his two complete seasons there, he made two All-Star appearances.
Last season seems to be an outlier in his career, and it would not be surprising to see his numbers start moving back down towards his career averages.
The Nationals will give him plenty of run support, and this season should go much better for the 32-year-old right-hander.
2013 Predictions: 15-10, 3.80 ERA, 210.0 IP, 1.250 WHIP, 170 K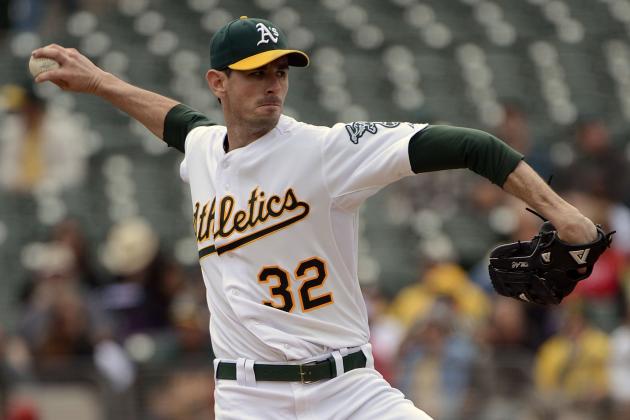 Thearon W. Henderson/Getty Images

2012 Statistics: 8-6, 3.24 ERA, 111.0 IP, 1.252 WHIP, 73 K
How the Numbers Look:
Last season, Brandon McCarthy battled injuries and was obviously limited in the time that he could be on the mound.
However, if you look at his last two seasons in Oakland, there is a lot to like.
First, he was pitching in the offensively-minded American League West, and he was able to keep his ERA to a combined 3.29.
Secondly, he is only 29 years old, so his best years might be ahead of him.
Assuming he is able to pitch a complete season, obviously a lot of his numbers will get bigger, he still should be a very solid option for the Arizona Diamondbacks.
2013 Predictions: 14-10, 3.45 ERA, 185.0 IP, 1.290 WHIP, 125 K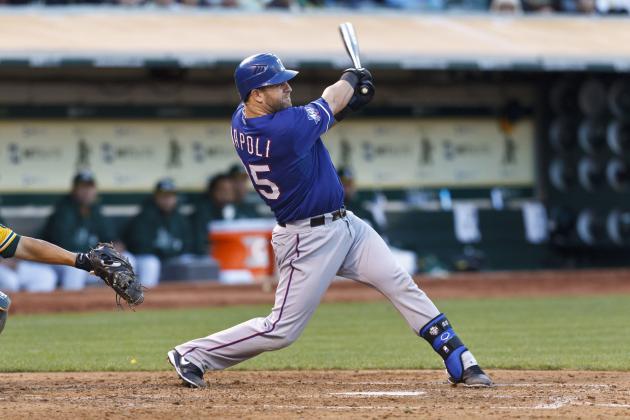 Jason O. Watson/Getty Images

2012 Statistics: .227, 24 HR, 56 RBI, 1 SB
How the Numbers Look:
Mike Napoli burst onto the scene in 2011 when he hit .320 and slammed 30 home runs.
Obviously, dropping almost 100 points in batting average is a big blow, but he still has that powerful swing. In a small ballpark like Fenway, it would not be surprising to see him take advantage of the Green Monster's proximity to home plate.
That batting average will almost definitely still be problematic, but he is a career .259 hitter, so it should be better than last year. However, even with a little bit of improvement in this area, he would be so much more productive.
Also, in the Boston lineup he will be expected to drive in more runs behind David Ortiz, so look for that number to rise even more as well.
2013 Predictions: .245, 33 HR, 70 RBI, 0 SB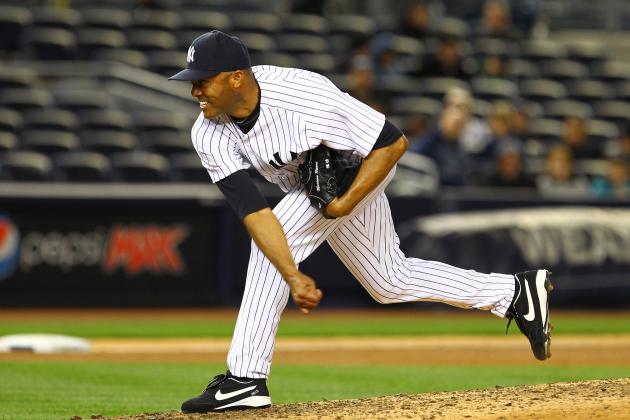 Al Bello/Getty Images

2012 Statistics: 1-1, 2.16 ERA, 5 SV, 0.960 WHIP, 8 K
How the Numbers Look:
Obviously, Mariano Rivera spent most of last season injured, so his numbers look pretty sad.
However, he is easily the best closer in baseball history, and even though he is 43 years old, there is no reason to believe that he will decline. He is not one of those pitchers who relies purely on velocity, so until his cut fastball stops moving, he should be a strong option the ninth inning.
Playing for the New York Yankees will also help because he will have plenty of save opportunities.
Rivera seems pretty ageless so far, so he should pick up right where he left off before he lost 2012 to injury.
2013 Predictions: 2-2, 2.00 ERA, 40 SV, 1.000 WHIP, 65 K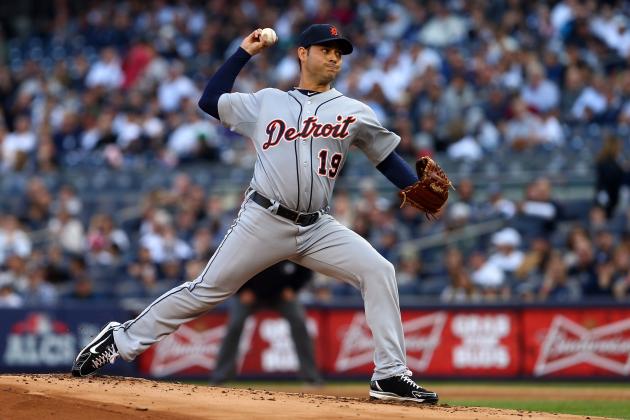 Alex Trautwig/Getty Images

2012 Statistics: 9-13, 3.86 ERA, 195.2 IP, 1.267 WHIP, 167 K
How the Numbers Look:
His record is definitely not appealing, but in order to understand 2012 for Anibal Sanchez, you need to look under the cover.
Five of his losses probably should have been wins given that he threw quality starts. I know that many people have complained about quality starts and how they are issued somewhat arbitrarily.
To some extent, I agree, but I would argue that any time a pitcher goes at least six innings while allowing under three earned runs, it is not unreasonable to expect the offense to help capture that victory.
With that thought in mind, now that he will be playing for a team that is capable of scoring a lot more runs for a full season, his record should be better.
Beyond that, though, the rest of his career has been relatively consistent and he may be due for some improvement simply because he is entering what should stereotypically be his best years.
2013 Predictions: 15-6, 3.70, 185 IP, 1.250 WHIP, 154 K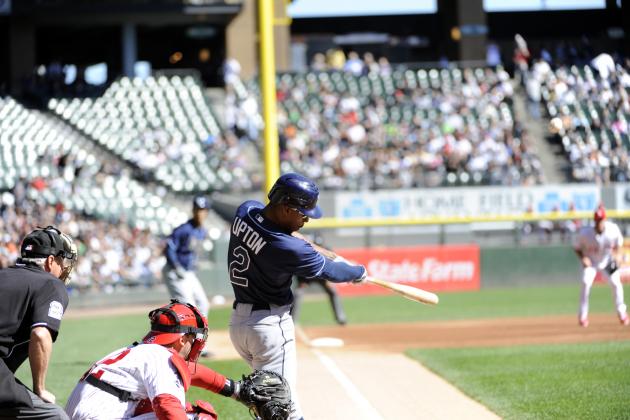 David Banks/Getty Images

2012 Statistics: .246, 28 HR, 78 RBI, 31 SB
How the Numbers Look:
I'm going to be honest with you. I am not a B.J. Upton fan.
If he could only develop some plate discipline and cut down his strikeouts, that batting average could rise and every other statistic would rise as well.
However, with a career .255 batting average, I don't see that happening with simply a change of scenery.
Consequently, assuming a relatively similar batting average, his power and RBI production should not change an awful lot. Ironically, according to the ESPN Home Run Tracker, Turner Field and Tropicana Field surrender 1.69 home runs per nine innings. Perhaps that statistic will not change very much either.
The Atlanta Braves do like to run though, so his stolen base total might climb a little bit.
2013 Predictions: .240, 26 HR, 75 RBI, 35 SB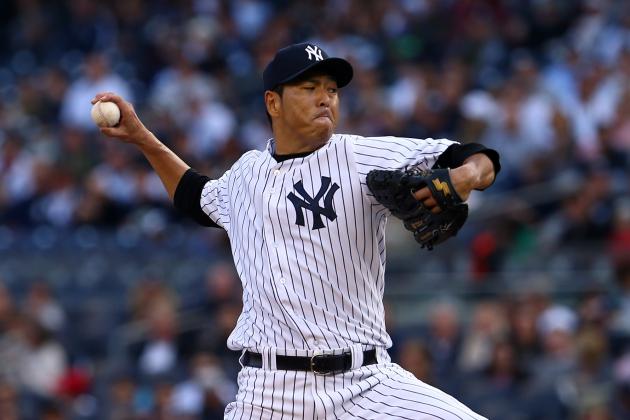 Alex Trautwig/Getty Images

2012 Statistics: 16-11, 3.32 ERA, 219.2 IP, 1.165 WHIP, 167 K
How the Numbers Look:
Hiroki Kuroda is nothing if he is not consistent. He has pitched in Major League Baseball for five seasons, and his ERA has always been between 3.07 and 3.76.
Therefore, why would that change now?
His record might not look as pretty this season simply because the American League East has gotten that much more competitive. As shown by his records when he pitched for the Los Angeles Dodgers, you can pitch excellent games without piling up the wins.
He threw more innings last season than he ever had before, and since he will be 38 this campaign, I would expect that number to taper down quite a bit. His strikeouts will also decrease proportionately as he has a roughly consistent ratio of approximately seven per nine innings.
It is kind of funny to look at his performances over the years because he is probably the safest bet in this year's free agency class. He may not have the most potential, but the New York Yankees can be pretty certain about what he will provide.
2013 Predictions: 13-9, 3.45 ERA, 180 IP, 1.18 WHIP, 140 K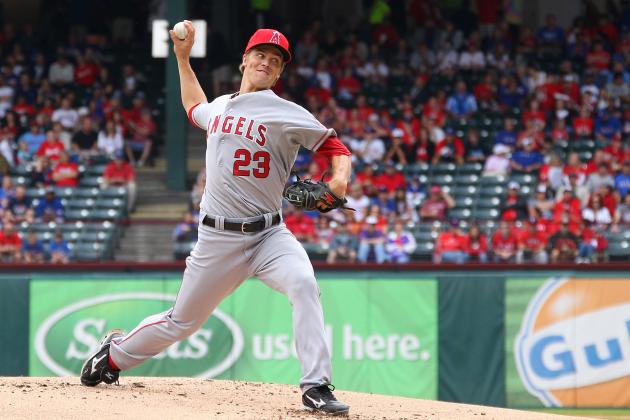 Rick Yeatts/Getty Images

2012 Statistics: 15-5, 3.48 ERA, 212.1 IP, 1.196 WHIP, 200 K
How the Numbers Look:
With the almost insane amount of firepower the Los Angeles Dodgers have behind Zack Greinke, the wins and losses should not be a problem this season.
Also, he will be pitching in Dodger Stadium which is regarded as one of the better pitching ballparks in baseball.
That being said though, one of his main strengths is that he does not surrender very many home runs. In that stadium, he wouldn't surrender very many home runs anyway. Therefore, he needs to rely on limiting runners on base.
His WHIP is definitely solid, although not overwhelmingly spectacular. Consequently, if he generally surrendered his runs through small ball before, his ERA and WHIP probably will not be affected very much by playing in Los Angeles.
His strikeouts and innings pitched have always moved in proportion more or less, so those numbers should not be very much different.
2013 Predictions: 17-7, 3.25 ERA, 210 IP, 1.200 WHIP, 187 K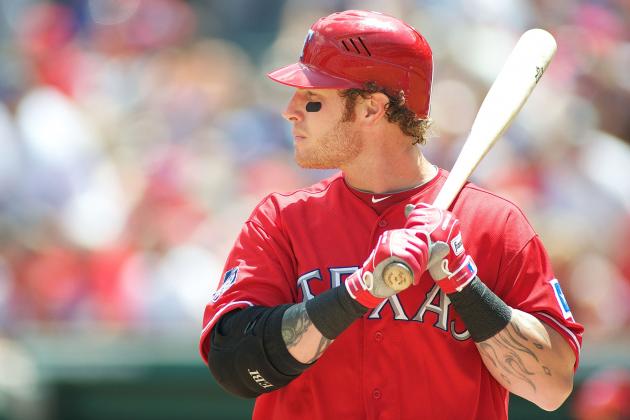 Cooper Neill/Getty Images

2012 Statistics: .285, 43 HR, 128 RBI, 7 SB
How the Numbers Look:
The first thing to mention about Josh Hamilton is the fact that he has never played a complete season. His 148 games in 2012 was only the second time in his career he hit that number. He has averaged approximately 123 games per season during his career.
I only bring it up because his numbers will probably not be as high as you might think it should be. However, if he misses almost 40 games per season, a quarter of his expected production would be eliminated.
He hit a career high in home runs last season, but he almost struck out twice as much as he did in 2010 or 2011. Perhaps he felt he needed to provide power for some reason.
In a lineup with Albert Pujols and Mike Trout, he will not be under the same pressure this year, so I would expect an increase in average because of the protection and a decrease in home run power. His concern should be getting on base and keeping that high-octane offense running.
His run production has always been high, and in that lineup, the RBI will definitely pile up.
2013 Predictions: .315, 30 HR, 115 RBI, 5 SB
Whether you think I know everything or nothing about Major League Baseball, you should follow me on Twitter or become a fan on Facebook and keep in touch. I love hearing what you all have to say!