Way-Too-Early 2013 Fantasy Baseball Mock Draft: Top 50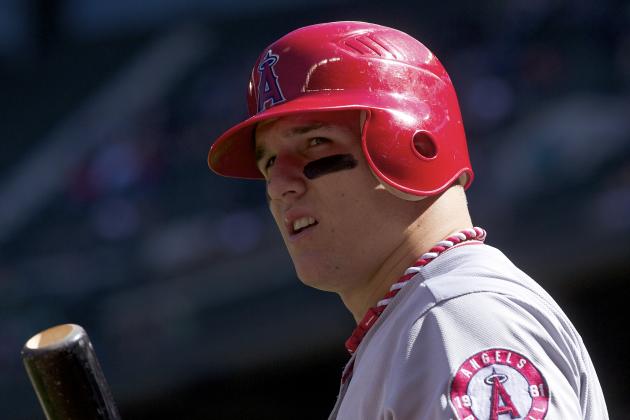 Stephen Brashear/Getty Images
After a magical rookie season, Mike Trout will be at the top of the rankings.
Just because we haven't reached Christmas yet, it doesn't mean it's too early to start thinking about fantasy baseball.
For those of you who participate in fantasy football and are eliminated—yes I feel your pain—then it's time to start focusing on the baseball season.
Here's a very early mock draft for the 2013 season. Who will be number one? Will it be the kid in L.A., the former NL MVP or the latest triple crown winner?
Begin Slideshow

»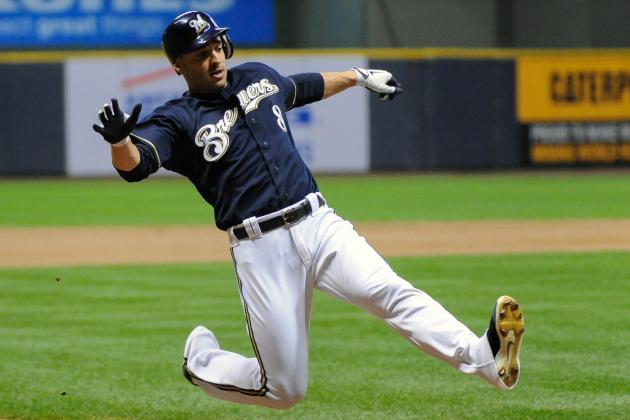 Benny Sieu-USA TODAY Sports
Ryan Braun had a stellar 2012.
1. Mike Trout, OF, Los Angeles Angels—Trout had a magical rookie season, hitting .326 with 30 home runs, 129 runs scored and 49 stolen bases. He's a complete player and he's only 21 years old.
2. Ryan Braun, OF, Milwaukee Brewers—Braun put up incredible numbers last season and it went somewhat unnoticed. Miguel Cabrera won the Triple Crown, Trout got everybody's attention and Buster Posey won the MVP, but Braun was steady, putting up a .319 average with 41 homers and 30 steals.
3. Miguel Cabrera, 3B, Detroit Tigers—It's not very often you see the reigning Triple Crown winner going third overall, but he's got stiff competition. Cabrera is a stud, and you know what you're going to get from him.
4. Robinson Cano, 2B, New York Yankees—Cano is this high for a reason: he's a second baseman with power. He led all second baseman with 33 home runs and a .313 average. Not only is he an elite second baseman, but he was just one of seven players who hit at least.300 with 30-plus homers.
5. Prince Fielder, 1B, Detroit Tigers—Fielder is the best first baseman because he's the most reliable. He's 28 years old, has never played in fewer than 157 games, and annually hits .285 with 30 home runs.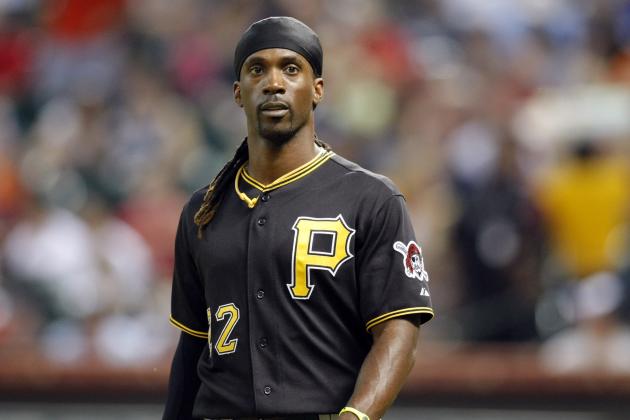 Brett Davis-USA TODAY Sports
Andrew McCutchen was one of the most exciting players last season.
6. Matt Kemp, OF, Los Angeles Dodgers—Kemp got off to an incredible start last year, but injuries derailed his season. Despite missing 56 games, Kemp still hit 23 homers with a .303 average.
7. Joey Votto, 1B, Cincinnati Reds—Votto finds a way to get on base. With a .474 OBP, he can do plenty of damage in every offensive category. His power outage is concerning, but he was playing injured last season.
8. Justin Verlander, SP, Detroit Tigers—Verlander should be the first pitcher taken. He's the definition of a horse. He has averaged 238 innings, 244 strikeouts and 19.5 wins over the last four seasons.
9. Jose Bautista, OF, Toronto Blue Jays—Bautista was plagued with injuries in 2012, but he's still one of the game's most feared power hitters. He'll hit around .250 with 40 home runs, which any fantasy owner should gladly welcome.
10. Andrew McCutchen, OF, Pittsburgh Pirates—Cutch had a breakout performance a season ago. The average will most likely come down, but expect McCutchen to be a 25/25 guy.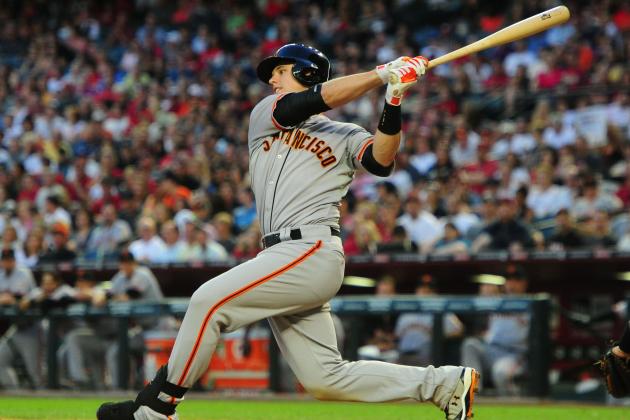 Mark J. Rebilas-USA TODAY Sports
Buster Posey had a terrific comeback season.
11. Buster Posey, C/1B, San Francisco Giants—Posey is so valuable because of the position he plays. He was one of three catchers to hit above .300 last season and only three catchers hit more home runs than him. There's no reason to think why he can't duplicate his MVP season.
12. Clayton Kershaw, SP, Los Angeles Dodgers—Kershaw had a down year in 2012—a season where he went 14-9 with a 2.53 ERA and 9.05 K/9. With a loaded offense, Kershaw will be a monster again.
13. Josh Hamilton, OF, Los Angeles Angels—Hamilton is a free-swinger, but if he can play 145 games, he's going to hit 35 home runs. He'll have Trout and Pujols ahead of him, so expect plenty of RBI chances.
14. Albert Pujols, 1B, Los Angeles Angels—Pujols looks as if he's on a decline, but you know he's still going to be solid. You can never ever complain with a .290 average with 30 home runs and 100-plus RBI.
15. Curtis Granderson, OF, New York Yankees—Granderson struggled to make contact in 2012, but he's incredibly valuable because of his power. You can live with the low average because he was just one of six players to hit 40 or more home runs last year.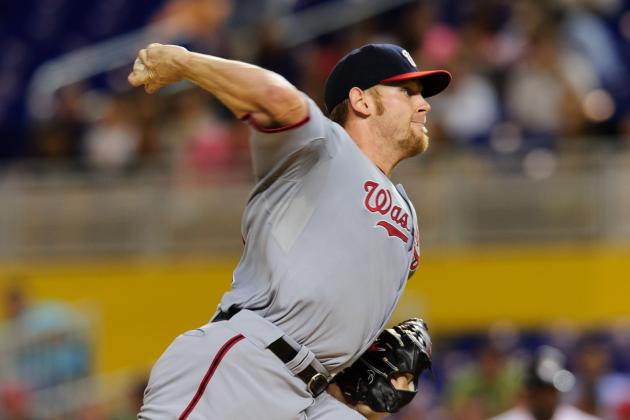 Steve Mitchell-USA TODAY Sports
Stephen Strasburg is in line for a huge 2013.
16. Edwin Encarnacion, 1B, Toronto Blue Jays—Encarnacion was a waiver wire pickup or last-round flier last season, but now he'll be a top pick. An adjusted swing and loaded offense will help keep Encarnacion rolling.
17. Giancarlo Stanton, OF, Miami Marlins—Stanton is a physical specimen. What's there not to love about a 23-year-old who will hit around .275 with 40 home runs? And if he ends up in Texas, watch out!
18. Stephen Strasburg, SP, Washington Nationals—You know what's scariest about Strasburg? He actually pitched better than his numbers indicate. He had a 2.82 FIP, suggesting that he was pretty unlucky to have a 3.16 ERA. He's a strikeout machine and that won't change.
19. David Price, SP, Tampa Bay Rays—Price won the 2012 AL Cy Young Award, and deservedly so. At this stage in his career, he's going to win at least 15 games with a 3.00 ERA.
20. Adam Jones, OF, Baltimore Orioles—Jones always possessed the potential, but he finally showed it off last season. He hit .287 with 32 homers and 16 steals. He should have a similar year in 2013.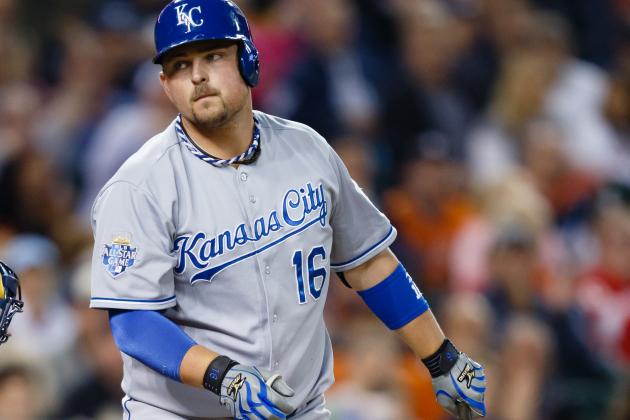 Rick Osentoski-USA TODAY Sports
Billy Butler put on a firework display in '12.
21. Evan Longoria, 3B, Tampa Bay Rays—Longoria would be higher on the list if he didn't get hurt so often. With that said, he brings a lot to the table for a relatively thin position. If he can stay healthy, he'll hit 30-plus home runs with a .280 average.
22. Cliff Lee, SP, Philadelphia Phillies—You look at Lee's six wins and cringe, but the guy had a much better season that that. He had a 3.13 FIP and that ranked eighth-best in the MLB. The Phillies and Lee will be better in 2013.
23. Carlos Gonzalez, OF, Colorado Rockies—CarGo missed a ton of games last season, and it's becoming a trend. Over the last three seasons, he's missed an average of 26.33 games. But when he's on the field, he's dominant. If he can play 145 games, he'll hit .300 with 25 homers and 20 steals.
24. Matt Cain, SP, San Francisco Giants—For years, Cain's ERA never matched his win-loss record. Before last season, Cain had a career record of 69-73, but had an ERA over 4.00 just once in six years. Last year they synchronized. Expect another dominant season.
25. Billy Butler, 1B, Kansas City Royals—Butler was always a solid hitter, but he finally showed off his power in 2012. In addition to hitting .313, Butler mashed 29 home runs and drove in 107. He's entering his prime years, so don't think his power display was a fluke.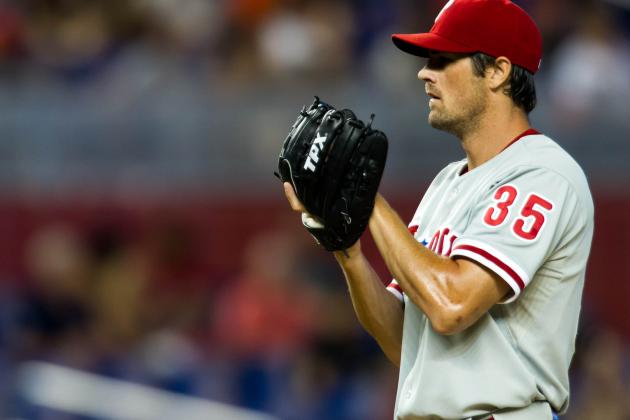 Steve Mitchell-USA TODAY Sports
Cole Hamels is in the elite SP conversation.
26. Cole Hamels, SP, Philadelphia—Hamels was sensational again in 2012. The young southpaw went 17-6 with a 3.05 ERA and a 9.03 K/9. He'll continue to be an elite pitcher. 15 wins and a low-3.00 ERA is to be expected from Hamels now.
27. Bryce Harper, OF, Washington Nationals—Even though Harper is just 20 years old, he played like a seasoned vet. As a rookie, Harper hit .270 with 22 home runs and 18 stolen bases. As he gets older, he'll mature into a finer ballplayer. A 25/20 season is well within reach for Harper in '13.
28. Felix Hernandez, SP, Seattle Mariners—It was a typical year for King Felix: great ERA and strikeout rate, but just an average record. Hernandez might struggle to win more than 13 games, but he'll make up for it in other departments.
29. Jay Bruce, OF, Cincinnati Reds—Bruce is incredibly frustrating to own, but it's hard to look away from a guy who's going to hit around 35 homers. Stick with Bruce during his bumps because he'll repay you big when he catches fire.
30. Troy Tulowitzki, SS, Colorado Rockies—Tulo was a consensus first-round pick a year ago, but injury concerns will drop his stock. Despite being injury-prone, Tulowitzki is still the top shortstop, given the position scarcity.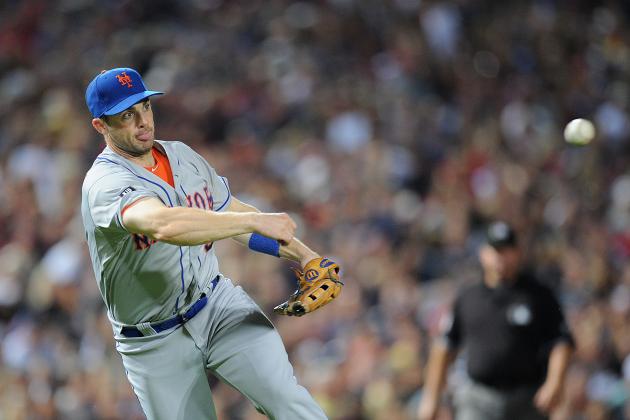 Kevin Liles-USA TODAY Sports
David Wright should put up respectable numbers again.
31. Craig Kimbrel, RP, Atlanta Braves—You're probably thinking this is too early for a closer, but Kimbrel is different. He's good enough to be considered for the MVP. He had a 1.01 ERA, 0.78 FIP and 16.66 K/9 last season. Yeah, he's a difference maker.
32. Kris Medlen, SP, Atlanta Braves—Another Brave comes in at No. 32. Medlen was a complete stud last year after joining the rotation. He went 10-1 with a 1.57 ERA last year.
33. Dustin Pedroia, 2B, Boston Red Sox—Pedroia was banged up last year, but he still managed to belt 15 home runs and swipe 20 bags. He's a great second base option because he'll be a 20/20 guy with a .300 average
34. David Wright, 3B, New York Mets—Wright fell off down the stretch, but a .306 average with 21 long balls and 15 steals is very respectable. He'll be another top option at third base in 2013.
35. Jered Weaver, Los Angeles Angles—You look at Weaver's 2.81 ERA and think he had a dominant season. But, the truth is, he was pretty lucky. His FIP was at 3.75 and that was one of the biggest discrepancies. With that said, Weaver is still a very good pitcher and will win 15-plus games.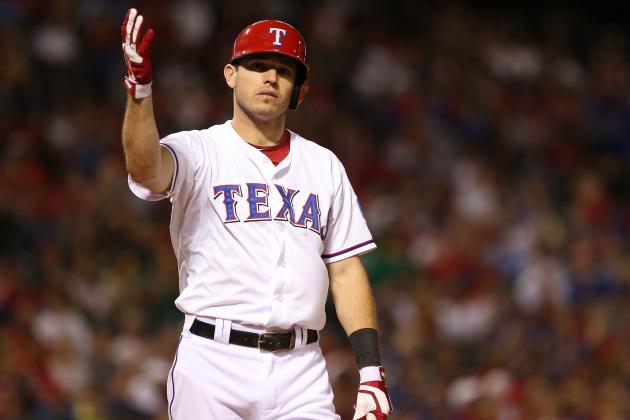 Kevin Jairaj-USA TODAY Sports
Ian Kinsler will try to have a bouce-back 2013 season.
36. R.A. Dickey, SP, Toronto Blue Jays—Dickey has revolutionized the knuckleball. It's insane to think that a knuckleballer could have a 4:1 K:BB ratio. He won 20 games with the Mets and he's joining a better Jays squad.
37. Justin Upton, OF, Arizona Diamondbacks—Upton had a very underwhelming 2012 campaign. Many expected a monster season, but Upton hit .280 with 17 home runs and 18 steals. Expect Upton to have a nice bounce-back season with 25 home runs and 20 steals.
38. Ian Kinsler, 2B, Texas Rangers—Much like Upton, Kinsler underperformed last season. After being a 30/30 guy in two of the last three seasons, Kinsler hit just .256 with 19 homers and 21 stolen bases. He's too good to underachieve again. He'll get it back up to around 25/25.
39. Adrian Beltre, 3B, Texas Rangers—Texas has been very nice for Beltre. Over the last two seasons, Beltre hit .310 and is averaging 34 home runs, 88.5 runs scored and 103.5 RBI. He's a very safe play to man the hot corner.
40. Gio Gonzalez, SP, Washington Nationals—Gonzalez stepped his game up last season. Gonzalez was good in 2010 and 2011 but he was great last year. His biggest improvement? His WHIP. He was above 1.30 in Oakland, but he trimmed that down to 1.13 last year.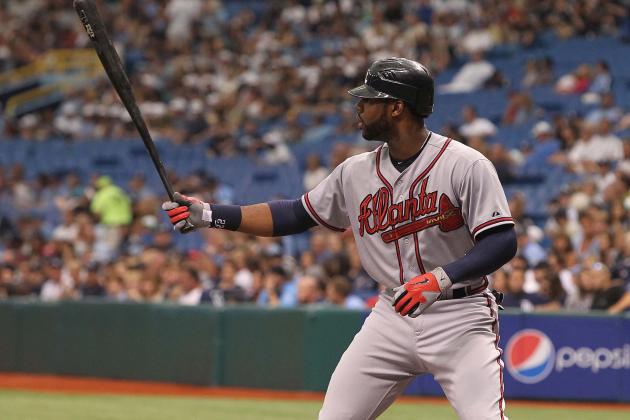 Kim Klement-USA TODAY Sports
Jason Heyward blasted 27 HR in '12 after hitting .227 in '11.
41. Zack Greinke, SP, Los Angeles Dodgers—Greinke joined a loaded Dodgers team, and will be pitching his games in a pitcher-friendly stadium. Greinke is hardly ever just mediocre. He either throws a gem or gets lit up. He should win 15 games with an ERA around 3.40.
42. Ben Zobrist, 2B/SS/OF, Tampa Bay Rays—You see that position eligibility and that's why Zobrist is valuable. He has the versatility to play a bunch of positions and that's always beneficial when your players get hurt. Consider Zobrist the poor man's Pedroia. Same numbers but a worse average.
43. Jason Heyward, OF, Atlanta Braves—Heyward was good in his rookie year, terrible in 2011 and then had a great 2012. So what's next? It's hard to predict, but he's certainly capable of hitting .270 with 25 home runs and 20 steals.
44. Jose Reyes, SS, Toronto Blue Jays—Reyes was part of that blockbuster trade, and he'll now be hitting atop a potent Jays offense. He'll score plenty of runs and he should hit near .300 with 40 stolen bases.
45. Mark Teixeira, 1B, New York Yankees—Teixeira might never hit above .270 again, but he's still a nice source of power. He only hit 24 home runs last year, but he was dealing with injuries and respiratory problems. Don't be surprised if Teixeira reaches the 35 home run plateau again.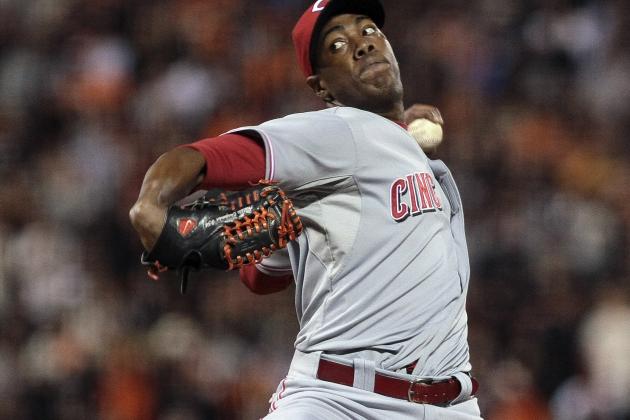 Kelley L Cox-USA TODAY Sports
Aroldis Chapman was an ace out of the bullpen.
46. Aroldis Chapman, RP, Cincinnati Reds—Chapman's ranking depends on how the Reds decide to use him. The Reds are still thinking about making him a starter. That could ruin Chapman, who saved 38 games with a 1.51 ERA, 0.81 WHIP and 15.32 K/9 last year.
47. Hanley Ramirez, 3B/SS, Los Angeles Dodgers—HanRam is much more valuable at shortstop than he is at third base. Either way, he's a guy who will hit around .270 with 20 homers and 20 steals.
48. Jacoby Ellsbury, OF, Boston Red Sox—After having an MVP-type season in 2011, Ellsbury was limited by injuries last season. The 30-homer plateau is probably out of reach, but a .300 average with 15 home runs and 35 steals is attainable.
49. Matt Holliday, OF, St. Louis Cardinals—Over the last five years, Holliday has been very consistent. With the exception to an injury-riddled 2011 season, Holliday normally gets 25 home runs, 95 runs scored and 100 RBI. Expect much of the same in 2013.
50. CC Sabathia, SP, New York Yankees—Sabathia is a model of consistency. He's pitched more than 200 innings in six straight seasons and has won at least 15 games with an ERA no higher than 3.38 during that span.