Three 2013 NFL Draft Prospects Guaranteed to Interest Redskins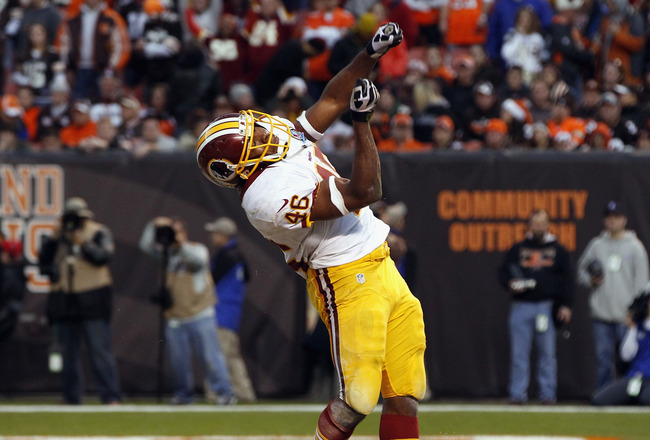 Matt Sullivan/Getty Images
The Washington Redskins are in control of their playoff push after today's 38-21 victory over the Cleveland Browns. With the Giants being shut out by Atlanta, the Redskins now move in to first place in the NFC East. All of today's success was even more impressive with RGIII inactive with a sprained right knee.
The Redskins win today was a great example of the versatility in in their offense. However, problems still lie in the same two places: pass blocking and the secondary.
For now, the Redskins will need to stick with their patchwork players at these two position groups. Changes will need to be made in the offseason through free agency and the draft. This piece will focus on three prospects that will be of key interest for the Redskins next April.
Jonathan Cooper: G (North Carolina)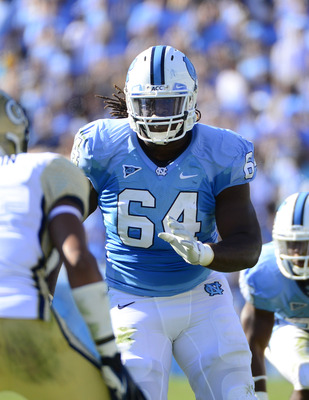 USA TODAY Sports
Jonathan Cooper is one the top guards available in this year's draft class. Standing in at 6'3" 310 pounds, Cooper has good size and impressive agility at the guard position. Cooper is a sure-handed pass blocker and may be the strongest run blocker this year behind Chance Warmack.
Cooper plays primarily at left guard, but has the versatility to play almost any position on the offensive line. The combination of talent and versatility in an offensive lineman makes Cooper a prime target for the Washington Redskins.
The Redskins' offensive line has struggled mightily in pass protection outside of Trent Williams, and Cooper would be a significant upgrade. Cooper also has the agility and movement skills to play in the Shanahan zone-blocking scheme. The question will be whether Cooper will be available for the Redskins.
The Redskins are without a first round pick for the next two years, and the current playoff push will leave them drafting in the back end of each round. Cooper is a highly rated prospect in a draft dominated by the trenches. Nevertheless, premiere players slide in every draft, and Cooper's listing at guard may cause him to slip out of the first round. The Redskins will have their eye on the Tarheel blocker to see if they get an upgrade for one of their biggest needs.
D.J. Fluker: OT (Alabama)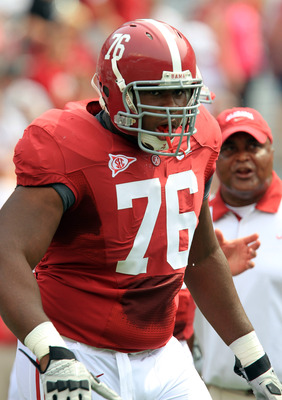 Marvin Gentry-USA TODAY Sports
Alabama's offensive line is an annual embarrassment of riches and this year is no exception. D.J. Fluker is a first team all SEC tackle and may not be the first or second Alabama lineman taken in this year's draft (Chance Warmack & Barret Jones). This offers a unique opportunity for teams looking to bolster their offensive lines.
D.J. Fluker is a massive building block at 6'6", 335 lbs who can lock down the right side of an offensive line. Fluker's size gives him a distinct advantage against power rushes but offers downside against some speed rushers. In the run game, Fluker is an absolute mauler that could improve any NFL rushing attack.
For the Redskins, D.J. Fluker may represent the perfect blend of best available and need for their first pick. Fluker would be an immediate upgrade over the Redskins' biggest liability on offense, Tyler Polumbus. The one question for the Redskins' scouting staff will be whether Fluker has the agility to play in the zone-blocking scheme.
Xavier Rhodes: CB (Florida State)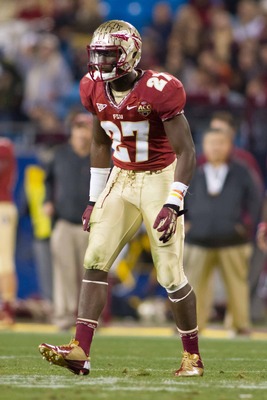 Jeremy Brevard-USA TODAY Sports
It is no surprise to anyone watching the Redskins this season that the secondary is the biggest area of concern. Currently the Redskins have the 31st overall passing defense and it is not likely to improve in the final two weeks. This year's draft class offers a chance for the Redskins to add several new pieces in the secondary.
Xavier Rhodes is a prime blend of size, speed and coverage ability that Redskins will be looking for in the offseason. At 6'1" 217 pounds, Rhodes would be the biggest corner on the roster by a significant margin.
Rhodes' size allows him to be a physical, press man corner and great run defender. Rhodes has an aggressive style of play that has earned him comparisons to former Alabama corner Dre Kirkpatrick.
This year's corner class lacks a truly elite player as in years past (Peterson, Claiborne etc...) but there are plenty of valuable starters available. Xavier Rhodes has the physical tools and on field talent that will have Redskins scouts high on draft boards this offseason. Look for Rhodes to be a potential second-round pick for the Redskins in the upcoming draft.
Keep Reading

Washington Redskins: Like this team?