Virginia Tech Football: 5 Biggest Holes Hokies Must Fill for 2013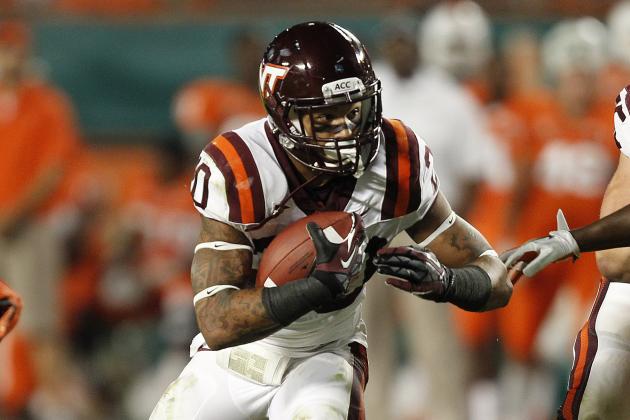 Joel Auerbach/Getty Images

Although the Virginia Tech Hokies are preparing for the Russell Athletic Bowl in just under two weeks, it is never too early to begin taking a look towards 2013.
The 2012 season is one head coach Frank Beamer and his team would like to forget as the calendar changes to 2013. The team's 6-6 regular season record was its worst in 20 years.
Struggles on offense were among the Hokies' biggest problems this season. Offensive line play was erratic and inconsistent and played a big role in the team never being able to develop a solid running game.
The team replaced eight starters on offense from the 2011 team and 2013 could be much of the same way. The Hokies have seniors starting at both offensive tackle positions and the top three wide receivers are seniors.
If quarterback Logan Thomas forgoes his final season of eligibility and enters the NFL draft, the Hokies could have even more problems.
Here is a look at five holes the must address on the 2013 roster, and yes, it is offense-heavy.
Begin Slideshow

»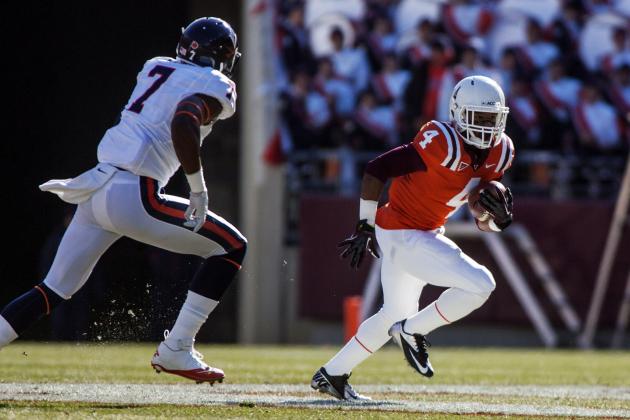 USA TODAY Sports

The Hokies leading rusher in 2012 was quarterback Logan Thomas who finished with 708 rushing yards and nine touchdowns. Not exactly ideal.
Four tailbacks split time with varying degrees of success. True freshman J.C. Coleman was the best of the bunch and looks like a future star for the Hokies. While Coleman is diminutive, he runs with power to go along with his tremendous speed.
Junior Tony Gregory has one season of eligibility remaining and is on track to return in 2013. Gregory had success this season but wasn't consistent. Redshirt freshman Michael Holmes was the starter entering the season but by the end of the year was getting less carries than the other backs.
Senior Martin Scales, the Hokies' best short-yardage runner, is the only one not returning.
A player to keep an eye on in 2013 will be redshirt freshman Trey Edmunds. Edmunds was a big recruit for the Hokies this past season and was redshirted as the Hokies weren't sure they were going to play him at tailback or linebacker. Beamer has decided to go with Edmunds on offense, and his combination of size (6'2", 215 lbs) and speed could be big for the Hokies in 2013.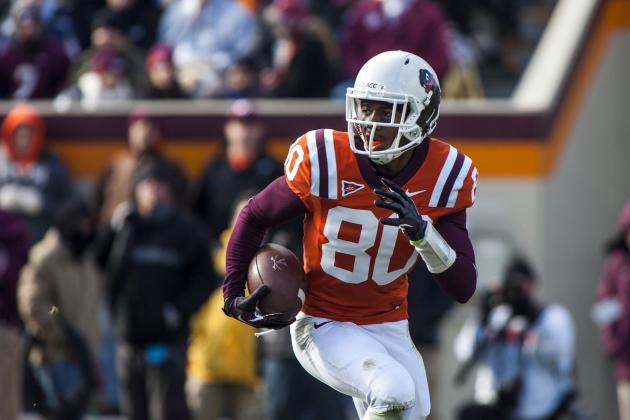 USA TODAY Sports

For the second year in a row, the Hokies will lose their top pass-catchers.
Seniors Marcus Davis, Dyrell Roberts and Corey Fuller will all graduate. Davis is a supremely talented player but frustrated fans at times for his inconsistency catching the football.
Fuller was arguably the team's top receiver this year, finishing second on the team in catches and yards while being tied for the team lead in touchdown receptions.
Fortunately for the Hokies, the cupboard isn't bare at the position. Freshman Demitri Knowles will return after gaining valuable playing time in 2012. Knowles caught 19 passes for 240 yards and a touchdown. Knowles is also an outstanding kick returner.
Freshmen Joshua Stanford, Kevin Asante and Joel Caleb, the team's top recruit in 2012, will all figure significantly in the mix in 2013.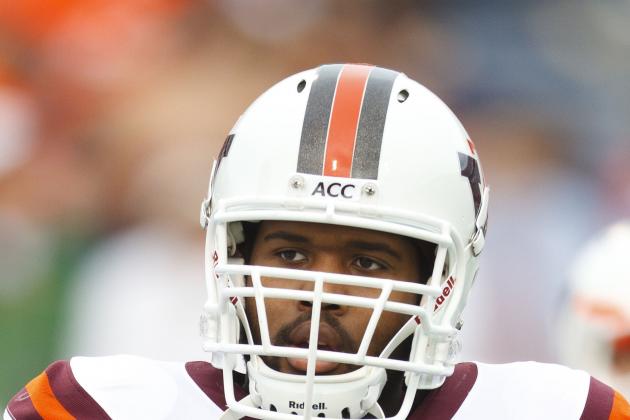 Jason O. Watson-USA TODAY Sports

While the interior of the offensive line has been in flux all season, seniors Nick Becton and Vinston Painter have done a solid job at left and right tackle, respectively.
With Becton and Painter both graduating, the Hokies will have a new starter at each position for the second year in a row. Regardless of who is quarterback next year, it will be important for the Hokies to fill these positions early in spring practice.
A pair of sophomores, Mark Shuman and Laurence Gibson, will get the first crack at replacing Becton and Painter. Both Shuman and Gibson are former four-star recruits and are big, athletic guys. Offensive linemen with high expectations, like Shuman and Gibson, haven't often been successful in Blacksburg in recent years.
It will be up to the coaching to get the best out of these young players. Also keep an eye on a pair of freshmen in Augie Conte and Adam Taraschke. Both players impressed coaches in the spring and summer before being redshirted.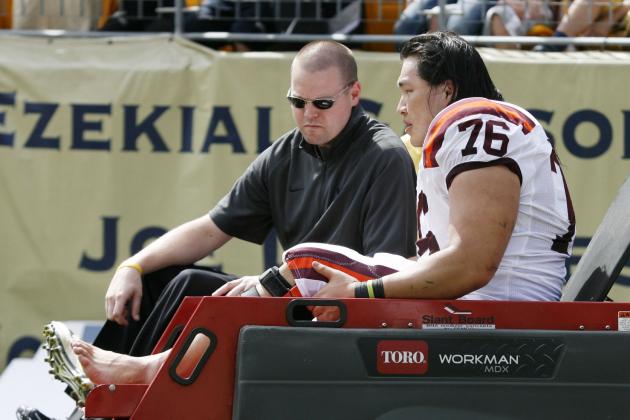 Charles LeClaire-USA TODAY Sports

Junior left guard David Wang has been the team's starter at left guard all season. He missed three games due to an ankle injury.
At the right guard position, the Hokies have rotated three different players into the spot with little success. Sophomores Brent Benedict and Matt Arkema, and senior Michael Via have all played right guard, often rotating during the game.
Wang hasn't played well enough at left guard to secure the position heading into the offseason. Obviously, the coaches haven't felt confident enough in Benedict and Arkema to let them play consistently.
Offensive-line play relies on cohesion and continuity. The Hokies have had neither this year. Does the coaching staff go with experienced players, like Wang, Benedict and Arkema, or look to younger players to challenge them?
The Hokies have to get consistent production from this group in 2013 in order to get their running game going again.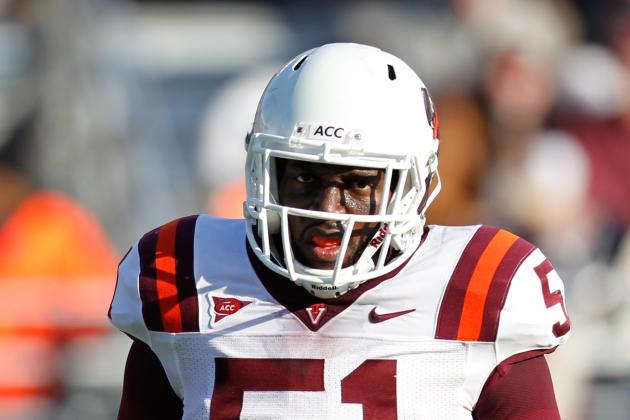 Greg M. Cooper-USA TODAY Sports

Three-year starter and All-ACC linebacker Bruce Taylor will graduate, leaving a void in the middle of Virginia Tech's defense.
Taylor had another solid season for the Hokies alongside junior Jack Tyler, who will be counted on to replace Taylor.
The Hokies have several talented young linebackers. Freshman Ronny Vandyke saw extensive playing time this season at the whip linebacker position. Junior Tariq Edwards, who had a very good sophomore season, will hopefully return to full health in 2013 after missing most of this season.
Sophomore Chase Williams is another promising young linebacker for the Hokies. He could allow Tyler to play the same spot if he moves into Taylor's old position.
This will be an interesting battle to watch. The Hokies are loaded on defense heading into 2013 and have several outstanding freshmen on the way as well.