Biggest Winners and Losers of Josh Hamilton's Big Los Angeles Angels Deal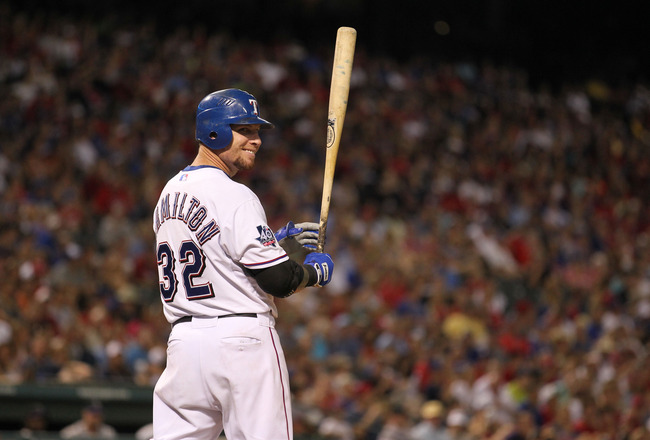 Matthew Emmons-USA TODAY Sports
Oh, those tricky Los Angeles Angels. They've done it again.
A year after shocking the world by signing Albert Pujols to a monster free-agent contract, the Angels have agreed to sign former AL MVP Josh Hamilton, the top slugger on this year's market.
According to ESPNDallas.com, Hamilton's deal is for five years and $125 million. For that, the Angels are getting a guy who just hit a career-high 43 home runs with a .930 OPS.
The Angels now have the makings of one of the league's best offenses. Hamilton and Pujols will form an impressive middle-of-the-order duo, and both of them should enjoy hitting behind young stud Mike Trout.
Presumably, the Angels are very happy with this deal. But as with every major free-agent signing, there are just as many not-so-happy folks as there are happy folks.
Here's a look at the winners and losers of the Hamilton signing.
Note: Stats courtesy of Baseball-Reference.com unless otherwise noted. Salary and payroll information courtesy of Cot's Baseball Contracts.
Biggest Winner: Josh Hamilton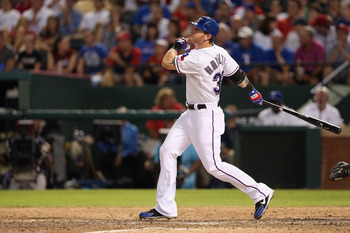 Ronald Martinez/Getty Images
Well, duh...
Indeed, but there's no overstating how big of a winner Josh Hamilton must be feeling like right now. Between him and his new employer, the deal is much better for him than it is for the Angels.
Somehow, some way, Hamilton got a five-year contract. It may not be the seven-year contract he was said to be seeking when the offseason first began, but he managed to do better than the three- or four-year deals teams were rumored to be offering him.
Hamilton didn't have to settle for short contract, and he didn't have to lower his asking price either. He wanted $25 million per year, and that's what he got.
Going to the Angels should also work out for Hamilton on the field. Assuming he hits in front of Albert Pujols, he may see more pitches to hit than he did in front of Adrian Beltre in 2012. He'll also be batting with Mike Trout on base very often, which will help him maintain his traditionally high RBI totals.
There's also a comfort factor at play. Hamilton is not leaving a division that he's come to know very well over the last five seasons, and he'll be playing in a baseball market that doesn't come with the same kind of pressure as New York, Boston or the city just up the road.
Today, Mr. Hamilton has no reasons whatsoever not to be smiling.
Biggest Loser: Texas Rangers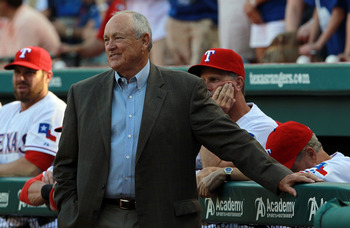 Ronald Martinez/Getty Images
The best word to describe the situation the Rangers are now in is "yeesh."
They didn't get Zack Greinke. They're probably not going to be able to trade for Justin Upton now that the Arizona Diamondbacks have filled their need for a young shortstop. And now they can't go back to the well by re-upping with Hamilton.
To add insult to injury, Hamilton just signed with one of their biggest AL West rivals. Ouch, man. Very ouch.
Nolan Ryan's finger should be hovering just above the panic button. His club still needs an ace pitcher, and now he needs to find a way to replace the power of both Hamilton and Mike Napoli. The Rangers' options, meanwhile, are dwindling.
That's bad enough in and of itself. What's worse is that free agents and teams with potential trade targets can clearly see that the Rangers are growing more desperate by the day. Whether they fill their needs via trades or free-agent signings, they're going to have to overpay.
The Rangers' grip on the AL West came to a quick and brutal end on the final day of the regular season. If they don't do something, their dominance of the division may soon be just a fond memory.
Winner: Nick Swisher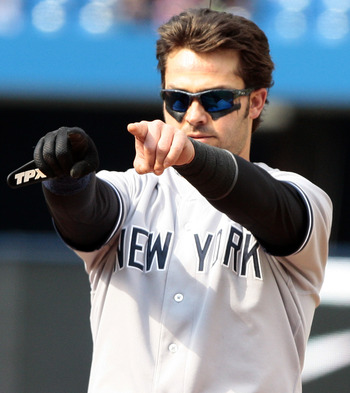 Abelimages/Getty Images
There are several free agents left on the open market who could benefit from Hamilton having set the market with his deal, but the one guy who most certainly will benefit is Nick Swisher.
Before the Hamilton buzz started to build on Thursday, Scott Miller of CBSSports.com reported that Swisher was "not close" to signing a new contract. This may have had something to do with his desire to wait until Hamilton signed before seeking out a deal, a notion that was reported by Rob Bradford of WEEI.com earlier this month.
Well, Hamilton got his deal. Now it's time for Swisher to go get his, and he ought to do well.
Swisher is not going to get the Jayson Werth contract he was said to be coveting once upon a time, but he should at least be able to get the four-year, $60 million deal that ESPN's Jim Bowden said was possible for him in this market.
Since the clubs that missed out on Hamilton are sure to get involved in Swisher, he may even do a lot better than that. His profile is that of a player who's a very good guy to have, but isn't likely to be too expensive at the same time. Swisher's hope now is that a bidding war leads him to be overpaid, and he may get his wish.
He should soon be smiling and laughing. More than usual, that is.
Loser: Vernon Wells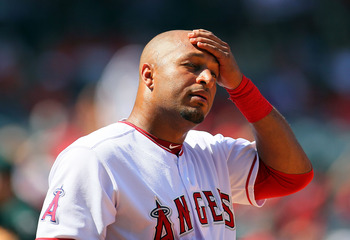 Victor Decolongon/Getty Images
If there's a guy on the Angels who's not happy about the Hamilton signing, it's Vernon Wells.
Wells never was looking at a potential starting role in 2013, as the Angels were set to have Mike Trout in left field, Peter Bourjos in center and Mark Trumbo in right field. With Torii Hunter gone, though, the shallowness of the Angels' outfield depth chart surely would have led to more playing time for Wells.
Things look a little different now, and not for the better as far as Wells is concerned. He's much more of an odd man out than he was before.
It's not immediately apparent how the Angels are going to arrange their outfield with Hamilton in the mix, but he could play left field with Trout in center and either Trumbo or Bourjos in right. Or maybe Trout will play right with Bourjos in center and Trumbo at third base.
Regardless of how it all shakes out, there's clearly not a ton of room for Wells. Like Jar Jar Binks, he's being phased out.
A trade could clear things up, and many have rightfully pointed to Trumbo as an obvious trade candidate. ESPN's Buster Olney, however, says that's not going to happen. The Angels may just move forward with the extra depth and be happy, which could happen given how much of a problem depth was in 2012.
Or they could finally send Wells the way of Jason Bay, as Mike DiGiovanna of the Los Angeles Times has hinted that Wells may be released.
I would say there's no shame in that, but, well, there is.
Winner: Teams with Ace Pitchers to Trade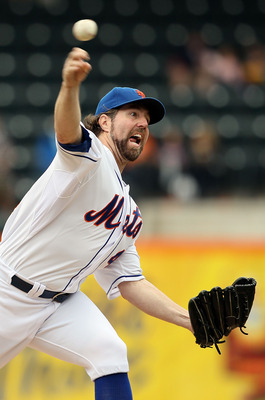 Alex Trautwig/Getty Images
The Angels are a better team now that they have Hamilton in their fold, but they're still short of being an obvious World Series favorite.
They need more pitching before they can be in that discussion, as their rotation isn't lining up to be any better in 2013 than it was in 2012. They still have Jered Weaver and C.J. Wilson, but they've lost Zack Greinke, Ervin Santana and Dan Haren and replaced them with Joe Blanton and Tommy Hanson.
The Angels need to do better than that. At least one more impact arm is needed, and the Angels have every excuse to go find one on the trade market now that they have a couple extra bargaining chips.
One idea would be to trade for New York Mets Cy Young winner R.A. Dickey. Marc Carig of Newsday has heard that it's probably not going to happen, but the Mets need talented outfielders, and the Angels have a couple of those to offer in Mark Trumbo and Peter Bourjos. Something based around either one of them could get done if both sides are willing.
Not that Dickey is the only pitcher the Angels could acquire on the trade market. There are plenty of options, and the Angels themselves certainly have more options at their disposal than they did before.
Loser: Free-Agent Pitchers Looking for Big Paydays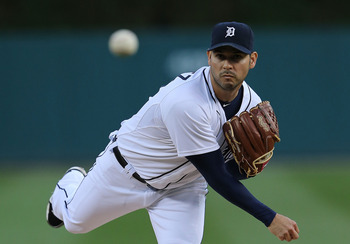 Leon Halip/Getty Images
While teams that have starting pitchers they're looking to trade should be pleased about the Hamilton signing, free-agent starters looking for work can't be very happy right now.
It's clear that there's a ton of money to be had in Southern California, but not so much right now. The Los Angeles Dodgers still have mountains of cash, but they have no incentive to spend any more on starters now that they've locked up Zack Greinke.
The Angels have considerably more incentive to spend on free agents like Anibal Sanchez or Kyle Lohse, both of whom are (or were) supposedly on the club's radar.
But while they may still be willing, they're presumably not able anymore. Their payroll has gotten awfully big after the Hamilton signing, and signing a major free-agent starter would require them to make it even bigger.
Hence the reason they're more likely to trade for a top starter than they are to sign one. Sanchez, Lohse and the other top starters still left on the market will have to look elsewhere for work, as the great baseball bank of Southern California is probably closed for the rest of the winter.
Winner: Future Free-Agent Outfielders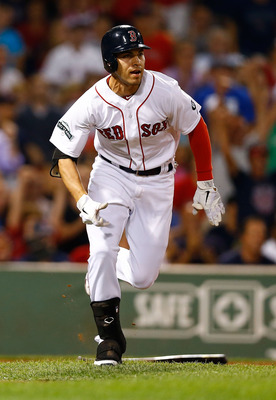 Jared Wickerham/Getty Images
With the average annual value of Hamilton's deal checking in at a cool $25 million, a new bar has been set for star outfielders.
Nick Swisher and Michael Bourn have to be excited for what's about to come their way in the near future, but the outfielders set to hit free agency next year should be even more excited.
The two players who come immediately to mind are Boston Red Sox center fielder Jacoby Ellsbury and New York Yankees center fielder Curtis Granderson. Both are due to be free agents for the first time next winter, and both are candidates for monster contracts.
Ellsbury showed in 2011 that he's one of the game's best all-around players when he's healthy, so he'll have plenty of leverage to ask for a Hamilton-esque contract if he turns back the clock in 2013. Granderson isn't an all-around great player, but he too could ask for a Hamilton-esque contract if $25 million per year is the going rate for outfielders with 40-homer power.
A little further on down the line, Austin Jackson, Jason Heyward and Justin Upton should cash in. Much further on down the line, Mike Trout, Bryce Harper and Giancarlo Stanton will also get huge paydays.
They'll all be able to thank Hamilton for setting the market all those years ago.
Loser: Teams with Star Outfielders Nearing Free Agency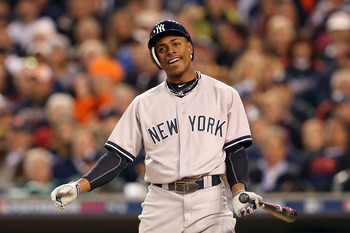 Leon Halip/Getty Images
Not everyone is happy that the price for star outfielders just got set so high, as not everyone is going to be able to afford to pay the price in the near and not-so-near future.
Even the Yankees could be impacted. It was already unlikely that they would hammer out an extension for Granderson with their payroll due to come down in 2014, but now that idea has vanished completely. They won't be retaining him.
The same may be true of the Red Sox and Ellsbury, as Scott Boras is going to make sure he doesn't settle for anything less than a huge contract if he has a great year in 2013. Boston's desire to be disciplined will likely keep it from re-signing Ellsbury.
Elsewhere, quality outfielders like Corey Hart, David Murphy, Shin-Soo Choo and Hunter Pence (hey, he's OK sometimes) are due to hit free agency next year as well. All of them should start planning to test the free-agent waters, as extensions are highly unlikely to be coming their way now.
Extensions are still in play for guys like Jackson, Heyward, Upton, Trout and Harper, as they're all vital pieces who could very well get fair market value from their teams at some point.
Or they could wait patiently for free agency to come. As Hamilton just demonstrated, 'tis better to shop around than it is to only deal with one interested party.
If you want to talk baseball, hit me up on Twitter.
Keep Reading