The Best Fantasy Football Starts at Every Position for NFL Week 15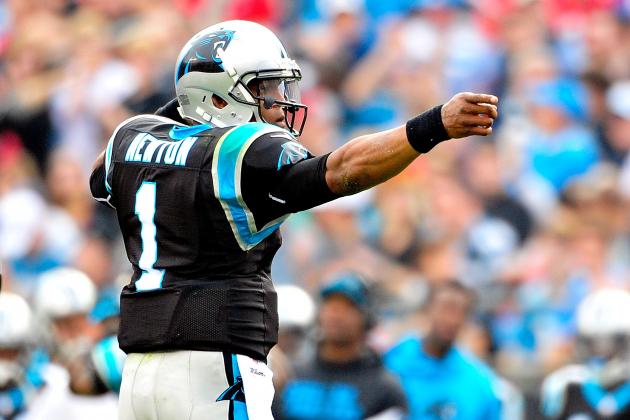 Grant Halverson/Getty Images
With 403 total yards and three touchdowns last week, Cam Newton appears to be back as a top fantasy quarterback.
Predicting the best fantasy football starts at each position certainly isn't an exact science. It often comes down to which elite player has the best matchup.
Unfortunately, a majority of the elite players in Week 15 have rather difficult matchups. Aaron Rodgers and Tom Brady play two of the best defenses in the Chicago Bears and San Francisco 49ers. Adrian Peterson has a difficult matchup with the St. Louis Rams, so he could also struggle this week.
However, there are still plenty of quality matchups to help you win in such a crucial week of fantasy football. Here are the best starts in fantasy football at every position for Week 15.
Begin Slideshow

»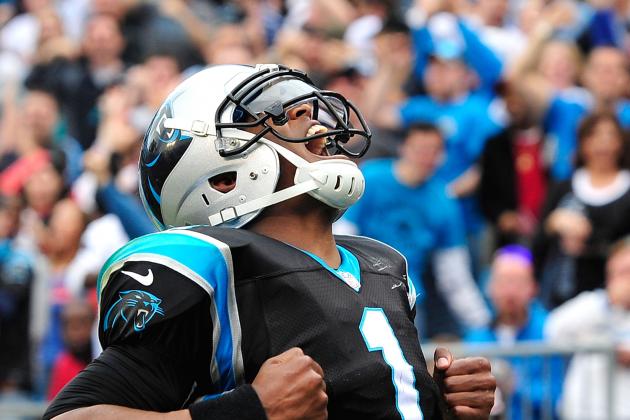 Grant Halverson/Getty Images

After posting 403 total yards and three touchdowns last week, Cam Newton gets the nod as our best start at the quarterback position. While Drew Brees has a great matchup against the Tampa Bay Buccaneers, he's been too erratic to truly trust this week.
Newton, on the other hand, is getting hot at just the right moment, and is currently playing his best football of the season. His matchup with a struggling defense in the San Diego Chargers is also a major plus.
What really makes Newton a threat this week is the way he has been running with the football. In the last three weeks, he's gained nearly 300 rushing yards to go along with three rushing touchdowns.
As long as he can make plays with both his arm and legs, he should be in for another huge performance in Week 15.
Bonus Sleeper Pick: Kirk Cousins, Washington Redskins
While the Redskins haven't officially ruled out Robert Griffin III yet, Dan Hanzus at NFL.com has reported that Griffin also isn't taking first-team reps.
That means that Cousins will get the start against the Cleveland Browns this week. Cousins certainly won't be as dynamic as Griffin, but he has shown to be productive in limited playing time this year.
If Cousins starts, look for him to have a solid performance against Cleveland.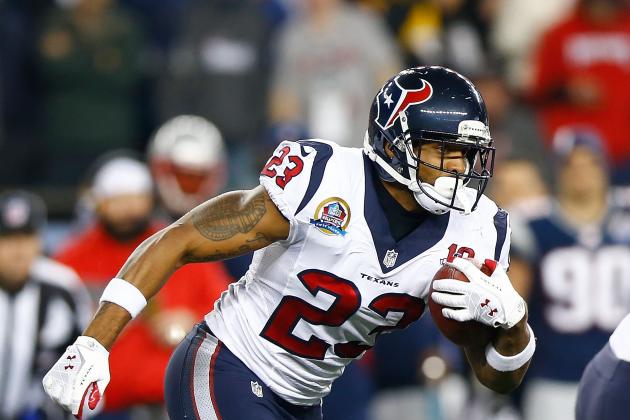 Jared Wickerham/Getty Images

Of all the matchups this week for elite players, Arian Foster has the best. He plays the Indianapolis Colts, who are giving up over 120 rushing yards a game this season.
While Foster hasn't been great the past two weeks, he's still been able to put up solid numbers despite not getting many touches. In the past two games, Foster only has 29 carries for 84 yards, but did find the end zone once in each game.
Foster also continues to be a threat in the passing game with 17 receptions over the past month. He should be able to do damage in both the ground game and through the air and get back on track against the Colts.
Bonus Sleeper Pick: Knowshon Moreno, Denver Broncos
Moreno plays against the Baltimore Ravens this week, which seems like a difficult matchup on paper. However, the Ravens haven't been nearly as dominant on defense this year as they have in recent years.
Last week, they gave up over 100 rushing yards and a touchdown to Alfred Morris. Moreno has been getting a ton of touches in recent weeks and could be in for a big week against the Ravens' declining defense.
Jonathan Daniel/Getty Images

Calvin Johnson continued his streak of 100-yard receiving games in Week 14 against the Green Bay Packers. That was his sixth straight game of surpassing the mark in receiving yards.
With the Arizona Cardinals on the schedule this week, he should have little difficulty extending that streak to seven games. The Cardinals have been atrocious since starting the season 4-0, and they simply don't have the personnel necessary to slow down a player like Johnson.
What could really make Johnson a special player this week is if he can add a touchdown or two to his receiving total. If he can do that, Johnson could have one of his best weeks of the 2012 season.
Bonus Sleeper Pick: Josh Gordon, Cleveland Browns
Gordon is quickly, and rather quietly, becoming a legitimate No. 1 receiver for the Browns. His chemistry with Brandon Weeden is growing with each game they play together.
With the Washington Redskins and their horrid pass defense on the schedule for this week, we could see Gordon have a truly spectacular game in Week 15.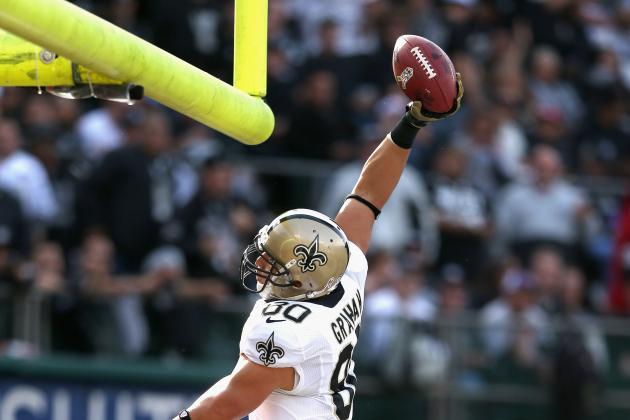 Ezra Shaw/Getty Images

As much as I love what Aaron Hernandez did against the Houston Texans last week, I don't believe he'll have that type of success against the San Francisco 49ers this week.
That is why Graham gets the nod as the best start at the tight end position. The New Orleans Saints play the Tampa Bay Buccaneers, which is a rather easy matchup for Graham. No team is giving up as many yards through the air as Tampa Bay, as offenses average 311.6 yards per game against them.
Look for Drew Brees to get back on track against Tampa Bay and for Graham to have a stellar game.
Bonus Sleeper Pick: Tony Moeaki, Kansas City Chiefs
I know it sounds crazy to have Moeaki as a sleeper pick to have a huge week, but this is about as good of an opportunity that he has.
The Chiefs play the Oakland Raiders, who haven't been able to stop anyone on defense. Brady Quinn should look Moeaki's way quite often and for him to reward owners with a big week.
Stephen Dunn/Getty Images

No game this week looks to have the makings of a shootout, so going with the best fantasy kicker of the season seems like a good choice for Week 15.
Lawrence Tynes has been just about as consistent as you could want from a kicker for the New York Giants. With the Atlanta Falcons on the schedule this week, Tynes should once again have plenty of opportunities to get onto the field and score points.
Bonus Sleeper Pick: Steve Hauschka, Seattle Seahawks
The Seahawks put 58 points on the board last week against the Arizona Cardinals. With Seattle taking on the Buffalo Bills this week, another 50-point game is certainly a possibility.
Look for Hauschka to put up some major points in Week 15.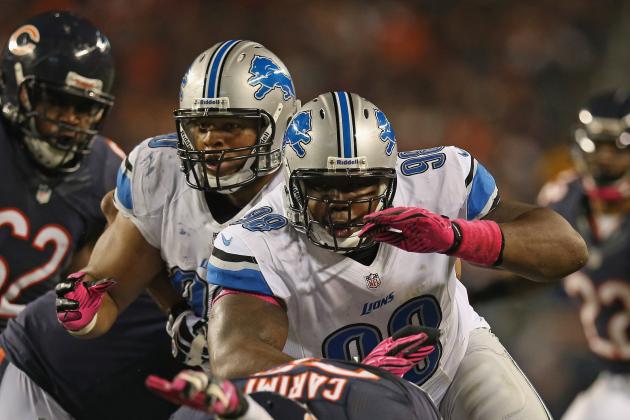 Jonathan Daniel/Getty Images

Now you really must think I'm crazy if the best start on defense is the Detroit Lions.
Let me start by saying this isn't a testament to how talented of a defense Detroit has. Rather, this is a testament to just how terrible the Arizona Cardinals are on offense. Last week, John Skelton and Ryan Lindley combined for zero touchdowns and six total turnovers.
I'm not saying Detroit is as good on defense as the Seattle Seahawks, but any group of quarterbacks that turn the ball over that often is a defense's dream in fantasy football. Look for the Lions to have their best defensive game of the season on Sunday and outscore any other defense in fantasy football.
Bonus Sleeper Pick: New York Jets
The worst Monday Night Football matchup of the season is in Week 15 when the Jets travel to take on the Tennessee Titans.
While Tennessee hasn't been terrible on offense this year, they've been madly inconsistent. Don't be surprised if the Jets can get pressure on Jake Locker and force him to make numerous poor throws.