Showcasing Biggest Strengths and Draft Needs of the Cleveland Browns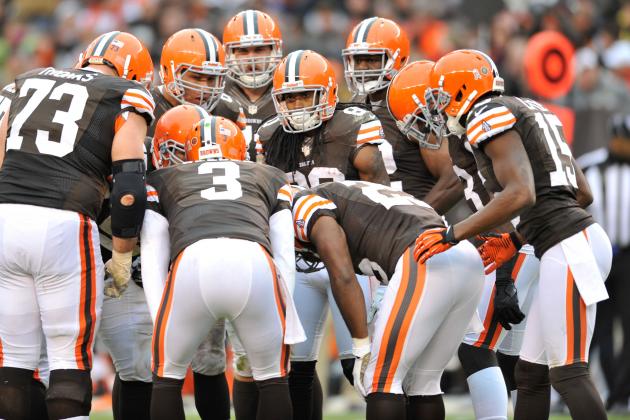 David Richard-USA TODAY Sports

Even though the Cleveland Browns were just 2-8 three weeks ago, it was clear the team was better than that record would indicate. Five of their eight losses were by a single score, and they were remaining competitive against strong competition.
Sure enough, the Browns have tallied three straight victories since an overtime loss to the Dallas Cowboys to improve to 5-8. Unfortunately, the turnaround happened too late to have a realistic shot at making the postseason.
It makes the signs of progress bittersweet. While the fans are happy to see the team playing better, sacrificing a top draft pick without the benefit of making the playoffs in return isn't a good trade-off. As it stands now, the Browns would pick 12th.
Knowing that, let's take a look at where the Browns stand in every key area and examine where they would be best off using their draft picks.
Begin Slideshow

»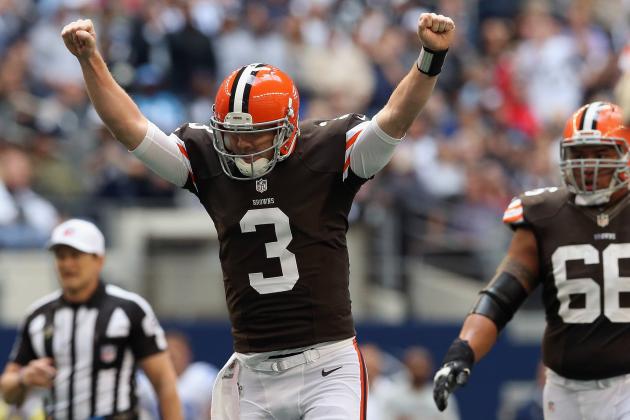 Ronald Martinez/Getty Images

How the Browns feel about Brandon Weeden will have a major impact on their draft strategy. He was drafted with the 22nd pick in the 2012 draft, but the organization has undergone a lot of changes since Jimmy Haslam officially became owner in October.
Weeden has shown glimpses of potential, but his overall numbers leave a lot to be desired. His quarterback rating is a lackluster 72.8, and he has more turnovers than touchdowns. Being a 29-year-old rookie also works against him.
If the front office decides Weeden isn't the answer at the most important position, it will have to use another high pick to replace him. If the team decides to give him another year to prove himself, taking a QB late to challenge Colt McCoy for the backup spot would be a smart move.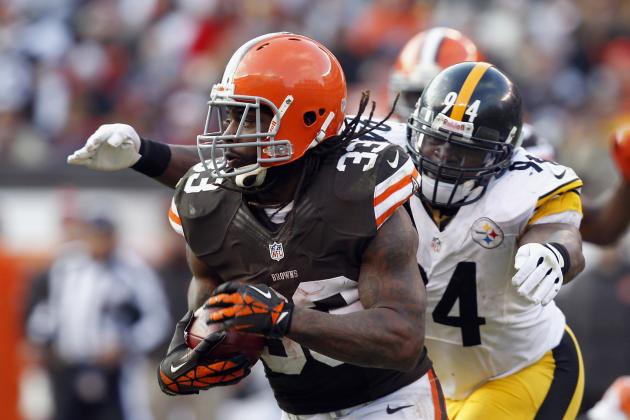 Matt Sullivan/Getty Images

Trent Richardson has been a workhorse for the Browns. He's touched the ball 292 times, which is an average of 22 per game, and has racked up over 1,200 yards of offense. The rookie has also found the end zone 10 times.
Don't be worried about his subpar rushing average (3.5 yards per carry). That's due to teams disrespecting Cleveland's passing attack and stacking the box with extra bodies. It's a big deal for a back that likes to run between the tackles.
Once the Browns' passing game becomes more of a threat, Richardson's average will go up. And since he carries almost the entire load (no other back has more than 46 carries), Cleveland doesn't have to worry about using a pick on an RB.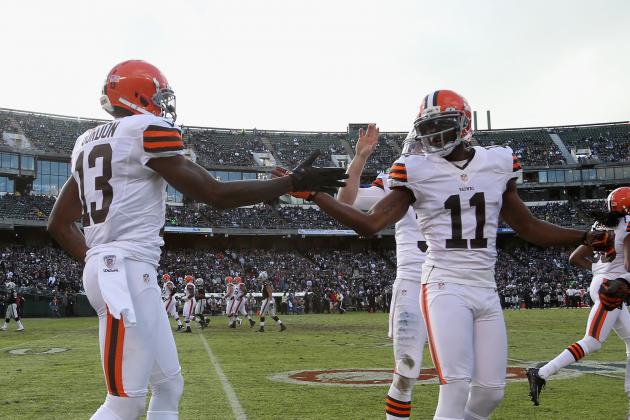 Ezra Shaw/Getty Images

This is a definite area of need for the Browns. They used a second-round pick in the supplemental draft to grab Josh Gordon, which means they forfeit that pick in the 2013 draft. While it was a steep price to pay, it was the right move, because he's been the team's best receiver.
Beyond Gordon, there aren't many weapons in the passing game. Fans have been waiting for Greg Little to break out, but it hasn't happened, and Benjamin Watson ranks third in receiving. That illustrates the lack of depth in Cleveland.
Tight end Jordan Cameron and wideout Travis Benjamin have some upside, but not enough to avoid using picks on a pass catchers. The Browns should take at least two receivers in the draft, including one in the early rounds.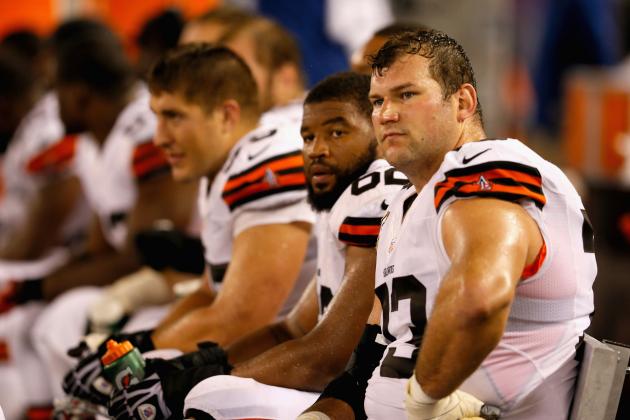 Rob Carr/Getty Images

The Browns have a solid, yet unspectacular offensive line. They rank 18th in run blocking and and eighth in pass protection, according to Football Outsiders. Those are both improvements over last season's rankings.
Having a franchise left tackle like Joe Thomas is a major advantage. Fellow first-round pick Alex Mack is also as reliable as they come along the offensive line. Those two players give Cleveland a strong foundation up front.
If there's one position that might need an upgrade, it's left guard. But ultimately, the Browns have bigger needs than offensive line, so many picks used to provide depth should come in the later rounds after the most pressing needs are filled.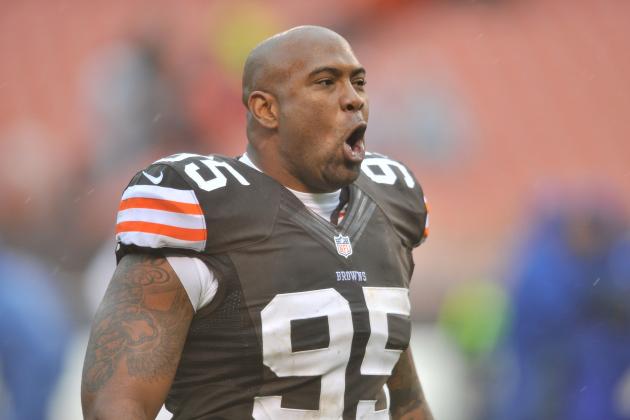 David Richard-USA TODAY Sports

Although the Browns rank eighth in sacks, they are still seeking a dominant edge rusher. They have used a committee approach this season, with no player registering more than five sacks, but finding a star they can lean on every week would really help.
The line would also benefit from adding a defensive tackle. Cleveland is giving up more than 120 yards on the ground, which is an improvement from last season, but still ranks in the bottom half of the league. One more run-stuffer should change that.
In order to get a top-tier pass rusher, the Browns would likely have to use their first-round pick. It comes down to which would provide better value when they are on the clock: a defensive end or wide receiver. They can get a defensive tackle later on.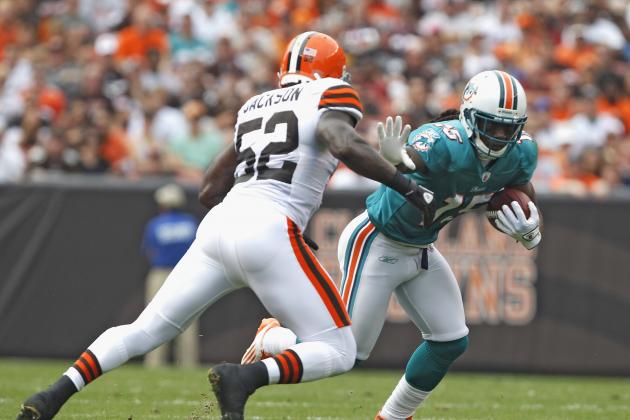 Matt Sullivan/Getty Images

D'Qwell Jackson leads the Browns' linebacking corps. The tackle machine should surpass the 100-tackle plateau for the fourth time in the last five seasons on Sunday. He's also chipped in 3.5 sacks and a couple interceptions.
On the outside, Kaluka Maiava has shown signs of progress after struggling to make an impact in his first three seasons. Craig Robertson ranks third on the team in tackles, and rookie James-Michael Johnson has potential, but needs experience.
All told, the Browns would survive without using any picks on linebackers. Adding more depth at outside linebacker might be on the priority list for the middle or late rounds, but by that point, it all comes down to targeting value.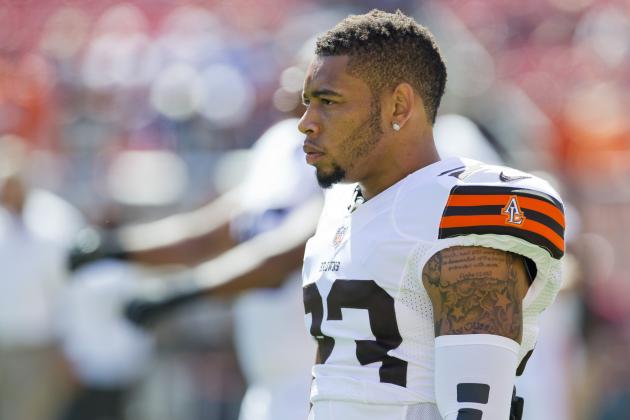 Jason Miller/Getty Images

The cornerback trio of Joe Haden, Sheldon Brown and Buster Skrine has been inconsistent. Looking at the overall numbers, however, the trio has actually done a pretty good job. The Browns have allowed 19 passing touchdowns and intercepted 15 passes.
That's a good ratio.
In the modern NFL, where high-powered passing attacks reign supreme, a team can never have enough corners. It's almost like starting pitchers in baseball. So the Browns will probably grab a corner or two, especially if Brown leave via free agency, just not first.
At safety, the Browns have T.J. Ward and Usama Young. While they are without a doubt an unheralded pair, their performance has been satisfactory. It's another area where a depth pick in the middle rounds should suffice.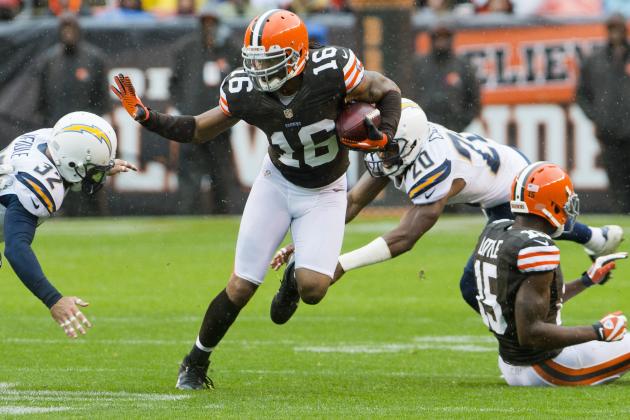 Jason Miller/Getty Images

Kicker Phil Dawson, punter Reggie Hodges and ace return man Josh Cribbs are all scheduled to become free agents at season's end. That means the Cleveland special teams units could see a pretty major overhaul during the offseason.
At first glance, Cribbs would appear to be the biggest potential loss. But the new kickoff rules and opponents doing anything they can to keep the ball out of his hands on punts has limited his value in recent years. He has just one return TD over the past three seasons.
Dawson has converted on 26-of-27 field-goal attempts (96 percent) this season, which ranks second behind Kai Forbath's perfect mark in eight games. Bringing him back should be a priority. The Browns can find a better punter than Hodges through the draft.