7 Free Agency, Draft Targets the Buffalo Bills Must Chase for 2013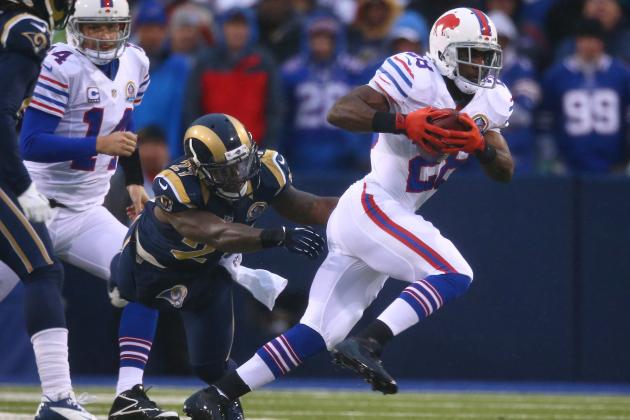 Tom Szczerbowski/Getty Images
C.J. Spiller and the Bills just need a bit more talent to take them over the hump.
I'm sure fans of the Buffalo Bills are sick of hearing this, but let's talk about next year.
The Bills truly aren't as far away from the playoffs as their record indicates. The team has been involved in many close games, but seemingly cannot close out.
This is due to the fact that there are certain holes that the Bills need to fill. Some spots will be easier to fix than others, but until Buffalo addresses their key needs, the playoffs will continue to be a pipe-dream for the Bills.
Who are some players the Bills should target in free agency and the draft? Read on to find out!
Begin Slideshow

»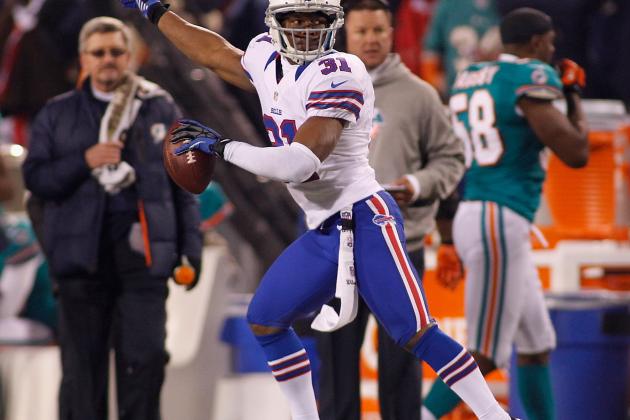 Rick Stewart/Getty Images
Bringing back Byrd is very important to the Bills.
The first two slides should come as no surprise. If you want to win in the NFL the first thing you need to do is keep your own talent long-term.
Jairus Byrd was drafted by the Buffalo Bills in the 2nd round of the 2009 NFL draft. Since then, he's been a mainstay in the lineup, playing in 59 of a possible 61 games.
Byrd has 18 interceptions, 9 forced fumbles and 5 fumble recoveries in his short career. It's clear that Byrd has a nose for the ball and a knack for creating turnovers.
Re-signing Byrd to a long contract should be Buffalo's top priority heading into the 2013 off-season, but it won't be easy. Byrd is having a Pro Bowl season and will be highly coveted by many teams if he hits the open market.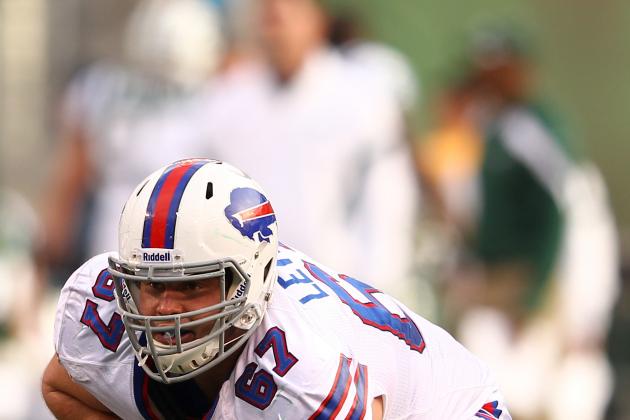 Al Bello/Getty Images
Andy Levitre has started in every game since being drafted in 2009.
If you are looking for an offensive lineman that is consistent and durable, then Andy Levitre is your guy. Since entering the league in 2009, Levitre has started in 61 consecutive games.
Levitre is also very versatile. He's been asked to play in various spots on the offensive line due to injuries and has thrived wherever he's been asked to play.
Much of Buffalo's success in the run game is thanks in part to Levitre's excellent run blocking. Something tells me that C.J. Spiller and Fred Jackson will both be campaigning for the Bills to sign Andy Levitre long-term.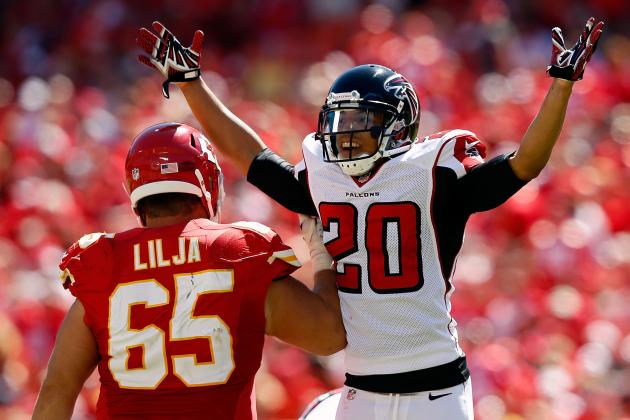 Jamie Squire/Getty Images
Buffalo would benefit from Grimes' leadership and veteran presence.
One area where the Buffalo Bills needs some veteran presence is at cornerback. Look no further than Brent Grimes.
Grimes only played one game in 2012 before tearing his Achilles tendon.
In 2010, Grimes made the Pro Bowl after recording 70 tackles and five interceptions.
In 2011, Grimes recorded 35 tackles and an interception in 12 games.
Grimes will be 30 years old when the 2013 kicks off, but his experience is exactly what Buffalo needs. Heading into the 2013 season, the Bills cornerbacks will be Stephon Gilmore, Aaron Williams, Ron Brooks and Justin Rogers. Gilmore and Brooks will be ending their sophomore seasons while Williams and Rogers will be entering their third year in the league.
Bringing in a player like Grimes will be beneficial as he can serve as a mentor to the young secondary, while still contributing greatly on the field.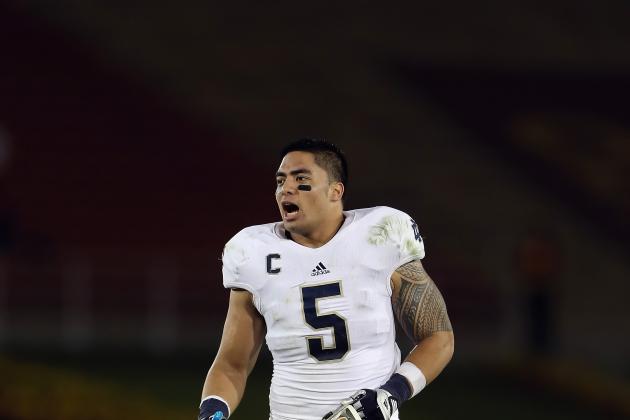 Jeff Gross/Getty Images
Manti Te'o manning the middle in Buffalo? Yes, please!
The Buffalo Bills need help at the middle linebacker position and while there are no sure things in terms of college prospects, Manti Te'o is as close as it gets.
Te'o is coming off of a brilliant career at the University of Notre Dame. His leadership traits cannot be questioned and there's no doubt in my mind that a player like Te'o would be a locker room leader within one season.
Te'o's leadership traits are important, but his play on the field is what Buffalo truly needs the most. You'd be hard pressed to find a clip of Te'o out of position on a play. This season alone, Te'o has only missed two tackles the entire season.
If Buffalo wants Te'o they'll have to hope that he falls to them. Currently drafting at pick 10, it's not out of the question that Te'o could be available for Buffalo in round one.
If Te'o is on the board when Buffalo picks, you won't see any hesitation from the front office in selecting him.
Otto Greule Jr/Getty Images
If Buffalo is worried about Eric Wood's durability, drafting Holmes would be a great idea.
Khaled Holmes is the top center currently available in the NFL draft.
His senior season at USC certainly didn't play out as planned, but Holmes' play was not the problem. Holmes was strong in both the pass and run game.
Holmes will likely be drafted in the second round and the Buffalo Bills will have bigger needs, but if Holmes falls to the third round, Buffalo would be wise to give him a look.
Eric Wood will be entering the final year of his rookie contract in 2013 and he's had injuries to his legs in every season that he's played. While Wood is a very good center, Buffalo needs to think long-term. If the team thinks Wood is injury prone, Holmes would be a logical choice for the team.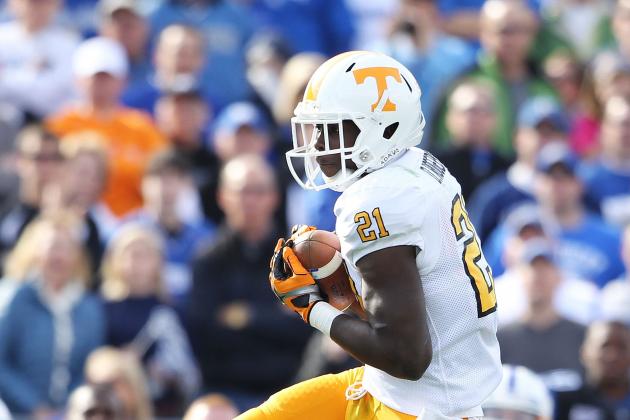 Andy Lyons/Getty Images
By far the best WR in this year's draft class.
Da'Rick Rogers is by far the most intriguing wide receiver in this year's draft.
He has all of the intangibles you look for in a star wide receiver, but he does have some character issues.
Rogers started his collegiate career at The University of Tennessee and emerged as a star in the SEC in his sophomore season. In 2011, Rogers racked up 67 catches for 1,040 yards and nine touchdowns. He seemed poised to have an incredible junior year with Tyler Bray throwing him the ball. Instead, Rogers was suspended for violating team rules and transferred to Tennessee Tech.
This season, Rogers caught 61 passes for 893 yards and 10 touchdowns.
Talent-wise, Rogers is far and away the best wide receiver available in the draft. However, due to his character issues, he may not be drafted until the 2nd or 3rd round. If Rogers were to fall, Buffalo could fill a major need with one of their middle round picks.
Sometimes a team needs to roll the dice on a player. Whoever takes a chance on Rogers will be getting the most explosive wide receiver in the draft. Here's to hoping it's the Bills.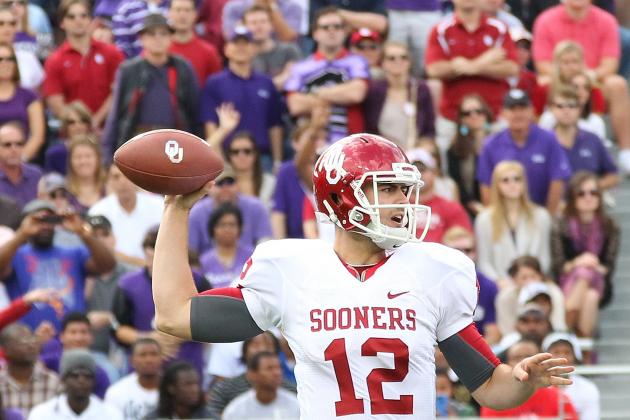 R. Yeatts/Getty Images
Jones will need to find a new number if drafted by the Bills.
Buffalo needs a quarterback. This is not news to anyone. Unfortunately for the team there are no Andrew Luck's or RGIII's in the draft.
Name a prospect in this year's draft and you could find an issue with the quarterback.
Landry Jones has plenty of questions himself, but his overall body of work is impressive.
Entering 2011, Jones was thought of as a possible first overall pick at the start of his junior season. Unfortunately, Jones had a down year, but to his credit he decided to return to the Oklahoma Sooners for his senior season.
He's benefited from this and rebounded nicely for the Sooners.
This season, Jones has completed 65.2 percent of his passes and has a TD-INT ratio of 29-10. His quarterback rating of 146.5 was the highest of his collegiate career, just edging out his excellent sophomore season.
Jones has some question marks attached to him. The biggest is that he didn't perform like a star in big time games. That said, Jones wasn't the only reason Oklahoma lost to Kansas State and Notre Dame this season.
If Buffalo wants to draft a quarterback late in the first round or early in the second, Landry Jones would be an excellent choice.