Evaluating the Detroit Tigers Infield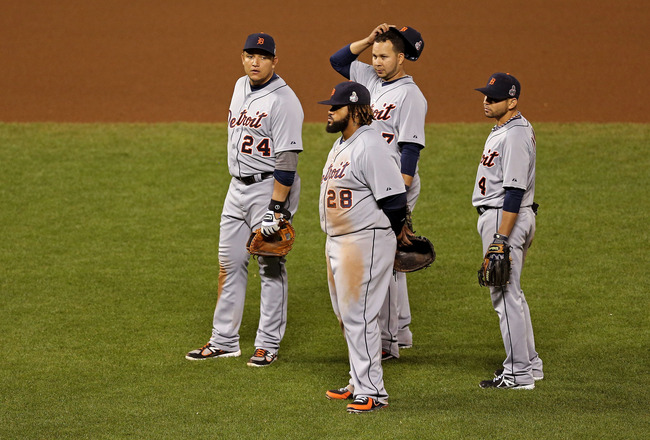 Ezra Shaw/Getty Images
The Detroit Tigers are pretty well set in their infield going into spring training. While the Tigers would probably like to have a better defender at short, they would not be unhappy starting next season with the team they have.
The real question for spring training is how many backup infielders will the Tigers bring north and who will those players be. Here is a look at what we might expect from the Tigers' infielders next season.
Prince Fielder: First Base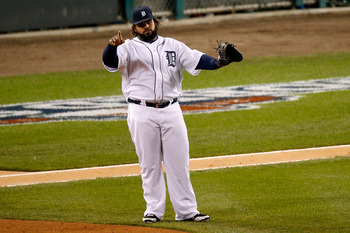 Leon Halip/Getty Images
When the Tiger signed Prince, they knew he wasn't going to win a gold glove, but they expected his bat to provide some punch and protection for Miguel Cabrera. Prince did that in his first season in Detroit hitting over .300 for the first time in his career, even through his power numbers were down a little bit.
One element which bodes well for the Tigers and Fielder is the return of Victor Martinez. Prince should receive some benefit from Martinez hitting behind him. Also, Fielders BAbip (batting average on balls in play) was a relatively low .321 meaning he really didn't have a lot of luck hitting .313 (about 30 percent or .300 of balls in play end up as hits).
Fielder's home run total (30) was his lowest since his rookie year in 2006 (28), but part of that was his willingness to hit a single the other way instead of trying to pull every pitch.
2011: .299 BA, .415 OBP, 38 HRs, 36 doubles, 120 RBIs, 107 BBs, .981 OPS.
2012: .313 BA, .412 OBP, 30 HRs, 32 doubles, 108 RBIs, 85 BBs, .940 OPS.
Fielder led the league in IBB last year and didn't have as many RBI opportunities because of the year Cabrera had. With Martinez hitting behind him, I think Prince will see more pitches to hit and his power numbers will come up.
2013: .305 BA, .415 OBP, 35 HRs, 38 doubles, 120 RBIs, 85 BBs, .960 OPS.
Omar Infante: Second Base
Leon Halip/Getty Images
The Tigers had a revolving door at second base until they finalized the trade which brought Anibal Sanchez and Omar Infante to the Tigers. After a rough start to begin his second tenure with the Tigers, Infante settled in and gave the Tigers a solid defender and a decent bat at second base.
With the Tigers signing Torii Hunter and most likely hitting him second, Infante will bring speed and a decent bat to the bottom of the Tigers' order. This will be very important, because it will give Jackson the opportunity to advance runners and give the big guys in the lineup even more opportunities to drive in runs.
According to baseball reference, Infante is an above average second baseman, and he can also play average to slightly above average shortstop. Infante's ability to play shortstop could be important if the Tigers decide Rule 5 draft pick Jeff Koberus is able to handle second base.
2011: .276 BA, .315 OBP, 24 doubles, 7 HRs, 4 SB, .696 OPS
2012: .274 BA, .300 OBP, 30 doubles, 12 HRs, 17 SB, .719 OPS.
With Detroit, Infante only hit .257, but I expect his average to move closer to his career average and power numbers. Infante is most likely to bat ninth, and his success will be very important for Detroit's offense.
2013: .280 BA, .315 OBP, 27 doubles, 10 HRs, 15 SB, .710 OPS
Jhonny Peralta: Shortstop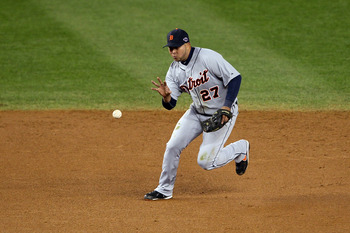 Alex Trautwig/Getty Images
Shortstop is the position the Tigers have said they are interested in upgrading, while at the same time saying they would be happy to start the season with Jhonny Peralta manning short. Peralta has been a solid if unspectacular at short during his time with the Tigers.
What he lacks with range, Peralta makes up with excellent hands and a strong accurate arm. With Miguel Cabrera at third and Victor Martinez at DH until 2014, the Tigers need to find a shortstop with plus range to help make up for Cabrera's lack of range.
2011: .299 BA, .345 OBP, 25 doubles, 21 HRs, 86 RBIs, .824 OPS
2012: .239 BA, .305 OBP, 32 doubles, 13 HRs, 63 RBIs, .689 OPS
The bat regressed majorly in 2012, and the Tigers will have to determine during spring training whether or not Peralta can hit closer to his .264 career average or if his bat is just too slow. If it's a case of a slow bat, the Tigers will be better off with a different light hitter but a better defensive shortstop.
2013: .260 BA, .315 OBP, 30 doubles, 15 HRs, 70 RBIs, .700 OPS
Miguel Cabrera: Third Base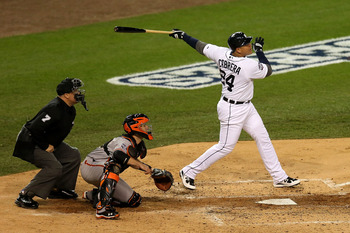 Jonathan Daniel/Getty Images
Miguel Cabrera had a season for the ages leading the American League in all three Triple Crown categories. A lot was talked about before the year in regards to Cabrera's shift from first to third. A lot of experts predicted Cabrera would cost the Tigers has many runs with his defense as he gave them with his offense.
To me, what cannot be forgotten is, oh well, Cabrera played defensively. According to Baseball Reference, Cabrera was minus-four in defensive runs saved instead of the near 20 many speculated he'd be close to. Offensively, Baseball Reference credited Cabrera with being worth 73 runs above average.
Cabrera himself credited the move to third in helping his focus at the plate. Cabrera's move to third allowed the Tigers to add Prince Fielder, and still leave a place for Victor Martinez as he returns from injury.
2011: .344 BA, .448 OBP, 48 doubles, 30 HRs, 105 RBIs, 1.033 OPS
2012: .330 BA, .393 OBP, 40 doubles, 44 HRs, 139 RBIs, .999 OPS
While it is completely unrealistic for anyone to expect Cabrera to match last season's offensive proficiency, we can expect him to have another fantastic year.
2013: .325 BA, .400 OBP, 44 doubles, 40 HRs, 140 RBIs, 1.100 OPS
Danny Worth and Jeff Kobernus: Utility Players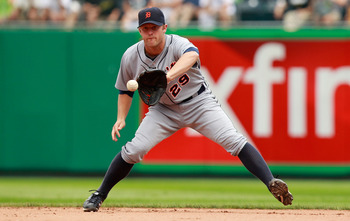 Jared Wickerham/Getty Images
The Tigers didn't receive good production from their utility players this past season. Don Kelly has already been released, and I would guess there is a good chance Ramon Santiago will either be designated for assignment, traded, or released by the end of spring training.
Last year, Kelly and Santiago combined for 341 at bats across 168 games putting up some pretty weak offensive numbers: 33 runs scored, nine doubles, three HRs, and 24 RBIs. They combined to hit only .199 with a .280 OBP and .263 SLG.
The Tigers liked the glove versatility Kelly and Santiago brought, but the Tigers simply can't afford to have so little production from their reserves. Kelly already has been cut, and Santiago will need a strong spring to stay with Detroit.
Worth brings a plus glove, and while I don't think Worth is going to hit enough to be a regular, I think he will hit far better then Santiago and Kelly.
The Tigers traded for Kobernus during the rule five draft, and they will have to keep him on the 25-man roster or offer him back to the Nationals. Kobernus brings speed and possibly a little Don Kelly as well.
Kobernus played outfield and third base in college and has logged professional games at second and short. He has played mostly second, but I think the Tigers will see if they can use him as an IF/OF pinch runner option.
Danny Worth:
2011: (AAA 86 games): .256 BA, .338 OBP, 45 runs,19 doubles, 8 HRs, 13 SB, .759 OPS
2012: (AAA 60 games): .264 BA, .364 OBP, 30 runs, 15 doubles, 5 HRs, 10 SB, .785 OPS
Majors (112 games 217 at bats in 3 seasons)
.244 BA, .310 OBP, 25 runs, 10 doubles, 2 HRs, 1 SB, .628 OPS.
Jeff Kobernus:
2011: (A+ 124 games): .282 BA, .313 OBP, 67 runs, 22 doubles, 7 HRs, 53 SB, .700 OPS
2012: (AA 82 games): .282 BA, .325 OBP, 41 runs, 10 doubles, 1 HR, 42 SB, .658 OPS
On the Outside Looking in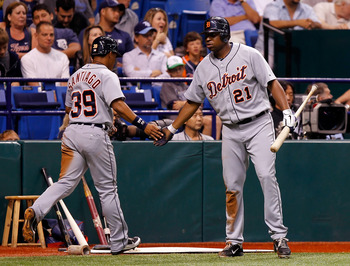 J. Meric/Getty Images
As it stands right now, I expect Ramon Santiago to be the player who is left out when the Tigers head north at the end of spring training.
Santiago has been a very valuable part of the Tigers' infield over the last five seasons. I think the Tigers are hoping Santiago's bat will show some life so they can dangle him as a backup infielder for a team in need of a proven major leaguer.
Wild Card: Free Agent or Trade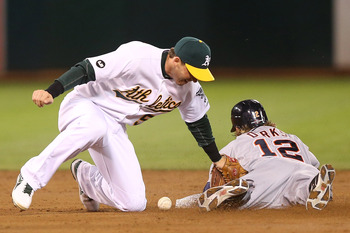 Ezra Shaw/Getty Images
The wild card for the infield is whether the Tigers will sign a free agent, or make a trade to improve the range and defense at shortstop.
Stephen Drew is one possibility as a free agent. Trade targets are difficult to gauge, but may include Jed Lowrie and Asdrubal Cabrera.
Keep Reading

Detroit Tigers: Like this team?