10 2013 NFL Draft Sleepers You Must Watch This Bowl Season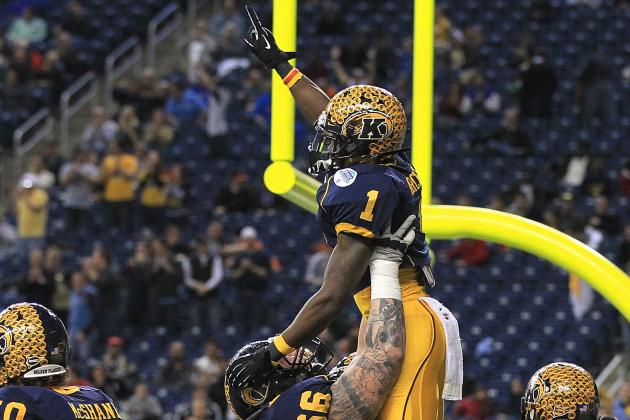 Dave Reginek/Getty Images

The college bowl season allows us to get a great view of the many different NFL draft prospects. The fact that most of the games are televised means that we also get the opportunity to see some prospects we don't typically see.
This article breaks down 10 draft prospects that aren't getting enough attention. These sleepers are names that will rise up the board as the draft process progresses. I made sure to include what bowl and where you can see each of these prospects.
Begin Slideshow

»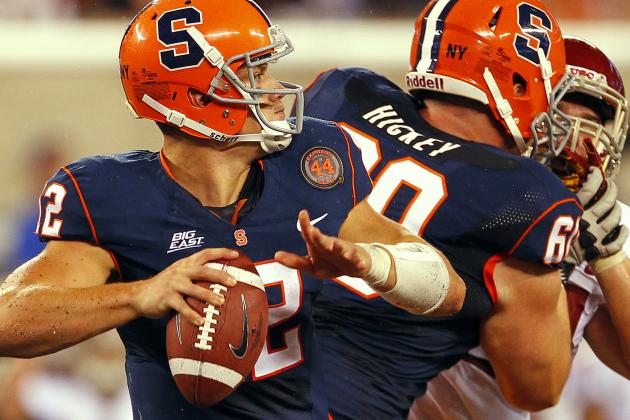 Rich Schultz/Getty Images

Bowl Game: New Era Pinstrip Bowl vs. West Virginia
Where to Watch: December 29th, ESPN at 3:15 p.m. ET

Ryan Nassib has had an extremely productive season at Syracuse. Throughout his career, he has taken positive steps forward in his development. His strong arm is complemented by solid technique and good anticipation.
Nassib deciphers information quicker than any other quarterback in this draft class. He goes through his progressions with balance and excellent footwork. His commitment to setting his feet towards the target helps him deliver an accurate ball.
Don't be surprised if Nassib rises up the board during the draft process. I currently have him rated as a second-round prospect. This is a player who possesses a ton of upside, and his best football is yet to come.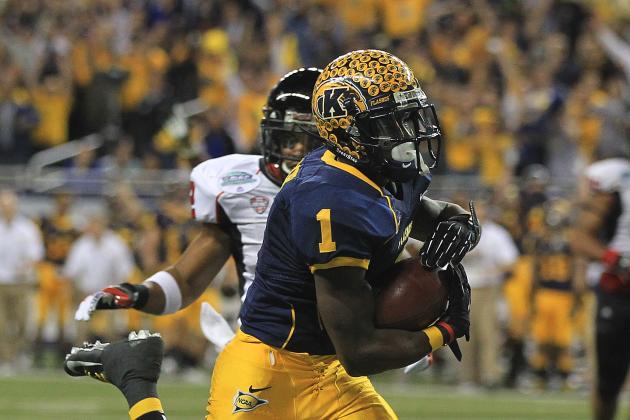 Dave Reginek/Getty Images

Bowl Game: GODaddy.com Bowl vs. Arkansas State
Where to Watch: January 6th, ESPN at 9:00 p.m. ET

Kent State had a great season, and do-everything player Dri Archer played a major role in that success. Archer was used in multiple roles, including wide receiver, running back and kick returner. His explosiveness made him a real difference-maker.
Archer's future in the NFL could be very similar to the way the Minnesota Vikings use Percy Harvin.
It may take Archer a little while to improve his route running and find a defined role. However, there's no reason he won't make an immediate impact as a kick returner.
NFL teams will be drawn to Archer because of his explosiveness. He possesses that ability to score from anywhere on the field.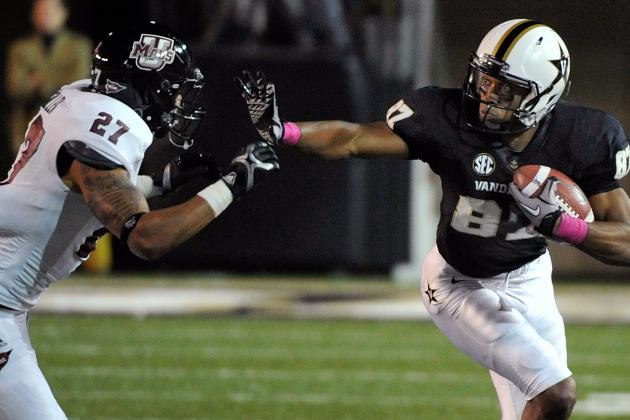 Frederick Breedon/Getty Images

Bowl Game: Franklin American Mortgage Music City Bowl
Where to Watch: December 31st, ESPN at 12:00 p.m. ET

Vanderbilt's Jordan Matthews might be one of the more explosive players in this draft class. His quick-twitch ability makes him a threat to score from anywhere on the field. It also allows him to stretch the defense.
Matthews' speed helps him outpace the defender and produce explosive plays. He has a great chance to come off the board somewhere in the second round.
While his speed is a big part of his game, he also brings reliable hands and the ability to run crisp routes.
Matthews possesses good size for the position and the body control to use that size. He's someone who can adjust to the ball while in the air.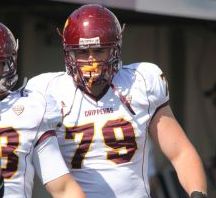 draftnasty.com
Bowl Game: Little Caesars Bowl vs. Western Kentucky
Where to Watch: December 26th, ESPN at 7:30 p.m. ET

Central Michigan's Eric Fisher is quickly becoming a name to know. His solid play throughout his career has put him in position to come off the board in the first round.
Fisher is a well-rounded player who plays with poise and savvy. His wide base and good knee bend gives him the balance needed to protect the passer. That balance, combined with a good use of angles and quick feet, helps Fisher hold up against all types of pass-rushers.
Fisher also does an excellent job opening running lanes. He possesses a nasty streak that results in the ability to drive defenders off the line of scrimmage.
The only issue facing him is the question about his ability to adjust to a higher level of competition.
Nonetheless, the lack of depth at the offensive tackle position should all but ensure that Fisher comes off the board somewhere in the first round.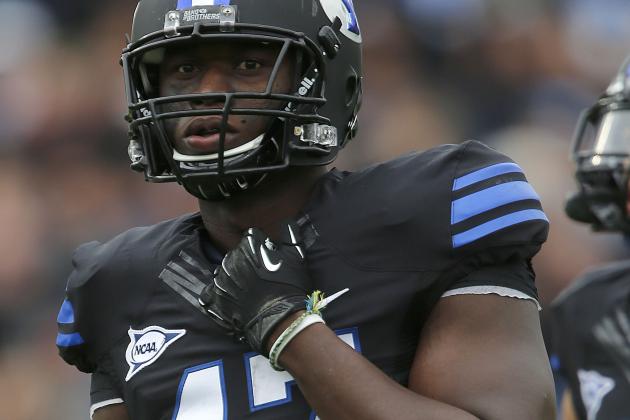 George Frey/Getty Images

Bowl Game: San Diego County Credit Union Poinsettia vs. San Diego State
Where to Watch: December 20th, ESPN at 8:00 p.m. ET

BYU uses defensive end Ezekiel Ansah in a wide-range of roles. His versatility is something NFL teams will love. He's capable of rushing the passer off the edge, holding up against the run and even dropping into coverage. And the fact that he can fit any system will help his overall draft stock.
However, Ansah's best fit will be at defensive end in a 4-3 defense. This is because of his quickness off the ball and his ability to set the edge against the run.
Ansah is so effective because of his snap awareness, quick burst and top-notch closing speed. He also does a great job using inside hand placement and keeping his pad level low.
Ansah is more technically sound than most realize.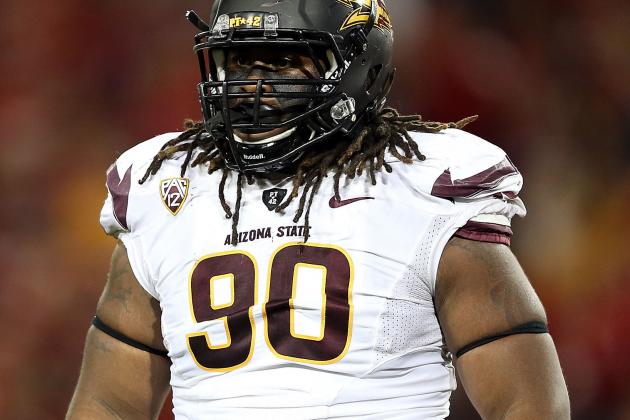 Christian Petersen/Getty Images

Bowl Game: Kraft Fight Hunger Bowl vs. Navy
Where to Watch: December 29th, ESPN 2 at 4:00 p.m. ET

Arizona State's Will Sutton possesses the skill set needed to be a disruptive force in the NFL. His quick first step helps him penetrate the pocket and wreak havoc in the backfield. This is a defensive tackle who can rush the passer, collapse the pocket and anchor against the run.
Sutton's best fit would be as a three-technique in a 4-3 system. This would allow him to use his explosiveness to make plays behind the line of scrimmage.
Don't be surprised if Sutton's name starts to come up in first-round discussion. Teams love defensive tackles that can disrupt the timing of the offense.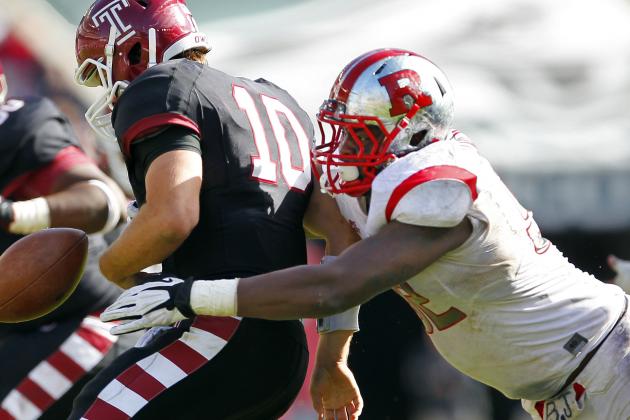 Rich Schultz/Getty Images

Bowl Game: Russell Athletic Bowl vs. Virginia Tech
Where to Watch: December 28th, ESPN at 5:30 p.m. ET

So much of Rutgers' success this season is thanks to the game-changing plays produced by linebacker Khaseem Greene. He's an explosive athlete who's always around the football. Greene isn't satisfied just making the tackle, he wants to deliver an explosive hit and generate a turnover.
He's able to make so many plays because of his elite athleticism. Greene can quickly break on the ball and make plays sideline to sideline. That athleticism also gives Greene the versatility to play either inside or outside linebacker.
Teams running any system could consider adding Greene to the mix. He'll excel during the draft process and should be able to crack the first round.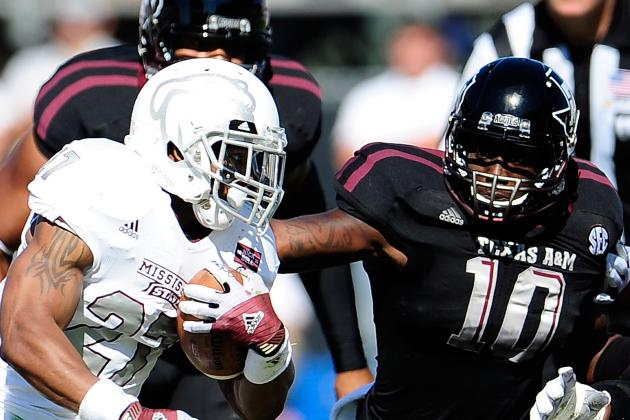 Stacy Revere/Getty Images

Bowl Game: AT&T Cotton Bowl vs. Oklahoma
Where to Watch: January 4th, on Fox at 8:00 p.m. ET

Damontre Moore gets most of the attention on the Texas A&M defense. However, Sean Porter deserves a lot of credit as well. He's a solid all-around player who does just about everything at a high level.
Throughout the course of his career, Porter has shown that he's an excellent team player. Texas A&M has shifted his role several times throughout his career. At times, he was asked to drop in coverage, set the edge against the run and rush the passer. His willingness to do what his team asked of him shows great leadership.
Porter will be one of those players who slides a little on draft day, but quickly becomes an impact player.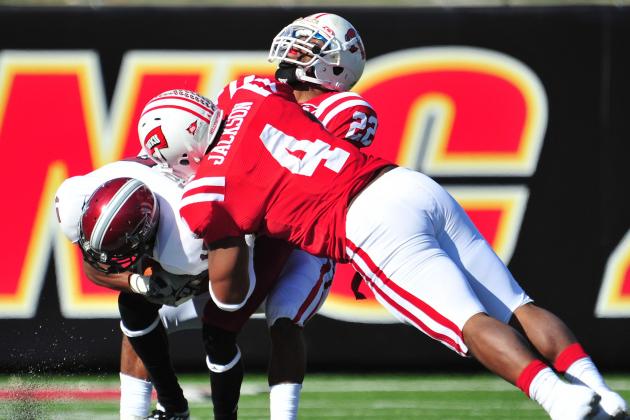 Don McPeak-USA TODAY Sports

Bowl Game: Little Caesars Bowl vs. Central Michigan
Where to Watch: December 26th, ESPN at 7:30 p.m. ET

Western Kentucky's Andrew Jackson is an explosive athlete who has an excellent nose for the football. He does a great job reading the play and using his closing speed to bring down the ball-carrier.
Jackson is the type of player who's capable of racking up a ton of tackles behind the line of scrimmage.
He doesn't have ideal size, but he makes up for it with his quickness and use of angles. Still, Jackson needs to get stronger and do a better job at the point of attack. He looks more to avoid blocks rather than meeting the blocker in the hole.
While not quite at the same level, Jackson has a similar skill set as Tampa Bay Buccaneers linebacker Lavonte David.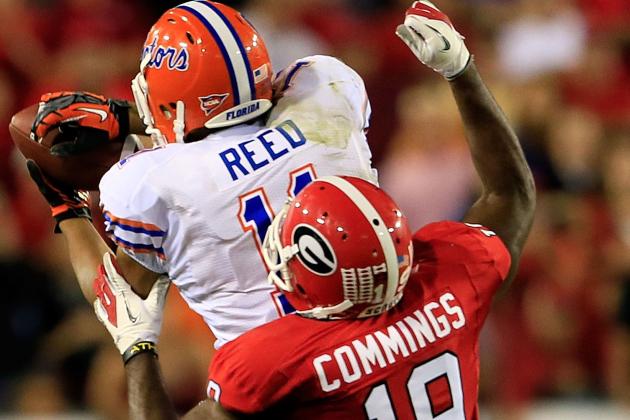 Sam Greenwood/Getty Images

Bowl Game: Capital One Bowl vs. Nebraska
Where to Watch: January 1st, on ABC at 1:00 p.m. ET

Georgia's Sanders Commings is a versatile defender who could fit at either cornerback or safety. He possesses good size, a quick closing burst and the physicality to support the run.
Commings tends to get overlooked because of the other elite talent on Georgia's defense. However, there's always room in the NFL for versatile defensive backs.
Commings' ball skills enhance his overall draft stock. He possesses the ability to attack the ball at its highest point and pull down the interception. It also helps that he's able to read the quarterback and anticipate the throw.
This is more of a mid-round prospect, but someone who could quickly develop into an important contributor.