Cleveland Browns Rout Kansas City Chiefs: Postgame Comments and Analysis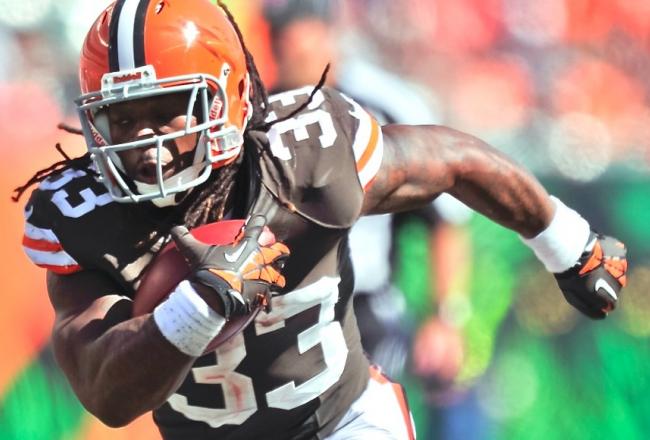 Brandon Weeden (17-of-30, 217 YDS), at times, looked like a gunslinging surgeon this afternoon.
However, the first snap of the day resulted in Jamaal Charles (18 ATT, 165 YDS, TD) scampering 80 yards for a touchdown.
On the subsequent Kansas City drive, Dwayne Bowe (2 REC, 70 YDS) posted 70 yards on two receptions. But Ryan Succop thumped a 27-yard field goal off of the left upright, Cleveland took over and the Browns took over.
From that point on, the Dawg Pound cheered behind 30 unanswered points.
Fourth-round pick Travis Benjamin captured the lead for Cleveland, returning a Dustin Colquitt punt 93 yards—a Browns record—for the touchdown.
Cleveland laid claim to the air. Josh Gordon continually answered the call, contributing 86 yards on his eight catches. Greg Little also chipped in 69 receiving yards.
Next week, the Kansas City Chiefs (2-11) will renew their annual trip to the Black Hole and slug it out with the Oakland Raiders (3-10). Riding a three-game win streak, the Cleveland Browns (5-8) will host Robert Griffin III's Washington Redskins (7-6).
Season statistics provided by Pro-Football-Reference.com. Today's box score provided by ESPN.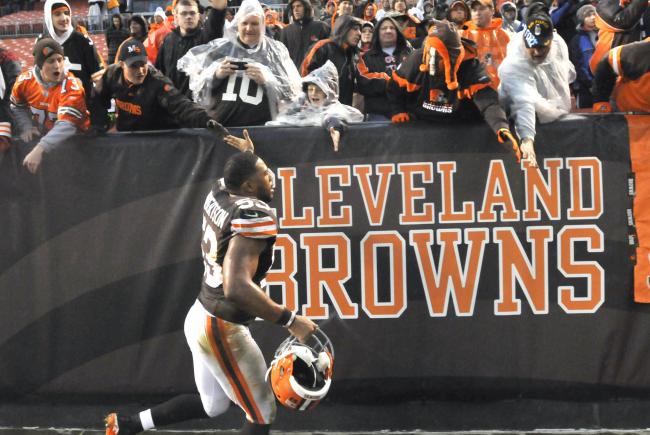 Final Thoughts
Passing: it matters.
Browns receivers created more separation than a year in review for your favorite (least-despised?) Kardashian. Brandon Weeden exploited a bandage-clad Chiefs secondary, repeatedly connecting with Josh Gordon to move the chains.
For the brief amount of time that Dwayne Bowe was on the field, Brady Quinn ruled the air like the Red Baron. Bowe was then sidelined, and Quinn looked less qualified than Snoop Dogg in Soul Plane. [Cue "What's crack-a-lackin'?" pre-flight announcement.]
Weeden bulleted 10 passing first downs; Quinn was responsible for four.
Cleveland converted 5-of-11 third downs; Kansas City squeaked by with one conversion in 11 attempts.
Special teams also proved to be a deciding factor, as rookie Travis Benjamin's 93-yard punt return rewrote the Browns' record book. Additionally, Phil Dawson performed flawlessly in the kicking game, slicing the uprights of opportunity on three occasions.
Mr. Reliable, Ryan Succop, uncharacteristically misfired on his only attempt—a 27-yard chip shot.
When taking the abundance of injuries into consideration, a loss was all but inevitable for the Chiefs today. But there's no excuse for a 23-point margin of defeat.
Twitter Timeline
1Q: Chiefs 7, Browns 0
Wow. Jamaal Charles with an 80-yard touchdown run to get things started. #Chiefs #Browns

— Matt Miller (@nfldraftscout) December 9, 2012
1Q: Chiefs 7, Browns 3
Dawson's 23 field goal attempt is good, #Chiefs 7, #Browns 3. This was Phil Dawson's 300th Career Field Goal! #KCvsCLE

— Cleveland Browns (@OfficialBrowns) December 9, 2012
2Q: Browns 10, Chiefs 7
Travis Benjamin PR-TD of 93 y. Browns shifted Josh Cribbs to the LOS before the kick!

— Tony Grossi (@TonyGrossi) December 9, 2012
3Q: Browns 17, Chiefs 7
Trent Richardson's 8th rushing TD this season moved him to within 1 of Jim Brown's @officialbrowns franchise record for rookie.

— ESPN Stats & Info (@ESPNStatsInfo) December 9, 2012
3Q: Browns 20, Chiefs 7
Phil Dawson doesn't have 301 career field goals solely by being super awesome. He's had, um, help.

— Zac Jackson (@FSOhioZJackson) December 9, 2012
4Q: Browns 27, Chiefs 7
Trent Richardson has tied Jim Brown for the #Browns rookie record for rushing TDs in a season with 9

— Dan Murphy (@DMurph_BrownsPR) December 9, 2012
4Q: Browns 30, Chiefs 7
Dawson's 34 yard field goal attempt is good. #Browns lead 30-7. #KCvsCLE

— Cleveland Browns (@OfficialBrowns) December 9, 2012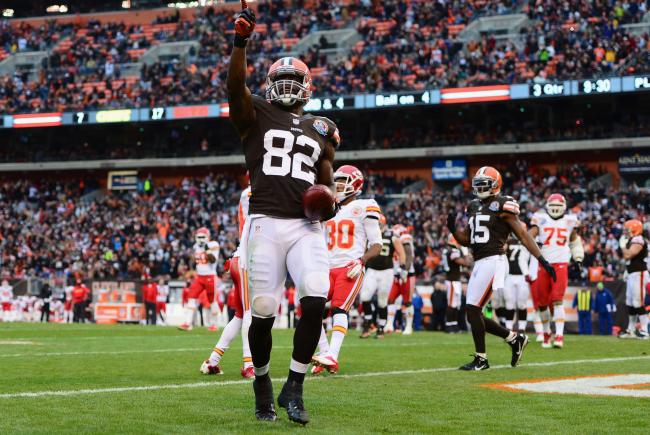 Final:
The Browns show mercy via victory formation.
Impressive effort.
2:10, fourth quarter:
Without Bowe, the Chiefs offense has reverted to the same anemic, one-dimensional, lack-of-talent show that it was preceding Week 13.
If there were any questions hovering around Bowe's significance, they have been answered.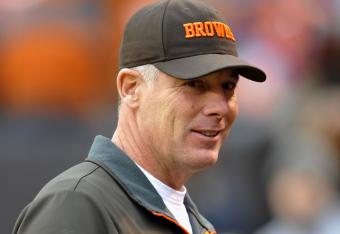 4:05, fourth quarter:
Today's script has been written by the play of receivers and defensive backs.
The injury bug has feasted on both of Kansas City's units, and the score reflects so.
That said, Cleveland appears more fundamentally sound—offensively and defensively—and Weeden appears to be coming into his own.
6:29, fourth quarter:
Earlier this afternoon, Travis Benjamin's punt return wasn't just exhilarating, it was record-breaking:
Travis Benjamin's 93 Yard Punt Return TD is the longest punt return TD in Browns history.

— ESPN Stats & Info (@ESPNStatsInfo) December 9, 2012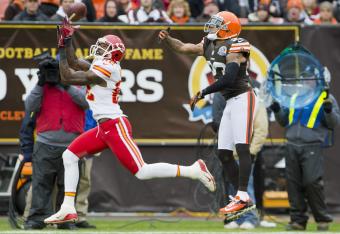 8:00, fourth quarter:
How indispensable is Dwayne Bowe?
Before leaving with his rib injury, Bowe netted 70 yards on two receptions. The seven other Kansas City receivers with receptions have totaled 82 yards.
Brady Quinn posted 101 passing yards in the first two quarters. Since halftime, he has added 55.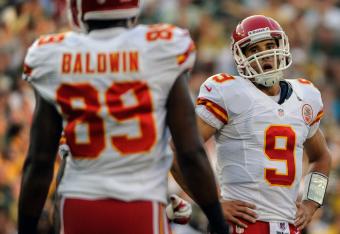 11:03, fourth quarter:
Quinn is struggling to find an open receiver.
Judging by his options, it's safe to say that the lion's share of the blame falls on the wideouts.
Jon Baldwin, Kansas City's first-round pick of 2011, continues to claw for playing time and targets. Thus far, he has only managed a measly total of 18 receptions in 13 games.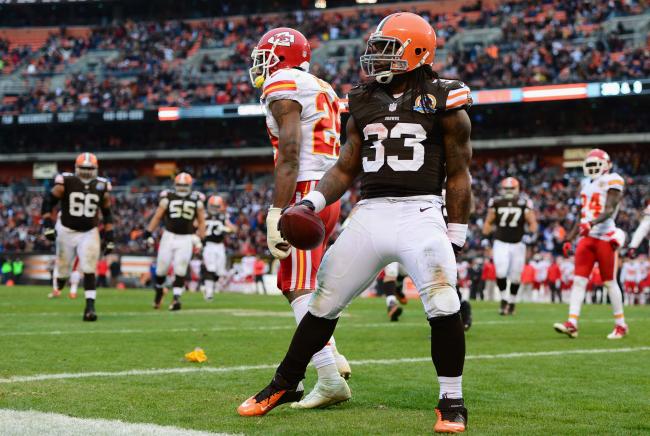 14:17, fourth quarter:
Attempting to stop Trent Richardson at the goal line is like standing in front of Charles Barkley at Krispy Kreme on Black Friday.
Good luck with that.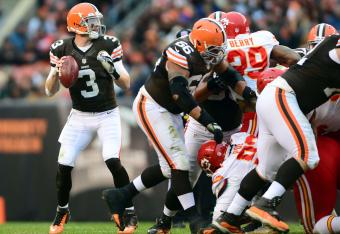 1:47, third quarter:
With the exception of a pair of Tamba Hali sacks, the Browns offensive line has built a wall around Weeden.
Throughout the third quarter, the unit has blocked like Peyton Hillis just challenged their manhood.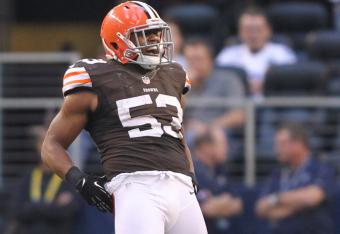 6:16, third quarter:
Craig Robertson just hit Dexter McCluster like a S.W.A.T. member trying to barge through a locked door.
Most fans wish they were NFL players. But every so often, you become content with your day job.
If that collision occurred last month, it would have added another five seconds to a nine-to-fiver's Thanksgiving speech.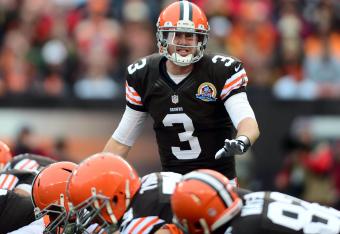 9:25, third quarter:
Two consecutive would-be touchdowns for Cleveland were wiped from the record via penalties.
A three-possession deficit would have buried the Chiefs' comeback aspirations.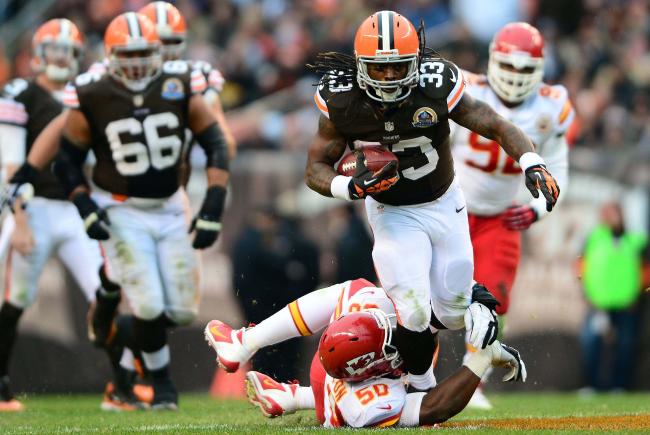 12:28, third quarter:
Trent Richardson bulldozed his way into the end zone.
The Browns stretch the lead to double figures.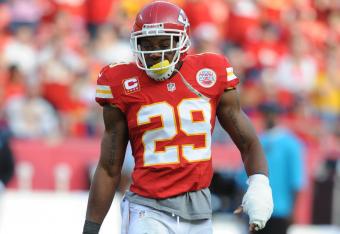 12:31, third quarter:
Eric Berry—whose left arm is wrapped in a cast—dropped a sure interception.
On a separate play, Derrick Johnson torpedoed through the Browns line, forcing a wide trajectory for Josh Cribbs on the reverse. But Cribbs stuttered toward the middle of the field and Jalil Brown fell quicker than Pacquiao.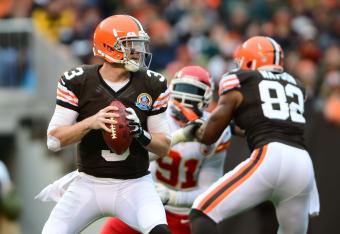 14:22, third quarter:
Since the unsuccessful fade route, Weeden has steered clear of Brandon Flowers.
Javier Arenas has a target reticle painted on the back of his jersey.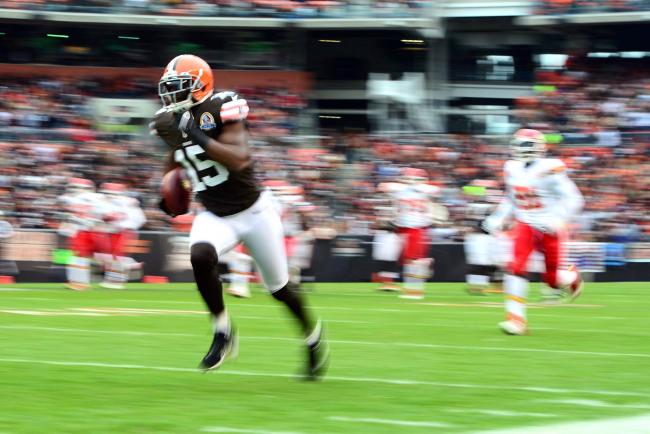 Halftime:
Both quarterbacks have completed 50 percent of their passes.
Brandon Weeden has aired it out for 116 yards, while Brady Quinn has accounted for 101.
Jamaal Charles chewed up 128 on the ground—80 of which came on the game's opening play—and Trent Richardson has been smothered for 27 yards on nine carries.
A false start flag pushed Kansas City back five yards, ultimately giving way to a missed Ryan Succop field goal that ricocheted off of the left upright. Thus far, that proves to be the difference.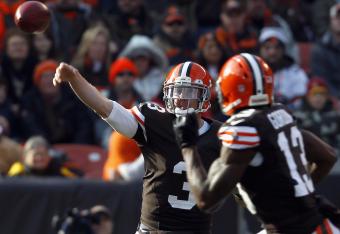 1:08, second quarter:
Wow.
Gordon faked a slant route and scorched the coverage on a double-move, but Weeden never looked his way.
Tamba Hali eventually sacked him for the second time today.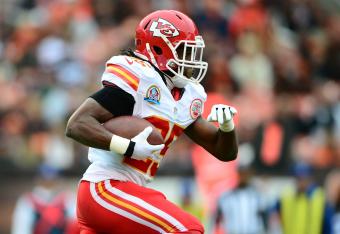 3:18, second quarter:
Charles has checked back in.
Romeo Crennel may just be using him as a decoy, though.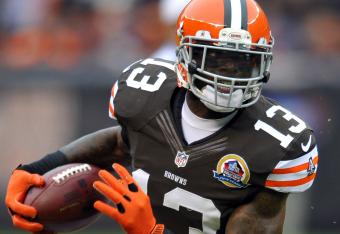 5:00, second quarter:
Josh Gordon and Greg Little are torching the Chiefs.
The two have combined for 101 yards on six receptions
8:00, second quarter:
CBS just confirmed that Charles is sidelined with a rib injury.
Skill positiosn on that play: Eachus, Newsome, Copper, Moeaki, and Hillis.

— Sam Mellinger (@mellinger) December 9, 2012
"...Who?" — The Greater Cleveland area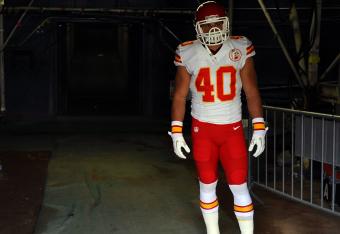 9:38, second quarter:
Fans are booing Hillis with every opportunity.
If Oprah took control of the PA and announced that Hillis purchased puppies for every fan in attendance, she would be booed out of the stadium.
11:22, second quarter:
Dwayne Bowe suffered an apparent rib injury:
Bowe now heading into locker room,

— Adam Teicher (@adamteicher) December 9, 2012
Jamaal Charles also cringed after landing awkwardly on the ball. That means: A) The wind was knocked out of him, or B) He also injured his rib(s). His presence during Kansas City's next drive will clear up the prognosis.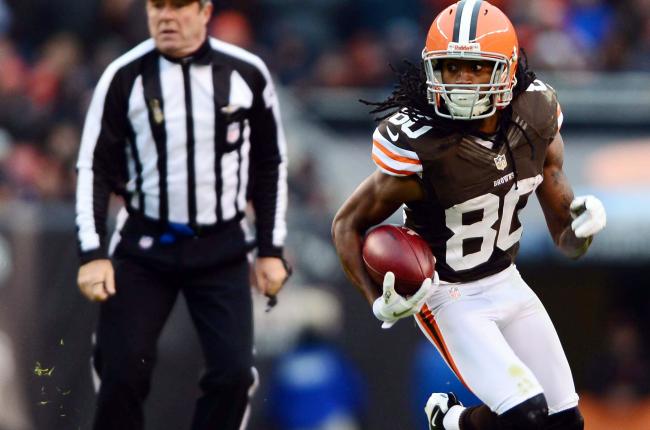 14:40, second quarter:
Chris Tabor deserves credit.
The Browns left the right gunner unblocked, and the opposite gunner, Neiko Thorpe, was blocked well into the end zone.
Rookie Travis Benjamin capitalized on textbook blocking and captures Cleveland's first lead with a 93-yard punt return.
:10, first quarter:
Bowe's absence has already been felt.
In the two subsequent passes following his departure, Chiefs receivers failed to create separation with Browns defenders.
If No. 82 is rendered a spectator, Dexter McCluster and Tony Moeaki are going to have to become factors in order for Kansas City to win.
3:20, fist quarter:
Assuming he remains sidelined for a significant amount of time, it will interesting to see how Bowe's (back) injury dictates the effectiveness of Kansas City's passing attack.
Bowe has remained Kansas City's only outside threat in 2012.
This article is
What is the duplicate article?
Why is this article offensive?
Where is this article plagiarized from?
Why is this article poorly edited?