2013 NFL Draft Stock Report: Who Is Rising, Who Is Falling?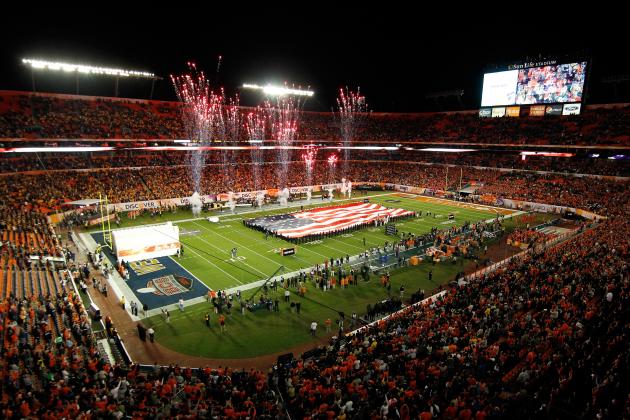 J. Meric/Getty Images

The end of the season is upon us; with the 2012 college football season officially coming to a close, the evaluation process is at hand, so who are some NFL Draft prospects that have helped or hurt their cases for the next level?
In the final week of the college football season (save for the Army-Navy game this coming Saturday, which everyone should watch), the SEC championship fielded endless waves of draft prospects.
From my count, there were 26 draftable junior or senior prospects, foremost of which would be rush linebacker Jarvis Jones and nose tackle John Jenkins for Georgia, and the trio of offensive linemen for Alabama in left guard Chance Warmack, center Barrett Jones and right tackle D.J. Fluker.
In this week's stock watch, a few high-profiled names may surprise readers as prospects whose stock is "falling." On the other side of the equation I made a unique concession to not list a player for one of my "rising" slides, if that makes any sense.
Click through, read the slides and be sure to comment below with any thoughts, suggestions or criticisms you may have.
Begin Slideshow

»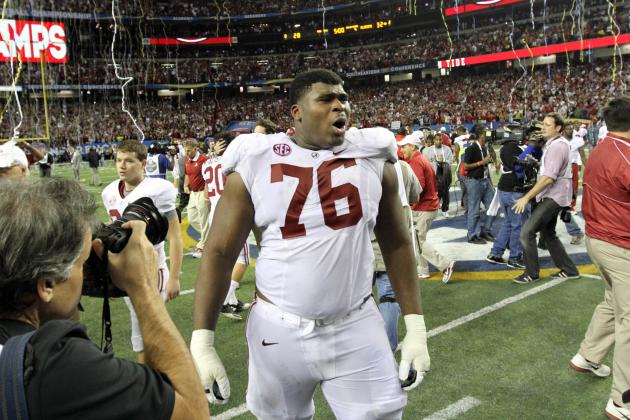 USA TODAY Sports

Alabama's junior right tackle did not disappoint in the SEC Championship game, dominating Georgia defensive linemen, regardless of who was lined across from him. Fluker shined the brightest on an offensive line that beat Georgia to the tune of 350 rushing yards on 51 carries (nearly seven yards-per-carry).
Winning with inside hand placement, great leverage and non-stop leg drive, Fluker's improved balance and technique allowed him to fully convey his girth and power upon the opponent. Consistently moving his man off the line of scrimmage and fighting through the whistle with his blocks, Fluker put forth an outstanding performance. Should the Bama tackle declare for the 2013 draft, he'll earn a top right tackle slotting on a majority of NFL teams' draft boards.
A blue chipper coming out of high school, Baylor's Lache Seastrunk possesses elite quick-twitch athleticism and physical tools for a 5'10", 205-pound tailback. Seastrunk flashed his mid-to-high 4.3 speed on an explosive 80-yard touchdown run vs. Kansas State, and more importantly, put forth an incredible amount of effort and heart en route to a 76-yard touchdown run against Oklahoma State, during which he very noticeably injured his hamstring with 40 yards of real estate left to gain.
The skill set to be an every down back is there with Seastrunk, as he combines "plus" burst and bend to elude oncoming tacklers in traffic. Having posted a 42.5-inch vertical and 10'11" broad jump, Seastrunk certainly passes the eyeball test for the next level. He's only a redshirt sophomore, but Lache is a name that will excite NFL scouts whenever he declares for the draft, be it this year or the next.
R. Yeatts/Getty Images

Ending the regular season on a high note, Johnson has skyrocketed up senior offensive tackle rankings. Being a swing tackle prospect, capable of playing both right and left tackle slots, Johnson's value will be equally high across NFL Draft boards.
Matched up against the Big 12's sack leader and frosh superstar Devonte Fields from TCU, Oklahoma left tackle Lane Johnson upped his game to another level with impressive lateral burst, light feet and ideal body control to mirror in space.
Though unrefined in his technique, both from a pass set standpoint and run blocking perspective, Johnson impressed by making the most of his plus length and consistently cutting off his opponent with good quickness off the snap.
To improve his pass set on extended pass drops, I'd like to see Johnson get more depth with his initial punch step backwards off the snap, as he begins his pass set by picking up and setting his outside foot back in place, rather than gaining ground on the rusher.
In the running game, Johnson needs to keep his hands inside and not overextend beyond his framework. Capable of being a starter at either left or right tackle spots at the next level, Johnson should be a day two pick and high upside developmental guy.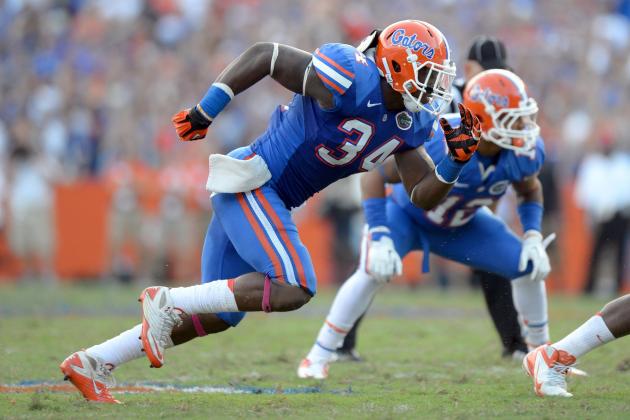 Jake Roth-USA TODAY Sports

Often overlooked on a defense chock-full of NFL Draft talent that includes players like Matt Elam, Sharrif Floyd and Jelani Jenkins, Lerentee McCray made the most of playing opportunities as a redshirt senior and caught the eye of NFL scouts.
At his best when able to coil into and explode out of a four-point stance, McCray does an impressive job of converting speed to power to knock opposing blockers off balance. Equally sudden with his hands and fluid enough to dip his pad level, McCray also understands proper speed rush technique in order to run the arc with his natural speed.
In terms of physical tools, McCray compensates for his decent height (6'2") with long arms, a plus first step, a high-end motor and explosive closing speed. The major knock on McCray will be his lack of productivity, as injuries derailed the beginning of his Florida career. The silver lining, however, could be the perseverance shown by McCray to stick through with his commitment to Florida.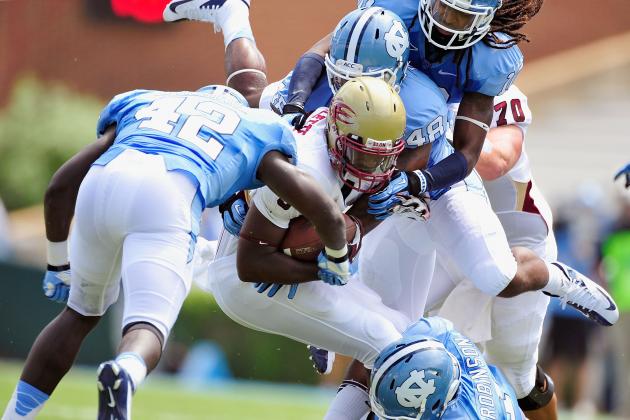 Grant Halverson/Getty Images
Aaron Mellette headlines this year's class of small schoolers
In the middle stages of Senior Bowl roster announcements, six non-FBS prospects have officially accepted invites to the event. Being the premiere all-star game for NFL scouts to view "equal-man" competition or a leveled playing field, each of these small school prospects will get a unique opportunity to play against players that are widely regarded as the best in the country.
Just to emphasize how impressive the current number of small school prospects that could end up in Mobile, Ala. for the Senior Bowl, consider the fact that the 2012 North and South rosters combined for a total of six non-FBS prospects. Talent will find its way into the NFL, and the Senior Bowl selection committee, led by former NFL executive Phil Savage, has done an excellent job of scouting each division of football, from the FBS to Division II levels.
For the most up-to-date list of official and unofficial all-star game roster additions, be sure to check out BuffaloBillsDraft.Com.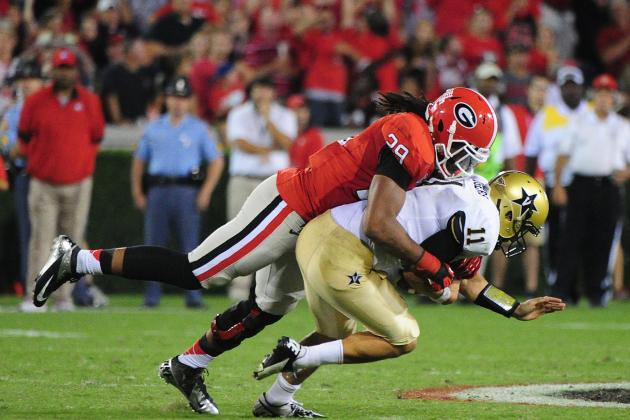 Scott Cunningham/Getty Images

While the health concern of spinal stenosis is one to follow in the coming months leading up to the 2013 NFL Draft, what concerns me the most with Jarvis Jones is his on-field skill set. At 6'2" and 242 pounds, Jones appears to have minimal body type upside, in regards to his lack of plus length and maxed out upper half. Tightness in his pass rush, which can be attributed to the additional weight and strength Jones added to his upper half, has limited his ability to effectively bend the edge and run the arc to the quarterback at an ideal angle.
Is he big enough to play as a defensive end in a 4-3 scheme? Is he long enough and effective enough out of a two-point stance to play as a rush linebacker in a 3-4 scheme? And is he fluid enough in space to play a Sam linebacker position in a 4-3 scheme? I have just one answer to all three of those questions and that is, "I'm not sure." You have to have a plan in place for this type of unique talent and more often than not, a dominant player like Jarvis Jones will be overvalued in the draft and incorrectly utilized.
Overcoming a doctor's diagnosis that he would never be able to play football again without risk of paralysis, Jarvis Jones is certainly not a player to bet against. The amount of fortitude shown by Jones in doing whatever it takes to pursue his dream should serve to motivate any and all who have listened. Still, I worry about how his game translates to the NFL level. The speed, power and explosive elements are readily apparent; what worries me is Jones' inability to bend the edge and work back inside with his rush, in addition to a lack of length and a maxed out body type.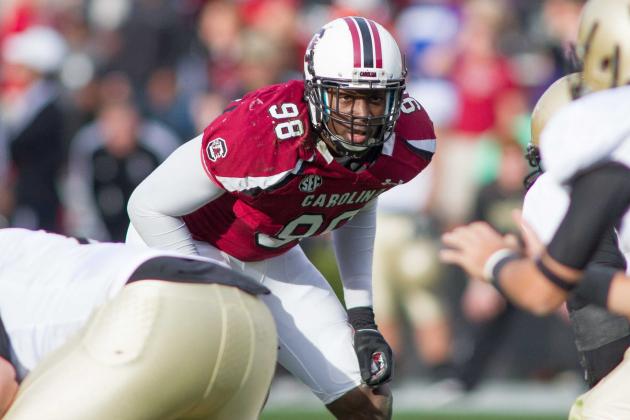 Jeremy Brevard-USA TODAY Sports

I had high expectations for Taylor as a senior, and gave a favorable late first-early second round draft grade with anticipation of improved point of attack strength, bend as a rusher and consistency in locating the football. After a season of evaluating, I only saw glimpses of two of those aspects, as Taylor proved to be far too stiff and mechanical to develop into a dangerous edge rusher.
Left unblocked and kicked out regularly on counter or power runs directed his way, Devin Taylor continually had a difficult time reading/reacting and breaking down at heel depth of the offensive line. Unable to attack the blocker and shed into a tackling position, teams were much more willing to run Taylor's way, as it produced consistent yardage. Taylor automatically has a difficult time winning the leverage battle with an exposed 6'7" frame, and perhaps more concerning could be Taylor's inability to pack on good bulk and strength to such a frame.
As a pass rusher, Taylor never learned how to use his excellent speed and length to turn the corner. It was a very disappointing season for the senior, as he produced just three sacks on the season, while playing opposite the nation's most feared pass rusher, JaDeveon Clowney.
Up 50 some odd pounds from his high school weight of 215 pounds, Devin Taylor's frame, though appearing capable of more weight and strength, seems to be fully maxed out. Once viewed as a sure-fire top 100 pick, it appears more and more likely that Taylor will be a day three draft choice.