The NFL playoffs are rapidly approaching, and while there are some teams with a great record who are in an ideal position to play past Week 17, other teams will fade down the stretch of the season and come much closer to missing the playoffs than originally thought.
Whether it's a result of poor play, a tough schedule, or both, some of the best teams in the league will have a rough time over the last four weeks of the season.
Who are they? Let's find out.
1. Houston Texans (11-1)
After a convincing win, this time over the Tennessee Titans, the Texans already find themselves in the playoffs and have a shot to close out the division in the coming weeks.
Houston is the most complete team in football. They sport an elite defense and both the rushing and passing attacks rank in the top-10.
2. Atlanta Falcons (11-1)
The Falcons continue to take care of business after pulling off their third straight victory with a win over the New Orleans Saints. Atlanta has already clinched the division and could wrap up home-field advantage in the playoffs very soon.
While it says a lot about their ability to win close games, the Falcons are not exactly beating up on their opponents and that should be a concern as they prepare for tough competition in the playoffs.
3. New England Patriots (9-3)
The Pats just barely squeaked by the Miami Dolphins in Week 13, but their poor play was due to occur after scoring a combined total of 145 points in their previous three games.
New England will find out exactly what its made of over the next two weeks as they prepare to take on the Texans and San Francisco 49ers in consecutive games.
4. Denver Broncos (9-3)
Peyton Manning and company are beginning to become well known for slow starts, but once that's out of the way, the Broncos' offense is clicking on all cylinders.
Denver has won seven games in a row and have "gimme" games in three of its next four contests. The Broncos should cruise into the playoffs and could finish with a first-round bye.
5. Green Bay Packers (8-4)
After a slow start to the season, the Packers have picked it up and all of a sudden Green Bay has reeled off six wins in its last seven games.
This week, the Packers won a hard-fought game against the Vikings and their stingy defense. The Pack does have the Bears left on their schedule, but the other three games are very winnable.
6. Baltimore Ravens (9-3)
The Ravens had a golden opportunity to create some serious space between themselves and the Pittsburgh Steelers, but instead dropped the all-important division battle and have now given the Steelers life in the race.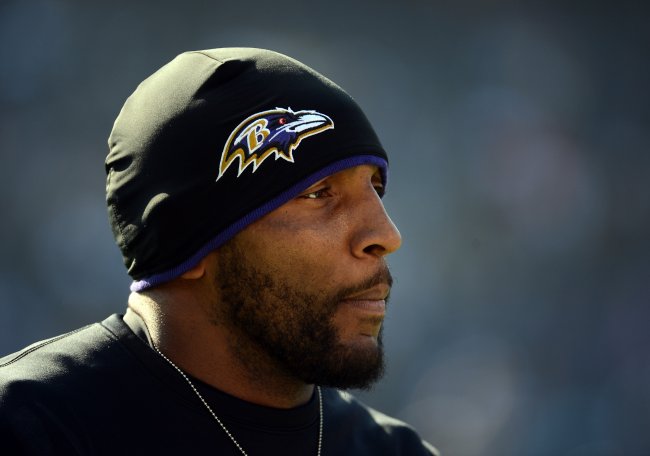 Harry How/Getty Images
Adding insult to injury, the Ravens weren't able to take advantage of a Ben Roethlisberger-less Steelers team that had to go to third-string quarterback Charlie Batch to get the job done.
Offensively, the Ravens were awful and that was headed by Joe Flacco's depressing performance in which he failed to complete 50 percent of his passes and committed two turnovers.
Baltimore has been getting away with winning close games all season, but that might be catching up to them now as they struggle to generate offense.
Closing out their season, the Ravens have one of the toughest, if not the toughest schedules in the NFL (at Washington, vs. Denver, vs. New York Giants, at Cincinnati). All of the teams left on the Ravens' schedule could potentially beat them and will if things don't improve.
7. San Francisco 49ers (8-3-1)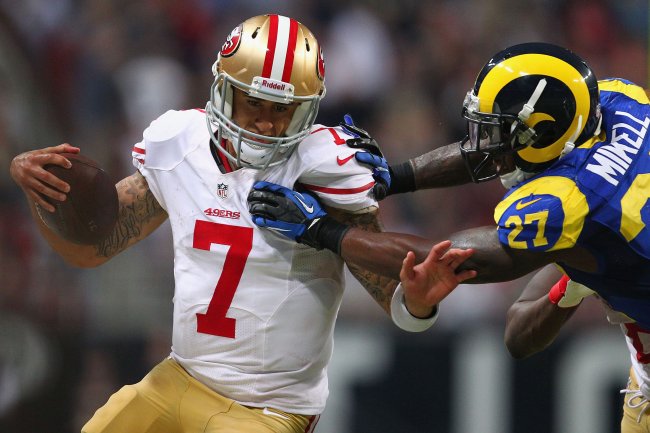 Dilip Vishwanat/Getty Images
Boy, are the 49ers happy they don't have to see the St. Louis Rams again. Just weeks after tying their division rival, the 49ers dropped the pair's second meeting in overtime by a field goal. With a Seahawks victory, the 49ers' lead in the NFC West just got a little smaller.
Offensively, the 49ers were never able to get anything going against the Rams. Colin Kaepernick didn't have the same explosive touch through the air in this game and Frank Gore was never able to muster up much yardage against the Rams' tough defense.
It appears the Niners will stick with the rookie behind center, so that still leaves an element of unpredictability moving forward, as is the case with almost all rookie starting quarterbacks. Plain and simple: you just don't know what you'll get out of Kaepernick on a weekly basis.
San Fran doesn't have an easy road to the playoffs by any stretch (vs. Miami, at New England, at Seattle, vs. Arizona). The one common thread between all of those teams is that they can all play solid defense and can force a rookie quarterback to make mistakes, leading to lost games.
8. Indianapolis Colts (8-4)
If you would have told me the Colts would be this high in the NFL power rankings at this point in the season, I would have had you committed.
Andrew Luck and company continue to find a way to win each week and are quickly becoming one of the better teams in football. With two games left against the Texans, who might have nothing to play for by then, the Colts should have no problem getting to the playoffs this season.
9. Chicago Bears (8-4)
The Bears took a slide in the rankings after dropping their game with the Seahawks on Sunday. This team is still having problems offensively and that will be an issue the rest of the way no matter how good Chicago's defense is.
Chicago has two straight games that will be tough to win against Minnesota and Green Bay. The Bears have already lost their division lead by way of tiebreaker and are just two games ahead of the non-playoff teams going into Week 14.
It's a pretty unthinkable scenario for a team that started out 7-1.
10. Pittsburgh Steelers (7-5)
Pittsburgh has weathered the storm without Big Ben and even beat the Ravens with Charlie Batch behind center.
Troy Polamalu is finally back for the Steelers, so that should be a huge boost for their defense moving forward. Once Big Ben gets back healthy, the Steelers will have a ton of momentum and great play to carry them to the playoffs.
11. Seattle Seahawks (7-5)
A great win for the Seahawks against the Bears has Seattle thinking that not only can they make the playoffs, but they could compete for the division in the final weeks of the season.
Russell Wilson continues to develop nicely and this team's defense and rushing attack are rock solid. Come Week 16, the Seahawks could be playing for the division against the 49ers.
12. New York Giants (7-5)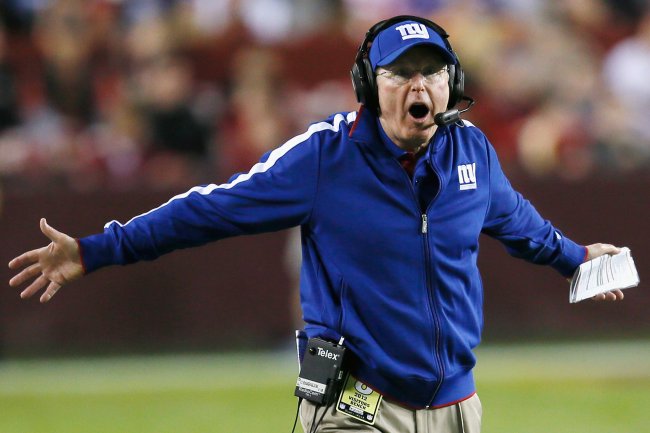 Rob Carr/Getty Images
The Giants have been shooting themselves in the foot all season long and their most recent instance of doing that came against the Redskins on Monday night.
With a chance to maintain a two-game lead in the NFC East and put the Redskins out of their minds for the rest of the season, the Giants stunk up the joint and allowed the 'Skins to get back into the race. New York now has a slim one-game lead with four games to play and no tiebreakers to speak of.
New York won't have an easy go of it the rest of the way and could potentially play themselves out of the playoffs. Next week they take on the Saints who, despite having a poor record, can throw the ball all over the Giants' weak secondary.
Then comes two games against two of the best teams in the league: the Falcons and Ravens. After their poor play on Monday night against Washington, New York could very well lose three out of their last four and miss the playoffs.
13. Washington Redskins (6-6)
Robert Griffin III and the Redskins looked dead in the dirt just three weeks ago, but since then have reeled off three straight victories to get back in the hunt.
Upon beating the Giants on Monday night, the Redskins now find themselves just one game out of the division lead with a great chance to win three of their last four games to put immense pressure on the division-leading Giants.
14. Dallas Cowboys (6-6)
The Cowboys escaped with a win against the Eagles on Sunday night in what was an ugly game for Jason Garrett's squad.
Dallas has been incredibly inconsistent this season and there's no telling which team will show up each week. They are still very much in the hunt, but the Cowboys must step it up if they want to win enough games to take this division, or even a wild-card spot.
15. Tampa Bay Buccaneers
The Bucs came up short against the Broncos in Week 13 and as a result Tampa Bay is now behind both Dallas and Washington in the playoff race for the final wild-card spot by way of tiebreakers.
However, their 6-6 record still leaves them a game back of the Seahawks for that final spot, but they must do some leap-frogging to get to where they want to be. Tampa Bay has three winnable games in a row, so it isn't out of the question that it continues to push toward the playoffs.
16. Minnesota Vikings (6-6)
Jonathan Daniel/Getty Images
The Vikings have to jump the Redskins, Cowboys and Bucs in order to surpass the Seahawks for that final playoff spot. Minnesota played Green Bay tough, but it still wasn't enough to win as this team continues to feature a one-dimensional offense.
It's going to be a tough road to the playoffs for the Vikings, who still have games against the Bears, Rams, Texans and Packers.
17. St. Louis Rams (5-6-1)
Coach Jeff Fisher's squad showed a ton of heart in their victory over the 49ers on Sunday and have now played the NFC West leader tough twice this year.
This team is certainly on the right track and should be a winning squad next season, but it looks like it's too late for the Rams to make a run to the playoffs.
18. Buffalo Bills (5-7)
Buffalo was able to take care of business against Jacksonville at home and still have an outside shot of making the playoffs, although it is very outside.
With three of their last four games coming against teams with a losing record, the Bills have a better chance of finishing 8-8 than making the playoffs.
19. New Orleans Saints (5-7)
After losing their first four games of the season, the Saints went on to win their next five out of six and had people in the NFL talking playoffs.
Since then, New Orleans has lost their last two games, both against great teams, and have now returned back down to Earth. It will be a tough last four games of the seasons with solid opponents to overcome and it looks like that hole they dug at the start of the season was just too much to recover from.
20. Miami Dolphins (5-7)
The Dolphins put up a great fight against the Patriots on the defensive end, but a lack of offense was this team's downfall.
Ryan Tannehill has had a decent rookie season in Miami, so the future is bright, but that future won't be realized this season as the Dolphins will be done for the year following Week 17.
21. New York Jets (5-7)
The Jets might have won their game against Arizona, but it was such an ugly performance that it's impossible to move them above any of the other teams on this list.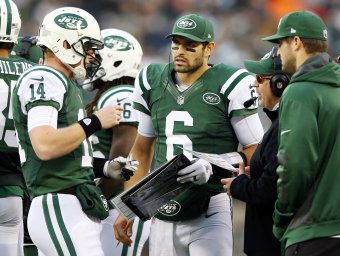 Elsa/Getty Images
After removing Mark Sanchez from the game as a result of ineffectiveness, the Jets had no choice but to go to Greg McElroy because Tim Tebow was injured. It isn't yet known who will be the starter in Week 14, but none of the Jets' options behind center are very promising.
This team has to run the table to even have a shot at the playoffs and there's not a chance in hell this team is good enough to make that happen.
22. Detroit Lions (4-8)
Detroit's loss on Sunday was a perfect microcosm for how this season has gone for Matthew Stafford and company. A heartbreaking last-second loss at the hands of the Colts was perfectly fitting for the type of season this team is having.
There are more questions than answers for the Lions at this point and they will have to go back to the drawing board after regressing mightily this season.
23. Cleveland Browns (4-8)
The Browns were the only current 4-8 team to win last week and they did so against the lowly Oakland Raiders.
It's far too late for the Browns to go anywhere this season, but these next four games will be important to see just how far Brandon Weeden has come and where he will go next season.
24. San Diego Chargers (4-8)
Phillip Rivers got off to a hot start against the Bengals on Sunday, but he quickly faded back into obscurity as he has done this entire season.
It's time for some changes in San Diego. Coach Norv Turner has failed for too long with this team and new leadership is very much in order for the Chargers.
25. Tennessee Titans (4-8)
The Titans were turnover machines in their loss to the Texans and are now playing out the string in what will amount to a race for a top draft pick.
This team has got to get better on both sides of the ball, so this year's draft will be a busy one for Tennessee.
26. Arizona Cardinals (4-8)
Things couldn't get any worse for Arizona after dropping a woeful game to the Jets on Sunday, 7-6.
It's hard to believe this team won its first four games of the season; those four teams should be ashamed of themselves. The Cardinals must continue to look for a quarterback going into next season because they certainly don't have a viable one on their roster now.
27. Philadelphia Eagles (3-9)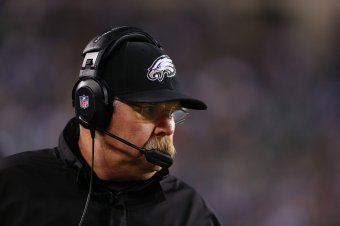 Al Bello/Getty Images
It has been a long season for the Eagles and it's safe to say they can't wait for it to be over. Nick Foles is the new starting quarterback for this team and it appears Michael Vick's days are numbered.
Like in San Diego, it's time for a change in Philly, and while I still believe Andy Reid to be a great coach, he is no longer a good fit for this team.
28. Oakland Raiders (3-9)
Oakland's season continues to spiral out of control after Carson Palmer's squad dropped its fifth straight game.
It isn't clear what direction the Raiders will go in next year, but it has got to be different than the one they are going in now.
29. Carolina Panthers (3-9)
The Panthers hit their lowest point this season after losing to the team with the worst record in the league: the Kansas City Chiefs.
It's been a disappointing season for a team that figured to at least be in the hunt, but now all that's left is to finish out the season and hope for better things in 2013.
30. Kansas City Chiefs (2-10)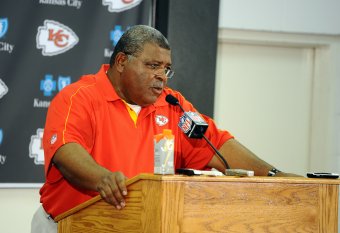 John Rieger-USA TODAY Sports
This week was unlike any other the Chiefs have ever seen after the team was faced with an unthinkable tragedy during the week.
However, the Chiefs were able to rise above it all and come out victorious. Sure, it will never erase what happened, but Kansas City showed a ton of heart in their win over the Panthers.
31. Jacksonville Jaguars (2-10)
It's safe to say the Jags are the worst team in the NFL and they showed that this week after losing to the Bills by two scores.
You know things are bad when you're relying on Chad Henne to win you games. I'm not sure where the Jags go from here, but the draft will be a very important part of what they do moving forward.