MLB Prospects: The Hottest/Coldest Hitters in the Offseason Winter Leagues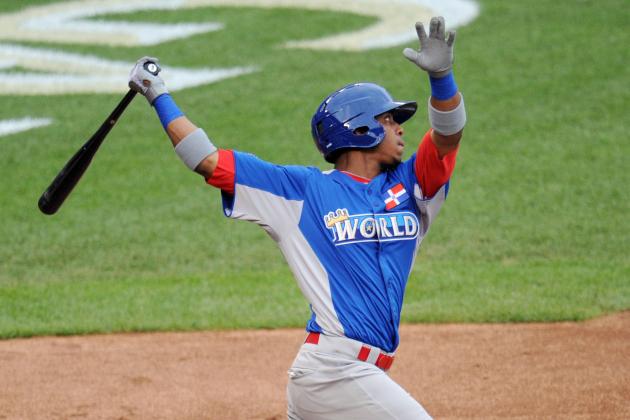 Peter G. Aiken-US PRESSWIRE
Oscar Taveras (Cardinals) is having an Oscar Taveras-like season in the Dominican Winter Leauge
Because it's been nearly a week-and-a-half since my last offseason league article—largely due to the conclusion of the Arizona Fall League and my post-Thanksgiving turkey coma—I wanted to update everyone on some the performances from the game's top prospects.
Much like the AFL, the Caribbean Leagues are composed of affiliates in Mexico, Puerto Rico, Venezuela and the Dominican Republic, and offer players a chance to make up for lost time during the regular season, as well as an opportunity to refine their skills before spring training.
While each of the four leagues has its own respective end date, most of them are scheduled to conclude just before the start of the New Year.
I had originally planned to highlight only the top performers, but soon realized that there are equally as many prospects struggling to find a sense of rhythm at the plate. Therefore, I thought that, at least in this update, it makes more sense to cover prospects from both ends of the aforementioned spectrum.
So, here's a look at the more high-profile prospects participating in the Caribbean Leagues this winter.
Begin Slideshow

»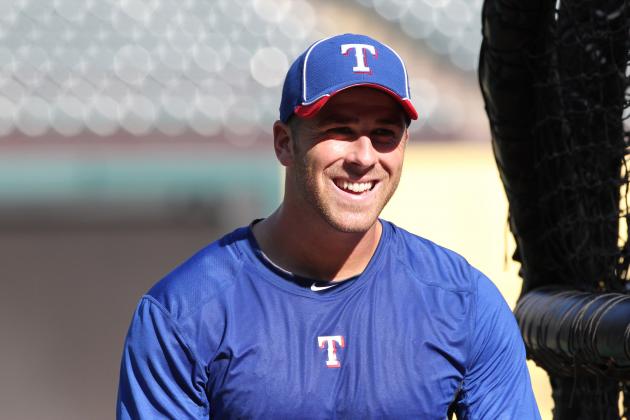 Matthew Emmons-US PRESSWIRE

Oscar Taveras, OF, St. Louis Cardinals
.309/.384/.482, 20 R, 10 XBH (4 HR), 15/12 K/BB (29 G)
The purest hitter in all the minors, everything Taveras does at the plate is impressive. For example, even though he's batting only .222 over his last 10 games, he's still managed to amass more walks (six) than strikeouts (five)
Marcell Ozuna, OF, Miami Marlins
.230/.293/.508, 18 XBH (8 HR), 4 CS, 34/9 K/BB (32 G)
Of Ozuna's 28 hits in 32 DWL games, 18 have been for extra bases; the 6'2" outfielder leads the league in both home runs (eight) and strikeouts (34), and is only 2-for-6 on the basepaths.
Leury Garcia, SS, Texas Rangers
.300/.342/.418, 8 XBH (2 HR), 26/5 K/BB (27 G)
Recently added to the team's 40-man roster to avoid the Rule 5 Draft, the 5'7" switch-hitter has collected 15 hits in his last 10 games but also fanned 12 times.
Mike Olt, 3B, Texas Rangers
.250/.386/.429, 6 XBH (2 HR), 17/12 K/BB (18 G)
Promoted to the big leagues directly from Double-A in early August, Olt only appeared in 16 games with the Rangers over the final two months of the season due to an inflamed heel.
Miguel Sano, 3B, Minnesota Twins
.241/.371/.448, 2 HR, 6/6 K/BB (12 G)
Possessing some of the best raw power among all prospects, Sano has already launched two home runs this winter in the DWL. However, it's his current strikeout-to-walk ratio that holds the most value.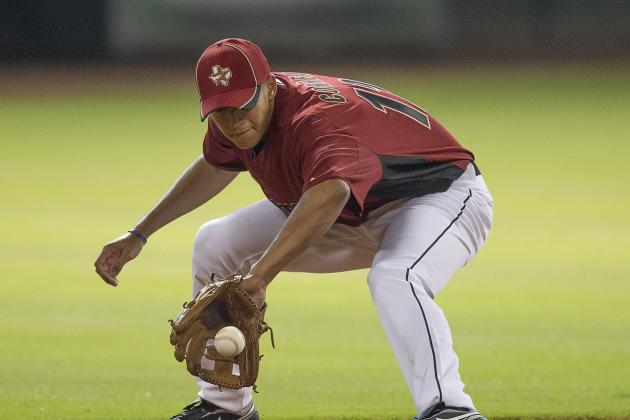 Bob Levey/Getty Images

Carlos Correa, SS, Houston Astros
.174/.208/.217, 8/1 K/BB (9 G)
The No. 1 overall draft pick last June, Correa had a painfully slow start to his professional career, though he did finish strong with a 1.050 OPS in 11 games in the Appalachian League. The 18-year-old is currently battling through a similar slow start in the PWL, as he's fanned eight times in his first nine games.
Christian Colon, SS, Kansas City Royals
.323/.382/.419, 5 XBH, 6 SB, 6/4 K/BB (16 G)
Two separate stints on the disabled list this last season limited Colon to only 85 games, but he hasn't shown any signs of rust thus far in the PWL.
Jorge Alfaro, C, Texas Rangers
.300/.311/.467, 5 XBH (2 HR), 10 RBI, 14/1 K/BB (16 G)
After posting a .750 OPS with 31 extra-base hits and 84/16 K/BB as a 19-year-old at Low-A Hickory, Alfaro's production in the PWL has been eerily similar—albeit from a smaller sample.
Eddie Rosario, 2B/OF, Minnesota Twins
.297/.341/.568, 4 XBH (3 HR), 9 RBI, 8/3 K/BB (11 G)
The 21-year-old made noticeable adjustments at his new position (second base) last season, but has seen more time in the outfield in the PRWL; enjoyed a multi-homer game on Friday night and now has three over his last two games.
Yaiel Puig, OF, Los Angeles Dodgers
.250/.276/.357, HR, 11/1 K/BB (7 G)
Puig posted a 1.076 OPS with 10 extra-base hits and eight stolen bases in his professional debut, and was supposed to participate in the Arizona Fall League. However, the 21-year-old developed a staph infection on his elbow that required surgery and therefore forced him to miss the entire AFL season.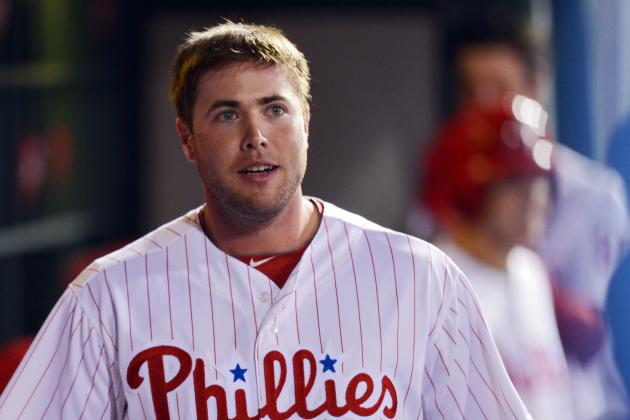 Drew Hallowell/Getty Images

Darin Ruf, 1B/LF, Philadelphia Phillies
.258/.368/.575, 18 XBH (10 HR), 27 RBI, 42/17 K/BB (32 G)
After leading all minor league hitters with 38 home runs last season, the 26-year-old slugger added three more bombs in his late-season, 12-game audition with the Phillies. And with another 10 home runs thus far in the VWL, Ruf has now jumped the yard 51 times in 183 games.
Evan Gattis, C/OF, Atlanta Braves
.278/.335/.490, 16 XBH (8 HR), 27 RBI, 25/11 K/BB (39 G)
The 26-year-old continues to prove that his bat is for real, as 16 of his 42 hits have gone for extra bases; after mashing against left-handed pitching during the regular season, he's unexpectedly struggled in the VWL (.125/.263/.156, 1 XBH, 6 K in 32 at-bats).
Wilmer Flores, 3B, New York Mets
.278/.345/.436, 13 XBH (4 HR), 19/12 K/BB (34 G)
Flores finally had the breakout season in 2012 for which everyone had been waiting patiently; despite his recent struggles at the plate (.163/.196/.279) over the last two weeks, the 21-year-old's improved plate discipline has carried over into the winter-league season.
Avisail Garcia, OF, Detroit Tigers
.263/.364/.316, 3 R, 5/2 K/BB (5 G)
After taking a breather for a few weeks following the Tigers' World Series loss, the 6'4", 240-pound outfielder has played in only five VWL games, but has hit safely in four of them.