2013 NFL Draft: 5 Players the New York Giants Could Target in the First Round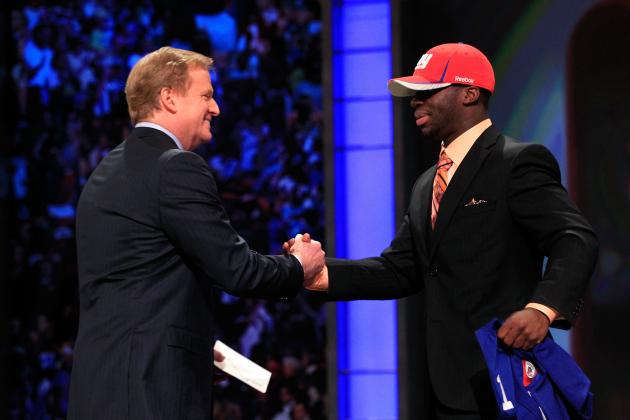 It's never too early to start game-planning for next year's draft.
I've seen several mock drafts already for the 2013 NFL Draft, which is a good four months away.
There is still a good five weeks left in the 2012 season heading into Week 13. A lot of teams are fighting for playoff spots, but other teams are preparing for where they might line up in April.
It's hard to say exactly where the 7-4 New York Giants would line up, but since they are a playoff contender and current division leader in the NFC East, they would likely be in the mid-20s.
Last year, the Giants had to wait until the very end of the draft at No. 32 to select David Wilson. He hasn't made the kind of impact people were hoping for thus far.
Who could the Giants target come April?
Here are five potential targets that Giants GM Jerry Reese may look at for the spring.
Begin Slideshow

»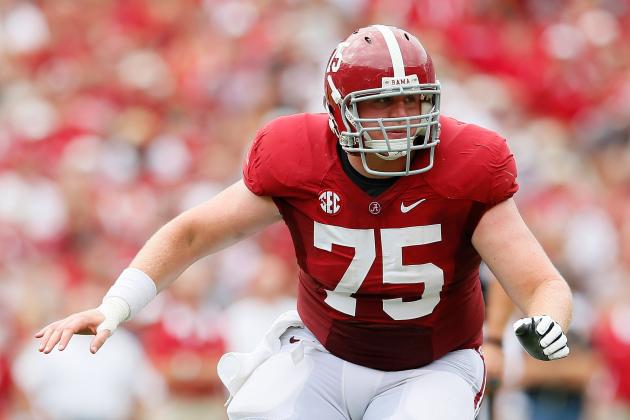 I think it's safe to say David Diehl will be gone from the Giants once the 2012 season is over.
He's gotten old, he's gotten slow and he's become too injury-prone and unreliable to keep in the lineup.
The current right tackle is Sean Locklear, who has done a pretty good job and has held his own thus far.
But the Giants current offensive line could use some youth injected into it, and Barrett Jones could definitely fit into the Giants plans.
Jones has mostly played right guard at Alabama, but he has experience at left tackle as well. They could shift him to right tackle if needed.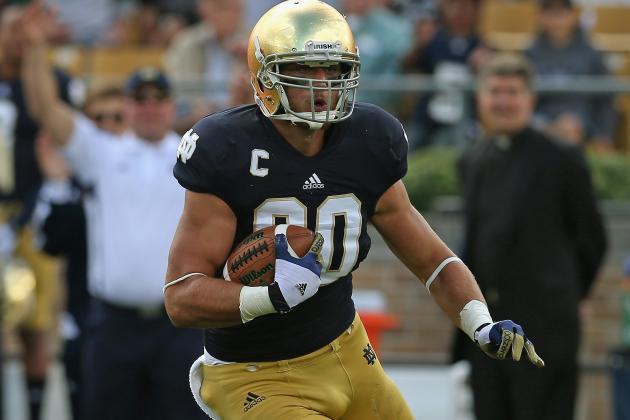 I've seen three different mock drafts with the Giants taking Tyler Eifert with their first-round pick.
I found that pick interesting given the fact that they have Martellus Bennett as their current starter; plus they drafted Adrien Robinson last April.
Eifert is a big body at 6'5" and 252 pounds and has the potential to be a big-time playmaker in an offense that has become very explosive in recent times.
The big-time, play-making tight end has become a very popular trend as of late in the NFL with guys like Rob Gronkowski and Jimmy Graham.
The Giants could use their pick to get Eifert and plug him into the offense, giving him an elite quarterback that loves to throw to the tight end.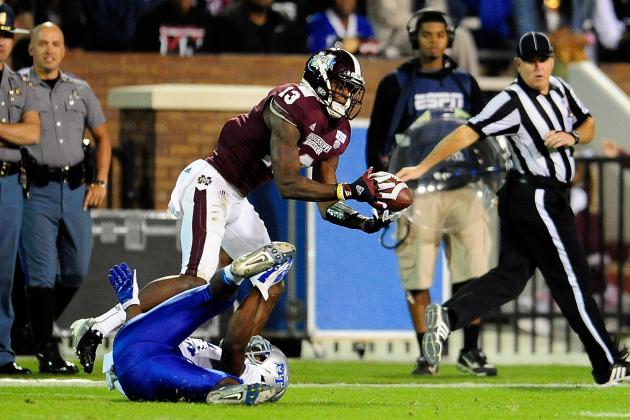 It has not been the best season for Corey Webster. He has looked downright awful in coverage at times.
Plus, the Giants lost Terrell Thomas for a second straight season due to an ACL tear, an injury which required another surgery.
The Giants could look to draft secondary help, and Johnthan Banks fits the mold of a play-making corner that could help spruce up the Giants' defensive backs.
They do have Prince Amukamara and rookie Jayron Hosley but they could look to the draft to add depth at the position.
He's a bigger corner at 6'1", and while he's not the fastest defensive back out there, he could use his size against receivers to make tackles and get to the ball.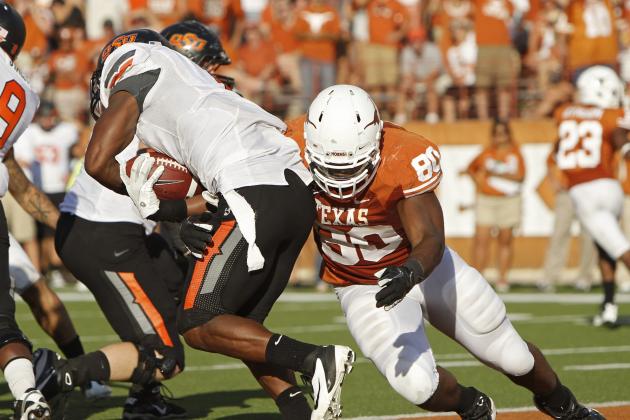 Alex Okafor was selected quite high in a few mock drafts, right around the middle of the first round.
With Osi Umenyiora's pending free agency, the Giants could look to replace their veteran defensive end with a rookie that can make an impact.
That's where Okafor comes in.
He's got speed, he's got power and he can play in the inside at tackle just as well as he can at the end, just like Justin Tuck has in the past for the Giants.
Jerry Reese is pretty good at selecting the best player available at the time of the draft, which is exactly why they went with Jason Pierre-Paul back in the 2010 NFL Draft.
Many people criticized Reese for it, but JPP has become a star on defense. Everyone has stopped questioning Reese's player judgments since then.
I don't think anyone would question him if he got Okafor, either.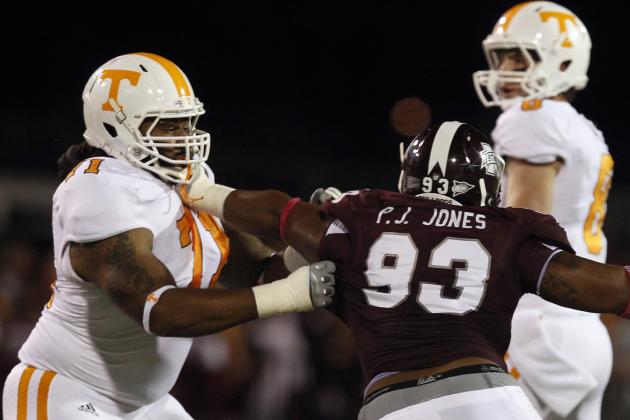 Dallas Thomas from Tennessee is the second offensive lineman that I am suggesting the Giants look into.
He's played at both left tackle and left guard for the Volunteers, although I think he would be used at tackle with Chris Snee and Kevin Boothe already at the two guard spots.
He's a better run-blocker than he is a pass-protector, which is something Giants offensive line coach Pat Flaherty could teach him.
Thomas does have good speed for a lineman and is seen by scouts as a good athlete, which might translate well for him into the NFL.
Some mock drafts had him in both the first and second rounds, but the ones that had Thomas in the first round had him being taken as a later pick in the high 20s.
He could fall to the Giants and could get taken if they are in fact looking to draft an offensive lineman.