Ranking the Top 10 High School Baseball Prospects for 2013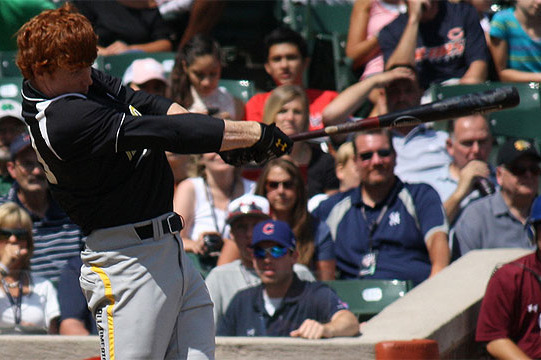 OF Clint Frazier (Loganville HS, Ga.) // Courtesy of ESPN.com
Although the 2013 MLB First-Year Player Draft is still seven months and a full spring season away, it's never too early to preview many of the top high school prospects who've already received first-round consideration.
As you'll see, my top-10 list of prep prospects is highlighted by a trio of projectable outfielders and a pair of highly advanced catchers. While I'm certain these rankings will change—more so, evolve—between now and draft day, each of these players will presumably remain in the mix.
Begin Slideshow

»
Reese McGuire is a highly athletic backstop at 6'1", 190 pounds; potential to be an excellent defensive big-league catcher; boxes balls well and possesses advanced receiving skills; smooth but explosive actions behind the plate that lead to pop times around 1.8 seconds.
Left-handed bat is a premium given his defensive prowess; balanced setup and weight transfer that yields impressive bat control; swing is compact and he keeps his hands inside the ball well; demonstrates feel for the strike zone that allows him to drive the ball from line-to-line; should have the strength to hit for decent power, though that's not his game at the moment.
Ian Clarkin is a 6'2" left-hander; he has an athletic frame with room to add strength, especially in shoulder and lower half; love his arm speed and how he already has knowledge of how to use his legs to his advantage; has a tendency to drift but when he does so, it's in a way that doesn't put additional stress on his shoulder.
Fastball sits 89-91 mph but can touch 93 mph with late arm-side and sinking action; features a curveball in the low-70s with nice pace and shape, and the potential to be an above-average offering.
Jordan Sheffield is a 6'1", 180-pound right-hander committed to Vanderbilt, but will likely never make it there given his plus fastball-curveball combo; has an athletic, wiry build with fluid arm action.
Sheffield's fastball registers an easy 95 mph and jumps on opposing hitters with late, arm-side life; has been up to 97 mph in the past; curveball is a hammer with sharp downer bite and great shape.
Jonathan Denney, my favorite catcher in the 2013 draft class, is physically developed and will likely develop a leaner strength as he fills out; moves well behind the plate and showcases impressive catch-and-release skills; plus arm is biggest asset behind the plate.
Right-handed bat is really impressive; simple but powerful swing thanks to a strong lower half and explosive weight transfer through the baseball; ball jumps off his bat with loud contact to all fields; features present above-average power that should improve with his plate discipline.
J.P. Crawford is a 6'2", 180-pound middle infielder who's a top-notch athlete; has quick feet, above-average range and a strong arm that should allow him to remain at the position; frame leaves room to add strength and shouldn't slow down as he fills outs; projectable up-the-middle talent with a top-of-the-order bat.
A left-handed hitter, Crawford starts with his hands high and lacks a significant load and explosive weight transfer; excellent bat-to-ball ability; takes hands right to ball with a compact, line-drive stroke; power is a result of sound swing and not so much strength.
At 6'0", 195 pounds, Dominic Smith is a physically gifted player and features the most raw power of any prep hitter in the 2013 draft class; a left-handed hitter with premium bat speed capable of absolutely unloading on the baseball; a majority of his power is to the pull side, but more so a result of over-aggressive approach.
Defense may be tolerable at best at a corner outfield spot; power potential will prevent him from becoming an immediate first-base-only prospect; is relatively graceful around the bag at first, with giving hands and solid instincts; bat is what will make him an early pick.
One of the more impressive prep prospects I scouted last year—as a junior. At 6'6", 175 pounds, Trey Ball is a premium athlete and easily the top two-way player in the 2013 draft class.
Highly projectable left-hander on the mound with a fastball that sits 88-91 mph, though I saw him scrape 93 in my look last winter; breaking ball is fringy at the moment but flashes above-average potential with tilt and late-downer bite; changeup is his best secondary offering at the moment, as he throws it with deceptive arm speed to generate swing-and-miss fade.
Having said all that, I believe he has a brighter future as an outfielder; with long strides, Ball ran a 6.67-second 60-yard dash in my look, and covers tons of ground in the outfield. At the plate, the left-handed hitter has plus bat speed that results in above-average raw power; despite his tendency to pull open with his front side, he keeps the bat head in the zone for an extended period of time and is comfortable driving the ball the other way.
Arguably the top right-handed prep arm in the 2013 draft class; perceived to have a strong commitment to Texas A&M as he's also inked to play football for the Aggies; will command serious money and be an early pick to pass on scholarship.
At 6'3", 195 pounds, Kohl Stewart's frame, athleticism and power arm make him highly projectable; fastball sits at an easy 92-94 mph, and he'll run up to 95-97 when needed; mixes in a high-80s cutter that's advanced for his age and shows the makings of an above-average-to-plus slider.
At 6'1", 190 pounds, Clint Frazier doesn't require much physical projection, though his present skills are incredibly advanced; chiseled athlete who's loaded with quick-twitch muscles; everything he does on the field is explosive; hard-nosed player who does everything at 100 percent.
Plus speed allows him to get down the line in a hurry and lends to excellent range in center field; should be able to stick at the position; plus arm is highlighted by a quick release.
Dude has Popeye forearms and drives the ball with an effortless wrist flick; plus-plus bat speed is among the best I've ever seen from a high school player; trust his hands and lets the ball travel deep; present above-average power to all fields; more likely to hit for a high average than loads of power.
6'3", 200-pound outfielder is an elite athlete with the speed and range to remain in center field; size and athleticism distinguishes him from other players at first sight; arm is slightly above-average and more than enough for the position and should play if he's ever forced to play a corner spot.
Left-handed swing has some loft but he hasn't learned to tap into his raw power; size and athleticism suggest that it will emerge as he develops; Austin Meadows' hit tool doesn't impress me as much as it does others, but he's shown the ability to make easy, hard contact to all fields; his power-speed combo from an up-the-middle position gives him the highest ceiling among prep prospects.