Winners & Losers of the 2013 MLB Offseason so Far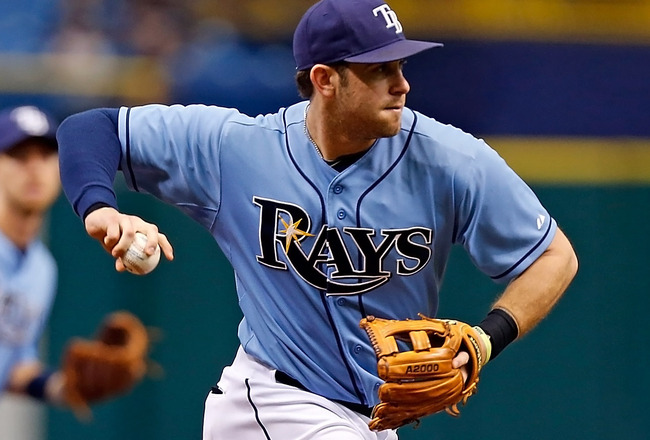 J. Meric/Getty Images
Free agency may be in full swing already this MLB offseason, but it will likely take some time before we see some of the biggest names sign contract extensions as they look to feel out the market and maximize their return.
A number of players have gotten speculation out of the way, signing long-term extensions with their teams early on rather than deal with the process of testing the waters in free agency.
There will be massive contracts handed out to some this offseason, though others won't be so lucky, as players and management alike could set themselves up for failure with the decisions they make or don't make.
Here are some winners and losers of the early offseason action since the San Francisco Giants were crowned as World Champions.
Winner: David Wright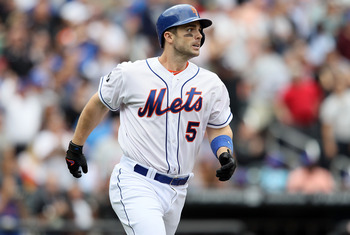 Alex Trautwig/Getty Images
With the amount of attention surrounding R.A. Dickey and whether or not anything will be decided regarding his future in a Mets uniform, the situation surrounding David Wright has fallen somewhat under the radar.
That all changed this week when the Mets offered Wright a seven-year contract extension that could be in the neighborhood of $120-140 million.
It's hard to believe that he'll accept the Mets' offer, and with Evan Longoria taking himself off the market for the foreseeable future with his newest contract, Wright could most certainly set the bar high as he enters free agency.
Loser: Carlos Ruiz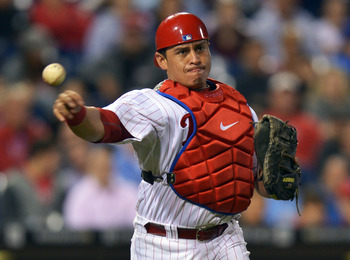 Drew Hallowell/Getty Images
There wasn't a whole lot that went as planned for the Philadelphia Phillies in 2012, as Roy Halladay missed extended time, Ryan Howard and Chase Utley struggled to return to form, and the team found itself falling behind in the suddenly tough NL East.
One bright spot for Philadelphia, however, was the play of catcher Carlos Ruiz, who batted a career high .325 in 114 games while appearing in his first All-Star Game.
With 2013 representing the final year of his contract in Philadelphia, there was little doubt that Ruiz would produce again, though that was derailed on Tuesday when it was announced that he would face a 25 game suspension after testing positive for amphetamines.
Winner: Evan Longoria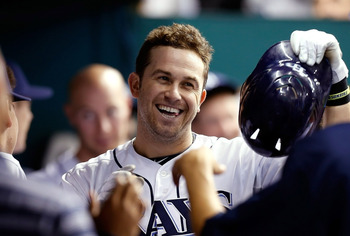 J. Meric/Getty Images
The Tampa Bay Rays may have B.J. Upton in the midst of free-agency proceedings, but it was Longoria that was able to cash in big.
Despite being limited to only 71 games this past season, the Rays added six years and $100 million to Longoria's existing contract, taking him through 2022.
It'll be a different looking team in 2013 with Upton and Carlos Pena likely out the door, but Longoria could very well be setting himself up as a lifer with Tampa Bay.
Loser: Tampa Bay Rays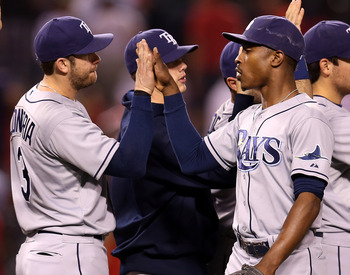 Stephen Dunn/Getty Images
Locking in a player of the caliber of Longoria to a long-term contract can be a very smart move for a franchise looking to build an identity.
But when you're typically as fiscally conservative as the Tampa Bay Rays are, the moves can be magnified even more with any missteps proving more costly.
The timing of the contract extension for Longoria is puzzling on it's own, as players like Upton and James Shields should also be accounted for if they're in the long-term plans.
Take into account the fact that Longoria underwent surgery on the hamstring that put him out for half of 2012 just a week ago and the payday looks even more questionable.
Winner: Zack Greinke
Jeff Gross/Getty Images
For more than a year now, we've heard about how attractive an offseason free-agent market this could be for starting pitchers, with aces Matt Cain, Cole Hamels and Zack Greinke available.
But Cain has already been locked in by the Giants and Hamels signed with the Phillies before entering the free-agent market, leaving Greinke as the top available starting pitcher.
He's seeking around $150 million on a six-year deal, and while there haven't been any strong indications as to where he'll end up, history says that as the top pitcher available he'll most certainly be a winner this winter.
Loser: Delmon Young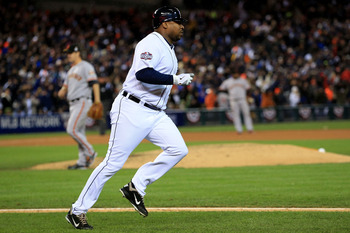 Doug Pensinger/Getty Images
Despite getting off to a slow start this past season, the Detroit Tigers made a great push through the postseason before ultimately losing to the San Francisco Giants in the World Series.
After a strong performance upon being moved from the Minnesota Twins halfway through last season, Delmon Young came back to earth a bit in 2012, though he still played some very clutch baseball down the stretch, and he even earned ALCS MVP honors.
His history of off-the-field issues could prevent him from ever earning a long-term contract, and as a free agent this offseason, news that he just underwent ankle surgery certainly won't help him earn a big payday.
Winner: Andy Pettitte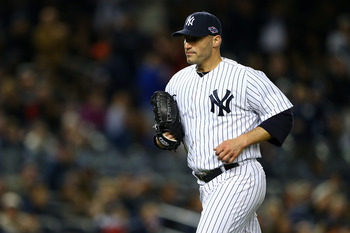 Al Bello/Getty Images
Having sat out the entire 2011 season, it was hard to say exactly what should be expected from Andy Pettitte when he signed a one-year, $2.5 million deal to return to the Yankees in 2012.
He showed plenty during his 40 appearances with New York, posting a sub-3.00 ERA and winning five of his 12 starts, though his status for 2013 would still be up in the air as the lefty is already over 40 years old.
Pettitte's newest contract proves that age doesn't always matter, as he signed a one-year deal with New York worth $11 million, more than four times richer than the deal he signed just a year ago.
Loser: Mike Trout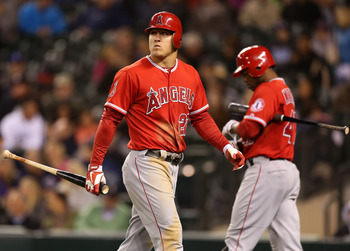 Otto Greule Jr/Getty Images
As a rookie in 2012 Mike Trout did what any first-timer would do—put up a .326 batting average, .399 on-base percentage, 0.963 OPS, drive in 83 runs, hit 30 home runs, steal 49 bases and score 129 runs.
OK, so putting up a stat line like that isn't something any rookie has ever done, and while that's the reason he was a unanimous selection for AL Rookie of the Year, an all-time season apparently wasn't enough for MVP honors.
Miguel Cabrera's triple-crown season was no doubt impressive, and it's hard to call Trout a "loser" since he still earned his share of accolades and has a heck of a career ahead of him, but it's hard to say that there was a stat line more valuable than his.
Winner: Toronto Blue Jays
Tom Szczerbowski/Getty Images
The Toronto Blue Jays finished off another disappointing season in October with only 73 wins, and though they avoided the basement of the AL East, they didn't live up to their own expectations.
It should be a very different picture in 2013, however, as the team brought in a slew of big names that should shift the balance of power in the division.
Their biggest move brought Josh Johnson, Mark Buehrle, Jose Reyes, Emilio Bonifacio and John Buck over from Miami, giving Toronto two All Star caliber starting pitchers and a game-changing shortstop.
They weren't done there, and kept the ball rolling in signing All-Star outfielder Melky Cabrera to a two-year contract.
Loser: Miami Marlins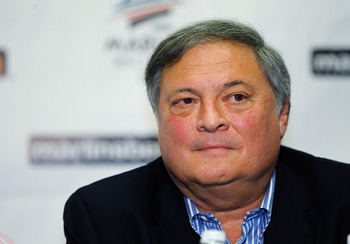 Mike Ehrmann/Getty Images
Believe it or not, it was just a year ago that we were witnessing the resurgence of Marlins baseball, with top free agents Buehrle, Heath Bell and Reyes all signing with Miami.
As we sit here a year later, all of those players have made their way out of South Beach, with Bell heading to Arizona and the others finding a home north of the border in Toronto.
Those aren't the only newfound holes in the roster, as Hanley Ramirez, Anibal Sanchez and Omar Infante were also shipped out.
We've seen this all before from Major League owners, so I guess it's not all that surprising that Jeffrey Loria cut his losses, but with a newly christened ballpark likely to be full of empty seats in 2013, his actions are definitely a disappointment to say the least.
Keep Reading