Andrew Luck vs. RG3: How Do Rookie QBs Stack Up After Week 12?
Use your ← → (arrow) keys to browse more stories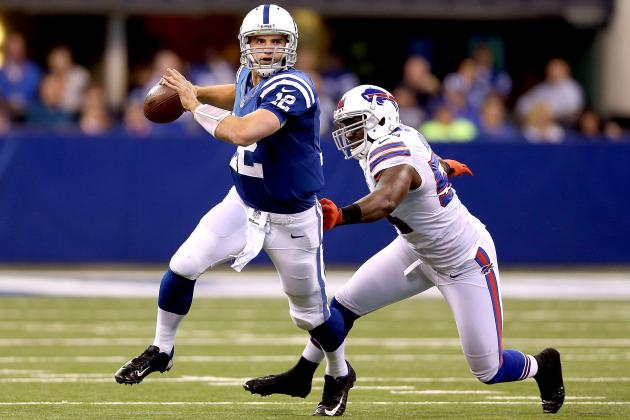 Matthew Stockman/Getty Images

Both of 2012's top rookie quarterbacks, Andrew Luck and Robert Griffin III, improved their team's playoff chances with great performances in Week 12.
In fact, of the 2012 rookie class, Russell Wilson was the only one who failed to win this week, and he lost to fellow rookie Ryan Tannehill.
But Luck and Griffin would continue to further their cases as the top rookie signal-callers with victories over the Buffalo Bills and Dallas Cowboys, respectively.
So with three quarters of the season done and each player only having five games left, how do the top two picks from this year's draft stack up against each other?
Statistically Speaking...
This is where Robert Griffin III has a major edge on Andrew Luck. Luck has had a few great games, setting a new rookie record for passing yards against the Miami Dolphins in Week 8 with 433, but Griffin has been far more consistent.
On the season, Griffin has thrown for 2,504 yards and 16 touchdowns with only four interceptions. His passer rating for the season is an astounding 104.6, which was ranked fourth in the league coming into Sunday (Griffin III and the Redskins played on Thursday).
Some of the quarterbacks that Griffin was ranked ahead of: Drew Brees, Matt Ryan, Ben Roethlisberger and Matt Schaub. Yikes!
Luck's stats have been decent thus far, but he's lacked the consistency to match RGIII. Luck has thrown for more yards, as he now has 3,205 after the Colts' victory over the Bills, but he's three touchdowns behind Griffin and has three times the number of interceptions.
In fact, to bang home the consistency statistics, Andrew Luck has proven himself to be a far better quarterback at home than on the road. In the friendly confines of Lucas Oil Stadium, Luck has eight touchdowns compared to two interceptions, while on the road he only has four touchdowns compared to 10 interceptions.
For Griffin, however, you will notice that he has six touchdowns to one interception at home, along with 10 touchdowns to three interceptions on the road.
The reason for this is Griffin has had far more passing attempts on the road due to the Redskins playing six of their first 11 on the road. The Colts have played six of their first 11 at home. Washington also has more rushing yards at home with 834, whereas on the road it has gained 782 yards on the ground.
RGIII's Thanksgiving Day Breakout was his rookie season all wrapped up into one game.
The running game is where you would expect Robert Griffin III to have a huge edge, and this has proven to be the case. Griffin has run for 642 yards and six touchdowns on 99 attempts this season, while Luck has run for 183 yards and five touchdowns on 35 attempts. Keep in mind that running the ball is a crucial part of the Redskins offense, whereas Luck relies on using the ground when scrambling out of the pocket to avoid the sack.
But as far as avoiding sacks, both have had to do their fair share of it, each of them hitting the turf 26 times this season.
Luck's stats don't matchup to RGIII, but he has his team at 7-4 and crusing to a playoff berth.
But you play to win the game...
Despite all of the statistics, here's something that goes in Andrew Luck's favor in a big way: The Indianapolis Colts are 7-4 and almost a lock to get into the AFC playoffs, barring a monumental collapse. Meanwhile, Robert Griffin III and the Redskins are at 5-6, and their only hope to get into the playoffs would be by winning the NFC East.
The good news for the Redskins is that going into Sunday, they're only one-and-a-half games back of the Giants for first place in the division, and will have a crucial Monday Night Football matchup with the Giants at home in Week 13.
Which rookie quarterback has performed better this season?
The bad news for Washington is if they lose that game, their playoff hopes are just about over. The Colts, on the other hand, have enough cushion separating them from the rest of the AFC playoff race that the thought of two games against the division-leading Houston Texans doesn't seem as daunting.
The race for the NFL's offensive MVP will come down to the wire this season (and let's not forget the fact that Buccaneers running back phenom Doug Martin will have something to say about it), with the strongest candidates vying for the award in a long time. So far, though, both of these quarterbacks have delivered exactly what their teams envisioned when they drafted them.