After Colin Kaepernick led the San Francisco 49ers to a 31-21 victory over the New Orleans Saints in Week 12, there's no doubt Jim Harbaugh's gutsy decision to start the youngster over Alex Smith was the right call.
Sure, Kaepernick got some help from his defense, which intercepted and returned two Drew Brees passes for touchdowns, but Kaepernick put together a strong performance on the road.
It's no picnic winning games on the road at the Mercedes Benz Superdome, especially since Brees and the Saints' resurgence of late. With a victory, the Saints would have crept back into the playoff picture as legitimate contenders with a 6-5 record.
But Kaepernick went into hostile territory and made his mark, completing 16-of-25 passes for 231 yards with one touchdown and one ill-advised interception late in the first half. He also chipped in 27 yards and a touchdown on six carries, and the 49ers offense was a well-oiled machine with him behind center.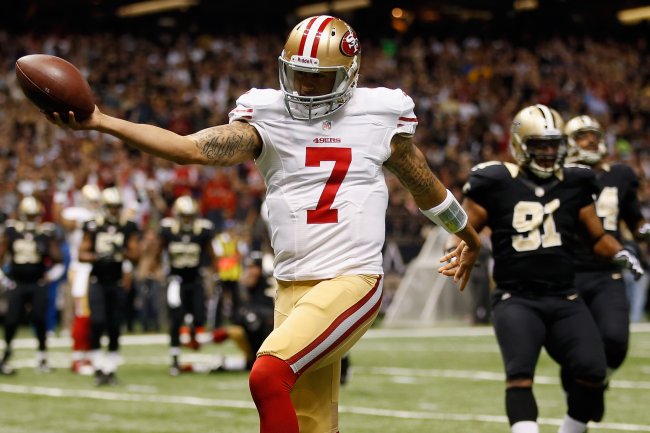 Chris Graythen/Getty Images
On numerous occasions, Kaepernick avoided pressure by running out of the pocket on plays that would have surely led to sacks with Smith behind center. The Saints had sacked opposing quarterbacks 11 times in the past three games.
Kaepernick was only hit twice, and the Saints couldn't sack him a single time.
In fact, since he's been the man behind center, the 49ers have only given up four sacks in more than 2.5 games. Compared to Smith's three sacks per game average (27 sacks in eight-plus games), Kaepernick provides a huge upgrade.
Besides his lone interception, Kaepernick took what the Saints defense gave him. We saw numerous passes threaded into tight spaces—passes Smith never attempts due to his weaker arm.
Kaepernick gives the 49ers the ability to attack defenses vertically, and his 9.2 yards per attempt proves that he's getting the most out of his opportunities. He hit Delanie Walker twice on long passes—his longest being a 45-yard strike—and hit Mario Manningham for a 40-yard pass.
Will Smith start another game for the 49ers in 2012 or otherwise?
The second-year man brings more to the table than Smith ever did, and we've now seen him play well for almost three full games. He opens things up on offense, and we saw in the second half how well the 49ers play on defense with a lead.
Kaepernick is here to stay, folks, and any further discussion about Smith coming back into the starting lineup needs to be stowed for good.
Follow me on Twitter @JesseReed78 and check out my weekly NFL picks at Pickfactor.com