The ground is barely cold on Week 12 of the NFL season and we are already excited about what is going to happen in fantasy football in Week 13. Specifically, the players who have star potential and a favorable matchup this weekend.
Fantasy football is, as we know all too well, a game about matchups. You sit and start certain players based on the opposing team more than the player.
So as you fumble over a few decisions this week, here are some of the under-the-radar fantasy stars we love in Week 13.
Mikel Leshoure, RB, Detroit Lions (vs. Indianapolis)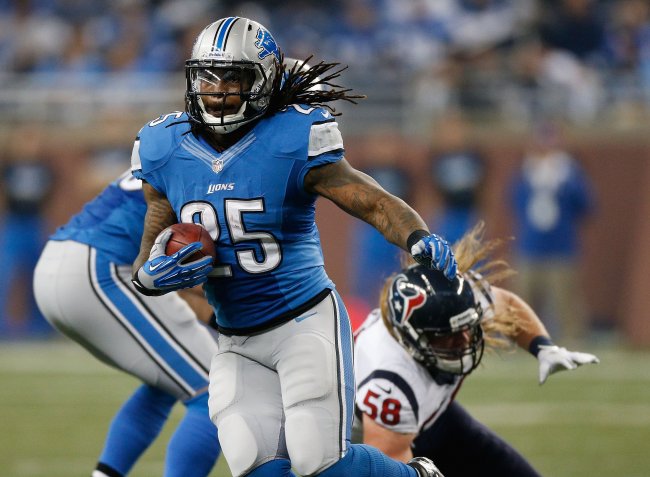 Gregory Shamus/Getty Images
Leshoure continues to be a mystery wrapped inside an enigma. In a lot of ways, his season has mirrored that of the Detroit Lions: Wildly erratic and inconsistent, with a few moments of brilliance that keep you from completely giving up hope.
Last week against Houston, Leshoure managed just 32 yards on 12 carries. He did score a touchdown, which kept him from being totally irrelevant.
This week, Leshoure and the Lions have a much better matchup that will allow them to rack up the yards and fantasy points all over the place.
Despite having a 6-4 record, the Colts are still in the bottom half of the league in total defense, run defense and points allowed. They have given up the sixth-most rushing touchdowns in the NFL this season.
Leshoure is a very touch-and-go fantasy player because the Lions love to throw the ball, so you have to pick your spots with him. This is a great week to get him in the starting lineup and expect big results. If the Lions get close to the end zone, expect him to get a lot of carries at the goal line.
Andy Dalton, QB, Cincinnati Bengals (vs. San Diego)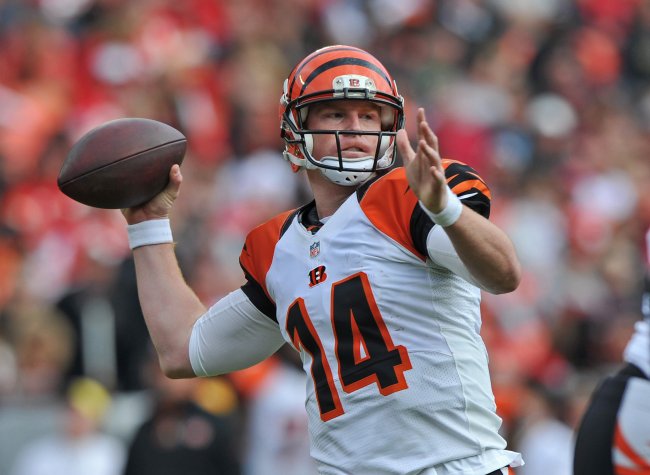 Peter Aiken/Getty Images
It took Dalton a long time to find his rhythm this season, but now that he has found it, he has become one of the most reliable fantasy quarterbacks. He has thrown nine touchdowns and zero interceptions in the last three weeks.
Which Player Do You Want To Win One Game?
Dalton is also completing over 64 percent of his passes this season. Having A.J. Green has really helped Dalton step up his game in recent weeks.
On the flip side, Dalton will be taking on one of the most inconsistent teams in the NFL. The Chargers are quite adept at stopping the run—they are third in run defense this season—but 19th in pass yards allowed.
Plus, the Chargers have allowed the seventh-most touchdown passes in the league this season. Dalton should have no problems keeping his fantasy momentum moving forward against the most puzzling team in the NFL.
Jake Locker, QB, Tennessee Titans (vs. Houston Texans)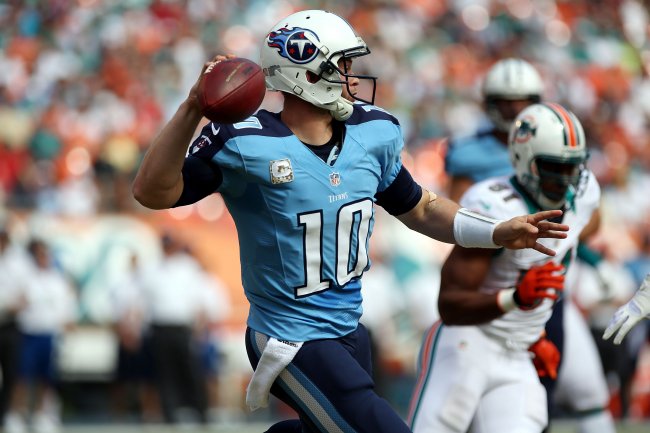 Marc Serota/Getty Images
Perhaps this is an overreaction to what the Texans have looked like the last two weeks, but that vaunted defense just seems ripe for the picking.
In the last two games, the Texans have given up 795 passing yards, six touchdown passes with no interceptions. For a team that is supposed to have one of the best all-around defenses in the NFL, those numbers are staggering.
Locker, like any young quarterback, was having issues getting comfortable but did have moments where he showed the potential that made him a top-10 pick. He missed a month due to injury, yet has come back and shown no ill effects.
Even against the Dolphins two weeks ago, when he completed just nine of his 21 attempts, Locker still threw two touchdown passes and had 36 yards on the ground. With Chris Johnson being the star of the offense, the Titans can use a lot more play-action passing to create open opportunities for Locker to go down the field.